#1: Next To Nowhere by M.G. and the Escorts
City: Bathurst, NB
Radio Station: CKBC
Peak Month: December 1967
Peak Position in Bathurst ~ #2
Peak Position in Vancouver ~ did not chart
Peak Position on Billboard Hot 100 ~ did not chart
YouTube: "Next To Nowhere"
Pointe Claire, Quebec, was the town M.G. and The Escorts formed in 1965. Glen Stephen played bass, Mike Gautier was on rhythm guitar, Graham Powers was the lead vocalist, Glenn Grecco played lead guitar, and Bill Bryans was on drums. Billy Bryans was born in Pointe Claire, Quebec, in 1947. In an interview with garagehangover.com, Glen Stephen spoke about the lead up to the formation of M.G. and The Escorts. "I played in a couple of groups prior to M.G. and the Escorts. The first band was in high school in a group called the Crescents which focused on Buddy Holly songs. I later joined a group with Glenn Grecco and Billy Bryans in a group called the Strangers and the focus of the music was Cliff Richard and the Shadows. The Stratocaster was purchased in New York City in 1961 and it was coral red. I played rhythm guitar and we used a Danelectro reverb for the lead guitar. Glenn Grecco could imitate the Shadows guitar sound to the letter. We also played the Chet Akins style of finger picking as there were several people in the Pointe Claire area that played that style. I don't remember the details of how the group formed into M.G. and the Escorts. Part of the group The Strangers joined with another part of a group with Graham Powers and Mike Gauthier."

Stephen told garagehangover.com "Our first major performance as M.G. and the Escorts was at the Maurice Richard Arena where we were the opening act for the Beach Boys" Other groups we opened for were The Young Rascals, Tommy James and the Shondells, Neil Diamond, Paul Revere and the Raiders, Serendipity Singers, & the Happenings. Our group would play a lot of the top 40 of the hit parade, many of which involved four part harmony which we did fairly well."
In May 1966, M.G. and The Escorts released their debut single, "Please Don't Go". The single was listed at #1 among Canadian recording artist singles by CFCF in Montreal for the week of July 8, 1966. On the regular CFCF Top 60 survey, "Please Don't Go" was ranked at #21. According to Citizen Freak, the single peaked at #9 in Montreal.
A second single release, "I Can't Go On", stalled at #46 on the CFCF "Most Music" 600 for the week of September 30, 1966. CFCF was 600 on the AM dial in Montreal. In mid-January 1967, "A Someday Fool" began to climb up the CFCF pop music survey. By late February, the single peaked at #10. On the RPM Canadian Singles chart, "A Someday Fool" peaked at #53. In Montreal "A Someday Fool" climbed to #9.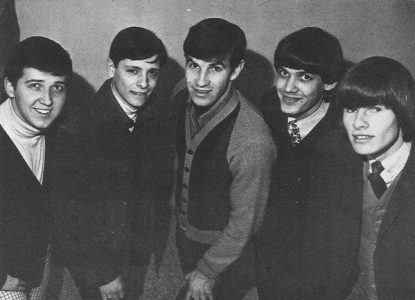 M.G. and The Escorts from Pointe Claire, Quebec
On November 28, 1966, RPM published an article titled "M.G & The Escorts." RPM wrote:
Who commands the teen scene in La Belle Province? There are almost 30,000 fans who will quickly name M.G. and The Escorts as being the most popular group of musicians in the bi-bi-province. The nice part of it all is that the fans are both French and English. Wherever this quintet performs they require the services of "rent-a-cop" to keep them from being mobbed.
Their fans aren't restricted to Quebec alone. M.G. and the Escorts have moved into Eastern Ontario with equal results. They have appeared in Ottawa, Cornwall, Brockville, Smith Falls, Kingston and Belleville. They make their first appearance in the Maritimes Feb 3, 5, 6 and 7 (1967) as part of the Kingston Trio show at Memorial University in St. John's, Newfoundland…. Glenn Grecco does most of their writing for the group and penned their next Quality release "Someday Fool".
Drummer Bill Bryans recalls, "We were called M.G. & The Escorts. This type of name was trendy back then, initials followed by a name (I've no idea why). The biggest group at the time was called J.B. & The Playboys – another suit band – who were from NDG [Notre-Dame-de-Grace]. We were from Pointe Claire, which was a bit more middle class. But eventually, we became more popular.
We did pretty good, we had a good run. We put out three singles that got a lot of airplay and we played every weekend in Montreal or Ottawa, Kingston, Brockville – that area of the country. We played teen clubs and high school dances mostly and a lot of "Battle of The Bands", which were popular back then.
We had an advantage because my father owned a record store, so we could get the newest songs before anyone else because back then all the music came out as singles, and whoever could play the hit parade was the most popular. The hit parade was the best music back then. Albums were just the singles with a few filler tunes.
M.G. and The Escorts fourth and final single release was "Next To Nowhere".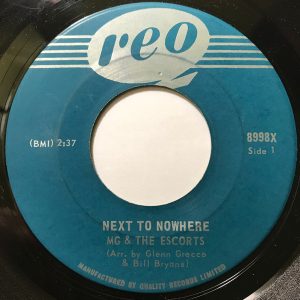 Glenn Grecco wrote "Next To Nowhere". Discussing this forthcoming single release with Music Trend in June 1967, Greco stated "The groups [sic] has also finally produced a record that they are satisfied with. We are really pleased with it. It's a bigger sound and a bigger arrangement and not like the others which shouldn't have been released. But at the time we didn't have the money or the time to keep working at a track until it was an ideally perfect product. The record will be out in the beginning of July. We have no title for it yet but that's because we haven't been able to get together on the name."
"Next To Nowhere" is a song about a relationship that is at its end. The singer is in a relationship with someone who no longer relates to them with passion. Their partner is "down." The relationship is 'next to nowhere.' There is nothing really to hold on to, as the singer senses the pair are drifting apart.
"Next To Nowhere" charted to #2 in Bathurst, New Brunswick, and also made the Top Ten in Kingston (ON) and Montreal.
Bill Bryans comments on the twilight of the band. "Everything changed in 67. Pop music began to get more complex. I remember seeing the Grateful Dead and The Jefferson Airplane at Expo 67 and that changed everything for me. I began to listen to Frank Zappa, Miles Davis, John Coltrane, blues music, free jazz, Aretha Franklin. I began to connect the music to the other things going on in the world, mostly triggered by the war in Viet Nam. I didn't even hang out with the guys in MG & The Escorts anymore."
In am article from Music Trend in June of '67 Bryans told the magazine: "we got to a point where we were out and out tired of the music we were playing. It had served a purpose for a while but … we want to put something into our performances now that we couldn't do before with top 40 material. So, we're drifting away from it but not divorcing ourselves altogether. We've learned a lot from watching the big name groups on the tours. Now I think we've become a little more artistic in our music rather than mechanical."
Glen Stephen told Music Trend, "We played in the Garden of Stars at the World's Fair in 1967 and it was not much longer after that that we disbanded. What we did was re-evaluate our direction and a change in the style of music. It was more of a time of reflection. We were offered a possible recording session to produce advertising music for French's Sloppy Joe Mix. We were to go to Texas for the recording, but it didn't materialize."
Citizen Freak writes "Bill Bryans went through a period of serious introspection after the events of EXPO 67. He would completely isolate himself from the members of the band shortly after, with little explanation; this was ultimately what led to the band breaking up. At the time they were popular and were having continued success live and with their singles. It was a genuine surprise to many at the time that they decided to break up."
Discogs.com published this bio about Billy Bryans:
After completing university at Sir George Williams University he moved to Toronto in 1970 where he gravitated to Rochdale College. There he would join Horn and run the college's recording studio, starting his production and mixing career. One of his first clients at the studio was Downchild Blues Band, for whom he would co-produce their first big hit "Flip, Flop and Fly" in 1973 and joined the band for a period as drummer.
In demand as a double-threat drummer and producer, he produced a record for early New Wave outfit Time Twins at the Lanois brothers' Grant Avenue Studio. His production for them was influential on both Daniel Lanois and Brian Eno. He would join Toronto New Wave band The Government for a short period in the early 1980s. It was around the same time he became professionally involved with Lorraine Segato and Lauri Conger, joining Mama Quilla II. Not long after joining, these three would found a new outfit in 1982, The Parachute Club.
After the successful band folded in in 1989, Bryans drummed for a variety of projects and produced many albums for other artists, especially in Caribbean styles. He was a devoted student of rhythm and ended up focusing on Cuban salsa in the late 1990s, becoming a DJ of the genre and writing about it extensively in his blog MisterBryans. He passed away from lung cancer in 2012 at the age of 63.
Graham Powers went on to become a member of the Battered Elves. Later, he became a producer and record executive. Born in 1944, he died at the age of 75 in 2019.
As late as 2013 Mike Gautier was fronting the Mike Gautier Trio and playing at venues around Montreal.
* There is a Facebook page for a "Glenn Grecco (the Crazy Canuck)" who was born in Charlottetown, PEI, and whose family moved to Verdun, Quebec, in 1949. His family moved to Pointe Claire in 1959, attended St. Thomas High School in Pointe Claire, PQ. This Glenn Grecco moved on to Missassaugua, Ontario, in 1972, studied computer science at York University. From there he moved to South Carolina with work as a software developer. This could be the same Glenn Grecco in M.G. and The Escorts, or a namesake who has two "n"'s in his first name and two "c"'s in his surname. Anyone with more information please reply.
August 7, 2023
Ray McGinnis
References:
Chris Bishop, "M.G. and The Escorts, 'A Someday Fool'," garage hangover.com, August 10, 2007.
Aaron Lusch, "M.G. and The Escorts," CitizenFreak.com.
"Billy Bryans," discogs.com.
"R.I.P. Music Exec Graham Powers," FYImusicnews.ca, March 25, 2019.
"Mike Gautier Trio," Bistro en Vivo, Montreal, Quebec, YouTube.com, April 26, 2013.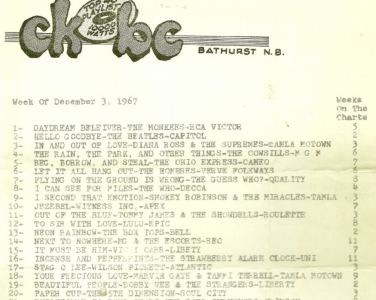 CKBC 1360 AM, Bathurst, New Brunswick, (Top 20 of Top 40), December 3, 1967
"Next To Nowhere" was dropping down the chart to #14 on its 11th week on the chart.
For more song reviews visit the Countdown.