#839: No by Bulldog
Peak Month: January 1973
8 weeks on CKLG chart
Peak Position ~ #7
Peak Position on Billboard Hot 100 ~ #44
YouTube.com: "No"
Lyrics: "No"
Dean Cornish was born in Ottawa, Canada, in 1943. In his childhood, he moved with his single mother to Rochester, New York. At the age of nine he learned to play the ukulele. By the age of eleven Cornish was playing guitar and country songs. In an interview with the National Association of Music Merchants in January 2016, Cornish remembers seeing Elvis Presley on the Tommy Dorsey Show and getting the guitar of his choice by the late 50's and learning to play songs by Duane Eddy. By his teens he was playing guitar and harmonica in local Rochester bands. In 1962, when he was 19, Gene formed a band called the Gene Cornish Nobles who recorded a couple of singles. In 1964 Cornish joined Joey Dee and the Starliters who had charted a #1 hit in January 1962 called the "Peppermint Twist." While playing with Joey Dee, Gene met up with Felix Cavaliere and another musician, a drummer named Dino Danelli. The three became the nucleus of what would become The Young Rascals.

Dino Danelli was born in Jersey City, New Jersey, in 1944. Growing up Danelli learned to play the drums with a focus on the jazz genre. He played with Lionel Hampton and in 1961 was playing in an R&B band in New Orleans. According to Wikipedia, in 1962 Danelli was in a band in New York called Ronnie Speaks and the Elrods. It was during this time that Danelli played with the legendary Little Willie John who recorded the original "Fever" that was later covered by Peggy Lee and later the McCoys.
Once The Young Rascals were launched they had a string of Top Ten hits between 1965 and 1968 including "Good Lovin'", "Groovin'", "A Girl Like You", "How Can I Be Sure", "A Beautiful Morning" and "People Got To Be Free". By 1971 The Rascals, who'd dropped the descriptor, Young, from their name during 1967, split up. Gene Cornish and Dino Danelli decided to form a new band and named it Bulldog. Other band members of Bulldog were guitarist Eric Thorngren, keyboard player John Turi and lead vocalist Billy Hocher. Turi and Hocher wrote the band's only modest hit single called "No." Hocher had been the lead singer in a band called The Epitome in the late 60's.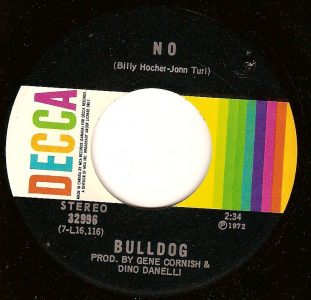 "No" is a song that is there to remind any man who is looking for a night of fun that when he tries to hit up a woman at a club, she might say no to his advances. Even if he gets to go back to her place, it won't necessarily lead to anything sexual. Even if he stays overnight. Clearly, flattery didn't get this guy anywhere. Telling the woman back at her home that she was "young and bright," or "definitely outa sight," didn't make any difference. One of the things the woman says to this guy is "some other night." This could be a way of breaking it to him gently that she's decided she's not really interested. But he persists. When she tells him "no," he thinks "that's a hell of a thing to say." In his mind, it seems, any offer on his part to make out with this woman should be met with the answer, "yes." The character in this song isn't the first man whose had a rude awakening to discover that what he has in mind isn't what the woman in his company desires. One might assume things went from bad to worse as she decided the guy wasn't the kind of company she wanted to keep. He says she "didn't say anything nice." And then she threw him "out in the road."
In 1974 Danelli and Cornish produced the first live album for the Canadian band, April Wine, as well as the bands' studio album from 1975 titled Stand Back.
Over the years Dino Danelli has pursued not only music as a drummer, but also painting. His artwork can be seen online at dinodanelliart.com. Eric Thorngren went on to be a mixing engineer and producer. Thorngren, Turi and Hocher formed a band called Pepper in 1977. In the mid-80's Thorngren was part of the band called Redds and the Boys. John Turi went on to be part of a band called Blue Angel in 1980 which featured Cyndi Lauper. Lauper went on to be a big solo recording artist in the 1980's with songs like "Girls Just Want To Have Fun" and "Time After Time".
Danelli and Cornish formed a band in 1977 named Fotomaker who had one regional hit in several radio markets in California in 1978 titled "Miles Away". Danelli teamed up with Steve Van Zandt in the early 80's in Little Steven and the Disciples of Soul. Van Zandt is best known for being part of Bruce Springsteen's E Street Band.
In 1988 Gene Cornish reunited with Dino Danelli and Felix Cavaliere for a Rascals Reunion tour without the other Rascals bandmate, Eddie Brigati. Between April and May, 2013, Cornish, Danelli, Brigati and Cavaliere performed in fifteen Rascals Reunion concerts at the Richard Rodgers Theater on Broadway in New York City.
April 9, 2018
Ray McGinnis
References:
"Gene Cornish – Oral Histories," National Association of Music Merchants, January 23, 2016.
Kevin Phinny and Joe Russo, History, The Rascals Archives.com
dinodanelliart.com
"Gene Cornish – bio," Wikipedia.org.
"CKLG 'Thirty'," CKLG 730 AM, Vancouver, BC, January 12, 1973.
For more song reviews visit the Countdown.