#1267: No Good To Cry by The Wildweeds
Peak Month: June 1967
9 weeks on Vancouver's CKLG chart
Peak Position #13
1 week Hit Bound
Peak Position on Billboard Hot 100 ~ #88
YouTube.com: "No Good To Cry"
Lyrics: "No Good To Cry"
Alan Gordon Anderson was born in 1947. In his teens he learned to play guitar. By 1966 he formed a band in the Hartford (CT) area called The Weeds. Anderson was the frontman. He was joined by drummer Andy Lepak, keyboard player Ray Zeiner, bass player Bob Dudek and Martin "Skip" Yakaitis on percussion. Andy Lepak's dad, Alex Lepak Sr., became the band's manager. Lepak Sr. was a musician and music teacher in his own right. The band changed their name to the Wildweeds and got a record deal with Cadet after recording some songs at Syncron Sound Studios.

One of the songs the Wildweeds recorded was "No Good To Cry" written by Al Anderson. He was a vocal cousin of David Clayton-Thomas.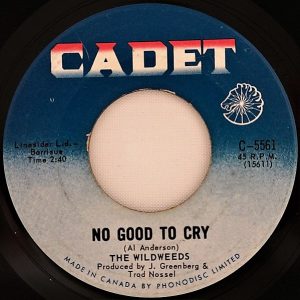 "No Good To Cry" appeared on the pop chart in New Haven (CT) on March 15, 1967. The Wildweeds had a regional hit with their song in Connecticut and Massachusetts in 1967. "No Good To Cry" peaked at #1 in Hartford (CT), Springfield (MA) and Boston, #2 in New Haven (CT) and #6 in Lowell (MA). Elsewhere in the USA the song climbed to #3 in Sioux Falls (SD) and #4 in Raleigh (NC). In Canada, Vancouver (BC) was the only radio station that charted "No Good To Cry" by The Wildweeds, where it climbed in June '67 to #13. Incidentally, The Wildweeds were the opening act for The Doors at a concert at the Oakdale, in Wallingford, CT, September 1967. The Wildweeds sound had a white soul/rock blend, reminiscent of the Buckinghams. The Wildweeds "No Good To Cry" climbed to #88 on the Billboard Hot 100.
"No Good To Cry" is about actions speaking louder than words, the action being ditched by someone you love for someone else. The subject of the song has previously left their former lover with only this brief summary: "we're thru." Not in the habit of taking time to communicate, they hook up with someone else who is undependable and unreliable. Once a new boy comes to town, the new girlfriend has ditched this guy who left his ex without hardly saying a word. People in the song are moving toward whoever turns them on without any regard for being accountable for whatever relationship they were forming until suddenly breaking it off.
What can account for just breaking things off without hardly saying a word? When communication between two people is healthy, chances are that when there are bumps in the road the couple can talk things through. But if a relationship is toxic, sometimes taking the time to talk about it can lead to confusion, guilt trips, hysteria, threats, violence, and a return to the cycle of behavior you want to get away from. While taking time to give closure to a relationship by explaining your decision to end things, and what led to it, can be well intended, often the person who is hearing in so many words "were thru," is in no mood to hear the reasons why. If you do take the time to explain why a relationship isn't worth working on anymore, be kind, wish them happiness, but don't get into an argument. The person who you've ended the relationship with might want to get back together. They might cry on other friend's shoulders and try to get others to advocate for making up.
Whatever the reason for the break-up, it's useful to be aware of patterns you are setting in motion for how you end relationships. If you find yourself dating someone early into a relationship that you aren't communicating with very well, ask yourself why continue dating.
The Poppy Family toned down the song when they made of cover of it in 1971, creating a minor pop-country hit in 1971. The song peaked at #7 in Vancouver. Elsewhere, "No Good To Cry" made the Top 30 in Toronto, Regina (SK), Montreal, Sarasota (FL) and Seattle, Spokane and Olympia, Washington. On the Billboard Hot 100 the Poppy Family climbed into the zone the Wildweeds managed, and in their case stalled at #84.
The Wildweeds follow up single "Someday Morning" was in a similar vein to "No Good To Cry". It climbed to #7 in New Haven (CT) and #12 in Hartford (CT). In December 1967 they released a lighter pop tune titled "It Was Fun (While It Lasted)". The song peaked at #7 in Springfield (MA) and #11 in New Haven (CT). A final release, "I'm Dreaming", made it to #7 in Waterbury (CT) and #10 in Hartford (CT) in the spring of 1968. The song showed influences of psychedelic rock, a fusion of The Doors, Cream and Jefferson Airplane. The Wildweeds broke up by 1971.
Al Anderson went on to a successful career as guitarist for the rock band NBRQ between 1971 and 1994. In 1973 he was among the personnel on Jonathan Edwards album Have A Good Time For Me. In 1993 he co-wrote "Every Little Thing", a #3 country hit for Carlene Carter. Ty England's 1995 hit "Should've Asked Her Faster" was another of Anderson's creations. He co-wrote "The Cowboy In Me", a #1 hit for Tim McGraw in 2001. He wrote a Top 20 song on the country charts for Jimmy Buffett in 2004 titled "Trip Around The Sun". He co-wrote "Love's Gonna Make It Alright", a #3 hit on the Billboard Hot Country chart for George Strait in 2011. Anderson has also penned hit tunes for Patty Loveless, The Mavericks, The Farm, James Otto, Lee Ann Rimes, Diamond Rio, Vince Gill, The Oak Ridge Boys and Trisha Yearwood.
On the Wildweeds website it states "Skip Yakaitis died in 1988. The Lepak family still lives in the Hartford area, and is still involved in music. Ray Zeiner now repairs pianos and still performs in Connecticut. Bob Dudek lived in Connecticut, and spent his years caring for the wildlife there. He died in June 2002 after a long battle with cancer."
The Wildweeds have had a few reunions with remaining bandmates, including a concert on December 27, 2011, in Northampton (MA).
August 17, 2019
Ray McGinnis
References:
"The Wildweeds Biography," Wildweeds.net.
Philip R. Devlin, "Remember the Wildweeds of Windsor?," Patch.com, Mansfield-Storrs, CT, September 26, 2011.
Mary Ellen Fillio, "Former NRBQ, Wildweeds Guitarist Al Anderson Comes Home, if Only Briefly," December 16, 2018.
"No Good To Cry – The Wildweeds 2011 Iron Horse," YouTube.com, December 27, 2011.
"Boss 30," CKLG 730 AM, Vancouver, BC, June 17, 1967.
For more song reviews visit the Countdown.