#283: No Ordinary Love by Sade
Peak Month: February 1993
13 weeks on Vancouver's CKLG chart
Peak Position #3
Peak Position on Billboard Hot 100 ~ #28
YouTube: "No Ordinary Love"
Lyrics: "No Ordinary Love"
Helen Folasade Adu was born in 1959 in the city of Ibadan on southwestern Nigeria. At the age of four her parents separated, and she moved with her mother and brother to Essex, England. Growing up, she remembers three albums being played in her home in Essex: Dinah Washington's Greatest Hits, Sinatra and Basie, and the soundtrack to Oliver. In the late 1970s she gained modest recognition as a fashion designer and part-time model, prior to joining the band Pride in the early 1980s. In 1988 she told Interview Magazine, "I don't like fashion, but I do like clothes." Adding, that she regards the fashion industry as more "cutthroat than the music business." In 1982 Sade Adu formed her band, Sade, with bass guitarist Paul Denman; saxophonist, keyboard and guitar player Stuart Matthewman; keyboard player Andrew Hale; And drummer Paul Cooke.
Paul Denman was born in 1957 in Kingston upon Hull, in East Yorkshire, England. He was given a bass guitar for his 13th birthday. He quit school at age 15 and began to apprentice as a coppersmith. Concurrently with his musical pursuits, he worked to build military aircraft until the age of 22. In 1977 he formed a band in Kingston upon Hull named the Posers. The band included Paul Cooke. Needing to switch up their musical innovation, the band moved to London and changed their name in 1980 to The First Third.
Stuart Matthewman was also born in Kington upon Hull, in 1960. He was influenced by David Bowie, the Clash and Roxy Music. He moved to London in 1982 and joined a band called Pride, whose other members included Paul Denman, Paul Cooke and Sade Adu.
Andrew Hale was born in 1962. He was in London when Sade formed in December 1982. Along with Matthewman, Denman, Cooke and Abu, Hale added keyboards. In 1983 drummer Paul Cooke left the band.
The debut album by Sade was in 1984 titled Diamond Life. The album soon peaked at #5 on the Billboard 200 Album chart. It topped the album charts in Austria, France, West Germany, the Netherlands, and Switzerland. The debut single from the album was "Your Love Is King". The single cracked the Top 30 in Montreal in the summer of 1985. However, other tracks from the album appeared earlier on record surveys in Canada. In March and April 1985, "Hang On To Your Love" peaked at #2 in Montreal, #5 in Ottawa, and #10 in Edmonton. But in the USA the single stalled at #102 on the Billboard Hot 100. While in May and June 1985, "Smooth Operator" peaked at #1 in Regina (SK), #2 in Montreal, #4 in Vancouver and Edmonton (AB), #5 in Saskatoon (SK), #6 in Ottawa (ON) and Toronto. In the USA the single peaked at #5 on the Billboard Hot 100.
In 1985 Sade released the album Promise. The debut single from the album was "The Sweetest Taboo". The single matched the band's previous success with "Smooth Operator", also climbed to #5 on the Billboard Hot 100 with "The Sweetest Taboo". In Canada the single climbed to #4 in Medicine Hat (AB), #5 in Ottawa (ON) and Regina (SK), #7 in Toronto, #9 in Edmonton (AB) and #10 in Calgary (AB). In 1986, a followup single from the album, "Never As Good As The First Time", climbed to #11 in Calgary (AB), and #20 on the Billboard Hot 100. Promise topped the Billboard 200 Album chart in the USA, as well as album charts in the UK, the Netherlands and Switzerland.
In 1986 Sade recorded "Killer Blow" for the musical British biopic Absolute Beginners.
Returning to the recording studio, Sade released Stronger Than Pride in 1988. The album peaked at #7 on the Billboard 200 Album chart, and was the third consecutive #1 album for Sade in the Netherlands. The singles "Love Is Stronger Than Pride" and "Nothing Can Come Between Us" did not chart on the Billboard Hot 100. But "Paradise" cracked the Top 20. While on tour in 1988, Sade sold out three shows in Manhattan's Radio City Music Hall.
In 1992 Sade released Love Deluxe. The album shot to #1 in France, and made the Top Ten on album charts in the Netherlands, Sweden, Switzerland and the UK.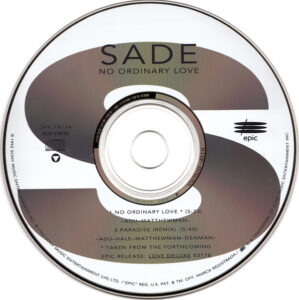 "No Ordinary Love" was co-written by Sade Abu and Stuart Matthewman. The lyrics concern the elusiveness of an increasingly non-reciprocal relationship. For the narrator of the song, "this is no ordinary love," and their partner "brightened everyday" with their "sweet smile." However, others say "a love like ours won't last." Perhaps onlookers notice that the narrator's romantic partner is restless. Nonetheless, she "keeps trying" and "keeps crying." In the relationship she gives "all the love I got, I gave you more than I can give." And for the lovers' part, they just take that love. But, apparently this is never enough. She laments "How could I love you more?"
In an article in Thoughtcatalogue.com titled "Why You'll Never Be Enough For Him," Kim Quindlen writes:
"You will never be enough for him because even the most perfect, flawless woman in the world – who does not exist – would never be enough for him.
It's him. He's part of a certain breed. A breed that does not want to accept you for who you are, because they're afraid of stopping the chase. They're afraid of settling down and trying to find the true kind of love, the kind in which your love for someone is so deep that you learn to accept them and to love them just as they are. The kind of love that is so deep that their beauty seems to radiate outwards from within.
This type of breed is afraid of stopping and trying to find that love. It's not necessarily the love that they're afraid of. It's the stopping. They're afraid of stopping and discovering that they will potentially never find that kind of love. They've rejected you because they're afraid of facing rejection themselves.
This type of breed does not apply to all men, just a small number. And it's just not with men that these fears of intimacy and rejection exist. There are women like this too. There are people all over the world like this – people who continue to find issues in whomever they date, people who cannot accept anyone who's less than perfect. Because they know, subconsciously, that they will never find this person. The high standards, the no one is good enough mindset will keep them safe. It will keep them alone.
"No Ordinary Love" peaked at #3 in Vancouver (BC), #4 in San Francisco, and #7 in San Jose (CA). Internationally, "No Ordinary Love" peaked at #14 in the UK and #28 on the Billboard Hot 100.
A second single from Love Deluxe, titled "Kiss Of Life", peaked at #16 in Vancouver in April 1993. It stalled at #78 on the Billboard Hot 100. A subsequent single release from the album, "Cherish The Day", stalled at #116 on the Billboard Hot 100. Also in 1993, Sade recorded a cover of the 1950 Percy Mayfield R&B hit "Please Send Me Someone To Love" for the film Philadelphia. And on July 23, 1993, Sade gave a concert at the Pacific Coliseum in Vancouver.
Time and other news outlets reported that "In 1998 a judge in Kingston, Jamaica, ordered an arrest warrant for Sade after she failed to appear at a hearing on reckless-driving charges. 'It wasn't really a traffic incident, to be honest,' says Sade, who claims that a Jamaican policeman tried to pressure her into giving him a bribe." Noting her notoriety for shyness, Time observed that when she appeared on the Chris Rock Show in 2000 "she just sings her song and never says a word. Like a comet making its celestial rounds, she appears in the star-studded celebrity heavens infrequently and almost only when she has new songs to perform."
Seven years later, Sade released the album Lovers Rock. It climbed into over a half a dozen album charts internationally. A single from the album, "By Your Side", was a Top Ten hit in 2000 in Belgium, Italy, Portugal and Spain. On July 14, 2001, Sade appeared at General Motors Place in Vancouver.
And in 2010 Sade released Soldier Of Love. The title track was a #9 hit single in Belgium, Japan and the Netherlands. Though it topped the Billboard Jazz Songs chart, it stalled at #52 on the Billboard Hot 100. On August 13, 2011, Sade performed in concert at Rogers Arena in Vancouver.
In 2018 Sade recorded "The Big Unknown" for the movie thriller Widows, starring Robert Duvall, Liam Neeson, Daniel Kaluuya and Viola Davis.
Over the years music critics have praised Sade's albums for being thoughtful and textured. Sade is presently writing music in the UK while in lockdown. Reflecting on the experience of marriage and raising a family, Sade Abu says "You can only grow as an artist as long as you allow yourself the time to grow as a person." In October 2020 Sade released a Box Set compilation album titled This Far.
Over the years, Sade Abu has been a striking figure on the concert stage and as a guest on TV shows. Vogue wrote reflected in 2020, "The red lips, the rope braid, the gold hoops—it's an unmistakable combination that's all her own, three decades and counting….Many pop stars pride themselves on an ever-evolving look, but Adu is a study in sticking to the classics. Not to mention, minimalism with maximum impact."
July 14, 2021
Ray McGinnis
References:
Christopher John Farley, "Sade: Art & Soul," Time, November 5, 2000.
Vince Aletti, "Revisiting Our 1988 Cover Story: with Lady Sade, Elusive Pop Diva," Interview Magazine, November 1988.
Lauren Valenti, "At 61, Sade's Signature Beauty Is More Timeless Than Ever Before," Vogue, January 16, 2020.
Robert Standall, "Rare Sade Interview: Sade Emerges From Her Country Retreat by Robert Sandall from January 31, 2010 from UK Daily Times," UK Daily Times, May 7, 2012.
Kim Quindlen, "Why You'll Never Be Enough For Him," Thoughtcatalogue.com, June 8, 2012.
Kathy Landoli, "Sade & Stuart Matthewman Discuss Music, Hip-Hop and Longevity," Life & Times, June 26, 2012.
"Sade – Canada concerts," setlist.fm.
For more song reviews visit the Countdown.