#484: No Souvenirs by Melissa Etheridge
Peak Month: December 1989
14 weeks on Vancouver's CKLG chart
Peak Position #8
1 week Hit Bound
Peak Position on Billboard Hot 100 ~ #95
YouTube.com link: "No Souvenirs"
Lyrics: "No Souvenirs"
Melissa Lou Etheridge was born in 1961 in Leavenworth, Kansas. While in high school she was a member of several country bands. She moved to Boston after high school and while in college she performed at clubs in the area. She moved to Los Angeles and caught the attention of Island Records in 1986. In 1988 she made her first appearance on the Vancouver (BC) pop chart with "Bring Me Some Water". The single peaked at #13 on CKLG in November '88, and #9 on the Australian singles chart. It was from her self-titled debut album. The single won her a Grammy Award nomination in 1989 for Best Rock Vocal Performance, Female.
In 1989 she released her second album, Brave and Crazy. Her debut single from the album was "No Souvenirs".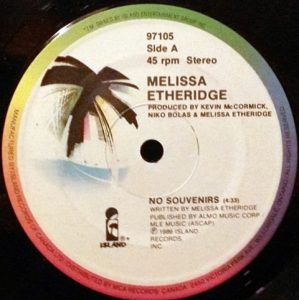 "No Souvenirs" was written by Melissa Etheridge. The song is about a relationship between two people. No longer innocent, the singer tells us about their "broken lover" and a "brave soldier." The narrator identifies themselves as "Romeo." Their "broken lover" has packed up and gone and left no souvenirs. They are roaming and drifting: "no shirt, no shoes, no jackets, no blues, you forward your mail…" What is clear is that the broken lover lives with "fear." We don't know what the fear is that keeps them running "far away to a northern town." But the dynamics in the relationship are fight and flight. Romeo is the one who persists in trying to keep the relationship alive. While the "broken lover" is the one who flees and leaves no souvenirs.
PhD, Margaret Paul writes in Huffington Post, "when fears are triggered – fears of losing the other through rejection or abandonment, or of losing yourself and being controlled by your partner – the stress fight or flight response is automatically activated and you find yourself fighting or shutting down." When a situation, topic or event presents itself that we are uncomfortable with, do we have other options between fight, flight or freezing? Dr. Paul comments that the fears that are especially challenging are fears of rejection, abandonment and engulfment. However, we can do some inner work, for example: meditation or therapy. As Whitney Houston once sang, "learning to love yourself… is the greatest love of all." The more you learn to love yourself, instead of count on your partner to read your mind and know when your feeling vulnerable; Or count on them to be the source of your worth and lovability, the less fear you will have of rejection.
Whatever is going on with the "broken lover" in Melissa Etheridge's song, they are only going to keep forwarding the mail and roaming about until they can anchor themselves in something other than avoidance.
"No Souvenirs" peaked at #7 in Montreal and #8 in Vancouver (BC).
In 1990 Etheridge won a Juno Award for International Entertainer of the Year. She has been nominated for a Grammy Award in the category of Best Rock Vocal Performance, Female, on eight occasions between 1989 and 2003. However, she's only won a Grammy Award in that category once. That was for her 1993 single "Ain't It Heavy", from her Never Enough album. In 1992, her single "Like The Way I Do" climbed to #2 on the pop chart in the Netherlands. In 1993 Melissa "came out" as a lesbian. The news was old news to the women who had attended her concerts since the mid-80s, at venues lesbians patronized.
In 1995 she scored her only Top Ten hit on the Billboard Hot 100 with "I'm The Only One". This was followed with "If I Wanted To", which cracked the Top 20. That year her album, Your Little Secret, became her first album to chart on the Billboard album chart Top Ten. Her last solo Top 30 hit came in 1996 with "I Want To Come Over", a number one hit nationally in Canada, and #22 on the Billboard Hot 100.
Etheridge has also been nominated for a total of five other instances in four other categories. Not many recording artists have received thirteen nominations for a Grammy Award. In 2007 she won an Academy Award for "I Need To Wake Up" from the documentary An Inconvenient Truth in the Best Original Song category. In 2004 she was diagnosed with breast cancer, and she survived her subsequent treatment. In 2008 she was one of fourteen female recording artists who recorded "Just Stand Up", a single to raise money and awareness about cancer.
In 2011 Melissa Etheridge was given a star on the Hollywood Walk of Fame. Over the years Melissa Etheridge has charted six singles into the Top Ten on the Canadian singles pop chart. That year she also briefly appeared on stage as part of the cast in the Broadway musical American Idiot, based on the music of Green Day. Over the years she has released 14 studio albums.
As of mid-February 2020, Melissa Etheridge has over 40 concert dates scheduled between March and October 2020. These includes performances in 16 states in the USA, and concerts in Canada, the Netherlands, Belgium, Germany and Switzerland.
February 19, 2020
Ray McGinnis
References:
Susan Carpenter, "Alive and Well and at Peace with Herself," Los Angeles Times, October 17, 2005.
"Melissa Etheridge Lands Hollywood Walk of Fame Star," Billboard, September 28, 2011.
"Melissa Etheridge to Play ST. JIMMY in AMERICAN IDIOT Feb. 1-6," Broadway World, January 18, 2011.
Marianne Schnall, "Conversation with Melissa Etheridge," feminist.com, August 16, 2007.
"Upcoming Tour," Melissa Etheridge.com (as of February 19, 2020)
Margaret Paul, "Fight or Flight in Relationship Conflict," Huffington Post, March 27, 2017.
"Vancouver's Top 40 Hot Hits," CKLG 730 AM, Vancouver, BC, December 6, 1989.
For more song reviews visit the Countdown.