#985: Nobody by Doucette
Peak Month: September 1979
11 weeks on Vancouver's CFUN chart
Peak Position #18
Peak Position on Billboard Hot 100 ~ did not chart
YouTube.com: "Nobody"
Lyrics: "Nobody"
In 1952 Jerry Doucette was born in Montreal into a musical family. At the age of four his family moved to Hamilton, Ontario. At the age of six got his first guitar. When he was eight he began to take guitar lessons. When he was eleven he joined a band called the Reefers. When he turned 16 he moved to Toronto and was a member of a number of bands including Brutus. He moved to Vancouver in 1972 and played with the Alexis Radlin Band. Soon after he joined the Seeds of Time who were searching for a guitarist. In 1974 they changed their name to the Rocket Norton Band. Doucette remained with this band until he decided to go solo in 1977, after Mushroom Records expressed support for such a move.
In 1977, billing himself under his surname, Doucette released his first album titled Mama Let Him Play. His first single from the album, "Down The Road", made the Top 30 in Vancouver in February 1978. His next release was his biggest hit single, "Mama Let Him Play". In the spring and summer of '78 the tune reached #9 in Springfield, Massachusetts, #7 in Vancouver and the Top 20 in Ottawa. He released "All I Wanna Do" later that year while he extensively toured across the United States. While touring in the USA, Doucette was the opening act for various headliners including Meatloaf, Bob Welch, Eddie Money and Bob Weir of the Grateful Dead. With this extensive exposure Mama Let Him Play became a platinum selling record in Canada.
In 1979 he released his second album, The Douce Is Loose. The first single off the album was "Nobody".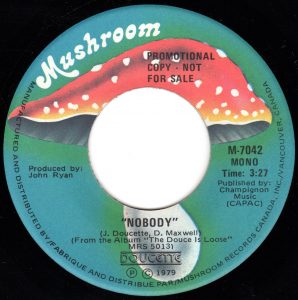 "Nobody" was co-written by Jerry Doucette and bandmate Duris Maxwell. The song describes a lover who is the best in every way. They are great in bed, understand the challenges of being in a band, sends a letter that is a lifesaver, and has an even temperament in the face of their partner being unsociable. The best thing of all is that this remarkable, versatile, understanding person "belongs to me." The two are 'hitched' and committed.
"Nobody" climbed to #2 in Fredericton (NB), #9 in Ottawa, #16 in Toronto, #17 in Saskatoon, #18 in Vancouver and #20 in Lethbridge, Alberta.
In 1979, to support the release of his second album, Doucette was an opening act for the Doobie Brothers tour of the USA in April. He subsequently opened for tours in Canada with the Beach Boys and the Atlanta Rhythm Section. Mushroom Records was plagued with financial troubles and the promotion of The Douce Is Loose suffered. Doucette decided to switch labels and signed a contract with Rio Records. However, when Coming Up Roses was released in 1981 there was little interest due to the fascination with new wave music. The disappointing sales sent Doucette back to the recording studio, but this time as a studio musician for Prism.
Doucette waited until the mid-'90's for a comeback. In 1995 he released Price Of An Education. The album contained the singles "Big Government Man" and "Miracles".
Doucette was one of the featured acts at the 2004 Rockin' the Fields of Minnedosa Rock Festival in Minnedosa, Manitoba, from July 30 to August 4. He had appeared at the Minnedosa Festival in 1999. Doucette returned to the festival in Minnedosa in the summer of 2008. From 2014 to 2017, Doucette performed a yearly concert at the Deerfoot Inn & Casino in Calgary. He played in White Rock at the Blue Frog Studios in October 2016. However, a concert scheduled for December 15, 2016, in Langley, British Columbia, was "cancelled due to unforeseen circumstances."
Jerry Doucette lives in Tsawwassen, British Columbia.
April 24, 2019
Ray McGinnis
References:
"Jerry Doucette biography," Jerry Doucette.ca.
Dan Brisebois, "Jerry Doucette biography," Canadian Bands.com.
"Rockin' the Fields History," Rockin' the Fields.ca.
"Doucette Concert in Langley Cancelled: Canadian Guitar Legend Jerry Doucette has Cancelled his Dec. 15 Show in Langley," Langley Advance Times, November 16, 2016.
"CFUN Top 30," CFUN 1410 AM, Vancouver, BC, September 15, 1979.
For more song reviews visit the Countdown.