#740: Nyet Nyet Soviet (Soviet Jewellery) by B.B. Gabor
Peak Month: June 1980
7 weeks on Vancouver's CKLG chart
Peak Position #10
Peak Position on Billboard Hot 100 ~ did not chart
3 weeks Hitbound on CKLG
YouTube.com link: "Nyet Nyet Soviet (Soviet Jewellery)"
Lyrics: Nyet Nyet Soviet (Soviet Jewellery)"
Gabor Hegedus was born in Hungary in 1948. His childhood was spent in the context of the repressive Hungarian Communist regime as a satellite of Stalin's USSR. The Hungarian Communist Party had received only 17% of the vote in November 1945 and 17% of the vote in national elections in August 1947. Hungarian Communist part leader, Mátyás Rákosi, forced the Social Democrats to merge with the Communists. Next, all the other political parties were declared illegal and many politicians were charged with "conspiracy against the Republic." This included Rákosi's main rival in the Hungarian Communist Party, László Rajk, the Minister of the Interior of Hungary who had established the State Protection Authority. László was executed after a show trial in May 1949. Under the regime as many as 1.5 million Hungarians were imprisoned at some point between 1949 and 1956, out of a population of 9.5 million. The highly unpopular Rákosi was removed from office in the July 1956, after a speech by Nikita Khrushchev on February 25, 1956, had begun a process of destalinization. Khrushchev had denounced the cult of personality that Joseph Stalin had established and Rákosi had emulated. Reforms and revolution were sparked in the fall of 1956 and László Rajk was cleared of all charges on October 6, 1956. On October 19, 1956, the new reformist Hungarian Communist Party leader, Imre Nagy, won concessions for a reduction of Soviet troops in Hungary. Students and others pushed for even more reforms and on November 4th Soviet tanks entered Budapest. The Hungarian Revolution ended on November 11, 1956. Gabor Hegedus and his parents fled to England. In a 1980 interview with Paul McGrath of the Globe and Mail, BB Gabor recalled that his family escaped Hungary just "one step ahead of the Russian tanks."
Gabor was only eight when he fled Hungary. These events from his childhood had a profound impact on his perspective on the world. From that same interview, Gabor recalls that the family first stayed "in a derelict home for sailors in Wapping, probably the dirtiest, darkest area of London." His brother, Istvan Hegedus, said of Gabor, "I don't recall that his interest in music at the time was out of the ordinary. We did have a grand-piano in Budapest, but I was the one that had to practice on it, not always enthusiastically! He attended St.Benedict's School in Ealing, London, UK from 1957-1964, which was a very good English Private Catholic School where he was a boy-soloist during mass. It was there that his musical talent was first discovered and given an avenue for expression. Unfortunately, I rarely saw him as I studied away from home, in Scotland. His interest in pop-music grew when the Beatles began to make their mark in Britain. He then never looked back! He had a Spanish-style guitar and he would strum it endlessly. Our father tried to encourage him to study music formally, but he would not hear of it. By the late 1960s, not only the Beatles but the Rolling Stones began to make it "big", and all the musicians were self-trained, so Gabor did not see a point in going to study music formally. He was self-taught as a guitarist, as well as a composer."
He subsequently moved to Toronto, Canada, at age 23, just ahead of his 24th birthday. It was there that he began his musical career in Toronto's new wave/punk Queen Street West scene. He formed a group named Instaband, and later a band named the Misfits. In 1980, BB Gabor released his self-titled debut album with the single "Nyet Nyet Soviet (Soviet Jewellery)".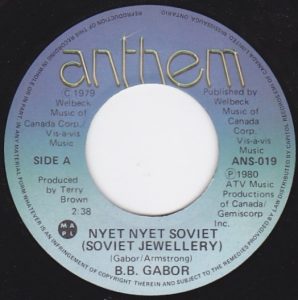 "Nyet Nyet Soviet (Soviet Jewellery)" seems to be about someone who wants to wear some soviet jewellery around their wrist. However, the KGB is coming after them. The lyrics later in the song state "they call me a dissident because I'd rather be dead than red." But what is Soviet jewellery? The song is full of images of the KGB coming to put people away. There are constraints on people's freedom of movement. The singer wants to "go," but the KGB say "stay." The KGB snaps the Soviet jewellery around people's wrists. Clearly, the Soviet jewellery in this song isn't what you buy at a jewellery store. Here, jewellery is a nickname for handcuffs. The song climbed to #4 on CJME in Regina, #10 on CKLG in Vancouver and #14 on CHUM in Toronto. The song was often accompanied by slam dancing by concert goers.
During the reign of Joseph Stalin, the USSR itself lived through what historians call The Great Terror. Conservatively, between 20 million and 40 million Soviet citizens, and those in the Warsaw Pact nations, were executed while Stalin was General Secretary of the Soviet Union. B.B. Gabor's lyrics offered up a unique view of an Eastern Block immigrant to Canada during the Cold War.
Istvan Hegedus says of his brother, Gabor, "his music was broadcast to Hungary via Radio Free Europe, as some of his songs, like "Nyet Nyet Soviet" and "Moscow Drug Club" had definite Cold War dimensions. Apparently he had a following in Hungary, as well as here in Canada. I attended the recording of an album, perhaps not his first one, in 1981. I attended some of his shows, most memorably at the El Mocambo and at Ontario place. Of course, I remember him playing at the 1980 and 1981 Juno Award ceremonies, when he was nominated as one of three finalists as "Canada's Most Promising Musician." His show at the El Mocambo was especially energetic." "Moscow Drug Club" was set to a Russian polka. The club listens to jazz ten years behind the West and smokes "Georgian gold." It was the B-side to "Nyet Nyet Soviet (Soviet Jewellery)".
BB Gabor toured across Canada, appeared at the Heatwave festival in August, in Bomanville, Ontario, which was billed at the New Wave Woodstock. He was nominated for a Juno Award, and won the U-Know for best male vocalist. He released a second album in 1981 titled Girls Of The Future. The Girls of the Future in the song are "imported" from the East (Asia), "bought in the Orient," "wrapped in cellophane," "perfect lovers" with "perfect legs." They are "programmed to serve" and a "little bit scared." BB Garbor's song about the sex trade and buying women for export didn't make it as a single. However, the single, "Jealous Girl" did make the playlist at CFNY in Toronto in October 1981.
However, it seems his live performances were uneven. A January 1981 review by Greg McMillan of B.B. Gabor as an opener for Max Webster at Hamilton Place in Hamilton, Ontario, was scathing: "A much bigger disappointment was the display put on by B.B. Gabor and his band. Gabor, who showed his pop versatility on one of the best Canadian albums of 1980, failed to bring the same studio flair with him. With keyboard player Dave Stone the only carry-over from the LP musicians, it was a noticeably flatter sound we were force-fed. Songs like Nyet Nyet Soviet and Metropolitan Life — which had so much zest on vinyl — sounded ordinary in comparison. It was an unexpected slap in the face…. B.B. Gabor…put out, only what he put out wasn't up to par."
In a 2016 article by Imran Khan in Pop Matters.com, the Khan writes that by 1982 B.B. Gabor was going through a marked shift in his mental-emotional state. "According to a number of reports, Gabor's general demeanor took a noticeable turn; his normally genial behaviour gave way, more and more, to reticence, a change that became increasingly difficult to ignore among colleagues, friends and family. The singer was also at a crossroads with his music, working out his differences with his record company, who demanded saleable material from him. As changes in the musical climate began to dictate much of the songwriting during the mid-'80s, Gabor struggled to find a harmonious balance between his personal vocation and the industry demands of popular music."
He subsequently moved to Vancouver and became estranged from his wife and son in the process. While based in Vancouver, Gabor tried to revive his career by working with producer Todd Rundgren, at Rundgren's compound in Woodstock, New York in 1985. However, the sessions with Rundgren didn't culminate in a new album, and Gabor eventually moved back to Toronto.
Gabor's brother, Istvan, reflects "The drifting apart from friends I did not know very much about. He did break up with his long-term partner, Valerie, at some point. Although, at some point during 1982 he met Sandra. Sometime during the 1980s, my brother began to be suicidal. On one occasion, in March 1982, we had to pick him up from Pembroke, Ontario, after he checked in at the hospital there. We brought him to our home and he stayed with us for a few days, sleeping 23 hours a day, which is a typical sign of depression. He had been diagnosed with manic-depression (bipolar illness) and the final year of his life was especially tragic; he had suffered from an extremely sharp and prolonged manic phase, followed by deep depression whereupon he took his own life." On January 17, 1990, Gabor's body was found by police at his Toronto apartment. His death was ruled a suicide.
In 2004, a thread of conversation online included a former host of Toronto's CFNY, Pete Griffin. In 1980, Griffin had interviewed B.B. Gabor and asked him what "B.B." stood for? Gabor's answer: "B.B. Gabor stands for the Queen." Griffin recalls this was a slice of Gabor's sense of humor. (After all if you don't stand for something, you'll go for anything. So you may as well stand for the Queen).
In 2014, fellow Hungarian-Canadian, Ritz Bozi, wrote a play titled The Damage Is Done. In it she explores her own family story fleeing Hungary, the therapeutic work of Dr. Gabor Maté and the story of BB Gabor. Bozi subsequently toured her play across Canada.
August 24, 2018
Ray McGinnis
References:
Imran Khan, "Soviet Misfit: The Life and Music off BB Gabor," Pop Matters, USA, March 13, 2016.
"Significant Events of the Hungarian Revolution of 1956," Wikipedia.org.
"Hungarian People's Republic," Wikipedia.org.
Erika Thorkelson, "Theatre review: Gabor Maté's therapeutic take on stage in The Damage is Done: A True Story," Vancouver Sun, October 21, 2015.
Pete Griffin, Thanks Anonymous for BB Gabor, Spirit of Radio.ca, March 2, 2004
Greg McMillan, "Max Webster Fails to Deliver Rock Pizzazz," Hamilton Spectator, January 10, 1981.
"Secret Speech Delivered by First Party Secretary at the Twentieth Party Congress of the Communist Party of the Soviet Union, February 25, 1956," Wilson Center Digital Archive
Simon Sebag Montefiore, Stalin: The Court of the Red Czar, (Alfred A. Knopf, New York, 2003).
Orlando Figes, The Whisperers: Private Life in Stalin's Russia, (Metropolitan Books, New York, 2007).
Slam Dancing, YouTube.com.
"CKLG Top 20," CKLG 730 AM, Vancouver, BC, June 12, 1980.
For more song reviews visit the Countdown.