#869: Oh You Beautiful Doll by Donnie Brooks
Peak Month: June 1962
9 weeks on Vancouver's CFUN chart
Peak Position #9
Peak Position on Billboard Hot 100 ~ did not chart
YouTube.com: "Oh You Beautiful Doll"
In 1936 John Dee Abohosh was born in Dallas, Texas. His family moved to Ventura, California when he was in his youth. In his teens he was adopted by his stepfather, John D. Fairecloth, who supported young John in developing his voice. John Dee Abohosh was than given the surname Fairecloth. While growing up in southern California, he studied under the same vocal coach who previously instructed Eddie Fisher. In high school John Dee Fairecloth made his professional debut on a classical music showcase broadcast by Ventura-based station KBCC. After graduating from high school, Fairecloth earned his living singing at local clubs, fairs, and weddings, embracing rock & roll and in 1957 signing to local indie Fable Records to cut his debut single, "You Gotta Walk The Line", credited to Johnny Faire. He was twenty-one years old.
While cutting demos for the Surf label, he learned that contractual obligations were forcing friend and mentor, Dorsey Burnette, to abandon a completed track dubbed "Bertha Lou." Surf agreed to erase Burnette's vocal and insert Faire's performance instead. Surf released the single and again John Fairecloth went with the stage name Johnny Faire when recording "Bertha Lou." The rockabilly number charted in Toronto and Baltimore in the winter of 1957-58. Fairecloth next took the stage name Johnny Jordan in early 1958 to record "Sweet, Sweet, Sweet". It was written by William Michael who would later pen Donnie Brooks biggest hit, "Mission Bell". But the rockabilly tune got no notice. Brooks was friends with singer-songwriters and performers, Dorsey and Johnny Burnette. The Burnette brothers encouraged John Fairecloth to stick with the music business.
Fairecloth than took the stage name Dick Bush to record another rockabilly tune, "Hollywood Party", on Era Records. It made the Top 20 in Worcester, Massachusetts, in May 1958. Despite tepid record sales, Era Records was impressed with Fairecloth and agreed to keep him on their payroll in exchange for another stage name change, this time to Donnie Brooks. "A donnybrook is a riotous occasion, and Donnie was a riot," said his friend Howard Thomason in 2007 in an interview with the LA Times. "This man didn't have a serious bone in his body."
His first recording under the name Donnie Brooks was a flop called "Li'l Sweetheart." His follow up on Era Records, "White Orchid," hardly got any notice, though it climbed to #3 in Vancouver, Washington, and sold over 50,000 copies. Moreover, it became a Top Ten hit in Australia. Brooks third single under his current stage name, "The Devil Ain't A Man" was a Top 30 hit in Ventura, California. The song declared that the devil was a girl about five foot tall. However, it was his fourth single release, "Mission Bell", that became his best seller peaking on the Billboard Hot 100 and in Vancouver at #7. His fifth single, "Doll House", climbed to #31 on the Billboard Hot 100 and #2 in Vancouver in December 1960. His sixth single, "Memphis,"stalled at #90 on the Billboard Hot 100, but peaked at #5 in Vancouver.
Brooks seventh single, "Wishbone" stalled at #40 in Vancouver and was a flop elsewhere. His eighth single release, "Boomerang" also missed the Billboard Hot 100. But it gave him his fourth Top Ten single in Vancouver, peaking at #9. Next, he released "Up To My Ears In Tears", "Your Little Boys Come Home", "My Favorite Kind Of Face", "Oh! You Beautiful Doll", "It's Not That Easy" and "Cries My Heart" for Era Records between the fall of 1961 and 1962. None of these successfully charted in the USA, though "Oh! You Beautiful Doll" went to #9 for Brooks in Vancouver.
"Oh! You Beautiful Doll" was a #1 hit in 1911 for Billy Murray and the American Quartet, one of thirteen that topped the US charts that year. It was the twelfth biggest seller of 1911, a year that featured "Alexander's Ragtime Band", "Let Me Call You Sweetheart" and "Down By The Old Mill Stream" when Ragtime was at its peak.
The original lyrics by Seymour Brown and music by Nat D. Ayer were:
Hug me just as if you were a grizzly bear
This is how I'll go through life,
No care or strife, when you're my wife
Oh, you beautiful doll!
You great, big, beautiful doll!
Let me put my arms about you,
I could never live without you.
Oh, you beautiful doll!
You great, big, beautiful doll!
If you ever leave me how my heart would ache,
I want to hug you but I fear you'd break
Oh, you beautiful doll! Oh, oh, oh
Honey dear, want you near,
Just turn out the lights and then come over here!
Nestle close, up to my side.
My heart's afire, with love's desire.
In my arms, rest complete,
never thought that life could ever be so sweet.
'Til I met you, some time ago,
But now you know I love you so!
My honey
Oh, you beautiful doll!
You great, big, beautiful doll!
Let me put my arms about you,
I could never live without you.
Oh, you beautiful doll!
You great, big, beautiful doll!
If you ever leave me how my heart would ache,
I want to hug you but I fear you'd break,
Oh, oh, oh, oh, oh, you beautiful doll!
Precious prize, close your eyes,
Now we're goin' to visit lover's paradise,
Press your lips again to mine,
For love is king of ev'rything
Squeeze me dear, I don't care!
Nat D. Ayer was born in Boston in 1887. He wrote songs for numbers of Broadway musicals including Miss Innocence in 1908, Ziegfeld Follies of 1909, The Echo in 1910, three musicals in 1912:A Winsome Widow, The Wall Street Girl, Let George Do It, and in 1916 the Ziegfeld Follies of 1916. "Oh, You Beautiful Doll" is Ayer's most famous song. Since it's release in 1911, the song has been recorded by many performers. These include Nancy Sinatra, Buddy Holly, Billy Vaughan, Al Jolson, Mel Torme, Rosemary Clooney, Guy Lombardo and Doris Day. The song has been part of the soundtrack of numbers of films including The Story of Vernon and Irene Castle (1939), For Me and My Gal (1942), Broadway Rhythm (1944), Oh, You Beautiful Doll (1949), Strangers on a Train (1951), The Eddie Cantor Story (1953) and The Taming of the Shrew (1969). Seymour Brown was born in Philadelphia in 1885 and wrote songs in Tin Pan Alley. "Oh, You Beautiful Doll" is his most famous song.
When Donnie Brooks recorded "Oh! You Beautiful Doll", he chose not to sing the verses. Instead he repeated the chorus three times.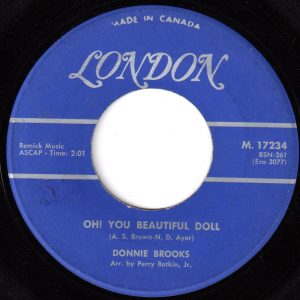 "Oh! You Beautiful Doll" is a song about a strong attraction and balancing the urge to hug your sweetheart with an appropriate strength of embrace so as to not do any harm. The guy fears that if he hugs his honey too much she might break. He can't live without her, and so it seems he'll need to sort out how big a hug he is safely able to giver her. A hundred years since "Oh, You Beautiful Doll" was published on sheet music and old record cylinders in 1911, hugging is still a challenge for some people to master. Along comes Brainard and Delia Carey to give people tips and illustrations on how to hug in their book, The Art of Hugging: A Heartwarming Guide to Everyone's Favorite Gesture of Love. While William Cane lets people know how and when to hug in his book The Art of Hugging. Not everyone knows how to hug, especially if they are very shy, introverted or formal in their demeanor. Being awkward about giving someone a first hug is nothing to be embarrassed about. Ask the person you are starting to hug how they like your hug. If they want it stronger or want you to ramp down the pressure, they'll most likely let you know.
Although "Oh! You Beautiful Doll" was a hit in Vancouver, it was a dud in the USA. After this string of disappointments, Era Records cancelled their contract with Donnie Brooks. He would release another 18 singles between 1964 and 1978 as Donnie Brooks variously for Reprise, Challenge, Yardbird, Era, Oak, Happy Tiger Records and Midsong International without any success. He also released one more single under his former stage name, Dick Bush, in 1963. Brooks did appear in the 1964 teen rock 'n roll movie Get Yourself A College Girl. He also appeared in concert in Vancouver at the PNE Forum on November 26, 1964. But once Beatlemania struck, Brooks was passé.
Brooks did star in three films in the 60's. A Swingin' Summer found Brooks starring in 1965 with Raquel Welsh, the Righteous Brothers, Gary Lewis & The Playboys and the Rip Chords. Another flick released at the end of 1964 was Get Yourself A College Girl with Nancy Sinatra, The Standells, The Dave Clark Five, The Animals, Stan Getz and Astrud Gilberto. In 1966 Brooks appeared in a movie about the dangers of L.S.D. called The Love-ins with James McArthur.
Though his star was fading, Donnie Brooks did continue to appear in concert opening for the Dave Clark Five, Connie Francis and Roy Orbison. In Lake Tahoe, Nevada, Brooks opened shows for both Sammy Davis Jr. and Frank Sinatra. In 1971, Brooks appeared in the Christian rock opera Truth of Truths, which premiered on Easter Sunday at the Greek Theatre with Jim Backus voicing the role of God. While rehearsing to play Jesus Christ, Brooks later said, he became a born-again Christian.
With a revival of interest in early rock 'n roll with the advent of progressive rock in the early 70's, Donnie Brooks began to tour as part of oldies revival shows. During Vancouver's 100th Expo '86 celebrations, Donnie Brooks performed in concert at the Expo Theatre on June 29, 1986. For over three decades Brooks constantly went on tour until in 2003 when a car accident forced him to retire. Donnie Brooks died in 2007 at the age of 71.
March 1, 2018
Ray McGinnis
References:
Get Yourself A College Girl , Metro-Goldwyn-Mayer, 1964.
"L.A. Singer had Top 10 hit "Mission Bell," Los Angeles Times, February 28, 2007.
Rockabilly Hall of Fame – Donny Brooks bio, Rockabilly Hall.com.
Brainard and Delia Carey, The Art of Hugging: A Heartwarming Guide to Everyone's Favorite Gesture of Love, (Skyhorse Publishing, 2012).
William Cane, The Art of Hugging: The World-Famous Kissing Coach Offers Inspiration and Advice on Why, Where, and How to Hug, (St. Martin's Griffin, 1996).
"Donnie Brooks – Concerts, Canada," setlist.fm.
"C-FUNTASTIC FIFTY," CFUN 1410 AM, Vancouver, BC, June 2, 1962.
For more song reviews visit the Countdown.