#1070: Oh Deed I Do by Elyse Weinberg
Peak Month: June 1969
6 weeks on Vancouver's CKLG chart
Peak Position #9
1 week Hitbound
Peak Position on Billboard Hot 100 ~ did not chart
Peak Position on Record World ~ #101
YouTube.com: "Oh Deed I Do"
Lyrics: "Oh Deed I Do"
Elyse Weinberg was born in 1946. In the 1968, the Toronto born Weinberg, now living in California, released her self-titled debut to much success. The album, Elyse, hit #31 on the Billboard 200 album chart. She appeared on Johnny Carson's Tonight Show, in Newsweek and the L.A. Free Press, and at Shaffer Music Festival in New York City. Even Cher choose to use one of her song's "Band of Thieves" on the soundtrack to Cher's acting debut in the 1969 film Chastity. However, a string of bad luck — and the fact that Cher for some reason instead credited the song to Sonny instead — led Elyse to experience only minor success in the years that followed before she drifted into seclusion and changed her name to Cori Bishop.
Elyse Weinberg played acoustic guitar. Her vocals were in the same zone as Janis Joplin and Melissa Etheridge. The air of psychedelia is fairly faint on her debut album, springing up in the mystical traces of sitars that appear in songs like "Oh Deed I Do" and in lyrics that refer to lovers with names like Sir John Velveteen. Weinberg's session band from Los Angeles, Touch, had an infectiously shambolic feel that resembled some of the haphazard tracks by Janis Joplin's backing band, Big Brother & the Holding Company. Touch could master a precisely arranged, affecting love song. Lyrically, Elyse is provides a good snapshot of American culture at the end of the Sixties with its gallows humor and mortality obsessions seem perfectly suited to the ugliness of racial violence and a country at war. Weinberg's vocal treatment of some of her lyrics also resemble to candidness of Lucinda Williams. "Oh Deed I Do" was her single release from the album.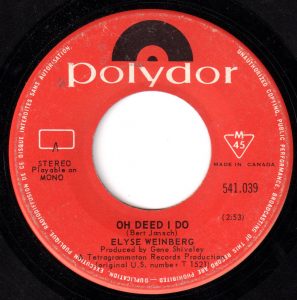 "Oh Deed I Do" was a song featured on Scottish recording artist, Donovan, on his 1965 album, Fairytale. The song was composed by Bert Jansch, a Scottish folk musician and founding member of the band Pentangle. He was born in Glasgow and came to prominence in London in the 1960s, as an acoustic guitarist, as well as a singer-songwriter. He recorded at least 25 albums and toured extensively from the 1960s to the 21st century. Between 1963 and 1965, Jansch travelled around Europe and beyond, hitch-hiking from place to place and living on earnings from busking and casual musical performances in bars and cafes. Before leaving Glasgow, the 20-year-old Jansch married 16-year-old Lynda Campbell. Other compositions by Bert Jansch were covered by a variety of recording artists including Joan Baez, Ian & Sylvia, Simon & Garfunkel, Neil Young, Al Stewart and Led Zeppelin.
"Oh Deed I Do" is about someone who is head over heels in love. However, the other person they're in love with doesn't believe them when they say "I love you." Add to this the character in hot pursuit of the love of their life makes it clear they want to go to bed with them, and quickly: "I need your love and I need it bad…" If they're given a chance to prove how much they are in love by laying down with the other person and turning them on to their lovin', they anticipate this will put an end to any doubts on the part of the object of their desire.
Following the release of "Oh, Deed I Do", Weinberg got a promotional single pressed from her debut album called "If Death Don't Overtake Me." However, the promo copy sent to radio stations never got the green light to proceed to official single release. Elyse Weinberg released officialy only one album, her debut Elyse. Her second album came out 41 years later in 2009 under her real name Cori Bishop. During the early seventies she released two test pressings of her albums Grease Paint Smile and Wildfire. Both albums were never officialy released and the very few testpressing which were sold went for extremely high prices. Weinberg's record label, Tetragrammaton, went bust before the release of Grease Paint Smile, and the project died on the vine, leaving Neil Young's guest guitar contributions in the vault. Shortly thereafter she signed with David Geffen's fledgling Asylum label and recorded a third, unreleased album, Wildfire. She then decided to abandon her management, record company and music career.
In a 2007 interview in Portland, Oregon, she describes what next unfolded. "I just drifted away, I kept writing songs, but as I entered onto a spiritual path, I just drifted away from that lifestyle, which was fortunate." Under her new name Cori Bishop lived a quiet, normal life in Los Angeles through the rest of the 1970's and the 1980's before moving to Santa Fe, New Mexico, in the early '90s. In 2005 she moved from Santa Fe to Ashland, Oregon, a place where she says "they can bury me, I love it so much," Although she was then working in the insurance business, she kept on writing songs. She considers her newer material much better than those old tunes.
Around the year 2000, some thirty odd years after the release of Elyse, Andrew Rieger of the Athens, Georgia, band, Elf Power, got hold of a copy. Rieger recalls, "I bought the Elyse record in a thrift shop in Missoula, Montana, because I thought the cover illustration, a knight kneeling beside a dying maiden's deathbed with a dragon watching over, looked pretty cool…. My record player at the time was broken, so I didn't actually end up listening to the album until six months after I bought it." When Rieger and his bandmate Laura Carter finally sat down to listen to the vinyl album, they discovered connections to not only their own band's music, but to a family of like-minded indie bands in Georgia, including Neutral Milk Hotel, Apples in Stereo and Beulah. Riger says, "Laura immediately fell in love with the record as well. I liked the psychedelic flourishes in the production, the folksiness of the playing and, most of all, the desperate quality of the singing and lyrics."
Laura Carter had recently started a artist-musician co-op, and record label called Orange Twin. Riger and Carter decided that no matter how old and forgotten Elyse may have been, the time was right to reintroduce it to a younger generation of discriminating pop music fans. But first, they had to locate Elyse Weinberg, not knowing that she hadn't gone by that name for more than two decades. Finally, Riger and Carter got in touch with BMI in Los Angeles and spoke to a guy named Rich who handled Weinberg's royalties. "I got a call from Rich saying that he got a letter faxed to him by Andrew, hoping to get in touch with me," says Bishop. "And I called Andrew and he told me the story and asked about putting out my first record on CD and I said, 'sure!' He said, 'We're playing in Portland in a month, do you want to play a couple of your songs with us?' And I went, 'OK, sure!' I just kept saying, 'OK, why not?' It was a beautiful thing."
The rest was history, as reflected in the Orange Twin Records press release: "Orange Twin re-released the self-titled debut, along with two other of her songs from that era, one of which, "Houses," features Neil Young wielding his distinctively ripping guitar sound. After the re-release her album, Elyse Weinberg was mentioned in Magnet, Time Out NY, Aquarium Drunkard and Creative Loafing.
Now, after playing extensively in support of the re-release over the past few years, Bishop returned to the studio to create a brand new full-length effort in 2009. Titled In My Own Sweet Time, it marked her first new release since her debut 1968 album. Her 1971 recording of Greasepaint Smile was finally released for the first time in 2015. It features her recording of the Neil Young song, "Houses".
Cori Bishop, aka Elyse Weinberg, isn't obsessing over her legacy, though she finds herself revealing more of her past to people in Ashland and her friends in the Southern Oregon Songwriters Association. She's formed a casual band called Baby Cori & the Buds and is excited about her musical future, though with few expectations. "Whatever happens, happens," she reasons. "I was content before all this recent stuff, and I'll be satisfied with whatever comes my way."
June 9, 2017
Ray McGinnis
References:
About Elyse, Elyse Weinberg.com
Fairytale, Wikipedia.org
Alessio de Paola, Chastity, American International Pictures, 1969.
Derek Schofield, "Bert Jansch Obituary: Innovative, influential guitarist and founder member of the groundbreaking folk band Pentangle," Guardian, October 5, 2011.
"Boss 30," CKLG 730 AM, Vancouver, BC, June 20, 1969.
For more song reviews visit the Countdown.