#154: Oh What A Feeling by Crowbar
Peak Month: April 1971
12 weeks on Vancouver's CKVN chart
Peak Position ~ #1 ~ CKLG
Peak Position on Billboard Hot 100 ~ did not chart
YouTube: "Oh What A Feeling"
Lyrics: "Oh What A Feeling"
Crowbar's roots go back to the beginning of Roly Greenway's career. In 1942 Roly Greenway was born in Guelph, Ontario. By the time he was sixteen in 1958, he had learned to play bass guitar. That year he joined a Guelph-based band called The Centurys. In 1962 he was a member of Joe Pino & The Starlites, then The Ascots in 1963. While he was in the Ascots, Greenway met guitarist Rhéal Lanthier. Born in 1939 in the foothills of the Laurentians in scenic Buckingham, Quebec, Rhéal Lanthier was nicknamed "The Frenchman." In 1964-65, Greenway and Lanthier played the Las Vegas lounge circuit for a couple of years, backing stars like Liberace and Zsa Zsa Gabor. They came back to Canada in 1966, and Greenway joined Bobby Curtola's touring band.

In 1967, Greenway and Lanthier reformed the Ascots as the New Ascot Revue. In this lineup were piano player and vocalist Kelly Jay, and harmonica player Richard Newell who went by the name King Biscuit Boy. Born Blake Fordham in December 1941 in Toronto, in 1961 Jay Kelly was frontman for the Toronto band Kelly Jay and the Jamies who released a single titled "Two Faced Woman".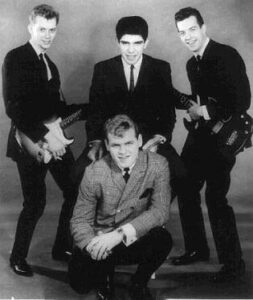 Richard Newell got his nickname while playing on and off with Ronnie Hawkins, presumably for his fondness for biscuits. Hawkins asked Newell to assemble a new band so King Biscuit Boy grabbed the New Ascots – which included John "The Ghetto" Gibbard on guitar – and added keyboardist Richard Bell, and drummer Larry Atamaniuk. The band was named And Many Others.
Ronnie Hawkins took the band on tour, including the Filmore East at 105 Second Avenue in the Lower East Side of Manhattan. Hawkins and his band shared the stage with Joe Cocker, Johnny Winter, and Mountain. However, in early 1970 while at the Grange Tavern in Hamilton, Ontario, Ronnie Hawkins came into the pub and fired the whole band. He concluded, "You guys are so crazy you could f*ck up a crowbar in three seconds!" Now on their own, and taking a poke at Hawkins, And Many Others changed their name to Crowbar.
In addition to the name change, Crowbar had some changes in their lineup. Sonnie Bernardi replaced Atamaniuk on drums, and Józef Chirowski replaced Richard Bell on keyboards. Bell joined the Full Tilt Boogie Band backing Janis Joplin. Chirowski was born in West Germany in 1947. Chirowski had been a member of the Toronto band Mandala, who had two Top Ten hits on the CHUM chart in Toronto in 1967-68: "Opportunity" and "Love-Itis".
Along with King Biscuit Boy, Crowbar recorded Official Music, their debut album. It was the first album for Daffodil Records when released on July 13, 1970. Official Music included a cover of the Otis Redding song "Shout Mama Lama", and an adaptation of "Corrina Corrina". Critics writing in Rolling Stone and Cream raved about the album. Crowbar began to tour that July, including at the Strawberry Fields Festival in Bowmanville, outside of Toronto, on August 7th to 9th at the Mosport Park Raceway. Originally, the festival was to be hosted by John Lennon and Yoko Ono. But, as declassified documents in 2007 reveal, by December 1969 the RCMP had begun spying on the couple once they announced the Peace Festival. (Originally, it was to be billed as the Toronto Peace Festival and held in July 1970).
Crowbar shared the stage at the Strawberry Fields Festival with Procol Harum, José Feliciano, Ten Years After, Delaney & Bonnie & Friends, Grand Funk Railroad, Jethro Tull, The Youngbloods, Melanie, Mountain, Sly & The Family Stone, Eric Burdon & War, Lighthouse, Alice Cooper and others. On the August 7-9 weekend, the crowd was estimated at over 100,000. Promoters of the festival, worried the event would be cancelled by the authorities, billed it in Ontario as a motorcycle event with some music on the side. But in the USA, it was advertised as a music festival with "3 Days of Love, Sun & Sound." Most of the audience at the Strawberry Fields Festival came from America to pay the $15 admission for the weekend.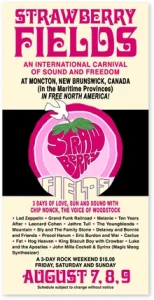 Led Zeppelin and Leonard Cohen were listed on the bill, but did not appear.
Several thousand more American music fans were turned back at the Canada–US border by Canadian border agents. Young fans had to provide proof they had sufficient funds to look after themselves while visiting Canada and produce adequate identification. (At the time it was not customary to have to show a passport to cross the Canada-US border). Forty US dollars were required to be shown to officials, at checkpoints like the Thousand Islands Bridge crossing. If one could not show sufficient cash, they were told they could not cross the border.
King Biscuit Boy (Richard Alfred Newell) left the band to record a solo album titled Gooduns.
Meanwhile, Crowbar went back to the studio to record Bad Manors. On the album were Kelly Jay (piano and lead vocals), Roly Greenway (bass guitar and percussion), Sonnie Bernardi (drums and percussion), Rhéal Lanthier (lead guitar), Jozef Chirowski (piano and organ), and John "The Ghetto" Gibbard on guitar. The album included a cover of the Fats Domino hit from 1961 "Let The Four Winds Blow".
Crowbar was the first act to launch a record under the new legislation by the CRTC law designating the implementation of 30% mandatory Canadian content by all radio stations. Their single, "Oh, What A Feeling", got extensive airplay from coast to coast.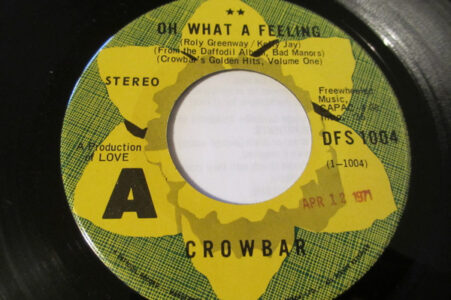 Roly Greenway and Kelly Jay cowrote "Oh What A Feeling". The lyrics invited listeners to "boogie woogie…rock and roll, jive…fill your head with music, satisfy your soul." However, American DJs were concerned the chorus "Oh what a feeling, what a rush," was in reference to doing – or promoting doing – drugs.
The opening to "Oh What A Feeling" is the nonsensical phrase "Bop bada baa, Bop bada baa." The phrase had meaning for the bandmates and was an inside joke. "Bop bada baa, bop bada baa" was the password to gain entrance to Crowbar's hangout Bad Manors in Ancaster, Ontario.
Three-quarters of the way through the song, Kelly Jay offers some spoken word as a bridge:
"Wow, first is the boogie and the life we love to live. The second, that's easy, that's the many more things we have to give. And I can't remember. The third one is the rhythm that's still strange. And that's just a preview of the things you're gonna get."
"Oh What A Feeling" peaked at #1 in Vancouver, #2 in Sudbury (ON), #3 in Calgary (AB), #6 in Hamilton (ON), and Saskatoon (SK), and #14 in Toronto.
"Oh What A Feeling" was used as the logo/theme for the 25th anniversary of the JUNO awards in 1996. It was also the title track of the biggest selling box set in Canadian music history: Oh What a Feeling. "Oh What A Feeling" was also was used as the theme song of the Ontario government's Participaction public fitness program from the early 1970s onward.
After the success of "Oh What A Feeling", thanks in no small part to the CRTC airplay regulations, Kelly Jay presented Prime Minister Pierre Trudeau with a plaque that read, "Thank you for making it possible for Canadians to be heard in their own country." Jay also gave Pierre and Margaret Trudeau gold pendants in the shape of crowbars. As well, he slipped the buckskin-jacketed prime minister several marijuana joints for him and Margaret to enjoy. Kelly Jay later recalled: "Thank god the Mounties didn't intercept it."
On June 7, 1971, Crowbar recorded a performance at Massey Hall, in Toronto. For the performance, Kelly Jay arranged for a nude stripper to hide inside a giant wedding cake that he'd had built. To kick off the show, the stripper climbed up a ladder and popped out of the top of the cake, followed by each of the members of Crowbar. Once on stage, the bandmates dove into a blues infused set. The performance was released as a double album, Larger than Life (and Live'r Than You've Ever Been). The concert, billed as "An Evening of Love with Daffodil Records", was co-produced by concert promoter Martin Onrot and Toronto radio station CHUM-FM. Other recording acts on stage with Crowbar at Massey Hall, included Lighthouse, Doctor Music, and Everyday People. King Biscuit Boy also returned to perform with his former bandmates. The recording and release of the album were the first time a Canadian band had recorded and released a "live in concert" album. As well, it was also the first time a live concert was broadcast simultaneously on CHUM-FM.
Crowbar were known for outlandish on stage antics. 250-pound Kelly Jay typically entered the stage on a motorcycle, and leap onto his grand piano to whip up the crowd. At one point in their routine, Jay would hoist Gibbard to his shoulders and Greenway onto his thighs while both continued playing their instruments. The three-headed musical monster then roamed the stage to the audience's delight.
In August 1971, a followup single, "Happy People" spent three weeks in the Top 30 on CKLG in Vancouver. It was also a minor hit in Hamilton and Winnipeg. And in December 1971, "Too True Mama" was a Top 40 hit on CKVN in Vancouver.
On December 14, 1971, Crowbar appeared in concert in Vancouver at the PNE Garden Auditorium. And on June 30, 1972, they performed in Nanaimo, on Vancouver Island, (and at the Nanaimo Curling Club and at the Nanaimo Civic Arena on May 24, 1974). In the summer of 1972, Crowbar's cover of the number-one hit by Bruce Channel from 1962 – "Hey Baby" – charted into the Top 40 on CKVN. The single was from the album Heavy Duty.
In 1972 Crowbar toured with Alice Cooper. Later that year there was a Canadian federal election called for October 30, 1972. As part of Pierre Trudeau's efforts to get out the youth vote, his wife Margaret Trudeau asked Crowbar to be the opening act of Trudeau's re-election campaign. Crowbar opened for Liberal rallies in such venues as Maple Leaf Gardens, Trudeau won a cliffhanger – 109 Liberal to 107 Progressive-Conservative – and Crowbar became a household name.
Crowbar released a final album on the Daffodil label titled Larger than Life. It featured covers of Bill Haley and His Comets "Rock Around the Clock" and "Shake, Rattle and Roll", and the 1957 hit "Over The Mountain" by Johnny and Joe. Several single releases, "Dreams", "Ask Me No Questions", "Let The Four Winds Blow", and "Fly Away" were not commercially successful.
Crowbar left Daffodil for the subsidiary of Columbia Records on the Epic label. They recorded Million Dollar Weekend – officially titled KE32746 after the serial number. The track, "Million Dollar Weekend", was a Top 20 hit on CHUM in Toronto in early 1974. Another album, from their 1971 week at the Whiskey-A-Go-Go in Los Angeles, – recorded on July 22 – was their second live album: Live at the Whiskey A-Go-Go, Hollywood. Later in 1974 Crowbar split up.
After Crowbar disbanded, Sonnie Bernardi joined the Guess Who from 1974-75 on drums. In 1977, Crowbar reunited to release a cover of the Chuck Berry single "Run, Run Rudolph". By that time Józef Chirowski had joined the Alice Cooper Band, and was on the album Welcome to my Nightmare with the hit single "Only Women Bleed". In 1977, Chirowski was a session musician on Peter Gabriel's self-titled debut album. There were lineup changes as Crowbar toured in 1977-78, and then disbanded again.
Kelly Jay became a milliner, making plumed hats with his second wife. In 1986 Kelly Jay reformed Crowbar and released a single titled "Call Me A Cab". It got some airplay in Toronto and Hamilton. Jay moved to Alberta in 1987 and organized the International Sled Dog Classic races in Canmore.
Sonnie Bernardi has continued to play drums with the 905 Band in Burlington, Ontario, at the Boston Manor and various festivals around Ontario.
"Oh What A Feeling" was inducted into the Canadian Songwriters Hall of Fame in 2011, and Crowbar performed on stage. As well Crowbar occasionally got back together to play concerts in and around Hamilton into the early 2010s.
In later years Kelly Jay got diabetes and was diagnosed as a hoarder. An episode of the 2013 TV series, Hoarding: Buried Alive, featured Kelly Jay in his Calgary home. He died in June 2019. Rhéal Lanthier died at the age of 80 after some years with dementia on March 1, 2020. Roly Greenway died at age 78 after a long battle with cancer on December 27, 2020.
May 6, 2022
Ray McGinnis
References:
Nicholas Jennings "Musician Blake Fordham made people feel cool to be Canadian," Globe and Mail, June 24, 2019.
Karen Bliss, "Crowbar's Kelly Jay, Co-Writer of Canadian Classic 'Oh, What a Feeling,' Dies Following a Stroke," Billboard, June 21, 2019.
Kerry Doole, "In Memoriam: Those We Lost Over The Holiday Period," FYImusicnews.ca, December 27, 2020.
Francis W. Davies, Brad Cassolato and Roly Greenaway, "Crowbar," Discogs.com.
David McPherson, "Record Rewind: 50 Years of Bad Manors," Amplify National Music Center, February 3, 2021.
"Crowbar Concert Dates," Setlist.fm.
"Crowbar's Rhéal Lanthier Passes," Hamilton Blues Lovers, March 2, 2020.
"Lanthier, Rhéal 1939-2020," coo.coop, March 2, 2020.
"Strawberry Fields Festival 1970"
"905 Band," 905band.com.
"Boss 30," CKLG 730 AM, Vancouver, BC, April 9, 1971.
For more song reviews visit the Countdown.