#45: Oh Yeah by Yello
City: Calgary, Alberta
Radio Station: CFCN
Peak Month: October 1987
Peak Position in Calgary ~ #7
Peak position in Vancouver ~ did not chart
Peak Position on Billboard Hot 100 ~ #51
Peak Position on Cashbox Top 100 Singles ~ #49
YouTube.com: "Oh Yeah"
Lyrics: "Oh Yeah"
Yello is a Swiss electronic music band formed in Zurich in 1979. Boris Blank was born in Bern, Switzerland, in 1952. Before he joined Yello he was a truck driver. As a child he was very interested in music, but had no formal training. He never learned to read musical notation but always was interested in producing new sounds and samples. Blank began experimenting with tape loops and echo effects as a teenager. He recorded water sounds from a bucket of water and played sounds on a homemade bamboo flute. It was in this period he met Carlos Perón, who was born in Zurich in 1952. The third member to join the band was Deiter Meier. Born in 1945 in Zurich, Meier studied law in university, but never completed his degree. He went into banking and became a professional gambler. Blank and Perón approached Meier when they realized they needed a singer, as Blank's vocals were better suited to backing vocals. The band's name, Yello, was chosen as a neologism based on a comment made by Meier, "a yelled Hello"
In 1979 the band released their debut single "I.T. Splash". In 1981, their single "Bostich" was a Top 30 dance chart hit in the USA. With the release of "I Love You" in 1983, they charted to #3 on the Belgian pop charts. Later that year, "Lost Again" reached #10 on the Swiss Hit Parade. By the end of 1983 Carlos Perón left the band leaving it as a duo of Blank and Meier.
In 1985 the duo released the album Stella. In 1985 the debut single, "Vicious Games", peaked at #5 on the Swiss Hit Parade, #8 on the Billboard Dance Club Songs chart and #15 in West Germany. The album Stella had a second track that became a Top 20 hit on the Swiss Hit Parade and the West German Pop chart titled "Desire". A third track, "Oh Yeah" would gain popularity after the release of the 1986 film Ferris Bueller's Day Off.
In 1986, Yello released "Goldrush", which became a #9 hit on the Swiss Hit Parade, and a Top 30 hit in both Belgium and West Germany. Early in 1987, "Call It Love" climbed to #6 on the Swiss Hit Parade, #14 in West Germany and #19 in Austria. But with the success of Ferris Bueller's Day Off, in the summer and fall of 1986, "Oh Yeah" began to get on radio station play lists. This continued into 1987 when it finally cracked the Billboard and Cashbox pop charts late in the summer.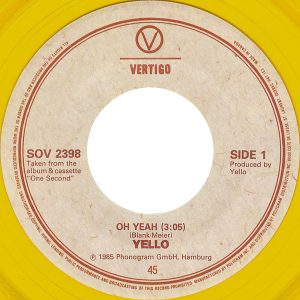 Boris Blank recalls recording "Oh Yeah". "First I did the music and then I invited Dieter to sing along, and he came up with some lines which I thought, 'no Dieter, it's too complicated, we don't need that many lyrics'. I had the idea of just this guy, a fat little monster sits there very relaxed and says, "Oh yeah, oh yeah". So I told him, 'Why don't you try just to sing on and on 'oh yeah'?… Dieter was very angry when I told him this and he said, 'are you crazy, all the time "Oh yeah"? Are you crazy?! I can't do this, no no, come on, come on.' And then he said, 'some lyrics, like "the moon… beautiful", is this too much?!' and I said, 'no, it's OK', and then he did this 'oh yeah' and at the end he thought, 'yeah it's nice', he loved it himself also. And also I wanted to install lots of human noises, all kind of phonetic rhythms with my mouth; you hear lots of noises in the background which are done with my mouth."
In order to get inspired enough to write lyrics that consist entirely of Meier repeating "ohhhhhh, yeah" and "the moon, beautiful/the sun, even more beautiful," Meier was told a special story by his bandmate. "You imagine, you're the King Of Tonga. The sun is about to go down, some people bring you the perfect great drink, a cool breeze comes to you, and in this situation, what would you say?"
"Oh Yeah" appears in the Matthew Broderick film Ferris Bueller's Day Off. Initially, in the scene where Ferris Bueller's friend Cameron goes to his father's glass garage where the cherished 1961 Ferrari 250 GT California is housed. In 2017 Deiter Meier told a reporter he had still never watched the film that made him over a million dollars from increased record sales for both Stella and "Oh Yeah".
After its use in the 1986 film Ferris Bueller's Day Off — an "incredibly infectious song" from which it became virtually known as 'the Ferris Bueller song' — "Oh Yeah" was used in various other film soundtracks through the end of the decade and developed a reputation as a 1980s Hollywood cliche. It was featured in the soundtracks for the 1987 comedy The Secret of My Success, the 1989 comedy She's Out of Control, and in the 1990 comedy film Opportunity Knocks.
"Oh Yeah" peaked at #4 in Minneapolis/St. Paul, and Chicago, and #7 in Calgary. Internationally, "Oh Yeah" peaked at #8 in Australia, #47 in West Germany, and #51 on the Billboard Hot 100. A 2006 remix, "Oh Yeah Oh Six", topped the Billboard Dance chart that year.
Also in 1987, Yello recorded "The Rhythm Divine" with Shirley Bassey on vocals. The emotively stirring single peaked at #19 in Austria, #21 on the Swiss Hit Parade, and #24 in the Netherlands. Their biggest commercial success at the time on the pop singles chart was in 1988 with "The Race". The song peaked at #4 in West Germany, #6 in Austria, #7 in the UK, #8 in Switzerland, #9 in New Zealand, #12 in Finland, #14 in the Netherlands, and #20 in Belgium.
In 1995 "Bostich" was a #2 hit in Finland, and Yello's "Jingle Bells" climbed to #7 as well in Finland.
Halifax and Toronto college radio DJ, Joe Clark, wrote on fawny.com summing up Yello. "Few of us know what to make of Yello, the Swiss-playboy duo who embody the phrase 'out of left field.' Too whimsical for techno purists, too straight for Pet Shop Boys acolytes, betraying insufficient craft for Cabaret Voltaire snobs, and simply not danceable enough, Yello are an acquired taste. A taste I actually have."
In the mid 90s, with Yello on a three-year break, Deiter Meier launched Rewatch. The company developed wristwatches from beer and soda cans. 'We collect the cans from Swissair mainly and the Swiss railway system," Meier told the New York Times back in 1997. Meier reportedly got the idea from a visit to the office of his lawyer, who was wearing a watch made from a can of Budweiser. On the strength of that, he sought out the creator and bought the patent. Other business ventures include his organic beef farm and winery in Argentina (which supplies a store he operates in Zürich, Ojo de Agua), and as an author of children's books. Meier has also appeared in a number of Swiss films and in a small role in the 2006 comedy National Lampoon's Pledge This!
Boris Blank has been composing and producing solo music, under the name Avant Garden, which is strictly intended for licensing to the film and TV production industry.
In December 1983, Yello performed at the Roxy in New York City. Otherwise, their occasional concert appearances have been limited to venues in Germany, Austria and Switzerland.
August 11, 2023
Ray McGinnis
References:
Joe Clark, "Yello: A Situationist History," fawny.com.
Jonas Warstad, Stella: The Story Behind the Album, CreateSpace Independent Publishing Platform, 2013.
Boris Blank and Dieter Meier, Oh Yeah/Yello 40, N° 335, 2021.
Steve Wynn-Jones, "Five reasons why Yello's Dieter Meier makes the music industry more interesting…," 909Originals.com, July 22, 2019.
Boris Blank and Dieter Meir, "How the 'Oh Yeah' Song in Ferris Bueller came to be," YouTube.com, June 24, 2020.
Reid McCarter, "Meet the righteous dudes behind Ferris Bueller's "Oh Yeah" theme song," June 25, 2020.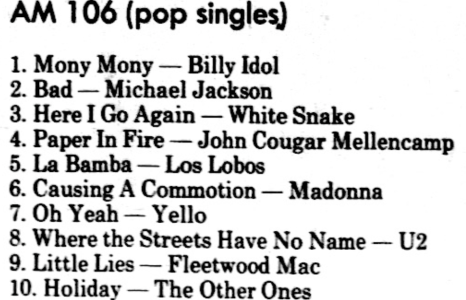 CFCN 1060 AM, Calgary, Alberta, Top Ten the week of October 11, 1987.
For more song reviews visit the Countdown.