#1131: Old Time Movie by Lisa Hartt Band
Peak Month: June 1976
8 weeks on Vancouver's CKLG chart
Peak Position #12
Peak Position on Billboard Hot 100 ~ did not chart
YouTube.com: "Old Time Movie"
Lisa Hartt was born in 1946, and when she turned 45 CTV did a lifestyle feature in 1991. At the time Hartt was attending Concordia University's Communication Art's Program. By the time Lisa was fifteen she was performing as a backup vocalist for bands in Montreal. She took the stage name Lisa Hartt. In 1973, while in Montreal, she formed her own band called The Lisa Hartt Band. After a few changes in the line-up, by 1976 the band consisted of bass player Denny Gerrard (Paupers, Lighthouse), guitarist and vocalist Rayburn Blake (Mashmakhan), keyboard player and vocalist Richard Yuen (Tranquillity Base) and drummer and vocalist Marty Cordrey (Bearfoot, Small Wonder). Lisa Hartt was the lead vocalist and also played acoustic guitar.
The Lisa Hartt Band released four singles starting in 1975. They released an album in 1976 called Starwatcher with marquee producers Phil Ramone and Ralph Murphy. Phil Ramone was a producer extraordinaire. The list of performing artists by the mid-70s who he'd had a hand in producing records for included Burt Bacharach, the Band, Ray Charles, Karen Carpenter, Chicago, Natalie Cole, Bob Dylan, Aretha Franklin, Billy Joel, Elton John, Quincy Jones, B.B. King, Barry Manilow, Barbra Streisand, Paul McCartney, Liza Minnelli, Anne Murray, Olivia Newton-John, Peter, Paul and Mary, André Previn, Carly Simon, Paul Simon, Frank Sinatra, Phoebe Snow, Dusty Springfield, Rod Stewart, James Taylor, the Guess Who, Dionne Warwick and Stevie Wonder. As a producer, Ralph Murphy also had a resume that included records for Mashmakhan, April Wine, Billy Fury and Jeannie C. Riley. With these two producers crafting The Lisa Hartt Band's debut album, hopes were high. Their second single was a track from this album called "Old Time Movie".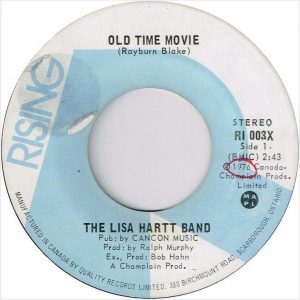 This old world has been rolling around
for a hundred million years or more.
Who am I, is the question asked
a hundred thousand times before.
Where are we, is the laugh on me?
Will I ever open heavens door?
It's just like an old time movie,
where the hero always wins,
and ladies walk so softly,
and men learn to be men.
And just like an old time movie,
I'm watching once again.
I need to know your sweet, sweet love,
before our story ends.
This old world will be rolling along
for a hundred million years or more.
Is there time in this crazy life rushing by,
how can I be sure you'll be there?
Do you really care
if we ever open heavens' door?
It's just like an old time movie,
where the hero always wins,
and ladies walk so softly,
and men learn to be men.
And just like an old time movie,
I'm watching once again.
I need to know your sweet, sweet love,
before our story ends. (repeat twice)
It's not like an old time movie,
It's real, real life. (fade)
The single ponders age old questions and the opportunity to make something beautiful out of a very human story between two people trying to love each other. The song climbed up to #12 on CKLG. But it got little support beyond air play, as Quality Records had other recording artists they were giving their promotional and financial support to. There was a follow up single, "Easy Come, Easy Go", that spent one week on the CKLG charts in November 1976. The song failed to gain any chart traction elsewhere in Canada, and repeated the string of commercial failures south of the border. Although, an October 2, 1976, issue of Billboard magazine mentioned the song in its From the Music Capitols of the World section.
The group split and Lisa Hartt appeared live on the CBC's 90 Minutes Live, hosted by Peter Gzowski in 1977. As there are no available photos of her online, for those who want to see what she looked like shortly after her hit single in Vancouver, click on the link above. Lisa went on the have her own TV show, toured Europe. She was on tour constantly for fifteen years. She also spent time as a session vocalist for Ken Tobias and toured with Gino Vannelli's band.
By 1991 Lisa Hartt Spillane was married with a small child, Julian, and taking care of her parents. She decided to put the music business on hold and take a full time degree. That year she took a Minor in Jazz Studies and Major in Sound at Concordia in the Communciation Arts program from 91-95. She graduated in 1995 with distinction as the most outstanding graduate in Communications Arts. Years later she was featured in an episode of Backyard Pleasures, with Debra Boland on HGTV. The garden Lisa and her husband Michael have created was also part of an Oakville Garden Tour.
In February 2017, Lisa Hartt was in concert with Don Graham at the Taste of Columbia El Salon in Oakville. She said to Cashbox Canada Magazine in advance of the performance, "my music is coming back into the forefront of my life and I once again feel that music is a healing force for good in our world so the writing is more and more a more mature look at the day to day lives we lead where I can find such beauty and stunning tales in people's lives because it is after all people and love which make the world go round. Using folk, anthems, jazz fusion, reggae, gospel, R & B all in the pot of a Montreal upbringing I so look forward to playing and singing for a long, long time to come."
March 28, 2017
Ray McGinnis
References:
Sandy Graham, One Night – Two Hearts With Lisa Hartt and Don Graham, Cashbox Canada Magazine, February 5, 2017
Lisa Hartt profile, CTV, 1991
The Lisa Hartt Band ~ Releases, Discogs.com
Peter Gzowski interview with Lisa Hartt, 90 Minutes Live, CBC, 1977.
Debra Boland interview with Lisa Hartt, Backyard Pleasures, HGTV
From the Music Capitols of the World:Montreal, Billboard, October 2, 1976.
"Vancouver's Official Music Survey," CKLG AM, Vancouver, BC, June 29, 1976.
For more song reviews visit the Countdown.