#488: One Monkey Don't Stop No Show by Honey Cone
Peak Month: January 1972
9 weeks on Vancouver's CKVN
Peak Position #2
Peak Position on Billboard Hot 100 ~ #15
YouTube.com link: "One Monkey Don't Stop No Show"
Lyrics: "One Monkey Don't Stop No Show"
Edna Wright was born in Los Angeles in 1944. She grew up in the church and sang with the Church of God in Christ Singers. In 1965 she recorded under the pseudonym Sandy Wynns, and had a minor hit in Los Angeles with "A Touch Of Venus". In 1969 she sang backing vocals on an album for the Righteous Brothers. In 1969, Honey Cone was formed by lead singer Edna Wright (sister of Darlene Love, who provided lead vocals for the Crystals "He's A Rebel") with Carolyn Willis and Shelley Clark. (Note: Clark's first name is spelled differently by Wikipedia, Discogs and AllMusic as either Shelly, Shellie or Shelley). Willis was born in 1946 in Los Angeles. In 1966, Shelley Clark had been one of the trio backing singers with the Ikettes for Ike & Tina Turner at the time they recorded "River Deep – Mountain High". Willis had been part of a girl group in 1964 named the Girlfriends. They scored a minor Top 50 hit that year with "My One And Only Jimmy Boy". Willis and Wright also had recording and performing experience in Darlene Love's girl group the Blossoms from 1962 to 1964. The Blossoms sang backing vocals on "Monster Mash" for Bobby "Boris" Pickett, "Johnny Angel" for Shelley Fabares, and "Be My Baby" for the Ronettes, and "He's A Rebel" (credited to The Crystals and not the Blossoms who actually recorded the record for Phil Spector). Willis and Wright also provided backing vocals for Darlene Love's "He's Sure The Boy I Love".
In 1968 Carolyn Willis provided backing vocals on an album by Harper's Bizarre. And the next year she was a backing vocalist for an album by Ketty Lester and another for Stan Kenton. While in 1969 Shelley Clark performed backing vocals for Tommy Roe's hits "Dizzy" and "Heather Honey".
In 1969 Wright, Willis and Clark formed Honey Cone with Hot Wax Records, under the guidance with former Motown songwriters and producers Holland-Dozier-Holland. They released their first album and single in 1969, but got little traction. Several more albums followed. Meanwhile, in 1970 Carolyn Willis was a backing vocalist for Charles Wright & the Watts 103rd Street Rhythm Band's Top Ten R&B hit record "Express Yourself".
In the spring of 1971 Honey Cone issued their fourth single release titled "Want Ads". The song became their first big hit, climbing to #1 on the Billboard Hot 100. The song was co-written by General Johnson and Greg Perry, who'd earlier penned "Somebody's Been Sleeping In My Bed" for 100 Proof (Aged In Soul) back in 1969. The songwriting duo next composed "Stick Up", a #1 hit on the R&B chart for the trio, and a #11 hit on the Billboard Hot 100 in the fall of '71. Next, General Johnson and Greg Perry wrote "One Monkey Don't Stop No Show", which Honey Cone released in October 1971.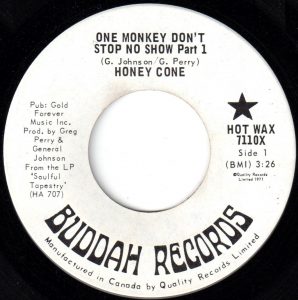 "One Monkey Don't Stop No Show" is the title of several different songs, mostly in the R&B genre, deriving from a common African-American phrase with the general meaning of "one setback should not impede progress" Back in 1950, a song by that title by blues singer Stick McGhee asserted that anyone can get rich, grow long hair, live in the country or the town. You have to make some effort, but one monkey don't stop no show. In 1955 Big Maybelle recorded a song also titled "One Monkey Don't Stop No Show". In the song she recounts "he left me about three in the morning, I got me a man at four…" And in 1965 Joe Tex sang another song by the same title. In the song he encourages "if you've been unlucky in love, and lost somebody… you better get on up" and try again because "One Monkey Don't Stop No Show".
When General Johnson, the frontman of the Chairmen of the Board, and Greg Perry co-wrote "One Monkey Don't Stop No Show" in 1971, the phrase was an ear worm from these earlier iterations of identical song titles since 1950. General Norman Johnson was born in Norfolk, Virginia, in 1941. He began singing in church at the age of six. At the age of twelve he was the lead singer for a doo-wop group called the Humdingers, who were on the Atlantic label. At the age of twenty, Johnson's group changed their name to the Showmen and relocated to New Orleans for a year. The group released "It Will Stand", an ode to rock 'n roll. The song climbed to #1 in Baltimore and Birmingham (AL), #2 in Los Angeles and #5 in Pittsburgh and #6 in Chicago. The song was re-issued in 1964 and climbed to #6 in Windsor and Detroit. But New Orleans based Minit Records had limited promotion.
Although the Minit label managed to get Ernie K. Doe's "Mother-In-Law" to number one on the Billboard Hot 100 in April '61, they never had another big hit. The Showmen released six singles in New Orleans between 1961 and 1963. But they struggled to get a breakout hit. Imperial Records re-issued "It Will Stand" in 1964. Then in 1965 the Showmen moved to Philadelphia based Swan Records and released some soul tunes. "39-21-46" was re-issued on Minit Records in 1967 and got some regional breakouts. But by 1968 the group folded. Johnson left to form Chairmen of the Board in 1969, and released "Give Me Just A Little More Time", a #3 hit in the USA in 1970.
Greg Perry was born in the late 40s. He was raised on St. Louis blues and gospel. Discogs.com states that while Perry was "a teenager" he recorded records with Chess in Chicago. In 1967 he recorded "Love Control" with Chess Records. But on a Greg Perry bio on the Soul Tracks website, they state that Perry was doing his first recordings while he was in high school in the late 50s. Even if Perry was in Grade 8 in 1959, he'd be out of his teens by 1967. In any event, he apparently recorded some demos when he was 17 years old in New York City. He recorded seven singles as a solo artist between 1967 and 1982. He also recorded two albums in the mid-70s. He later married Honey Cone lead singer Edna Wright.
The Honey Cone's "One Monkey Don't Stop No Show" is about a choice point in a relationship. The singer declares "if you don't want my love, you're free to go." She observes that her lover doesn't lover her with "soul." She also tells us that he wants "to be free." The catalyst for his itchy feet is success which has gone to his head. Presumably, his success has been accompanied with a higher income and standard of living. She reminds him that "your backbone is me." She thinks that without him he wouldn't have gotten as far as he has. But with the tepid vibe she's getting from him now, she tells him "get out of my life before you ruin my heart." A glance at several articles on career and love life indicate that if one partner starts to spend ten or more hours more at work, it increases the chances of a divorce.
"One Monkey Don't Stop No Show" peaked at #2 in Vancouver (BC), #3 in Phoenix, Toronto and Rochester (NY), #4 in San Bernardino (CA), Providence (RI) and New York City, #5 in Honolulu, Flint (MI) and Fresno (CA), #6 in Tucson, Lincoln and Omaha (NE), and Davenport (IA), #7 in Minneapolis/St. Paul, Montreal and Albany (NY), #8 in Indianapolis and Washington D.C., and #9 in Orlando and Jacksonville (FL).
Johnson and Perry went on to co-write an anti-war song for Freda Payne titled "Bring The Boys Home", a #12 hit in 1971 on the Billboard Hot 100, and #3 on the R&B national chart. Johnson also penned "Patches" for Clarence Carter. Johnson continued to perform with Chairmen of the Board until February 2010. He died of lung cancer later that year. Greg Perry produced albums for Mary Wells and Bonnie Pointer in the 1980s. He continues to be involved in the music business.
Edna Wright provided backing vocals in 1974 for albums by Nancy Wilson, Freda Payne, Stanley Turentine and Lamont Dozier. And in 1975 she was a backing vocalist for albums recorded by Cher and Betty Everett. Wright released a solo album in 1976 on Casablanca Records, owned by Neil Bogart. Meanwhile, Carolyn Willis provided backing vocals for the 1976 hit "Get Closer" by Seals and Crofts, and "Love Machine" for The Miracles. She also toured as a backing vocalist over the years with Boz Scaggs, Neil Diamond, Carly Simon and U2. In 1985 Shelley Clark married Earth, Wind & Fire bass player Verdine White.
In the late 80s and early 90s Edna Wright was a backing vocalist for U2 on their singles "Angel Of Harlem" and "Desire". Carolyn Willis later joined a reformed Shirelles in the 1990s for rock 'n roll revival tours. In 2014 the Honey Cone reunited to perform on the Soul Train Cruise during its weeklong cruise out of Florida into the Gulf of Mexico and the Caribbean.
February 10, 2020
Ray McGinnis
References:
Peter Keepnews, "General Johnson, Singer and Writer of Hit R&B Songs, Dies at 69," New York Times, October 15, 2010.
"General Johnson (Chairmen of the Board)," Blues and Soul.com, August 1987.
Alex Henderson, "Edna Wright," AllMusic.com.
"Carolyn Willis," Discogs.com.
Brian Nevill, "Looking For Pat Powdrill," Spectropop.com.
Christian John Wikane, "Greg Perry," Soultracks.com.
"West Coast Music Survey," CKVN 1410 AM, Vancouver, BC, January 14, 1972.
For more song reviews visit the Countdown.