#1338: One More Mountain To Climb by Doctor Music
Peak Month: October 1971
7 weeks on Vancouver's CKVN chart
Peak Position #15
Peak Position on Billboard Hot 100 ~ did not chart
YouTube.com: "One More Mountain To Climb"
Lyrics: "One More Mountain To Climb"
Instrumental in bringing jazz to the pop world, Dr Music was the brainchild of Toronto native and Doug Riley, who first took piano lessons as a child as a means of coping through polio. Born in Toronto in 1945, he took lessons in classical piano at the Royal Conservatory of Music in Toronto beginning at the age of four. In 1969, Doug Riley became the music director for the television show "The Ray Stevens Show". He was asked to put together a group of musicians to play for the 1969-1970 season of the show when Ray Stevens was continuing his string of hits including "Mr. Businessman", "Guitarzan", "Ahab The Arab", and "Everything Is Beautiful". Riley's 16-piece vocal and instrumental band became known as Dr. Music.
When the show was cancelled in 1970, Dr. Music remained together to record and tour Western Canada. Riley became partners with producer Terry Brown to form the Toronto Sound Recording Studio where Dr. Music recorded from several singles in 1970 and 1971. At this point, Dr. Music joined forces with the Canadian duo Terry Black and Laurel Ward, which led to a more vocal-driven sound for the band.
One of the singles was "One More Mountain To Climb", a song written by Neil Sedaka and Howard Greenfield.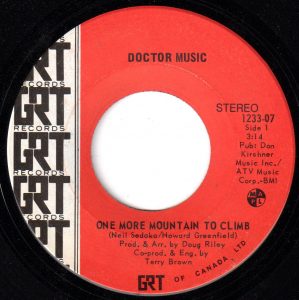 Neil Sedaka was born on March 13, 1939. Neil's interest in music began at the young age of eight, when he would listen to The Make-Believe Ballroom. But, it was not Rock and Roll, but Classical music that would shape Neil into the musician he is today. By the time he was nine years old, he had already begun his intensive classical piano training at the prestigious Julliard School of Music. At 16, Arthur Rubinstein voted Neil as one of the best New York High School pianists. Though Neil considered pursuing a Doctorate in music, Neil's next choice became his chosen vocation.
Eager to gain acceptance from his peers at Abraham Lincoln High School, Neil began performing Rock N Roll outside of his classical training. At this time, he would form the Doo-Wop group The Tokens, in which they would record two singles that would go on to be regional hits. But, it was his introduction to his young neighbor Howard Greenfield, by Greenfield's mother, that began one of the most prolific songwriting partnerships of the last half-century that sold forty million records between 1959-1963. Their songs included "My Heart Has A Mind of Its Own", "Frankie" and "Where The Boys Are" for Connie Francis, "Venus In Blue Jeans" for Jimmy Clanton, "Happy Birthday Sweet Sixteen", "Calendar Girl" and "Stairway to Heaven" for Neil Sedaka, and many others.
Sedaka and Greenfield became one of the original creators of the "Brill Building" sound in the late fifties and early sixties when they were the first to sign with Don Kirshner and Al Nevins at Aldon Music. Aldon Music would go on to sign Neil Diamond, Carole King, and Paul Simon among many others, and they became the center of the pop world.
With "One More Mountain to Climb" Sedaka and Greenfield offered Doctor Music a Gospel song to record about hardship and seeking divine inspiration to transcend troubles along life's road.
The song peaked at #5 in Saskatoon (SK), #15 in Vancouver, and #20 in Winnipeg (MB).
Co-writer, Howard Greenfield was openly gay from early in his adulthood as noted by author Ken Emmerson in his 2005 book Always Magic in the Air: The Bomp and Brilliance of the Brill Building Era. Greenfield and Sedaka would later compose theme music for TV shows Bewitched and The Flying Nun. And they co-wrote the #1 hit in 1975 for the Captain and Tennille called "Love Will Keep Us Together." Greenfield died at the age of 50 in 1986 from complications due to AIDS. Sedaka as of this writing has a tour schedule with concert dates booked ten months out into September 2017.
In 1972, GRT Record Company released the group's debut album, Dr. Music, which included the hits "Sun Goes By", "One More Mountain to Climb" and "Try a Little Harder". This album was produced by Riley and co-arranged by Riley and Steve Kennedy. Because of the number of singers in the band, this album had a gospel-rock feel, although it still fit within the jazz rock genre.
Shortly after Dr. Music's album release, the group disbanded, despite the success of the single "Sun Goes By". This gave Riley an opportunity to concentrate on his studio position at Toronto Sound Recording. In 1973, Doug Riley assembled a second version of Dr. Music. This group, however, was only a seven-piece ensemble. This new version of Dr. Music toured Western and Eastern Canada and released a new album, Dr. Music II. The group split up in 1974.
Riley continued to produce and arrange for television shows. From 1973 to 1974, he worked as a music director on Keith Hampshire's television series "Music Machine". In 1974, he formed the third version of Dr. Music which became the house band of the show. This group recorded the album Bedtime Story at Toronto Sound Studios during February and March 1974. Bedtime Story consisted of jazz compositions by Riley and his band members, Claude Ranger and Don Thompson and fell under the genre of progressive jazz rock.
Dr. Music continued to be a leading jazz band within Toronto throughout the 1970s but formally disbanded in 1977. In 1984, Riley resurrected the concept of Dr. Music by creating a group composed of his musical friends. Together they recorded the album Dr. Music Circa 1984.
October 13, 2016
Ray McGinnis
References:
Dr. Music bio, Canadian Bands.com
Doug Riley, Canadian Jazz Archive Online.org, 2007.
Neil Sedaka Biography, Neil Sedaka.com
Adi Gold, "Neil Sedaka: Israel is the Homeland: Pop music icon promises to be 'bigger than Paul Anka' in Tel Aviv concert. 'After all, I'm One of Yours'," Ynetnews.com, Rishon Lezion, Israel, October 3, 2010.
"West Coast Music Survey," CKVN 1410 AM, Vancouver, BC, October 22, 1971.
For more song reviews visit the Countdown.