#1351: One Night With You by Gino Vanelli
Peak Month: March 1978
7 weeks on Vancouver's CKLG chart
Peak Position #18
Peak Position on Billboard Hot 100 ~ did not chart
YouTube.com: "One Night With You"
Lyrics: "One Night With You"
Gino Vannelli was born in Montreal in 1952. During his childhood he was exposed to jazz music and cabaret. His father was a cabaret singer and his mother had a good ear for music. Gene Krupa, Buddy Rich and Ed Thigpen were among the drummers that inspired young Gino. At the age of eleven, Gino was one of a group of elementary school-age drummers trying to audition for a Montreal band named The Cobras. He arrived home from school later than usual to announce he had been picked to be the new drummer for the band after impressing them with his rendition of "Wipeout". In 1964, five years prior to the Jackson 5's debut hit "I Want You Back" on Motown, Gino Vanelli happened to join a band in Montreal called the Jacksonville Five. And that Montreal band happened to tailor itself to Motown-sound-alike tunes when The Supremes, The Miracles, The Temptations, The Four Tops, Stevie Wonder and Mary Wells were all topping the charts. By 1966, Gino Vanelli became the lead singer of the Jacksonville Five when he replaced the current lead singer who couldn't hit the high notes on Tom Jones' "It's Not Unusual". He was fourteen.

In 1969, at the age of 17, Vannelli signed a record deal with RCA and released a single titled "Gino Bold" credited to Vann-Elli. The song was a minor hit in several radio markets in Canada in 1970. Over the next few years Vannelli lived in New York City and Montreal, performing and learning the ropes in the music industry. In 1972 he and his brother, Joe, moved to Los Angeles. They were living from hand to mouth and desperate to make a living as recording acts. They got a record deal with A&M after Gino Vanelli saw Herb Alpert in the record companies parking lot and ran up to him with a demo. Alpert waved away the security guards and took the demo. In 1973, A&M Records released Gino Vanelli's album Crazy Life. In 1974 he appeared on the variety show Soul Train, a rare occurrence for a Caucasian singer, and toured with Stevie Wonder. His hit single from his second album, Powerful People was "People Gotta Move". It made the Top 30 on the Billboard Hot 100. Joe Vanelli played electric piano and synthesizer on all the tracks for Powerful People.
He released a new studio album each year and his sixth album, Brother To Brother, featured his biggest selling single "I Just Wanna Stop". The song peaked at #1 on the Canadian RPM singles chart and #4 on the Billboard Hot 100 in 1978. In 1975, Vannelli won the Juno Award for the Most Promising Male Vocalist of the Year. In 1976, and again 1979, he won the Juno Award for the Best Male Vocalist. He and his brother Joe Vannelli shared the Juno Award in 1979 for Best Production for Brother to Brother.
His previous album, Pauper In Paradise, featured the release of his single "One Night With You". Although his name was properly spelled on the album as Gino Vannelli, with two "n"s, on the 45 RPM "One Night With You", his surname was missing an "n".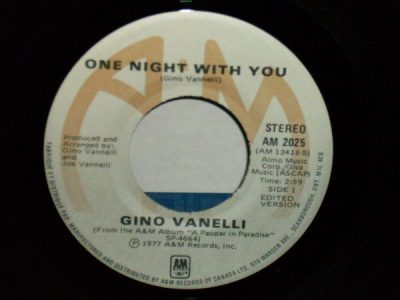 "One Night With You" was written by Gino Vanelli. It is a song about a life changing overnight sexual awakening with a person who exemplifies goodness. Vannelli sings "My world of fire and ice become paradise. Elysium come true in loving you." Elysium was a conception of the afterlife that evolved the centuries and was taught by some Greek religious and philosophical sects and cults. Admission to Elysium was reserved for mortals related to the gods and other heroes. Later, it expanded to include those chosen by the gods, the righteous, and the heroic, where they would remain after death, to live a blessed and happy life. In Gino Vannelli's "One Night With You" the mortal has achieved eternal bliss in this one encounter. He's found the promised land, paradise, and has a sensation of having left "this world behind."
"One Night With You" peaked at #18 in Vancouver (BC), the Top 20 in Denver and the Top 30 in New Orleans.
His seventh studio album, Nightwalker, was released in 1981. It featured the hit single "Living Inside Myself" which climbed to #6 on the Billboard Hot 100 and made #13 on CKLG in Vancouver. Vannelli released a "Best Of" album later that year. His eighth studio album, Black Cars, was released in 1984. The title track climbed to #4 in Vancouver in 1985, but stalled on the Billboard Hot 100 at #42. Perhaps this was due in part to Gino Vannelli's choice not to tour to support his album and single releases. From 1978 to 1990 Vannelli didn't launch any concert tours.
In 1987, Gino Vannelli released his eighth studio album which included the single release "Wild Horses". Gino Vannelli and his brother Joe shared won the Juno Award for Recording Engineer of the Year in 1986, 1987 and 1991. Gino Vannelli has been nominated for times for a Grammy Award.
In the early 2000's Gino Vannelli's recording of "Parole Per Mio Padre" (Words For My Father) caught the attention fo Pope John Paul II. He was flown to the Vatican to perform for the pontiff. BGM Records next approached him to make a record and his multi-lingual Canto in 2003 featured songs in French, Italian, English and Spanish. In 2010 he wrote a 132-page book, Stardust In The Sand, to accompany a CD release.
In 2015 Gino Vannelli released Live In LA, taken from live performances of his greatest hits at the Saban Theatre in Beverly Hills. He lives in Oregon and continued to teach music and perform in concert.
October 5, 2019
Ray McGinnis
References:
Gino Vanelli biography, Gino Vanelli.com
Eric Apalategui, "Gino Vannelli Avoids Spotlight in Oregon Where he Lives, but Draws Crowds Elsewhere," Oregonian, August 28, 2013.
Kristine Fellizar, 7 Things To Do Immediately if You Feel Your Partner Pulling Away, Bustle.com, April 24, 2018.
David Sacks, A Dictionary of the Ancient Greek World, (Oxford University Press, 1999).
Henry Thurston Peck, Harper's Dictionary of Classical Literature and Antiquities, Volume 1, (Scholar's Choice, 2015).
"Vancouver's Official Music Survey," CKLG 730 AM, Vancouver, BC, March 1, 1978.
For more song reviews visit the Countdown.