#1271: One Potato – Two Potato – Three Potato – Four by The Dovells
Peak Month: April 1964
7 weeks on Vancouver's CFUN's chart
Peak Position #16
Twin Pick Hit March 21/64
Peak Position on Billboard Hot 100 ~ did not chart
YouTube.com: "One Potato – Two Potato – Three Potato – Four"
Len Borisoff was born in Philadelphia in 1942. After serving in the U.S. Coast Guard in 1957, he formed the Brooktones. In the spring of 1958 they had a regional hit in Buffalo and Rochester (NY) titled "Cute And Collegiate". The doo-wop group changed their name to the Dovells in December 1960. Len Borisoff was a tenor and the lead singer of the group. The other singers were Mike Freda (second tenor), Jim Mealey (bass), Jerry Gross (tenor and sometimes lead vocalist), Arnie Silver (baritone) and Mark Stevens (part-time tenor). They got a record contract with Parkway Records in 1960. In the fall of 1961 The Dovells debut single, "Bristol Stomp", stayed climbed to #4 where it remained at its peak for three weeks on the Vancouver pop charts over a 12-week chart run. The single peaked at #2 on the Billboard Hot 100. In 1962 the group (pictured above) was back on the Top 40 in Vancouver with two minor dance tunes, "Hully Gully Baby" and "The Jitterbug". They also had a Top 40 hit in the USA titled "(Do The New) Continental". Jim Mealey left the group for personal reasons during 1962.
The Dovells roared back into the Top Ten in 1963 with "You Can't Sit Down" (#7/CFUN and #3 Billboard Hot 100).
Lead singer, Len Borisoff, left The Dovells at the end of 1963 for a solo career. He billed himself as Len Barry and had a string of Top Ten hits in the mid-'60's. "1-2-3" climbed to #1 on both CKLG and CFUN in Vancouver in November 1965, peaking at #2 on the Billboard Hot 100 and #1 on the Cashbox Singles chart. His follow up single, "Like A Baby", climbed to #12 in Vancouver and #27 on the Hot 100. A third single by Len Barry made the Billboard Hot 100's Top 30, "Somewhere" at #26. In Vancouver, Len Barry charted "Somewhere" to #11.
American Bandstand signed the Dovells to Dick Clark's Caravan of Stars national U.S. tour which was scheduled to perform its 15th show on the night of November 22, 1963 at the Memorial Auditorium in Dallas, Texas. Suddenly the Friday evening event had to be cancelled moments after U.S. President John F. Kennedy was assassinated at 12:30 p.m. Central Standard Time while touring Dallas in an open car caravan. The concert on November 23 in Oklahoma City was also cancelled. However, the tour across 15 states, which included Brian Hyland, Bobby Lee, Jimmy Clanton, Linda Scott, the Jaynettes, the Ronettes, the Thymes, Paul & Paula and Little Eva, kept the other 24 scheduled concert dates between November 8 and December 7. After a December Christmas show in Miami Len Borisoff quit the group to start a solo career.
The Dovells, minus Len Barry, released twelve singles between 1964 and 1974. In December 1963 the remaining Dovells recorded a song by a new group from England. The song was titled "She Loves You". However, Parkway Records sat on the single and didn't release it. Meanwhile, Swan Records release the song in January 1964 adding to the growing Beatlemania sweeping the continent. Of the songs that Parkway released by the Dovells from late 1963 onward, all failed to crack the Billboard Hot 100. The second of these single releases was "One Potato – Two Potato – Three Potato – Four".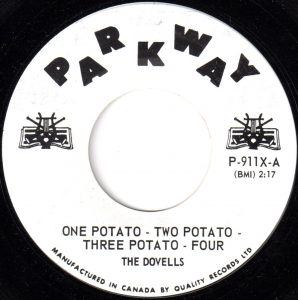 "One Potato, Two Potato" is a children's jumping rope song from the 17th Century credited to anonymous. Children would sing the chant while making a fist and having other players put their fist on top of the first child's fist. There were clapping games such as "Pat-a-cake, pat-a-cake, baker's man" from 1698. Many other children's games, that do not themselves involve singing are prefaced by a song. Traditionally there were many calling rhymes, used to assemble players of a game, which is probably the origin of the nursery rhyme "Girls And Boys Come Out To Play". Singing games are often used as counting out, or 'dipping' games, a means of starting a game by choosing special roles, usually by eliminating all but one player. "One Potato, Two Potato" is a popular example of this. Another is the second century starting chant, Rock–Paper–Scissors." The historian Henry Carrington Bolton suggested in his 1888 book, Counting Out Rhymes of Children, that the custom of counting out originated in the "superstitious practice of divination by lot."
One potato, two potato, three potato, four,
Five potato, six potato, seven potato, more.
Eight potato, nine potato, ten potato all.
One, two, three, four, five, six, seven, eight, nine, ten.
The Dovells riff on the children's singing game offered up a verse about a guy who gets a knock at the door and 48 men are standing there. He responds by getting his rolling pin and busting the heads of all 48 men. A second nonsense verse is about a mother who has a bald-headed baby that is "acting like crazy" and starts to sing "one potato, two potato, three potato, four…" A final verse is about a guy who wrote some "bad music" such that no one could use it. The first verse about the 48 men getting their heads busted in isn't the first time in children's songs that something violent occurs. The chorus normalizes the information in the verses, inviting children to accept that violent things, crazy things, incompetent things happen in life. So just sing along to the potato song and the universe will unfold as it should.
"One Potato – Two Potato – Three Potato – Four" peaked at #16 in Vancouver. It was the only radio marked in Canada or the USA that managed to crack the Top 40. The song got into the cellar of a few other radio market charts, notably Hamilton (ON), Springfield (MA) and Salt Lake City. Without Len Barry, The Dovells 'sound' during the "Bristol Stomp" era was gone.
An unrelated film titled One Potato, Two Potato, was released in July 1964. The film's plot concerned Julie Cullen, a young divorced parent. She's on her own for the past four years since her husband abandoned her and their daughter, Ellen, only a year old at the time. At work, Julie, who is white, meets Frank Richards, who is black. The form a friendship that blossoms into a romance. Their relationship is strained by the racial prejudices of many around them, including Frank's parents, William and Martha, who oppose the pairing. But ultimately Frank and Julie decide to persevere despite societal obstacles.
The Dovells changed their name to the Magistrates in 1968. With the advent of FM radio and heavy rock tunes, there was a rock 'n roll revival and interest in the early rock era. From 1969 onward, the Dovells began to perform up to 300 concerts a year until 1975, including many dates in Las Vegas. Since then Mark Stevens and Jerry Gross have continued to perform as a duo, including showcasing the hit songs of The Dovells. Arnie Silver became finance manager of an auto dealership in New Jersey. Jim Mealey died in the mid-70's. Jerry Gross, when not performing with the Dovells, has been producing corporate events and has an advertising agency.
In 1991 Len Barry had a Dovells reunion with Jerry Gross and Mark Stevens to perform two concerts. The Dovells also performed at both President Bill Clinton's 1992 and 1996 inaugural balls.
August 24, 2019
Ray McGinnis
References:
"The Dovells Biography," thedovells.com.
"A Rock N' Roll Historian: Caravan of Stars Fall 1963 Tour," June 4, 2012.
"One Potato, Two Potato," Cinema V, 1964.
"Rock-Paper-Scissors," Wikipedia.org.
"C-FUNTASTIC FIFTY," CFUN 1410 AM, Vancouver, BC, April 25, 1964.
For more song reviews visit the Countdown.