#976: One Step At A Time by Brenda Lee
Peak Month: February 1957
4 weeks on Vancouver's CJOR's chart
Peak Position #4
Peak Position on Billboard Hot 100 ~ #43
YouTube: "One Step At A Time"
Brenda Mae Tarpley was born in 1944 in Atlanta, Georgia. Her parents were poor. During her childhood, young Brenda shared a sagging iron bed with her brother and sister in a series of three-room houses. They had no running water. Here parents were from job to job. After the stock market crash in 1929, Brenda's mother would recall "you could hardly buy a job." The region was devastated by an infestation of the boll weevil. Brenda started singing solos each Sunday at the Baptist church where her family attended. In her 2002 autobiography, she wrote "I grew up so poor, and it saddens me to see the poverty that is still there. A lot of my family have never done any better. Some of there are just exactly where they were when I was a kid. And in a way, there is still something inside of me that is a part of that, the part that doesn't expect much. Little things make them happy, and that's the same with me."
Her family moved to a tenant farm in Conyers, Georgia, about 25 miles southeast of Atlanta. Brenda's father, Ruben Tarpley, had to quit carpentry after he broke his arm. And so, in 1951, he worked as a picker on a cotton farm. Brenda's younger sister, Linda, learned about a talent contest between elementary schools in the district. Linda let Brenda know about the contest and Brenda decided to enter it, even though she was still six years old in the fall of '51. In the school auditorium Linda Tarpley later wrote, "I'll never forget that night of the show. It was the fall of the year and the school's auditorium was packed with people – adults and kids. There was a microphone and stage lights and lots of little performers. But after Brenda sang the place just went nuts. They were really cheering." Brenda Mae Tarpley sang "Too Young" by Nat King Cole and "Slow Poke" by Pee Wee King. The reward was a live appearance on an Atlanta radio show, Starmakers Revue, where she performed for the next year.
The family moved to a house with weathered clapboards, in Lithonia, about 6 miles west of Conyers. Brenda recalls "there wasn't any paint on the house and the yard was mostly dirt. It had three rooms with an outhouse. You drew water out of the well, and the ice man would come by in a truck once a week with the ice." She remembers making friends in town who had refrigerators. Her father died in 1953, in a construction accident. So that year Brenda got a gig singing at an event in Swainsboro, Georgia, for $35. This was more than a weeks wage.
A bus driver, who learned a little about the Tarpley family's circumstances, suggested to Brenda's mother, Grayce, that she meet WRDW-TV personality J.T. "Pee Wee" Devore, star of the Peach Blossom Special. Grayce Tarpley told Pee Wee about Brenda, and after listening to her, they were introduced to the program director Sammy Barton. He liked what he heard and suggested Brenda Mae Tarpley change her name to Brenda Lee when performing. The nine-year-old and her both mother agreed. Brenda Lee made her debut on the Peach Blossom Special in Augusta on August 27, 1954. She also began to appear on the TV Ranch show in Atlanta. By the time she turned ten, Brenda Lee was the primary breadwinner of her family through singing at events and on local radio and television shows.
Her mother remarried in 1955 and her new stepfather, Jay Rainwater, helped open the Brenda Lee Record Store on Broad Street in Augusta, Georgia. The family also briefly moved to Cincinnati, and Brenda appeared on a local radio station with the call letters WNOP.
In February 1955, Brenda Lee was introduced to country music singer, Red Foley, when he was in Augusta for a a touring show of his Ozark Jubilee on ABC-TV. After hearing her, Foley agreed to let her sing "Jambalaya" on stage during the show, unrehearsed. He recalls "I still get cold chills thinking about the first time I heard that voice. One foot started patting rhythm as though she was stomping out a prairie fire but not another muscle in that little body even as much as twitched. And when she did that trick of breaking her voice, it jarred me out of my trance enough to realize I'd forgotten to get off the stage. There I stood, after 26 years of supposedly learning how to conduct myself in front of an audience, with my mouth open two miles wide and a glassy stare in my eyes." On March 31, 1955, the 10-year-old made her network debut on Ozark Jubilee in Springfield, Missouri.
In July 1956 Brenda Lee got a record deal with Decca Records. She recorded "Jambalaya" and "Bigelow 6-200". While neither song charted nationally in the USA, "Bigelow 6-200" climbed to #3 in Vancouver (BC). Late that year she was in Las Vegas at the Flamingo, opening for the Ink Spots.
Her next single release was in the winter of 1956-57 titled "One Step At A Time".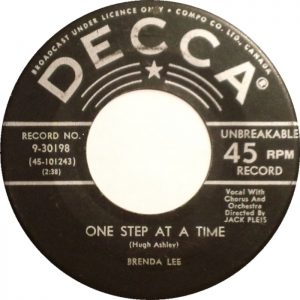 "One Step At A Time" was written by country music songwriter Hugh Ashley. He had a recording act of his own named Hugh Ashley and the Four Chords. Ashley had songs of his recorded by Porter Wagoner, Ernest Tubb, Janis Martin, and Jim Reeves. He also connected Jimmy Driftwood with Johnny Horton, which led to the recording of "The Battle Of New Orleans". "One Step At A Time" is a song that advises that when you are dating you need to take things slowly.
In the January 26, 1957, issue of Billboard magazine a short review of the A-side and B-side of the 78 RPM, "One Step At A Time – Decca 30198 – The young lady essays the hiccup approach in this rocking rendition. An exciting job that has strong potential for spins and sales. Fairyland – Miss Lee sounds like a junior Kay Starr on this ballad with an appealing melody. The young chick gives it a solid whirl and the side figures to collect spins." "One Step At A Time" peaked at #4 in Vancouver (BC), #8 in Memphis, Toronto, Portland, Maine, and Milwaukee.
Brenda Lee was not only referred to as a "young lady" and a "young chick", but also earned the nickname "Little Miss Dynamite", after her next single release "Dynamite". She toured with Jerry Lee Lewis. In early 1958 she had a regional Top 20 hit with "Rock The Bop" in Seattle, Kansas City and Nashville. But this, and several three other single releases in 1958 failed to chart nationally. This included "Rockin' Around The Christmas Tree", which was passed over by most radio stations who gave "The Chipmunk Song" by David Seville. While a few radio markets also played "Donde Esta Santa Claus?" by Augie Rios. It was only in December 1960, when Brenda Lee had become a pop sensation that "Rockin' Around The Christmas Tree" became a hit at #13 on the Billboard Hot 100, and #11 in Vancouver (BC).
On October 17, 1959, WMPS in Memphis, Tennessee, began to chart "Sweet Nothin's". It quickly climbed into the Top Ten in Memphis in November. The single got a spin in Milwaukee and Albuquerque and climbed into the Top Ten in those radio markets in December '59. In Vancouver (BC), "Sweet Nothin's" climbed to #5 on CFUN in March 1960, and #4 on the Billboard Hot 100.
In June 1960 Brenda Lee had a double-sided hit in the Top Ten across the USA and Canada with "That's All You Gotta Do"/"I'm Sorry". Of the two sides, "I'm Sorry climbed to #1 on the Billboard Hot 100, and #2 in Vancouver (BC). Brenda Lee recorded "I'm Sorry" in early in 1960. However, Decca Records held it from release for several months out of concern that a 15-year-old girl was not mature enough to sing about unrequited love. When "I'm Sorry" was finally released in May 1960, it was as the B-side to the more uptempo "That's All You Gotta Do". Although "That's All You Gotta Do" was a chart success in its own right, reaching #6 on the Hot 100, it was "I'm Sorry" that became the smash hit and is considered her signature song. "I'm Sorry" earned Brenda Lee a Grammy Award nomination for Best Vocal Performance Single Record or Track (Female) in April 1961. The award was won by Ella Fitzgerald for her live recording of "Mack The Knife".
Then, in October 1960, Brenda Lee was back on the top of the charts in the USA with another ballad titled "I Want To Be Wanted". While in Vancouver (BC) the song stalled at #6. With four Top Ten singles in 1960, Decca Records re-issued "Rocking Around The Christmas Tree" to end the year with five hits for then 15-year-old Brenda Lee.
Over the next three years Brenda Lee returned to the Top Ten on the Billboard Hot 100, for a total of twelve songs. These included "Emotions", "Fool #1", "You Can Depend On Me", "Break It To Me Gently", "Losing You" and "All Alone Am I". In Vancouver (BC) she also had a Top Ten hit with "Is It True" in 1964, featuring Jimmy Page on guitar.
In 1962 Brenda Lee went on a tour of Europe. While in West Germany, she appeared at the famous Star-Club, in Hamburg. Her opening act was the Beatles. After watching the Beatles perform, she approached John Lennon after her performance was over. Lee said to him, "I've been meaning to ask you, where do you get those songs?" Lennon replied, "Oh, we write them." Brenda Lee and John Lennon became friends during their Star Club residency. Lee recalls, "I hung out with John. He was extremely intelligent, very acerbic with his jokes, just a gentle person. When I found out that they later said they were fans of my music, I was just floored."
Brenda Lee made trips to the UK in 1959, 1962, 1963 and 1964. She appeared at the annual Royal Variety Performance before Queen Elizabeth II at the London Palladium on November 2, 1964. Afterward, she toured Britain in November and December 1964, sharing the stage with Manfred Mann, Johnny Kidd & the Pirates, Wayne Fontana & the Mindbenders, Marty Wilde, the Tornados and others.
Back in the USA Brenda Lee toured with Bobby Rydell, Chubby Checker, The Casuals, Duane Eddy and others. She appeared on American Bandstand numerous times. Brenda Lee also came to Vancouver on several occasions in the mid-60s. Below is a poster from her April 6-17, 1965, visit to The Cave.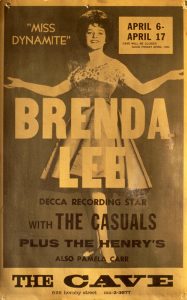 (Poster sent courtesy of Brian Tarling of vancouverschartedsongs.ca).
Her record sales began to flounder in the midst of the British Invasion back in the USA. But in 1973 she made her first appearance on the Billboard Country chart Top Ten. Between 1973 and 1980 she charted nine singles into that charts' Top Ten.
In 1997, she was inducted into the Country Music Hall of Fame and is a member of the Rockabilly Hall of Fame and the Hit Parade Hall of Fame. In 2008 her recording of "Rockin' Around the Christmas Tree" marked 50 years as a holiday standard. In February 2009 the National Academy of Recording Arts and Sciences gave Lee a Lifetime Achievement Grammy Award.
At present, Brenda Lee's website shows no upcoming concerts, though she has not officially retired. Meanwhile, her seasonal Christmas hit, "Rockin' Around The Christmas Tree" reached its highest chart position, peaking at #3 on the Billboard Hot 100, for the week of December 21, 2019. Throughout her career Lee has sold more than 100 million records. Aside from her uptempo rockabilly numbers, Brenda Lee will be forever remembered for her torch ballads that always ended with a sense of resolve.
December 17, 2019
Ray McGinnis
References:
Brenda Lee, Little Miss Dynamite: The Life and Times of Brenda Lee, (Hyperion, 2002).
"Brenda Lee: The Lady – The Legend," Rockabilly Hall of Fame.com.
Jonathan Bernstein, "Inside the Life of Brenda Lee, the Pop Heroine Next Door: She Awed a Young Elton John, Influenced Taylor Swift and Had the Beatles Open for Her. So Why doesn't Brenda Lee Get More Respect?," Rolling Stone, February 20, 2018.
"Singer Learned Young How to Rock the House," Las Vegas Review-Journal, August 16, 2009.
For more song reviews visit the Countdown.