#923: One Track Mind by The Knickerbockers
Peak Month: April 1966
7 weeks on Vancouver's CFUN chart
Peak Position #6
Peak Position on Billboard Hot 100 ~ #46
YouTube.com: "One Track Mind"
Lyrics: "One Track Mind"
The Knickerbockers were a pop/rock group, best remembered for their 1966 Beatles sound-alike hit single, "Lies," which peaked at #20 in the USA and #6 in Vancouver. Buddy Randell's lead vocal sounded similar to John Lennon, as well as the vocal whoops, before Beau Charles guitar solo. Charles guitar also reminded radio listeners to Paul McCartney's guitar playing. The Knickerbockers was a band that formed in 1962 in Bergenfield, New Jersey. The band consisted of vocalist and guitar player, Beau Charles, his brother John Charles on bass and vocals and, by 1964 they had a permanent vocalist and saxophone player named William "Buddy" Randell. The Charles brothers birth names were Robert (born 1944) and John Carlos Cecchino. Buddy Randell had earlier been a member of the Rockin' Saints and the Royal Teens. The later group had enjoyed a hit in 1958 titled "Short Shorts." Jimmy Walker was the bands' drummer. The bandmates took their name from Knickerbocker Road, which ran through the town next to Bergenfield, two miles to the east. Knickerbocker Road stretched six miles between Englewood, NJ, and Closter, NJ, west of the Hudson River and across from the Bronx and Yonkers.

In turn, Knickerbocker Road took its name the nickname for descendants of the early Dutch settlers of New York. This was due to the popularization of W. Irving's pseudonym, Diedrich Knickerbocker, used for Washington Irving's satirical book published in 1809, History of New York: From the Beginning of the World to the End of the Dutch Dynasty. In the book's illustrations by what Diedrich Knickerbocker wore as pants resembled the breeches worn by Dutchmen in George Cruikshank's illustrations in Irving's (Diedrich Knickerbockers') book. As a nickname, knickerbocker broadly was used to describe any native or resident of the city or state of New York.
The Knickerbockers first single release was "All I Need Is You". This was a doo-wop tune that climbed to #5 in Troy, New York. In the spring of 1965 they had another Top Ten hit in Troy, New York, with "Jerktown". They sounded similar to Frankie Valli and the Four Seasons. In 1964-65 the band was based in Albany, New York, and so their local hits on radio in Troy, New York, followed from their local appeal. Later in 1965, "Lies" made the Billboard Hot 100. The band appeared in concert with The Rolling Stones and later that year with The Dave Clark Five.
The Knickerbockers follow up to their hit single, "Lies," was "One Track Mind".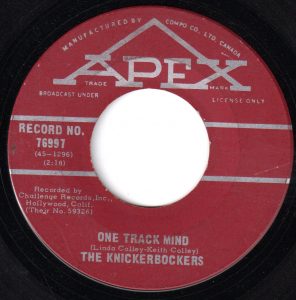 "One Track Mind" is about a guy who is hung up on his ex-girlfriend. She's all he can think about and he refuses to consider anyone could ever take her place. He's been crying and won't believe that she's actually left him. In fact, he wants those around him to confirm that she hasn't left him. He wants others to tell him what to do. But it's likely anyone who knows him, given the state of denial he's in, knows he only wants to be reassured that she hasn't actually left him. His request to have "somebody please tell me what to do," is most likely going to result in an argument should anyone suggest he move on and find someone new. He's making it clear to others if they offer that another will take his ex-girlfriend's place that he will not have any of it. After all, as the singer admits, he's got a one track mind. So his friends better take note that he only wants to hear what he wants to hear.
"One Track Mind" was a hit in Vancouver that peaked at #6. "One Track Mind" was nearly a hit in the USA as well. It climbed to #8 in San Antonio, Texas, but stalled in the upper reaches of the Top 30 or Top 40 where it got any airplay in America. Unfortunately, the Knickerbockers label, Challenge Records, mishandled the distribution for the single. The outcome was "One Track Mind" got stuck at position #45 on the Billboard charts and #52 on the Cashbox Record chart that calculated record sales. With "One Track Mind" and "Lies" rumors were spreading that The Beatles had actually released these two singles under a pseudonym. AM Top 40 radio stations would play a Knickerbockers disc and then play a Beatles disc in the winter of 1965 and spring of 1966 and ask listeners to phone in their comments.
Their next single was "High On Love", which departed from their Beatles sound and reflected more of a garage band sound. It peaked at #94 on the Billboard Hot 100. Then they offered up a ballad, "Chapel In The Fields", that sounded more like The Arbors or The Association. The Knickerbockers next offered up "Love Is A Bird" sounding this time like Jefferson Airplane and other West Coast-San Francisco bands. Soon after, The Knickerbockers released "Please Don't Love Him", a hybrid of the Buckinghams and the Four Seasons. They returned to a garage band sound with "What Does That Make You". Their next release, "Come And Get It", climbed to #3 in Cranbrook, British Columbia.
In 1966 the Knickerbockers also appeared in the beach party film, Out of Sight. The film was both beach party film and a spy spoof. Other musical acts with cameo performances in Out of Sight were Gary Lewis and the Playboys, Dobie Gray, Freddie and the Dreamers, The Astronauts and The Turtles. (The spy themed music in the film was composed by Fred Darian who had a local Vancouver hit with "Johnny Willow" in 1961). The Knickerbockers cameo in Out of Sight had them singing, not one of their own hits but, "It's Not Unusual" ~ which had been a hit for Tom Jones in 1965. The group were also regulars on Dick Clark's program, Where the Action Is (1965–1967). And they starred in two Where the Action Is concert tours during this period. The first tour was headlined by Paul Revere & The Raiders and the second tour was headlined by The Rascals. For each of these tours The Knickerbockers were paid $2,500 per week total, for all the band members.
In 1967 drummer Jimmy Walker became a drummer for The Righteous Brothers. Buddy Randell left in 1968 and the Charles brothers got other musicians to replace them. The Knickerbockers released about twenty singles. But most of these were commercial failures. After several changes in band membership the Knickerbockers disbanded in 1971. Buddy Randell later joined a Christian gospel group called Jerusalem Rivers. He died in 1998. Jimmy Walker, as of 2017, continues to do gigs in Las Vegas, according to the Brenda Crandell-Nixon, the adoptive daughter of Buddy Randell.
January 2, 2018
Ray McGinnis
References:
Encyclopedia Britanica ~ Washington Irving, A History of New York…
Andrew Burnstein, The Original Knickerbocker: Washington Irving, (Basic Books, NY, 2007).
Wayne Jancik, One Hit Wonders, (Booksurge Publishing, Charleston, South Carolina, 2008).
Brian Jay Jones, Washington Irving: An American Original, (Arcade, New York, 2008).
Katy Levy, "Something Else! Interview: Jimmy Walker of the Knickerbockers and the Righteous Brothers," somethingelsereviews.com, March 2, 2013.
Out of Sight ~ Trailer
Where the Action Is
WFMU's Beware of the Blog ~ April 22, 2008
whitedoowopcollector.blogspot.com
musicianbio.org ~ Knickerbockers bio
"C-FUNTASTIC FIFTY," CFUN 1410 AM, Vancouver, BC, April 16, 1966.
For more song reviews visit the Countdown.