#133: Only Time Will Tell by Asia
Peak Month: October 1982
12 weeks on Vancouver's CFUN Chart
Peak Position ~ #1
Peak Position on Billboard Hot 100 ~ #17
YouTube: "Only Time Will Tell"
Lyrics: "Only Time Will Tell"
Asia is a British supergroup formed in 1981. It consisted of John Wetton of King Crimson, Steve Howe and Geoff Downes of Yes, and Carl Palmer of Emerson, Lake & Palmer.
John Wetton was born in 1949 in a village in Derbyshire. While attending a boys grammar school, Wetton studied classical music. The recalls, "I got to like bass lines, because Bach bass lines are incredibly interesting. So I thought, this is good, I like bass lines, that's me." Though an enthusiast of classical music since childhood, he opted to go into rock and roll instead in order to avoid being compared to his brother. He played bass and sang in a number of early bands with Richard Palmer-James (later of Supertramp) in The Corvettes, The Palmer-James Group, Tetrad, and Ginger Man. He went on to join rock band Family, whose 1971 UK hit "In My Own Time" climbed to #4. Wetton later joined Renaissance who had a Top Ten hit in the UK in 1978 titled "Northern Lights".
Carl Frederick Kendall Palmer was born in 1950 in Birmingham, England. He began playing drums from an early age and formed his first band, the King Bees, in 1964, when he was 14-years-old. Later in 1966 Palmer was invited to join Chris Farlowe and the Thunderbirds. In 1969 the drummer for The Crazy World of Arthur Brown, quit the band. Carl Palmer was quickly hired as the replacement while the band was still on a tour of America. Palmer and keyboard player Vincent Crane, with Arthur Brown, left the band to form Atomic Rooster in the summer of '69. Palmer recalls that Arthur Brown had "gone missing on a commune on Long Island", and that was the deal-breaker for Palmer and Crane's decision to form Atomic Rooster.
However, Atomic Rooster had numerous lineup changes in its first year. By the summer of 1970, Carl Palmer accepted Keith Emerson's invitation to join what would soon be known to the pop music world as Emerson Lake and Palmer.
Stephen James Howe was born in 1947 in London. He began playin guitar at the age of 12. At age 14, Howe and his friend from Tottenham started a group that played in youth clubs, eventually landing gigs in pubs and ballrooms. In 1964 he joined an English beat group named The Syndicats. In 1965 he joined The In Crowd, which played R&B and rock. They morphed into a psychedelic band named Tomorrow. Each band had a hit on the UK singles chart. During this time, Howe was a session musician on the #2 UK hit single by Keith West titled "Excerpt from 'A Teenage Opera'". Howe also appeared in the 1967 UK film Smashing Time. At this time, Howe also shared the stage in concert with Pink Floyd and Jimi Hendrix. In 1970 Steve Howe joined the progressive rock band Yes.
Geoffrey Downes was born in Cheshire in 1952. His parents played piano and his father was a church organist. In 1975 he played keyboards in a theatre production of The Wombles. In 1977, Downes joined new wave band The Buggles. They had an international hit record in 1979 titled "Video Killed The Radio Star". While with the Buggles, Downes joined Yes for a year in 1980 to record the Drama album.
In 1982 Asia released their first album simple titled Asia. The debut single was "Heat Of The Moment". The single was a Top Ten hit in Canada, West Germany, Poland, South Africa, Switzerland and the USA. The followup single from the album was "Only Time Will Tell".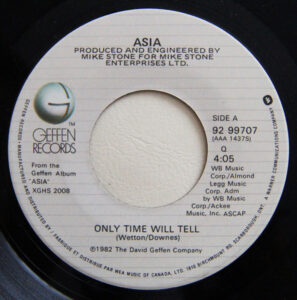 "Only Time Will Tell" was cowritten by John Wetton and Geoff Downes. The song concerns a couple that is breaking up. One of the partners didn't know exactly how they would break off the relationship. In fact, almost from the start, they weren't committed. The song is sung from the perspective of the person being left who now recognizes the person walking out the door "planned it all along." Now the partner who has walked out on the relationship has what they want: "You're on your own. You're in your room. You're claiming victory. You were just using me." The singer concludes, "one thing is sure, this lie is over."
Meanwhile, the partner who thought the relationship was the real deal, was "starry eyed." If you want a relationship to last, one way to deceive yourself is to try to read into everything your partner does as confirming the relationship is solid. But, in the case of the relationship in "Only Time Will Tell", the partner who was hopeful paid little or no attention to any signs that the other half was just in the relationship to use them. Or perhaps didn't know how to 'chicken out' of the relationship and find a reason to say "it's over." Somehow, both partners are deceiving each other. If they say "I love you" to each other frequently, the one person doesn't mean it, and the other person isn't picking up the clues. Especially, when the one person who breaks off the relationship views this as a "victory."
"Only Time Will Tell" peaked at #1 in Vancouver, #2 in Providence (RI), and Halifax (NS), #3 in Regina (SK), Minneapolis/St. Paul, Bangor (ME), Kansas City (MO), Mesa (AZ), and Montreal, #4 in Winnipeg (MB), and Galveston (TX), #5 in St. Cloud (MN), Raleigh (NC), Yellowknife (NWT), and Milwaukee (WI), #6 in Toronto, Fort Lauderdale, Greensboro (NC), Youngstown (OH), and Seattle, #7 in New York City, Cleveland, and Atlanta, and #9 in Chicago.
Asia sold over 10 million copies. In 1983 the band released Alpha. The lead single, "Don't Cry", was a Top Ten hit in both Canada and the USA. Asia continued to release more albums, mostly using the letter "a" for inspiration: Astra, Aqua, Aria, Arena and Aura. Since 2004, the band dropped the letter "a" gimmick, and released more albums including Phoenix, Omega, and most recently Gravitas in 2014.
Geoff Downes and John Wetton remained with the band until 2014. Steve Howe and Carl Palmer mostly remained with Asia, with a gap between 1992 and 2006. A half a dozen other musicians have been part of the band's lineup over the decades. Wetton died of cancer in 2017 at the age of 67. Both Howe and Palmer have released solo albums.
Asia played at the Commodore Ballroom in Vancouver on August 20, 2007.
References:
"Carl Palmer Tour Dates," carlpalmer.com.
"Asia Concerts Canada," setlist.fm.
"Top Thirty," CFUN 1410 AM, Vancouver, BC, October 16, 1982.
For more song reviews visit the Countdown.