#1290: Only You by the Flying Pickets
Peak Month: June 1984
7 weeks on Vancouver's CFUN's chart
Peak Position #11
Peak Position on Billboard Hot 100 ~ did not chart
YouTube: "Only You"
Lyrics: "Only You"
Brian Hibbard was born in the County of Monmouth in southwestern Wales in 1946. He got employment as a chimney sweep, a steel worker, a barman and a teacher before becoming an actor. In 1972-74 he supported the the UK miner's strike. He joined John McGrath's 7:84 Theatre Company. The theatre group's name was chosen based on an article McGrath recalled from 1966 in the Economist which reported that 7% of the people in the UK owned 84% of the country's wealth. 7:84 was a leftwing Scottish "political" theatre or agitprop company. In 1981 they performed a production called One Big Blow about a group of miners in a colliery brass band.

Other members of the production of One Big Blow included Rick Lloyd, David Brett, Ken Gregson, Red Stripe and Gareth Williams. They all became members of the Flying Pickets. David Brett worked with the Mikron Theatre Company, a touring theatre company which traveled the UK by canal boat for summer productions. Brett was one of the playwrights who wrote "Puddle It", a play about the people who built the canals in the UK between 1761 and 1827. And in 1980 Brett appeared in a stage production of The Hitchhiker's Guide To the Galaxy.
Rick Lloyd was born in Wales and was in a Welsh-speaking Rock band named Y Blew in 1967. They did covers of songs off the Beatles Sgt. Pepper's Lonely Hearts Club Band album, all translated into Welsh. They also did a Welsh-language cover of "San Francisco" by Scott McKenzie. Before joining 7:84 and subsequently the Flying Pickets, Ken Gregson was in the 1978 London Film Festival movie In The Forest.
Gareth Williams became an actor in 1971 working in fringe and repertory productions, and small-scale touring. He remained a bass singer with the Flying Pickets until 1989.
When the Flying Pickets released a cover of a song by Yazoo titled "Only You", the single became a number-one hit on the UK charts over Christmas in 1983.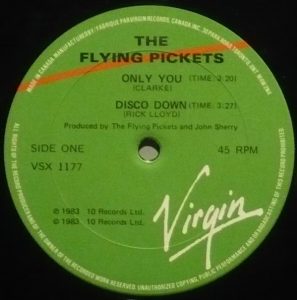 "Only You" is a song about a relationship that is fragmenting. The sense of connection is tenuous. The singer observes "came back only yesterday, we're moving farther away…" The couple are not on the same page. The singer tells us "listening to the words that you say, it's getting harder to stay when I see you." What would have been sustaining in the relationship was "the love you gave." But, it seems that there was a diminishment of the love that was being given. The singer laments that they "can't take no more." All they ever knew in the relationship was "only you." They needed the love that was given for "another day." But, that seems to have been cut off. And these two people seem to be more absent from one another, as the singer sings "sometimes when I think of your name."
The writer of "Only You" was Vince Clarke. Born Vincent John Martin in 1960 in suburban London, he began songwriting at the age of fifteen. Growing up he learned to play violin and piano. In the late 70s Martin formed a new wave band called No Romance In China. From there he joined Composition In Sound in 1980, which was soon after renamed Depeche Mode. At that time he adopted his stage name Vince Clarke. In 1981 he penned Clarke also wrote "New Life", Depeche Mode's breakout hit in the UK which reached #11 on the UK pop chart in 1981. This was followed by "Just Can't Get Enough", a #8 hit for the band in the UK, and Top Ten hit in Australia, Belgium and the Netherlands. Both songs were from the band's Speak & Spell album.
Clarke left Depeche Mode after the success of the Speak & Spell album. He teamed up with Alison Moyet in 1981 to form Yazoo. The duo's first release was "Only You", which reached #2 on the UK pop chart in 1982. Yazoo had three more singles that made the Top Ten internationally: "Don't Go", "Situation" and "Nobody's Diary". Moyet and Clarke split after 18 months of performing and recording.
In 1983, he had a Top Five hit in the UK titled "Never Never" in a band called The Assembly with Feargal Sharkey and Eric Radcliffe. Then in 1985 Clarke teamed up with Andy Bell to form the synth-pop band Erasure. With this band they had 16 Top Ten hits in the UK between 1986 and 2005. These included "A Little Respect", "Chains Of Love" and "Always". More recently, Vince Clarke collaborated in 1999 with Martyn Ware (of Human League and Heaven 17) and recorded several albums.
"Only You" by the Flying Pickets peaked at #7 in Toronto and #11 in Vancouver (BC). It also climbed to #3 in the Netherlands.
After the success of "Only You", the Flying Pickets recorded a cover of the 1964 single by Ruby & The Romantics titled "When You're Young And In Love". Their cover climbed to #7 on the UK singles chart. A third single from their debut album, Lost Boys, was a cover of the Eurythmics single "Who's That Girl?".
The Flying Pickets last charting single in the UK was a cover of the Roy Orbison tune "Only The Lonely", peaking at #79 in 1985. The a cappella group also released cover versions of Brian Hyland's "Sealed With A Kiss", Berlin's "Take My Breath Away", "Englishman In New York" by Sting and Soft Cell's "Tainted Love".
Brian Hibbard and Red Stripe left the Flying Pickets in 1986 to form a short-lived duo named Hibbard and Stripe. David Brett, the last original member of the group, left in 1990. Over the years there have been 27 members of the Flying Pickets.
In 1987 Rick Lloyd won a British Academy of Film and Television Arts Award for Best Original TV Music in Porterhouse Blue. Among his directorial successes are his productions of Grease, The Rocky Horror Picture Show and Hair.
Ken Gregson emigrated to Australia and appeared in the daytime soap opera Neighbours.
In 2000 David Brett appeared in the role of Dedalus Diggle in the film Harry Potter and the Philosopher's Stone. Over the years Brett has appeared in more than twenty theatre productions. These include A Midsummer Nights Dream, Pinocchio, Twelfth Night, The Threepenny Opera and Into The Woods.
Brian Hibbard played the character Doug Murray in the 1992-93 episodes of Coronation Street. In 2011 he appeared in the British soap opera EastEnders. In 2006 he starred as one of the ugly sisters in a stage production of Cinderella in Gwent, Wales. Hibbard died in 2012 at age 65 from prostate cancer.
Over the past two decades Gareth Williams has appeared in a number of stage productions. These include Chitty-Chitty-Bang-Bang, Waiting For Godot, The Winter's Tale, Far From The Madding Crowd, My Fair Lady, Jailhouse Rock, Macbeth and Comedy of Errors.
Red Stripe moved to Australia and became part of an art performance group named Poets The Machine.
The Flying Pickets continue to perform with their latest line-up scheduled to hopefully perform concerts in Switzerland, Belgium and Austria sometime in 2021. Like many performers, their concert schedule has been postponed due to the COVID-19 pandemic.
Vince Clarke, the songwriter of "Only You", continues to work as a producer and has also remixed songs for over 40 recording artists. In August 2020 Erasure will release a new album titled The Neon.
June 27, 2020
Ray McGinnis
References:
"David Brett: Casting Credits," Castingnetwork.co.uk.
"Y Blew," Wikipedia.org.
"Rick Lloyd," Wikipedia.org.
"Actor and Ex-Flying Pickets Singer Brian Hibbard Dies," BBC, June 12, 2012.
"Where Are They Now?," Daily Mirror, December 21, 2006.
"Gareth Williams: Credits," mandy.com.
"Flying Pickets," pickets.co.uk.
"Vince Clarke," Wikipedia.org.
For more song reviews visit the Countdown.