#537: Open Up Your Door by Richard & The Young Lions
Peak Month: November 1966
9 weeks on CFUN's Vancouver Charts
Peak Position ~ #2
Peak Position on Billboard Hot 100 ~ #99
YouTube.com: "Open Up Your Door"
Lyrics: "Open Up Your Door"
When Richard Tepp began to hear the Beatles, Dave Clark Five, Rolling Stones and the Gerry and the Pacemakers in 1964, these British Invasion acts inspired him to become a rock 'n roll singer. Sitting in his home in Newark, New Jersey, he saw the way the opposite sex reacted to the Beatles. Tepp imagined a wonderful life that would include him performing and girls screaming. He attended a gig at a club on Chancellor Avenue in Newark where The Emeralds were on stage. He asked if he could join there band and, after showing them his vocal skills, they hired him on the spot. The Emeralds soon changed their name to The Original Kounts and became a cover band playing British Invasion songs. They grew their hair long and stood out.
The Original Kounts consisted of Richard Tepp on lead vocals and tambourine, Bob Freedman on guitar and vocals, Marc Lees on lead guitar and vocals, Norm Cohen on drums, Ricky Racklin on guitar and bass, and Jerry Raff on piano.
After the death of Howard "Richard" Tepp, Bob Freedman wrote on July 9, 2004, "I will never forget the first time I met Howie. Marc, Ricky and I, then calling ourselves "The Emeralds," were playing on stage at the "Y" auditorium in Newark, NJ. To the best of my estimation, the date was Nov. 25, 1965, and the event was…the Soiree a-Go-Go. Near the side of the stage, I noticed this lanky, leather-jacketed, kind of "hood-looking" guy, with a cigarette dangling from his lip, who got Marc's and Norm's attention. Next thing you know, they came to me and said there's a guy they know from the neighborhood who wants to sing a few tunes with us. I asked… "Well, can he sing?" They believed so, and I said…"If it's OK with you, it's OK with me." Little did we know how all of our lives would be changed after that fateful night."
Marc Lees remembering Richard Tepp, "We grew up together. Though a couple of years older, we hung at the same corners, the Y and the Pizzeria. It was only natural, that when he decided to try singing on stage, he approached a band with shared neighborhood history and friendship first. It just fit him. His love of Rock 'n Roll, performing and his personality transformed us all in some way."
As detailed in the Richard and the Young Lions website, one day the bandmates were at The Indian Pizzeria singing to music on the jukebox. They were approached by two customers at the pizza joint who happened to be songwriters. They were Ray Bloodworth and Larry Brown, both with Bob Crewe Productions, managers of Mitch Rider and the Detroit Wheels and The Four Seasons. The Original Kounts invited the songwriters to listen to them rehearse. Bloodworth, Brown, and their co-writer Neville Nader, were composing a new song that they were looking for a band to record. After hearing The Original Kounts they proposed to the band that they record what was yet to be titled "Open Up Your Door".
When Bob Crewe was introduced to Richard Tepp, Crewe thought his long hair resembled King Richard the Lionhearted. So Crewe suggested the band change their name to Richard and the Young Lions.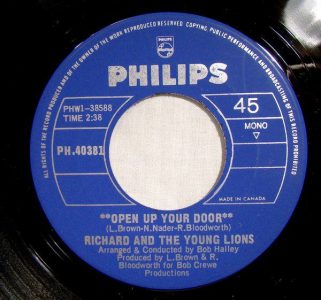 "Open Up That Door" is a song about a burning desire to make love. The singer says "I'm all on fire… got a big desire." And it seems that they are making out and making love frequently: "left you at eight, be back at nine, we still got love…" In the fall of 1967 The Doors released "Love Me Two Times", which emerged from a story a friend of Robby Kreiger, who said it was about a sailor on his last day with his girlfriend before heading out to sea. The song was about multiple orgasms or just having sex multiple times with the same partner on one day. Songs like "Open Up Your Door" and "Love Me Two Times" added to the perception that rock 'n roll was a catalyst for sex.
Richard and the Young Lions appeared win Philadelphia on The Discophonic Scene, hosted by Jerry Blavat. The studio recording of "Open Up Your Door" included studio musicians at the insistence of Bob Crewe and Philips Records, and producers Brown and Bloodworth. Richard and the Young Lions wanted to do all the recording themselves without any studio musicians. This caused a rift between the band and the record company. Richard Tepp recalls "they couldn't have cared less about us…. (the manager) would tell me that we were playing in Kentucky this weekend. I would ask how we are getting there, and ask if his secretary could make our plane reservations. He would tell me to get my own secretary. These are things I would have to relay to the rest of the guys. And, although we ALL loved the playing and the fame, it was tough to deal with."
Nonetheless, all the vocals on "Open Up Your Door" were just the band members. After recording "Open Up Your Door" in early July 1966, the band began to fall apart. Jerry Raff and Ricky Racklin left the band to attend school in September. Marc Lees got mono. And Norm Cohen also left the band, feeling betrayed by the record company. This left only Richard Tepp and Bob Freedman to remain. And Richard and the Young Lions had an upcoming scheduled performance on the The Clay Cole Show, to be broadcast from New York City in a few days.
Richard Tepp had to find some new members for the band, and fast. He happened to drop by a Grunings on the Hill ice cream parlor in South Orange, NJ, that September day in 1966. In Livingston, New Jersey, there was another band that attended the same high school as The Original Kounts. They were named Mark IV and played at bar mitzvah's, talent shows, teen dances and offered up a set of pre-British Invasion tunes by Duane Eddy, The Ventures, Ricky Nelson and others. They dressed in stripped shirts like the Beach Boys. But when Beatlemania caught America by storm, Mark IV changed their name to The Orphans and grew long hair. By 1966, most of the band members had left to study college in September of the year, preferring study to being drafted into the Vietnam War. The two remaining members of The Orphans, Lou Vlahakes and Mark "Twig" Greenburg, headed over to Grunings on the Hill for an ice cream.
Richard Tepp met Vlahakes and The Twig at Grunings and auditioned Twig on the drums, and Lou on guitar. They soon headed off to the Clay Cole Show and performed as Richard and the Young Lions. The performance went over so well that Vlahakes and The Twig joined the band. Bob Freedman wasn't made aware of the Clay Cole show, but after the miscommunication was cleared up, remained with the band.
Mark "Twig" Greenburg was a fan of Gene Krupa and Buddy Rich when he was a child. At the age of eleven he got a snare drum for his birthday. Richard Tepp wanted to learn the guitar once he saw Elvis on TV in 1956. He was from a poor family, but his parents got him an acoustic guitar for Christmas/Hanukkah. He took three lessons on the guitar before his younger brother accidentally knocked over the instrument and broke it. That was the end of guitar playing for Richard Tepp.
"Open Up Your Door" co-writer Larry Brown also wrote "C'mon Marianne" for the Four Seasons, "Sock It To Me Baby" for Mitch Ryder and the Detroit Wheels, "I Woke Up In Love This Morning" for The Partridge Family, "Tie A Yellow Ribbon Round The Old Oak Tree", "Knock Three Times" and "Say Has Anybody Seen My Sweet Gypsy Rose" for Tony Orlando and Dawn. His songs have been recorded by Leslie Gore, Johnny Mathis, Bing Crosby, Ray Conniff, Perry Como and Donny Osmond.
"Open Up Your Door" co-writer Neval Nader was born Nevel Abounader in Utica, New York, in 1917. He fought in the South Pacific for America in World War II. His songs were recorded by Gene Pitney, The Fleetwoods, Adam Wade, The Tokens, Bobby Vee, Bobby Vinton, The Highwaymen, Eddie Rambeau, The Bobby Fuller Four and Andy Williams. One of his biggest songs was a Top 20 hit for Bobby Vee in 1962 titled "Punish Her".
The third co-writer of "Open Up Your Door", Ray Bloodworth, had his songs recorded by Eddie Rambeau, Helen Shapiro, Norma Tanega, The Highwaymen, Mitch Ryder and the Detroit Wheels, Leslie Gore, Jay & The Techniques, Grapefruit, The Four Seasons, The Bob Crewe Generation, Ben E. King, The Bobby Fuller Four, The Sonics, The Osmonds, Patti Labelle and Herman's Hermits.
On the 45 RPM record jacket for "Open Up Your Door" these notes described the band:
The haircut is strictly Anglo-Saxon – sort of late Beowulf, or early Prince Valiant. For an outfit with the name Richard and the Young Lions, it fits. With such shaggy lion's manes, one pundit recently suggested the group might even be called "the mane-lioners." In any event, Richard's music is equally "hairy" – a raw, gutsy, near-primitive sound he calls "impact music," for want of a better term.
Leading this entourage of growlers is Richard Tepp, an 18-year-old, lanky, six-footer from Newark, N.J., where all the Young Lions can be found roaming. Richard is interested in today's "scene," not only musically, "but whatever's happening," wherever it may take him. He (and the others) take life "as it comes, without any worry." Doing so, they and their music reflect the restlessness of contemporary teens, their desire for the offbeat, the different. For instance, listen closely and you'll hear an African hair drum in this recording; it was utilized to achieve a distinct sound the boys wanted. Listen again – you'll hear the sound of today – the pulsating drive of Richard and the Young Lions.
"Open Up Your Door" first appeared on the the AM-Top 40 chart of WJOB in Hammond, Indiana, on July 5, 1966. On July 15, 1966, the single began to chart on KJR in Seattle, climbing to #2 on August 5, 1966. During September it climbed to #3 on WXYZ in Detroit, Windsor (ON), and Saginaw (MI), #6 in Grand Rapids (MI) and #6 in Flint (MI). At the end of the month the song topped the chart on KCPX in Salt Lake City. In November '66, "Open Up Your Door" climbed to #1 on WKYC in Cleveland, #2 in Vancouver (BC), #3 in Bakersfield (CA) and Tuscon (AZ), #6 in Akron (OH) and #7 in Medicine Hat (AB) and Salinas (CA). In December 1966 "Open Up Your Door" climbed to #7 in Monterey (CA) and Geneva (NY). Aside from the sequential chart runs in different radio markets in the USA, the song hardly got any chart action in 38 states. Perhaps because some DJ's thought the song was too risqué. As a result, "Open Up Your Door" peaked at #99 on the Billboard Hot 100. Though it did climb to #70 on October 22, 1966, on the music industry Cashbox singles chart.
Richard and the Young Lions practiced in the basement at Richard Tepp's parents home in Livingston, New Jersey. But Tepp remembers they didn't get gigs in New Jersey once "Open Up Your Door" became a regional hit in various record markets. They got scheduled to play in Cleveland, Jacksonville (FL), and Detroit, where the song was a hit. Though they never played any dates in New York state or in California, where the song was a hit in Bakersfield (CA). They shared the stage with other performers that included Question Mark and the Mysterians, Paul Butterfield, Jackie Wilson, and Wayne Cochran and the C C Riders. Richard and the Young Lions also appeared three times on the ABC-TV variety show in Cleveland called Upbeat, with their go-go dancers.
Bob Freedman recalls "The excitement and energy and joy…that Richard generated on stage could be viscerally felt by all, band and audience alike. Our greatest musical experience together had to be the ALSAC Show in Como Hall, Detroit, 1966, with 17,000 screaming "teeny boppers." What a night!"
After "Open Up Your Door" became a regional hit, Richard Tepp and Lou Vlahakes were asked to record an Armed Forces public service announcement radio spot in 1966. As well, Fred Randall joined the band, and based on his tribute comments after Richard Tepp died, Randall seems to have joined in 1966.
In January 1967, Richard and the Young Lions charted to #2 in Vancouver with "Nasty" on the college radio station at the University of British Columbia, CYVR. A third single, "You Can Make It" was released in the spring of '67, and was a commercial failure. Twig recalled in an interview in 2000, ""Nasty" was a crappy single, although I love playing it today. [With] "You Can Make It", the record company just screwed up. It's a great record, and is fabulous live. They didn't get the records into the stores, so it died on the vine." The lack of any commercial success, occasional bookings, and little money coming to the band caused them to split up by the summer of '67.
After Richard and the Young Lions broke up Mark "Twig" Greenburg joined a band named Splendor's Castle into 1970. Richard Tepp recalls that he "moved to Cleveland and played drums for a 3 piece band with my old friend Rick Anderson. Along with Randy Klawon we were called FROG! As house band at La Cave, we met and played with all the bigtime bands that came to Cleveland. It was there that I met Nick St. Nickolas and the rest of T.I.M.E. They asked me to come to LA and play drums for them and I accepted. I am on the Smooth Ball album on Liberty Records….After T.I.M.E., my old pal Anderson and I formed Sanctuary. A classical-rock band…. Warriors of the Rainbow came after that. Along with Billy Richardson (from T.I.M.E.) and my younger brother Pete on drums. I played bass. Mark Berger (who was a roadie for Sanctuary) was also in the band…..After that, I returned to the east coast and eventually became a bartender….Before Richard and the Young Lions got back together I was playing clubs as a one man band."
Richard and the Young Lions reformed in 2000. They shared the stage the following few years with Question Mark and the Mysterians, the Troggs and the Zombies. Richard Tepp died of leukemia in 2004. In 2004 James Hannon made a documentary titled Out Of Our Dens: The Richard and the Young Lions Story. The documentary was released in July 2004, and Richard Tepp saw the final edit of the film two days before he died. After Tepp died Mike Fornatale took over lead vocals.
In 2018 the Wicked Cool Record company released the first ever Richard and the Young Lions album.
October 30, 2019
Ray McGinnis
References:
"The Legend of Richard and the Young Lions," Richard and the Young Lions.com.
James Hannon, "Richard Tepp Tribute," Richard and the Young Lions.com, August 14, 2004.
Mike Dugo, "Beyond The Beat Generation – Richard And The Young Lions," The Lance Monthly, 2000.
James Hannon, Out Of Our Dens: The Richard and the Young Lions Story, Lantern-Media.com, July 2004.
Jay Lustig, "Doors are Opening, Once Again, for Richard and the Young Lions," NJ Arts.net, April 26, 2018.
"Neval G. Abounader – Obituary," Observer-Dispatch, Utica, NY, August 21, 2009.
45 RPM record jacket liner notes, "Open Up Your Door", Philips Records, 1966.
"C-FUNTASTIC FIFTY," CFUN 1410 AM, Vancouver, BC, November 5, 1966.
For more song reviews visit the Countdown.