#422: Opus 17 by the Four Seasons
Peak Month: June 1966
8 weeks on Vancouver's CKLG's chart
Peak Position #2
Peak Position on Billboard Hot 100 ~ #13
YouTube: "Opus 17"
Lyrics: "Opus 17"
Pianist Bob Gaudio was born in The Bronx in 1942. At 14 years of age he co-founded The Royals. Gaudio had been playing piano since he turned eight in 1950. Gaudio was born in November 1942 in Bergenfield, New Jersey. The Royals opened for a local New Jersey doo-wop group named The Three Friends who had a hit in New York and Baltimore in the winter of 1956-57 titled "Blanche". After the Fort Lee concert, The Three Friends invited The Royals to come to New York to be the session musicians for their upcoming recording date in the Brill Building at 1650 Broadway. It was there The Royals met The Three Friends manager, Leo Rogers. On the strength of their musical skills, Rogers invited The Royals to be session musicians for numerous recording artists in the building. They were also given a chance to record a song.
Bob Gaudio was fifteen years old when he co-wrote "Short Shorts". The group changed their name to the Royal Teens and appeared on American Bandstand on February 3rd and Dick Clark's Saturday Night Beechnut Show on February 15th. The song reached #2 on the R&B charts and #3 on the Pop charts in March 1958. The Royal Teens went on tour with Buddy Holly, Sam Cooke, Jackie Wilson, Jerry Lee Lewis, Bo Diddley, Chuck Berry and Frankie Avalon.
The Royal Teens appeared on Alan Freed's Big Beat show, and in the 1958 film Let's Rock. That year Gaudio met Frankie Valli who was a member of the Four Lovers. Gaudio left the Royal Teens to join the Four Lovers. But not before he wrote "Believe Me", a Top 30 hit on the Billboard Hot 100 and a #3 hit in Vancouver (BC) in 1959.
The Four Lovers had managed one minor hit in 1956 titled "You're The Apple Of My Eye", which peaked at #62 on the Billboard pop chart. It was a catalyst for appearing on the Ed Sullivan Show on May 6, 1956. The Four Lovers also included Tommy DeVito and Nick Massi. The Four Lovers failed to chart another hit record.
Francesco Stephen Castelluccio was born in 1934 in Newark, New Jersey. He was raised in a public housing project called Stephen Crane Village, a very rough area. In the early 50s he heard a group named the Variety Trio with Nickie DeVito, Tommy DeVito, and Nick Macioci. When they heard Castelluccio sing, they offered him a guest spot. In 1952 the group disbanded. In '53 Castelluccio recorded a song titled "My Mother's Eyes" created to Frankie Valley. In 1954 Francesco Castelluccio and Tommy DeVito formed the Variatones. By 1956 they were renamed the Four Lovers. By then Francesco Castelluccio was billed as Frankie Valli.
After several lineup changes the Four Lovers changed their name to the Four Seasons in 1960. They decided on the name after a cocktail lounge they visited above a bowling alley in Union, New Jersey, where they failed an audition to sing at the lounge. The Four Seasons lineup now consisted of Frankie Valli, Bob Gaudio, Tommy DeVito and Nick Massi.
Gaetano "Tommy" DeVito was born in 1928 in Belleville, New Jersey. He was one of nine children in a family living on welfare. When he was eight he taught himself to play his brother's guitar by listening to country music on the radio. When he was twelve Tommy was playing for tips in neighborhood taverns. He was beaten up a lot by his dad. He quit school after the eighth grade. He formed a band in 1944 when he was only sixteen. The neighborhood had a lot of mobsters and gangs. Tommy remembers ""When I was a kid, I was locked up. I was in six or seven jails. I went to prison one time. But my teenage years were a son of a bitch. I was a hell raiser. … I was a menace to everybody."
Nicholas E. Macioci was born in 1927 in Newark, New Jersey. Tommy DeVito and Nick Massi had both gone to jail for small time robberies.
In 1962 the Four Seasons released a single, a cover of the 1951 Bell Sisters Top Ten hit "Bermuda". It had been covered in '62 by Linda Scott with minor success. But the Four Seasons recording was a commercial flop. Bob Crewe, who had written the Rays number one hit in 1957, "Silhouettes", suggested to Vee-Jay Records that the group record "Sherry". "Sherry" was the name of the daughter of Gaudio's best friend, New York DJ Jack Spector. The original song title, when Gaudio and Crewe co-wrote the song, was "Jackie Baby", named after the First Lady in the White House. "Sherry" became a number one hit for five consecutive weeks on the Billboard Hot 100, starting on September 15, 1962. It peaked at #1 in Vancouver (BC) on September 8/62, and was bumped out of the position here on the West Coast by Roy Orbison's "Leah". The Four Seasons follow-up hit was "Big Girls Don't Cry". It also reached the number one spot in the USA for five weeks.
In Vancouver "Big Girls Don't Cry" debuted on October 8, 1962, on the C-FUNTASTIC FIFTY. After nine weeks on the chart the B-side of the single, "Connie-O", made the disc a double-sided hit. The B-side debuted at #19 on the record survey and climbed to #17 the following week, together with "Big Girls Don't Cry". Then on January 5, 1963, "Connie-O" continued its ascent into the Top Ten on its own.
In 1964 the Four Seasons had several Top Ten hits both in the USA and in Vancouver (BC), including "Rag Doll", "Dawn (Go Away)", and "Ronnie". The group appeared for 13 weeks in the Top Ten in Vancouver in 1964. That year also began a new billing for the group as The Four Seasons Featuring Frankie Valli. Nick Massi left the group and was replaced by Joe Long. Long was born Joseph LaBracio in Elizabeth, New Jersey, in 1941. He added backing vocals and bass guitar to the group.
From 1965 to 1966 the Four Seasons charted more songs into the Top Ten in Vancouver. These included "Let's Hang On", "Working My Way Back To You", and "Opus 17 (Don't You Worry 'Bout Me)".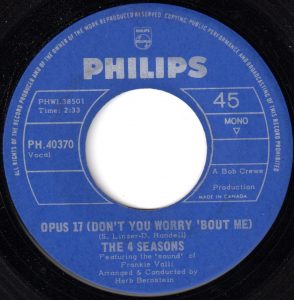 "Opus 17 (Don't You Worry 'Bout Me)" is a song cowritten by Denny Randell and Sandy Linzer. Linzer was born in New York City in 1941 and raised in a Jewish household. Linzer cowrote "Dawn (Go Away)" for the Four Seasons. He also wrote songs recorded by Barbara Lewis, Diane Renay, Dee Dee Sharp, The Orlons, The Four Tops, ? And The Mysterians, Jay & The Techniques, The Happenings, Nancy Sinatra, The Monkees, The Backstreet Boys and Whitney Houston. He also produced the disco hit "Whispering"/"Cherchez La Femme"/"Se Si Bon" for Dr. Buzzard's Original Savannah Band.
Randell was also born in New York City in 1941. Growing up he learned to play the piano, accordion, trumpet, trombone and drums. Denny Randell wrote songs recorded by Jean Thomas, Tracey Dey, Ritchie Havens, Esther Philips, Disco Tex & the Sex-o-lettes, Neil Sedaka and others. In 1975 he wrote "Swearin' To God", a #6 hit for Frankie Valli who was having a comeback in the mid-70's. In the late 60's into the 70's he worked as an A&R man for Epic Records and RCA.
Sandy Linzer and Denny Randell cowrote "Let's Hang On" and "Working My Way Back To You" for the Four Seasons. And in 1965 they also wrote "A Lover's Concerto" for the Toys. The songwriting duo were inducted into the Songwriters Hall of Fame in 2012.
"Opus 17" is a song about naming what has occurred in a relationship: namely that the love between a romantic couple has died. The guy tells his girlfriend, "if there's another man" go ahead and take his hand and "be his bride." The lyrics don't definitely confirm that there is another man. However, the guy senses that she's "only holding out" her "heart in sympathy." He doesn't think her heart is in the relationship anymore. Based on his assumption, he lets her know that though "it won't be easy" to let her go, "I'll be strong, I'll try to carry on." He doesn't want her to worry about him. Just the same, he declares "I love you, no matter what you do. I'll spend my whole life waiting if you want me to." But, if this is "goodbye," he promises he'll always remember "the tender love we knew."
"Opus 17 (Don't You Worry 'Bout Me)" peaked at #1 in Wilmington (DL) and Wilkes-Barre (PA), #2 in Vancouver (BC), Buffalo and Cleveland, #3 in New Haven (CT) and Tulsa (OK), #4 in Denver and La Crosse (WI), #5 in Columbus (OH), Jackson and Lansing (MI), #6 in Hartford (CT), New Brunswick (NJ) and San Bernardino (CA), #7 in Madison (WI), Grand Rapids (MI) and Tampa, #8 in Pittsburgh, Omaha (NE), Boston and New York, #9 in Philadelphia, Indianapolis (IN) and Milwaukee, and #10 in Phoenix. The single got little chart action in almost twenty states, and stalled at #13 on the Billboard Hot 100.
And in 1967 Frankie Valli had a solo hit with "Can't Take My Eyes Off You" that climbed to #2 on the Billboard Hot 100, but stalled at #15 in Vancouver. While the Four Seasons had one more Top Ten hit both Vancouver and on the national charts in the USA with "C'mon Marianne".
Between 1968 and 1974 the Four Seasons released twenty-one singles with little success. Tommy DeVito left the group in 1970. DeVito recalls "I had had it up to here with the traveling and changing clothes three times a day, and taking two planes and then driving 100 miles to do a date. Getting on stage and doing the same stuff — I just had it." He moved to Las Vegas because he liked the warm weather. In the first year he blew through $100,000 on gambling, women, parties, whatever he wanted. Then he did a friend a favor who was printing counterfeit money. This landed DeVito in an Arizona prison Arizona for six months. "It's stupid, actually stupid, on my part, nobody else's part," Tommy says. After prison Tommy DeVito made a living from cleaning other people's houses.
After several lean years, in 1974, Frankie Valli had a number one hit with "My Eyes Adored You". This was followed up with a Top Ten hit titled "Swearin' To God". In 1975, the Four Seasons returned to the Top Ten with "Who Loves You" and a number one hit with "December 1963 (Oh, What A Night)". Frankie Valli enjoyed one more Top Ten entry in 1978 with his number one single "Grease", the title track from the film Grease.
Bob Gaudio and Bob Crewe co-wrote The Four Seasons biggest hits, starting in 1962 with "Sherry", "Big Girls Don't Cry", "Walk Like A Man", "Rag Doll", "Bye Bye Baby", and Frankie Valli's solo hit in 1967, "Can't Take My Eyes Off You". During the '60's, Crewe and Gaudio also wrote songs that were hits for other recording artists. These include "Silence Is Golden" by The Tremeloes and "The Sun Ain't Gonna Shine Anymore" by The Walker Brothers.
In the '70's Bob Gaudio wrote "Who Loves You" and "December 1963 (Oh What A Night)" for the Four Seasons. In 1978 Gaudio produced the Neil Diamond and Barbra Streisand duet "You Don't Bring Me Flowers". In the '80's Gaudio produced the Broadway rock musical Little Shop of Horrors. In 2001 Gaudio wrote the music for the West End London musical Peggy Sue Got Married. And he was pivotal in mounting the Jersey Boys musical that opened on Broadway in October 2005.
Nick Massi died of cancer on December 24, 2000, at his home in West Orange, New Jersey.
Tommy DeVito ended up getting small roles in Casino, Gone Fishin' and The Good Shepherd. But his big windfall came when the royalties from Jersey Boys started to roll in.
In 2003, Frankie Valli reformed the Four Seasons with his backing lineup of Landon Beard, Todd Fournier and Brian and Brandon Brigham. Frankie Valli and the Four Seasons toured yearly between 2003 and 2018 in this formation. This included a run of concerts at the Broadway Theatre on Broadway at 53rd Street from October 19-27, 20012. They returned to perform at the Lunt-Fontanne Theatre in New York City on West 46th Street from October 21-29, 2016.
In 2018 Beard, Fournier, and the Brigham brothers formed their own group called The Modern Gentlemen. Since 2018 Frankie Valli has been backed by a new group of Four Seasons who consist of Erik Bates, Ronen Bay, Craig Cady and Joseph Ott. The current iteration of the Four Seasons with Frankie Valli has scheduled five concerts on the east coast of the USA in November 2019, and one concert in California in January 2020.
In 2004 a musical about the Four Seasons debuted in Long Beach, California, titled Jersey Boys. The musical moved to Broadway in 2005 and ran until 2017. It was nominated for eight Tony Awards and won four of these in 2006 for Best Musical, Best Performance by a Leading Actor in a Musical, Best Performance by a Featured Actor in a Musical, and Best Lighting Design in a Musical. Jersey Boys also won a Grammy Award for Best Musical Show Album in 2007. And in its run in London's West End theatre district, Jersey Boys was nominated for five Laurence Olivier Awards. It won for Best New Musical in 2009.
Update: Tommy DeVito died of COVID-19 in September 2020 at the age of 92.
July 3, 2020
Ray McGinnis
References:
The Royal Teens History, The Royal Teens.com.
"Frankie Valli: Romancing the 60s," Frankie Valli Four Seasons.com.
How The Four Seasons Clashed, Dealt With The Mob And Made Lasting Hits, NPR.com, September 9, 2014.
"Frankie Valli & the Four Seasons on Broadway," New York Theatre Guide.com, August 15, 2012.
Robert Viagas, "Jersey Boys Surpasses Miss Saigon on Long-Run List Tonight," Playbill.com, September 22, 2015.
"Jersey Boys Sets Closing Date After 11 Years: Dancing with the Stars' Mark Ballas Will Be Final 'Frankie Valli'," Broadwayworld.com, September 6, 2016.
Tom Austin: From The Royal Teens to Amazing Artist, Jersey Boys Blog.com, March 7, 2008.
John M. Grohol, Psy. D"Brides: Got Cold Feet? Listen To Your Head," Psychcentral.com.
"How a Jersey boy Worked His Way Back," Las Vegas Review Journal, June 1, 2009.
Denny Randell bio, Denny Randell.com.
Robert Wiener, Jersey Boy: Local Songwriter Reflects on Writing The Four Seasons Hits, New Jersey Jewish News, Whippany, New Jersey, January 4, 2017.
Neil Genzlinger, "Tommy DeVito, Original Member of the Four Seasons, Dies at 92: He Sang Behind Frankie Valli in a Hit-Making Harmony Group that Gained a New Audience When "Jersey Boys" Stormed Broadway. He Died of the Coronavirus," News York Times, September 22, 2020.
"Silver Dollar Survey," CKLG 730 AM, Vancouver, BC, June 12, 1966.
For more song reviews visit the Countdown.