#162: Paloma Blanca by the George Baker Selection
Peak Month: March 1976
14 weeks on Vancouver's CKLG chart
Peak Position #1
Peak Position on Billboard Hot 100 ~ #26
YouTube.com: "Paloma Blanca"
Lyrics: "Paloma Blanca"
Hans Bouwens was born in December 1944 in Hoorn, North Holland, the Netherlands. He was born to a single mother. Months before Bouwens was born, his father, Peppino Caruso, a former Italian soldier from Calabria put to labor by the Germans in nearby Grosthuizen, had been killed while attempting to escape when he was to be transferred to Germany. Bouwens was raised by his mother and his grandparents. He sang and played guitar in a schoolband (The Jokers) with Bob Ketzers, but at the age of 14 he left school and took jobs unloading ships on the Zaan and eventually as a factory worker at a lemonade factory. In 1961, he took the stage name "Body" and formed the band Body and the Wild Cats, with Bob Ketzers and his brother Ruud as well as Gerrit Bruyn on bass, all from Wormerveer.
In 1968, Hans Bouwen joined the band, Soul Invention. This was a soul band that had been founded the previous year by Henk Kramer in Assendelft. Soul Invention played covers of songs by Otis Redding and Sam and Dave. The band consisted of Job Netten (guitar), Henk Kramer and Eric Bardoen (saxophone), Jacques Greuter (keyboard and flute), Theo Vermast and later Jan Visser (bass), and Ton Vredenburg (drums). Visser and Bouwens wrote the song "Little Greenback" (sic) in the summer of 1969. The band recorded their first album in September 1969, after which, considering this was no soul music, they changed their name to The George Baker Selection. Bouwens named the band after a character from a detective novel.
The original title track from the band's debut album was "Little Greenback". This was in reference to the color of the United States dollar. However, the single was given the erroneous title "Little Green Bag".
A followup released, "Dear Ann", charted in Chilliwack (BC). Climbing to #2 in the Netherlands, "Dear Ann," was such a success that Baker resigned from his job in the lemonade factory and became a full-time musician. In the next five years, the George Baker Selection had over ten Top Ten hits in various countries in continental Europe. Most of these were in the Netherlands, but they were also hitmakers in Poland, and in New Zealand.
In 1976, the George Baker Selection was topping the charts in Vancouver with "Paloma Blanca".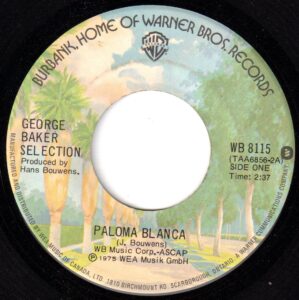 Hans Bouwens wrote "Paloma Blanca". On the cover of the album is the band with Bouwens holding a white dove in his hand. More doves are featured on the inside of the album and on the back side of the album jacket. The song offers a metaphor of being like a white bird that flies over mountains and soars free. The singer once knew loss, pain and confinement: "once they locked me in a chain." Now they can see the sun at daybreak and smell the new-born hay.
The dove is an ancient symbol of hope and peace. In the Biblical story of the Great Flood, Noah sends a dove from the arc to find dry land. The dove comes back with a twig in its beak, confirming that the floodwaters are at last subsiding. In 1949, Spanish painter Pablo Picasso was invited to create an image representing peace. He modeled his very first "Dove of Peace" after a naturalistic drawing of a pigeon given to him by Henri Matisse. Picasso evolved that design into the simple line drawing. His "Dove of Peace" was chosen to represent the first International Peace Conference in Paris in 1949.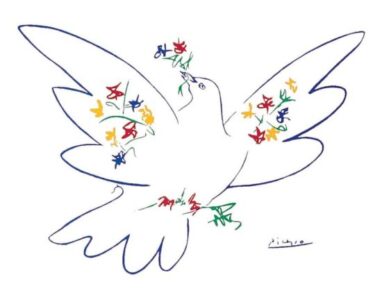 Over the years Picasso continued to paint doves of peace, and his works were celebrated for their suggestion of freedom and motion. The dove paintings by Picasso captured the cultural moment for a generation in post-World War II Europe. The echoes of individual restriction were played out in European news headlines as refugees fled Hungary in 1956, and uprisings against communist rule were put down in Poznań, Poland, in 1956, and in Czechoslovakia in 1968 as Soviet tanks rolled into Prague.
As well, in "Paloma Blanca" the singer tells us "I can hear God's voices calling." When surveying the splendors of creation, with the white dove flying over the mountain, the line fit with the lyrical painting. Still, there are relatively few pop songs that include make reference to God/the Holy in their lyrics. Other notable songs include "God Only Knows" by the Beach Boys, "What If God Was One Of Us" by Joan Osborne, "From A Distance" by Bette Midler, "My Sweet Lord" by George Harrison, "Crystal Blue Persuasion" and "Sweet Cherry Wine" by Tommy James & The Shondells, "People Get Ready" by the Impressions, "He's Got The Whole World In His Hand" by Laurie London, and "Rivers Of Babylon" by Boney M.
"Paloma Blanca" peaked at #1 in Vancouver, Hamilton (ON), Portland (OR), Milwaukee (WI), Birmingham (AL), La Crosse (WI), and San Angelo (TX), #2 in Easton (PA), #4 in Roswell (NM) and Whitehorse (YT),#5 in Philadelphia, Macon (GA), San Bernardino (CA), Hartford (CT), and Toronto, #6 in Windsor (ON) and Dallas, #7 in Akron (OH), San Antonio (TX), Fargo (ND), and Fresno (CA), #8 in Cleveland, and Bakersfield (CA), #10 in Boston.
"Paloma Blanca" sold over seven million records, topping the pop charts in Austria, Belgium, Finland, the Netherlands, New Zealand, Norway, South Africa, Sweden, Switzerland, and West Germany. It also peaked at #2 in Australia and Spain, and #10 in Italy and the United Kingdom.
After selling twenty million records from 1970 to 1978, the George Baker Selection split up. The pressure of performing caught up with them. For the next seven years George Baker (aka Hans Bouwens) released five solo albums. In 1983 the band released a studio album titled Paradise Island. And in 1985, Bouwens reformed the George Baker Selection. They released over seven more albums into the late 80s.
In 1992 "Little Green Bag" was included in the film Reservoir Dogs. The exposure took "Little Green Bag" to number-one in Japan. It was also featured that year in a Chilean soap opera.
May 20, 2022
Ray McGinnis
References:
"George Baker Biography," George Baker.com.
"The Story Behind 'Little Green Bag' by George Baker," Muzikexpress, July 27, 2018.
"Picasso's Dove of Peace," Masterworks Fine Art, 2018.
"Poznań 1956 protests," Military-history.
"The Hungarian Revolution of 1956," Association for Diplomatic Studies and Training.
"CKLG Top 30," CKLG 730 AM, Vancouver, BC, March 9, 1976.
For more song reviews visit the Countdown.