#155: Party Girl by Bernadette Carroll
Peak Month: May 1964
11 weeks on Vancouver's CFUN chart
Peak Position ~ #1
Peak Position on Billboard Hot 100 ~ #47
YouTube: "Party Girl"
Lyrics: "Party Girl"
Bernadette Dalia was born in 1944 in Elizabeth, New Jersey. Bernadette's first performance was at the age of seven, given a role in an elementary school play. Soon after her family moved to Linden, New Jersey, she became a bit of a reckless teenager. She'd sneak out late at night to go to local recording studios with her friends. In 1959, she joined with sisters Barbara Allbut, Jiggs Allbut and, Lynda Malzone to form a group called The Starlets. Their first recording, on the Astro label, was "PS I Love You." The single was a Top 30 hit on WMCA in New York City in 1960. Bernadette graduated from Linden High School in in Linden, New Jersey, in 1962. After The Starlets disbanded, Bernadette made her first solo recording for the Julia label, "My Heart Stood Still." Early pressings of the record were credited only to 'Bernadette.' A second pressing was credited to 'Bernadette Carroll.' In the fall and winter of 1962 "My Heart Stood Still" charted into the Top Ten in Springfield, Massachusetts, and Halifax, Nova Scotia.
In the summer of 1963, Bernadette Carroll collaborated with Tommy DeVito and Nick Massi of The Four Seasons to record the song "Nicky," written by Massi and Bob Gaudio. It was Carroll's first single for the Laurie label. But in November 1963, aside from Worcester, Massachusetts, "Nicky" got little airplay.
For her next single, Bernadette Carroll recorded "Party Girl".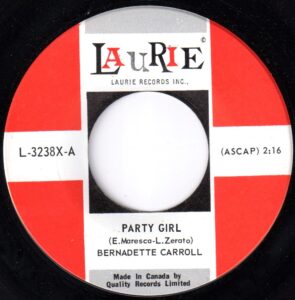 "Party Girl" was co-written by Ernie Maresca and Louis Zerato. Ernie Maresca was born in the Bronx, New York, in 1938. In 1957 there was a doo-wop group formed in the Bronx called The Monterays. Group members included Maresca as second tenor. He wrote a song the Desires recorded in 1958 titled "Story Of Love". It was not released by Seville Records until 1962. Then Ernie Maresca left the group. Maresca went on to write a number of hit singles for Dion. The first, "No One Knows", was a #19 hit for Dion and the Belmonts in 1958 on the Billboard Hot 100. Other hits Maresca wrote for Dion include #1 hit "Runaround Sue", early 1962 #2 hit "The Wanderer", #3 hit "Lovers Who Wander" and #6 hit on the Billboard Hot 100 "Donna The Prima Donna". The latter was a hit in the fall of 1963. Meanwhile, in January 1962, Ernie Maresca had a #2 hit in Vancouver titled "Shout! Shout! (Knock Yourself Out)". In 1963, Maresca wrote "Hey Dean, Hey Jean" for Dean & Jean. By the 1970s he was head of Laurie Records' publicity department, and continued as a record company executive. In 1992 he was responsible for selling the Laurie catalogue to Capitol Records.
Louis Zerato co-wrote many songs with Ernie Maresca, including "Hey Dean, Hey Jean". Zerato also wrote "Beg, Borrow and Steal", a Top 40 hit for the Ohio Express in 1968. He wrote songs that ended up as album tracks for the Chiffons and also for Lou Christie. In 1973 he released his own single titled "Louie".
"Party Girl" is a song narrated by a girl to her ex-boyfriend. She's determined to be a 'Party Girl.' She can do what she likes 'cause "I ain't gonna be around anymore." She's made up her mind to go around the world and find a new guy. Based on past dating problems with her ex who lied and made her cry, she wants to find someone who will "tell me he's mine 'til the end of time."
Now that she's a single 'Party Girl', her dance card is full: "It's Saturday night and I'm having a ball, dancing with the guys at the old dance hall. Seems they all wanna dance with me, now that they know that I am free." Unlike late '50s songs like "Wake Up Little Susie", where there were parental restrictions, this mod mid-60s 'Party Girl' has found new freedom. We may assume the societal norms of guys asking girls out on a date still apply. But, so far no guy is making her go steady with him alone. Instead, she's "Staying up late with a different date, 'til the right guy comes my way: Party Guy." But most of all, she's looking for a guy who will "never lie."
In a Glamour magazine article title "10 Ways to Tell He's Lying," Brenda Della Casa speaks to the sense that something your boyfriend/partner is telling you is 'off.' "It may not be exactly what your imagination is suggesting, but we don't experience knots for no reason." A first way to tell if a guy is lying is to pay attention to your gut.
A second tell-tale sign is that the details don't add up. When someone is lying they often get caught messing up on the story they are telling. A third signal is a quiet guy is suddenly very chatty, or an extroverted guy is suddenly very quiet. If your bf is not being himself it is a signal something is up. A fourth warning sign is a refusal to get personal. If your boyfriend is being vague and ever-shifting the conversation to 'shallow and casual', something is up.
Nancy Dreyfus, author of Talk to me like I'm Someone You Love, notes that liars often are trying to cover their tracks. "If you're with a guy who carries two cell phones, but one of them never rings, or if he only pays in cash or immediately heads for the shower when he gets home, those are all major red flags."
Other signs a guy may be lying can include i) heightened defensiveness, ii) excuses that are very buttoned up, a little too perfect and rehearsed, iii) blaming you for not trusting him and twisting things around, and iv) when he is caught in a lie, diminishing its significance.
Robert Feldman, author of The Liar in Your Life observes that the cost of lying to someone you're in relationship is trust. "It's hard to constantly be thinking, Is this the truth? Is this not the truth? Even if it seems innocent enough, someone who lies about little things is going to lie about big things."
"Party Girl" peaked at #1 in Vancouver (BC), #3 in Akron (OH), Miami, and Grand Rapids (MI), #4 in Erie (PA), #5 in Boston, #6 in Springfield (MA), and Sacramento (CA), #8 in Chicago, and Dallas, and #9 in Pittsburgh. The single stalled at #47 on the Billboard Hot 100. It might have cracked the Top 40, but there were ten British Invasion singles higher up the chart in late June-early July 1964.
A followup single in the summer of '64, "Happy Birthday", got some chart action in Pittsburgh, Manchester (NH), and a few radio markets in southern California. In the winter of 1964-65 "The Hero" was a #1 hit in Taylorsville (NC) and #5 in Miami. The song was about a boyfriend named Johnny who was the hero of the football team. Johnny led his team to many victories. Sue planned to marry Johnny after they graduated from high school. But Sue learns from her friend Patty that Johnny just died when a bus with the football team "turns over and everybody was killed." Sue's plans to get married are dashed. The song is one of many teen tragedy songs from the late '50s to the mid-'60s.
In 1964, a group called The Rhythm Ramblers recorded a tribute to Bernadette Carroll called "Pretty Bernadette".
In the mid-60's, Bernadette teamed up with Denise Ferri and Peggy Santiglia to do be back-up singers for Connie Francis, Patty Duke, Bobby Hebb and Frankie Valli (one of which is featured in the hit musical Jersey Boys). The trio backed up for Lou Christie's #1 "Lightning Strikes" and the follow-up "Rhapsody in the Rain." They also recorded a Pepsi-Cola commercial with Lou, "Come alive, you're in the Pepsi generation," which was a classic of the times and recorded by several different recording artists.
In 1966, Carroll was a member of Jessica James & the Outlaws, along with lead singer Peggy Santiglia (lead singer of The Angels). They released the Bob Crewe-Bob Gaudio produced singles "Give Her Up Baby" and "We'll Be Making Out". They deserved to be hits, but got passed over. The latter single became an underground hit in the following decades in England. Carroll also was a backing singer for Frankie Valli on "You're Ready Now", which failed to crack the Billboard Hot 100. Valli had better promotional success with the Philips label, and Smash Records didn't give the energetic "You're Ready Now" the push it needed.
As well, Jessica James & the Outlaws backed Patty Duke on her minor 1966 hit "Whenever She Holds You".
Jessica James & the Outlaws also backed traditional pop star Kitty Kallen on her non-charting single "One Grain Of Sand". Kallen had her first number-one hit in 1944 with "Bésame Mucho". Her career began with a splash on a #2 hit record with Jimmy Dorsey and his Orchestra in 1943 with "They're Either Too Young or Too Old". Kitty Kallen was lead vocalist on the number-one hits with Harry James and his Orchestra: "I'm Beginning To See The Light" and "It's Been A Long, Long Time", both in 1945. Her final number-one hit record was "Little Things Mean A Lot" in 1954. She charted 14 singles into the Top Ten in the USA between 1943 and 1954. ""One Grain Of Sand" was produced by Bob Crewe and Bob Gaudio. It was Kitty Kallen's second to last recorded disc.
Bernadette Carroll also sang backing vocals on a few discs recorded by Connie Francis and Bobby Hebb.
In 1968, Bernadette Carroll became the lead singer of The Angels of "My Boyfriend's Back" fame. At the time, The Angels recorded four sides for RCA Records, including "The Boy With The Green Eyes," written by Neil Diamond. She toured with them for one year. In addition, Carroll also toured with the folk group who called themselves The Serendipity Singers and are best known for their hit, "Don't Let The Rain Come Down".
In 2017, Bernadette Carroll's non-charting singles, "Laughing on the Outside (Crying on the Inside)" and "Care a Little", gained popularity when they were featured on the soundtrack of the dark comedy-drama British Channel 4 TV series The End of the F***ing World. "Laughing on the Outside" was subsequently re-issued in 2017.
Married for 38 years to Anthony Dente at her time of death, Bernadette Carroll Dente was 74 years old. She had been living in West Palm Beach, Florida, when she died of cancer.
References:
"R.I.P. Bernadette Carroll," Steve Hoffman Music Forum, October 6, 2018.
"Bernadette's Obituary," Tillman Funeral Home, October 7, 2018.
Bernadette Carroll, "The Hero", Laurie Records, 1964.
Ranya Barrett, "10 Ways to Tell He's Lying," Glamour, August 17, 2009.
Frankie Valli, "You're Ready Now", Smash Records, 1966.
Jessica James & the Outlaws, "We'll Be Making Out", Bronco Records, 1966.
"Jessica James and the Outlaws," Jersey Girls Sing.
Lou Christie with Jessica James & the Outlaws, "Come Alive, You're in the Pepsi Generation," Pepsi-Cola, 1966.
Kitty Kallen, "One Grain Of Sand", Philips Records, 1966.
"Soundtrack: The End of the F***ing World," Channel 4, London, UK, 2017.
Joe Knapp, "New Oldies – I Don't Wanna Know by Bernadette Carroll," December 24, 2011.
Roger Wink, "R.I.P. Ernie Maresca, Runaround Sue Composer, 1938-2015," July 13, 2015.
"C-FUNTASTIC FIFTY," CFUN 1410 AM, Vancouver, BC, May 23, 1864.
For more song reviews visit the Countdown.