#48: Pass The Dutchie by Musical Youth
Peak Month: February 1983
15 weeks on Vancouver's CFUN chart
Peak Position #1
Peak Position on Billboard Hot 100 ~ #10
Billboard Top 100 for 1983 ~ #91
YouTube.com: "Pass The Dutchie"
Lyrics: "Pass The Dutchie"
Dennis Michael Seaton was born in Birmingham, UK, in 1967. Kelvin Grant was born in 1971 in Birmingham. Michael Grant was born in Birmingham in 1969. Patrick Waite was born in Birmingham in 1969. Junior Waite was born in Birmingham in 1967. The Waites' father, Frederick Waite Sr., had been a member of the Jamaican reggae group the Techniques. At the start of Musical Youth's career, he sang lead with Junior. It was decided that it was more fitting that the lead singer be a similar age to the rest of the bandmates. An audition was held and Dennis Seaton was the only person who responded to the ad.

In 1982, Musical Youth released their debut single, "Pass The Dutchie".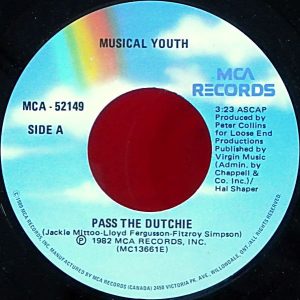 In 1981 a Jamaican band called the Mighty Diamonds recorded a song titled "Pass The Kouchie". The song concerned Rastafarian use of cannabis with the use of cannabis pipes. The Mighty Diamonds asked "How do you feel when you've got no herb?" The Musical Youth changed "kouchie" to "dutchie," a word for a "West Indian cooking pot." Other references to drug use in "Pass The Kouchie" were swapped out for references to food. Despite the change being made to specifically avoid drug references, "dutchie" later eventually became a slang word for cannabis because of the song and people learning the original song it was based on. In 2018, when the Canadian Senate was about to pass legislation to legalize the sale of marijuana in the nation, Liberal Senator Jim Munson invited all the senators to pass the legislation and "pass the dutchie."
Musical Youth let their listeners know from the start "music happen to be the food of love, sounds to really make you rub and scrub." With the food theme swapped in for smoking cannabis, Musical Youth sang "How does it feel when you got no food?" No longer a song about the conundrum a pot smoker finds themselves in when they have run out, the song morphed into a commentary about poverty. Who, of course, are the people who can relate to the question: "How does it feel when you got no food?" Perhaps people who've run out of food after having a house full of guests. But, even more, it would be people who cannot afford to buy groceries. The question about how you feel when you've got no food is posed at one point to the people in the "dreadlocks camp."
In the Rastafarian movement, a religious and social movement, views Haile Selassie I of Ethiopia as the black Second Coming of Jesus Christ. Rastafarians regard smoking cannabis as a sacrament. They also wear their head in dreadlocks, and a "dreadlocks camp" in Jamaica would be a gathering of Rastafarians. But, "Pass The Dutchie" also was a song about music that makes you "prance," "dance," "jump" and "shout."
"Pass The Dutchie" peaked at #1 in Vancouver (BC), Kitchener (ON), Seattle, St. Louis, Toronto, Hamilton (ON), Los Angeles, #2 in Oshawa (ON), Montreal, #3 in San Francisco, Fort Lauderdale, #4 in Philadelphia, #5 in Buffalo, Baltimore, Regina (SK), Bangor (ME), #6 in Ottawa (ON), and Atlanta, #7 in New Haven (CT), El Paso (TX), #8 in Boston, Detroit, Chicago, #9 in Harrisburg (PA), Denver, Wilkes-Barre (PA), #10 in Miami, and Winnipeg (MB).
Internationally, "Pass The Dutchie" climbed to #1 in Australia, Belgium, Ireland, Israel, the Netherlands, New Zealand, Spain, Switzerland, and the UK, #2 in Austria, West Germany, France, #7 in South Africa, and #10 in Iceland and the Billboard Hot 100 in the USA. The song sold over five million records.
Musical Youth were the first black artists to be played on MTV – beating Michael Jackson by several months. Michael Grant recalls, "We pioneered a lot of things, as young stars, which was really tough. You're meeting people like Michael Jackson, Stevie Wonder and Donna Summer. But you don't realise half the people you're meeting, or why they're important." As Kelvin Grant Kelvin was eleven years old, he could legally only perform 39 shows per year, including TV shows.
After two years of recording, performing and living in each other's pockets, fame began to take its toll. Things came to a head at a show in Jamaica in 1985. It would be their last.
"Before we left for Jamaica, Patrick had had some problems," explains Dennis Seaton, the most senior member of the group, then 18. "He'd taken something, drugs, that triggered some reaction in his body and before the end of that tour he'd had another relapse. It was difficult. You're powerless."
"We didn't know what he was on," adds Michael. "He started to unravel. He just couldn't play a song we'd played for five or six years. It didn't make sense. Luckily his dad came on and played. He literally came on stage and took the bass off him."
Michael Grant adds, "It was hard. I was about 17 when a reporter wrote in an article 'Michael Grant, has-been'. At an age where you're looking forward to starting your life, I'm a has-been. How ridiculous is that? How can someone's life be over at 17?" Michael moved on from music and became a teacher at a SEN school in the UK. But he kept involved in the music industry and it paid off. In 2003 the Guardian reported "Remixes by his production team, 5am, have graced singles by Mariah Carey, Busta Rhymes and Kelly Rowland. He manages a gospel duo called Nu Life and has recently produced an indie band, River Deep."
The Guardian reported in an interview years later "…once the excitement surrounding Pass the Dutchie died down, Musical Youth found themselves trapped in a musical no-man's land, between frivolous teen pop and the sombre, grittily political world of reggae. They had honed their skills in Birmingham's notoriously tough black clubs and recorded sessions for the John Peel show, but their age meant they would inevitably be viewed as a novelty, aimed not at serious music fans but children. "We were seen as a novelty, not just because of our age, but because of the colour of our skin," says Michael Grant. "There weren't any role models around our age, there weren't any black kids on TV, so we were setting a lot of trends."
The group's follow-up single "The Youth Of Today" referred to a child being "under heavy manners," which is slang in Jamaica for being under martial law. But, as the band was concerned – it turned out – with a child being frustrated at being unable to "buy a little bike." The single peaked at #4 in the Netherlands, #7 in Belgium, #9 in Ireland, #12 in Spain, #13 in the UK and #19 in New Zealand. Their third release, "Never Gonna Give You Up", was a #4 hit in Iceland, #5 in Ireland and peaked at #6 in the UK.
In the summer of 1983 Musical Youth recorded a duet with Donna Summer titled "Unconditional Love". In the fall of the year the single became a #9 hit on the Billboard R&B charts in the USA. In the UK the single climbed to #14 and made the Top 30 in New Zealand, Spain and Ireland. The band managed one more Top 30 single in 1983 in Ireland and the UK titled "007". One final Top 30 hit in Ireland and the UK in 1984 titled "Sixteen", featured Jody Watley.
In 1985, Dennis Seaton left Musical Youth, leading to its dissolution. At 18 Seaton found Jesus. He worked in a job delivering sacks of rice. In 1989, at the age of 22, he released a solo album Imagine That… which was a commercial failure. By the 2000s he was working in Birmingham at Next Car Van & Rental.
Plans for a reunion of Musical Youth were halted when Patrick Waite suddenly died in February 1993, at the age of 24. Waite had collapsed at home from a hereditary heart condition, awaiting a court appearance on drug charges. Prior to this, in 1987, Patrick Waite was jailed for four months for reckless driving, credit-card fraud and assaulting the police. In 1990, he was jailed again, for robbing a pregnant woman at knifepoint. Shortly after his release, he was arrested again, for marijuana possession.
Junior Waite was in the care of his mother after being sectioned – detained under a section of the UK Mental Health Act in a psychiatric hospital. Junior Waite died at the age of 55 in 2022 while at a mental health unit. He had been undergoing treatment for schizophrenia.
Kelvin Grant became a virtual recluse after being so badly burnt by exploitative managers, and turned his back on the music industry. But in 2008 Kelvin Grant returned his focus to music, after living for years in Jamaica. He released an album titled Turning Point.
Dennis Seaton and Michael Grant reformed Musical Youth as a duo in 2001, but a scheduled tour was cancelled after the attacks of September 11th. In 2018, the duo released the album When Reggae Was King.

March 17, 2023
Ray McGinnis
References:
Dave Simpson, "How we made Musical Youth's Pass the Dutchie," Guardian, August 20, 2018.
Mighty Diamonds "Pass the Kouchie", lyrics, 1981.
George Nott, "Too much, too young: The tragic tale of Musical Youth," Guardian, October 25, 2012.
Kyle Duggan, "Senator asks colleagues to 'pass the dutchie' in pot poem during debate," iPolitics, June 20, 2018.
"Kelvin Grant Bio," Kelvingrant.co.uk.
Alex Petridis, "Famous for 15 Months," Guardian, March 21, 2003.
Ellie Robinson, "Musical Youth drummer Frederick Waite Jr. has died, aged 55," New Music Express, August 12, 2022.
"CFUN Top Thirty," CFUN 1410 AM, Vancouver, BC, February 19, 1983.
For more song reviews visit the Countdown.