#968: Pay You Back With Interest by The Hollies
Peak Month: June 1967
5 weeks on Vancouver's CKLG chart
Peak Position #5
Peak Position on Billboard Hot 100 ~ #28
#1 Hitbound on CKLG ~ May 20, 1967
YouTube.com: "Pay You Back With Interest"
Lyrics: "Pay You Back With Interest"
The Hollies are an English rock group formed by Allan Clarke and Graham Nash in the early 1960's. Known for their distinctive vocal harmony style, they became one of the leading British groups of the 1960s and early 1970s. They enjoyed considerable popularity in many countries, although they did not achieve major US chart success until 1966. Nash left the group in 1968, and then formed Crosby, Stills and Nash. The Hollies had 30 charting singles on the UK Singles Chart, and 21 on the Billboard Hot 100. Their hits included "Bus Stop", "I Can't Let Go", "On A Carousel", "Stop, Stop, Stop" and "Carrie Anne" in the mid-60s.

The Hollies originated as a duo formed by Allan Clarke and Graham Nash, who were best friends from primary school and began performing together during the UK skiffle craze of the late 1950s. Eventually Clarke and Nash became a vocal and guitar duo modelled on the Everly Brothers and were billed as Ricky and Dane Young. In 1962 they joined a Manchester band named the Deltas. By the end of the year The Deltas called themselves The Hollies. This first occurred at a December 1962 gig at the Oasis Club in Manchester. In a 2009 interview, Graham Nash said that the group decided just prior to a performance to call themselves The Hollies because of their admiration for Buddy Holly. In 1963 lineup changes brought in Bernie Calvert on bass, Bobby Elliott on drums and Tony Hicks on lead guitar.
The Hollies initially got into the Top 20 and then the Top Ten in the UK with cover versions of hits by recording artists from America. These were the Coasters 1957 hit "Searchin'," Doris Troy's 1963 hit "Just One Look" and Maurice Williams And The Zodiacs #1 hit from 1960, "Stay." The Hollies cover versions took them to #12, #4 and #2 respectively, into 1964. But it was their recording of "I'm Alive" that took them to #1 in 1965 on the UK pop charts. (The band wouldn't climb into the #1 spot again in the UK until they re-released "He Ain't Heavy, He's My Brother", in 1988).
In 1966 The Hollies cracked the American Top 40 with "Look Through Any Window", which climbed to #11 in Vancouver. Generally, The Hollies and had even better success north of the border in Vancouver through 1966-67 with "I Can't Let Go" (#16), "Bus Stop" (#5), "Stop, Stop, Stop!" (#2), "On A Carousel" (#2) and "Carrie Anne" (#4). In the midst of this string of hits, The Hollies released their fifth album in the UK, For Certain Because. This was the first Hollies album in which all the songs were written by members Allan Clarke, Graham Nash, and Tony Hicks. It was retitled Stop! Stop! Stop! for the American and Canadian record markets and issued with a different, full-color cover image of the group. The album spawned three single releases. "Stop, Stop, Stop," "What's Wrong With the Way I Live," which failed to chart, and a third single titled "Pay You Back with Interest."
Meanwhile, in Vancouver The Hollies had "On A Carousel" climb to #2 on March 31, 1967. The song remained on the Vancouver pop charts, the same week CKLG began to playlist "Pay You Back With Interest".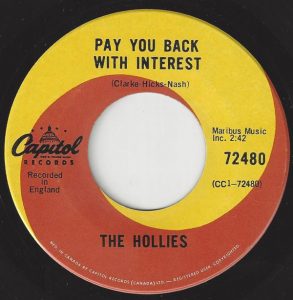 "Pay You Back With Interest" is written by British lads Clarke-Hicks-Nash. They spell travelling the English way, with two l's. The song is about a common dilemma in relationships: work vs. relationship. When people are starting out their careers, while they are building their careers through advancement or at the zenith of their careers, a relationship can take the back seat. In some work environments employees are sent on work trips or have to relocate for the company. Suddenly, a couple can find themselves managing a long distance relationship. Of course, as a band that travelled, The Hollies may have been inspired by their own experience of touring on the road. Recording artists who go on tour can be away for months at a time. And then when they are back home, holed up in a recording studio from dawn till dusk.
In "Pay You Back With Interest" the singer is using a phrase with a double meaning. In the world of borrowing money, when one has taken out a loan, they pay back the individual or financial institution the original sum they were loaned, plus an agreed upon interest on the loan. In some circles to pay someone back with interest means to punish them and be as bad to them as they've been previously treated. However, it is in the first sense that The Hollies are using the phrase. For all the time they've been away, they will now make it up to their sweetheart by spending extra time to make up for their absences. In addition, they are paying back their sweetheart with "interest," that is paying attention and taking a special interest in them, now that they're back home.
In her news story for CNN, Rachel Zupek writes about things to consider when balancing work and a relationship. Zupek asked relationship therapist, Kim Leatherdale, and life coach Carla Wilke what advise she could give to any couple in this situation. Zupek took away five suggestions.
1) Treat Your Partner Like a Partner: "keep them abreast of what is going on and let them know when you need a little extra focus at work," says Leatherdale. This way one's partner isn't being taken for granted and learning after the fact about work trips and late meetings.
2) Coffee Talk: ""Choose one weekday morning to get up early and have coffee together before going to the office," Wilkie advises. This way you're not having to talk about the important stuff or clear the air at the end of a hectic day.
3) Put Things Into Perspective: Leatherdale suggests each person in the couple ask themselves – "On a scale of one to 10, how much will this particular job matter in 10 years?" and "On a scale of one to 10, how much will this relationship matter to me in 10 years?" Paying attention to our hunches can be helpful in keeping ones' eye on the prize.
4) Date Night: In addition to scheduling a coffee talk each week, Wilkie recommends couples "Schedule one night each week for a date with your partner." Having an intention to put each other on the calendar for a romantic night together can remind the two of you one of the reasons you are a couple and not just friends.
5) Work-free zone: Some people work from home. Putting boundaries around when you talk about work and when you work will help your partner feel like you are sharing a home together, not your partner's office.
"Pay You Back With Interest" reached the New Zealand Top Ten and peaked at #5 in Vancouver. But it just cracked the Top 30 in the USA at #28. It was not released in the UK. On the final week "Pay You Back With Interest" charted on June 24, 1967, in Vancouver, The Hollies began to chart "Carrie Anne". For twenty-seven weeks in a row, from February 25, 1967, to August 26, 1967, The Hollies had a single on the Vancouver pop charts.
After The Hollies chart success in 1967 they released a more experimental single, "King Midas In Reverse", written by Graham Nash. The song was not a hit, nor was the album, Butterfly. When the band wasn't interested in recording another tune by Nash called "Marrekesh Express", Nash left the band and became a member of Crosby, Stills and Nash. It wasn't until January 1970, The Hollies appeared again on the Vancouver pop charts with "He Ain't Heavy, He's My Brother". In the 1970's they had several more hits that included "Long Cool Woman" and "The Air That I Breathe".
The Hollies have charted 6 singles into the Top Ten of the Billboard Hot 100, while they charted 21 singles into the Top Ten in the UK. Calvert, Elliott and Hicks have remained with The Hollies since 1963. For over five decades they've toured, including with the current lineup. In 2017 The Hollies gave concerts across Australia, New Zealand, Germany, Norway and the United Kingdom. As of October, 2017, The Hollies have 21 concert dates in 2018 in the UK and eight more concerts booked in Holland and Germany in May, 2018. Graham Nash, has been a solo act for many years and has 19 upcoming concerts in February and March, 2018.
October 31, 2017
Ray McGinnis
References:
The Hollies – Biography, The Great Rock Bible.com.
The Hollies Tour Dates 2018, Hollies.co.uk
Should you sacrifice love for work?, CNN, Atlanta, GA, October 22, 2009.
A Brief History of Interest, Monetary.org.
Graham Nash – Tour Dates, Graham Nash.com.
"Boss 30," CKLG 730 AM, Vancouver, BC, June 10, 1967.
For more song reviews visit the Countdown.