#665: Peace Of Mind/Do Unto Others by Paul Revere & The Raiders
Peak Month: December 1967
8 weeks on CKLG's Vancouver Charts
Peak Position ~ #4
1 Week Hit Bound
"Peace Of Mind"
Peak Position on Billboard Hot 100 ~ #39
YouTube.com:"Peace Of Mind"
Lyrics: "Peace Of Mind"
Peak Position on Billboard Hot 100 ~ #102
YouTube.com: "Do Unto Others"
Lyrics: "Do Unto Others"
A band called The Downbeats formed in Boise, Idaho, in 1958. Paul Revere Dick started the band originally as an instrumental group. They had their first chart single in Vancouver in 1960. It was an instrumental riff on the piano tune, Chopsticks, which they titled "Beatnik Sticks." They changed their name to Paul Revere And The Raiders in 1960. Between 1960 and 1976 they released 41 singles. They charted five songs into the Top Ten on the Billboard Hot 100 in the USA. These included "Kicks," and "Hungry" (1966), "Him Or Me – What's It Gonna Be?" (1967) and their cover of Don Fardon's 1968 single "Indian Reservation," which peaked at #1 for the band in 1971. They were even more popular in Vancouver where they charted over fifteen songs into the Top Ten on the local charts here on the West Coast.

Paul Revere Dick was born in Harvard, Nebraska, in 1938. He first met singer Mark Lindsay in 1958 while picking up hamburger buns at the bakery where Lindsay worked. At the time Revere owned several restaurants in Caldwell, Idaho. Lindsay was born in Eugene, Oregon, in 1942. In the group's song, "The Legend of Paul Revere", they sang about how they got their start.
In a little town in Idaho way back in sixty one,
a man was frying burgers, gee – it seemed like lots of fun.
But to his friend the bun boy, he confessed it's misery,
I think I'd like to start a group, so come along with me.
The song was using poetic license as they group started in '58 not '61. But "fun" rhyming with "one" had more appeal then writing "way back in fifty-eight, a man was frying burgers, gee, it seemed to be real great."
Just as they were starting to get a name Paul Revere Dick was drafted into the United States Army. He became a conscientious objector and worked as a cook in a facility for patients with mental health issues. While Revere was in the U.S. Army, Mark Lindsay toured with the Raiders in 1961, after they had a Top 40 hit instrumental in the USA called "Like Long Hair" early that year. It climbed to #3 in Cleveland, Ohio, and #29 in Vancouver. That summer a piano player named Leon Russell filled in for Paul Revere. When Revere returned to civilian life in 1962 the band moved to Portland, Oregon. In April 1963 both Paul Revere And The Raiders and The Kingsmen recorded a tune called "Louie Louie". Both versions were spirited, but it was The Kingsmen's version that would go to #2 on the pop charts in the USA, while Paul Revere & The Raiders version missed the Billboard Hot 100.
By 1965 the band had released fourteen singles, but didn't have any sizable hit. Then they released "Just Like Me" and everything changed. The infectious pop rock tune climbed to #11 on the Billboard Hot 100 and #3 in Vancouver in January 1966. The pattern of the band typically outperforming on the charts in Vancouver would continue over seven years. In November, 1966, Paul Revere & The Raiders appeared on the Batman TV show, in an episode called "Hizzoner The Penguin." They were also regular guests on Dick Clark's Where The Action Is.
One of the keys to the success of the band was bass player Phil "Fang" Volk. Born in 1945 in Burbank, California, his family moved to Idaho where he grew up. In the early Sixties Volk was playing in a number of bands, including Sir Winston's Trio, who appeared on a local TV show that Paul Revere saw. Another member of Sir Winston's Trio was Drake Levin, who was asked to become lead guitarist for Paul Revere And The Raiders in August 1963. Volk got a call from Revere to become the bands bass player in January 1965. It was Volk's guitar riffs on "Just Like Me," "Kicks" and "Hungry", that gave the band an edge as they grew in popularity.
Michael LeRoy Smith was born in 1942 in Beaverton, Oregon, a suburb of Portland. "Smitty" Smith met Paul Revere and Mark Lindsay at a teen dance club called the Headless Horseman in Portland in 1962. Smith became the band's drummer that summer.
Jim "Harpo" Valley was born in Tacoma, Washington, in 1943. He was with Don & The Goodtimes in 1966 when Paul Revere asked him to join The Raiders for a tour in March 1966. He was interviewed by Dick Clark about being a new member of the band on an episode of Where The Action Is in 1966.
Drake Maxwell Levinshefski was born in Chicago in 1946. Just before his seventeenth birthday he became lead guitarist for Paul Revere And The Raiders in August, 1963. As he was the youngest member of the band, Drake Levin was nicknamed "The Kid." During 1966 Levin was called by Uncle Sam to join the U.S. Army. By serving with the National Guard, Levin was able to fulfill his service obligation and also help with the upcoming recording sessions for the bands next album, The Spirit of '67, released in the fall of 1966. The first single off the album was "Hungry," which climbed to #1 in Vancouver and #6 on the Billboard Hot 100. The next single off the album was "The Great Airplane Strike".
Phil Volk, Drake Levin and Michael "Smitty" Smith left Paul Revere And The Raiders in 1967 to form Brotherhood. Volk went on to become bass player for Rick Nelson. Jim "Harpo" Valley left to pursue a solo career. With the success of their singles and albums the band was Columbia Records top selling recording act in 1967. It was a year that five of their singles made the Top Ten in Vancouver, including "I Had A Dream". Their next single was "Peace Of Mind/Do Unto Others".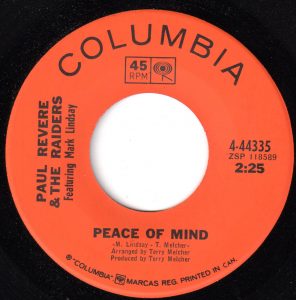 "Peace Of Mind" climbed to #3 Vancouver (WA), #4 in Vancouver (BC), #5 in Kansas City, #7 in Reno, #8 in Orlando and #9 in Calgary. The song is about what its title suggests: peace of mind. The lyrics contend that everyone loves having peace of mind. Without peace of mind there is sorrow, clouds and listlessness. Peace of mind offers a true path for living.
In his Psychology Today article, Cultivating Peace of Mind, John P. Forsyth writes about ways to mindfully increase peace of mind. He advises his readers that we can't grasp and hold onto peace of mind. It is something we have to nourish and grow. The best ways to cultivate peace of mind is to start by being still. Free yourself of any urge to multitask. Mindfully observe what is going on in your brain (your thoughts) and your heart (your emotions). In a quiet state, take time to breathe normally and be aware of what information is there about the current state of your thoughts and feelings. There is no need to judge what comes up. Offer kindness to yourself, no matter how much struggle of difficulties emerge. The information is there for you to gain clarity and consider what you would like to do and who you want to become. Forsyth encourages anyone who seeks to cultivate peace of mind to "be present with your mind and body just as it is just where you are, without fighting it, struggling with it, or changing it. When you do that, you are practicing peace and kindness for yourself."
Zen thinker, Leo Babauta writes that an obstacle to peace of mind is that people expect everything to go well, everything to go as they hoped and planned and for there to be no surprises. But this is not what happens in life. Things fall apart, hopes are dashed, we have to go with Plan B instead of Plan A. We have to learn to accept that these dynamics are all part of life's adventure. Babauta recalls what happened on a family trip to Japan. "I told my kids to expect things to go wrong — they always do on a trip. I told them, "See it as part of the adventure."And this worked like a charm. When we inevitably took the wrong train on a foreign-language subway system, or when it rained on the day we went to Disney Sea, or when we took three trains and walked 10 blocks only to find the National Children's Castle closed on Mondays … they said, "It's part of the adventure!" And it was all OK — we didn't get too bothered." Upsets in life happen half the time because our own expectations didn't allow for any screw-ups. When we can roll with the burnt casserole in the oven, the rainstorm on our day off, we can surrender to what is and move toward what can enhance our lives on the fly.
The B-side of the disc, "Do Unto Others", peaked at #4 in Vancouver (BC) and Seattle and #6 in Oklahoma City. "Do Unto Others" draws on the Biblical phase found in the Gospel of Luke 6:31 and the Gospel of Matthew 7:12. There was a Jewish rabbi teacher who lived around the time of Jesus, whose name was Hillel. Hillel once said that the whole of Torah could be summed up this way: "That which is hateful unto you do not do to your neighbor. This is the whole of the Torah, The rest is commentary. Go forth and study." And the Chinese philosopher, Confucius, said about 500 years before the time of Jesus "Do not do to others what you would not want others to do to you." However, Jesus of Nazareth flipped this teaching when he instructed his followers to "Do unto others what you would have them do to you." The instruction invites the disciple to consider what how they would want to be treated. From that examination, individuals are invited to conduct themselves by summoning their better angels.
Next, Paul Revere and Mark Lindsay co-hosted a show that ran after American Bandstand in 1968 called Happening '68. Revere and Lindsay added new musicians to their lineup. In 1969 the band had their first gold record with "Let Me," a song that peaked at #20 on the Billboard Hot 100, but climbed to #2 in Vancouver.
After their #1 hit with "Indian Reservation" in 1971, the band would release a few more singles with mixed success. By 1973 they were passé as progressive rock groups like Yes, folk-rock singers like Jim Croce and James Taylor, and evolving soul sounds from Marvin Gaye, Eddie Kendricks, Stevie Wonder and Billy Paul pushed the band out of the Top 40. Shortly after Mark Lindsay, who had already recorded several solo hits, left the band. In 1976 Paul Revere called it quits. However, the band was back on tour in 1978 as 60s revival tours got them bookings well into the 2000s. Paul Revere died in 2014.
Michael "Smitty" Smith moved to Hawaii and was badly injured in a car crash. In 2000 he was working in a lumberyard in Kona and playing in a band at night. But he was rushed to hospital with internal bleeding and died at the age of 58. Jim "Harpo" Valley was only in the recording studio with Paul Revere And The Raiders for The Spirit of '67. Disappointed with his lack of opportunity to shape the band's sound, he went on to a solo career early in 1967. Over the years Jim Valley has performed in a variety of settings including hospital wards for children. He lives in Gig Harbor, Washington.
Drake Levin went on to play with Lee Michaels and with Emitt Rhodes (formerly of the Merry-Go-Round). He died of cancer in San Francisco at the age of 62. Phil Volk's band, Fang and the Gang, released covers of old Paul Revere And The Raiders hits on the album, Fang Reveres The Raiders, in 2005.
As of December 2018, Paul Revere's Raiders, are led by Paul Revere's son, Jamie Revere. In mid-February 2019, the band will feature in the lineup for a Where The Action Is Caribbean cruise. Other performers include The Buckinghams, Joey Molland's Badfinger, Peter Rivera (Original Lead Singer of Rare Earth 69/75), Gary Lewis & The Playboys, the 1910 Fruitgum Company and Danny & The Juniors.
December 17, 2018
Ray McGinnis
References:
Paul Blecha, Music in Washington, Seattle and Beyond (Images of America) (1st ed.). (Arcadia Publishing, Charleston, SC, 2007).
Daniel Kreps, "Raiders Leader Paul Revere Dead at 76," Rolling Stone, October 5, 2014.
Paul Duchene, "So long, 'mad wizard': Raiders' drummer Michael 'Smitty' Smith dies in Hawaii," Portland Tribune, May 29, 2000.
Hizzoner the Penguin, Batman, ABC, 1966.
Paul Revere's Raiders.com
John P. Forsyth, "Cultivating Peace of Mind: Letting Go of Striving to be Something other than We Are," Psychology Today, June 3, 2011.
Leo Babauta, "A Beautiful Method to Find Peace of Mind," Zen Habits.net, July 16, 2009.
Jack Wellman, "Do Unto Others Bible Verse Meaning And Study," Christian Crier, November 13, 2015.
Rabbi Louis Jacobs, "Hillel: The Preeminent Sage of First Century Palestine Whose Name is on Jewish Campus Organizations Worldwide," My Jewish Learning.com.
Joe Humphreys, "Unthinkable: Which 'golden rule' of Ethics is Best, the Christian or Confucian? The Rule of Reciprocity Can Be Found in all Major Religions, but with a Different Emphasis," Irish Times, January 31, 2014.
"Boss 30," CKLG 730 AM, Vancouver, BC, December 30, 1967.
For more song reviews visit the Countdown.