#5: People Sure Act Funny by Arthur Conley
City: Belleville, ON
Radio Station: CJBQ
Peak Month: August 1968
Peak Position in Belleville ~ #8
Peak Position in Vancouver ~ Hit Bound
Peak Position on Billboard Hot 100 ~ #58
YouTube: "People Sure Act Funny"
Lyrics: "People Sure Act Funny"
Arthur Lee Conley was born in rural McIntosh County, Georgia, on the Atlantic coast in 1946. At the age of 13, in 1959 he recorded as the lead singer of Arthur & the Corvets. With this group, he released three singles in 1963 and 1964—"Poor Girl", "I Believe", and "Flossie Mae". In 1964, Conley released the single "I'm A Lonely Stranger" on a small Baltimore label. It got the attention of Otis Redding, and was re-recorded on Redding's Jotis Records in 1965. The single climbed to #2 in December 1965 on the R&B station WAWA in Milwaukee, Wisconsin. More single releases followed as Conley switched to the Fame label, including "I Can't Stop (No, No, No)", which peaked at #3 on WRBD in Fort Lauderdale. While Fame Records release "Take Me Just As I Am" made the Top Ten on the Miami R&B station WAME, also in December 1966.

Early in 1967, Arthur Conley got a hit record when he and Otis Redding reworked the Sam Cooke song "Yeah Man", with a mix of new lyrics, and phrases from the Cooke song. Cooke's "Yeah Man" asked in the opening line "Do you like good music?" It also invited "Let's try to do the Monkey?" and "Let's do the Watusi." Cooke's "Yeah Man" depicted how:
You're on a football field
You're down in the huddle
Run for that touchdown
You're on a baseball field now
Your bat's in your hand now
Swing for that homerun
You're in the middle of an ocean
Ship had gone done now…
Swim, swim, got to go…
From those lyrics, Redding and Conley made a list of R&B singers who were recording "Sweet Soul Music". They put the spotlight on a number of singers and an example of a hit record they had on the record charts:
Lou Rawls: "Love's A Hurtin' Thing"
Sam & Dave: "Hold On I'm Coming"
Wilson Pickett: "Mustang Sally"
Otis Redding: "Fa-Fa-Fa-Fa"
They also put the "spotlight on James Brown." In this case Redding and Conley don't name one song, but exclaim "He's the king of them all." "Sweet Soul Music" appeared on the R&B station WLLE in Raleigh, North Carolina, on February 6, 1967. It was in the Top 20 on R&B station WOL in Washington D.C. on February 15/67 and made it into the Top Ten on the R&B station KDIA in Oakland (CA) on February 24, 1967. Meanwhile, "Sweet Soul Music" had become a crossover pop hit on WKIX in Raleigh (NC), climbing to #5 on February 24th and topping the pop chart on that station on March 17th. It also broke out into the Top Ten on Top 40 AM station WLOF in Orlando on March 11th, and WQXI Top 40 station in Atlanta at #4 in mid-March.
Before the end of March 1967, "Sweet Soul Music" was a number-one hit on pop radio in WIST in Charlotte (NC), WLAN in Lancaster (PA), WQXI in Atlanta, and WHOO in Orlando. In early April 1967, "Sweet Soul Music" was a chart-topper on WIBG in Philadelphia, CKLW in Windsor (ON), WSGN in Birmingham (AL), WJIM in Lansing (MI), WKNR in Detroit, WTRX in Flint (MI), WAMS in Wilmington (DL), WCOL in Columbus (OH), and WLLH in Lowell (MA). Later that spring, "Sweet Soul Music" went on to peak at #1 in Boston, New Orleans, Madison (WI), Easton (PA), Louisville, New Haven (CT), Muncie (IN), Coffeyville (KS), Fargo (ND), Arlington Heights (IL), Dayton (OH), Geneva (NY), Charleston (SC), Campbell (OH), Jamestown (ND), Charleston (WV), Daytona Beach (FL), and Vancouver (BC).
"Sweet Soul Music" was the #17 song of the year in 1967 according to Billboard magazine, and #16 on the Cashbox magazine year-end chart.
Conley struggled to match his success with a followup hit. He did a cover of the Bog Joe Turner R&B hit from 1954 titled "Shake, Rattle & Roll" (successfully covered in 1956 by Bill Haley & his Comets). In June-July 1967, Conley's cover peaked at #20 on the Billboard Hot Rhythm & Blues Singles, #8 in Montreal, and #47 in Vancouver. "Whole Lotta Woman" struggled late in 1967 to break out beyond a few regional R&B radio markets.
In the spring of 1968, Arthur Conley shot up to #5 on the Billboard Hot Rhythm & Blues Singles chart with "Funky Street". The song also climbed to #14 on the Hot 100, #7 in Vernon (BC), and #19 in Vancouver. His next release on Atco label was "People Sure Act Funny".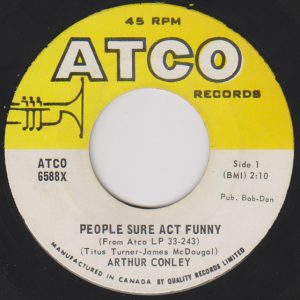 "People Sure Act Funny" was cowritten by Titus Turner and James McDougal. Titus Lee Turner was born in 1933 in Atlanta. Turner was a singer-songwriter. His debut single release in 1950 was "Where Are You" on Aladdin Records, billed as Mr. T and his Band. At the time, he was sixteen years old. In 1951 his follow-up "Stop Trying to Make a Fool Of Me" appeared on Regal Records. He followed this a year later on Okeh, issuing eight tracks including "Got So Much Trouble." He had a spell with Mercury Records's imprint, Wing, but was not commercially successful until 1955, when Little Willie John recorded Turner's "All Around the World". The track, re-titled "Grits Ain't Groceries," was covered by Little Milton. Turner went on to pen "Tell Me Why" which was recorded by Gale Storm and the Crew Cuts in 1956.
Titus Turner and Little Willie John then co-wrote "Leave My Kitten Alone", later covered by Johnny Preston, The Beatles and Elvis Costello. In 1959 the King label issued Turner's first hit single, "The Return of Stagolee," an answer song to Lloyd Price's "Stagger Lee". The single climbed into the Top 30 of the Billboard R&B chart. Turner repeated the trick with his next release, "We Told You Not To Marry," an antidote to Price's "I'm Gonna Get Married." The single stalled at #83 on the Billboard Hot 100. Turner had a regional hit with "Miss Rubberneck Jones" in 1959. The song topped the pop charts in Pittsburgh, Bethesda (MD), and in Wheaton (MD), as well as climbing to #2 in Arlington (VA). In 1960, Ray Charles recorded the Henry Glover and Titus Turner song, "Sticks and Stones". By 1961 Turner had his biggest solo success was with "Sound-Off". The #77 hit on the Hot 100 came from the only album Titus Turner ever released. Turner continued to release singles through the Sixties. His final release was in 1976. Titus Turner died of unknown causes at the age of 51 in 1984.
James McDougal cowrote "I Need Your Lovin'" for Don Gardiner and Dee Dee Ford, a Top 20 hit in 1962. McDougal also wrote songs recorded by Little Willie John, Johnny Preston, Bette Lavette, Inez Foxx, Jackie Wilson, and Tom Jones.
"People Sure Act Funny" was first recorded by by Titus Turner in the summer of 1962 on the Enjoy label. It made the Top 40 in Tucson (AZ). The song was covered by Lucius Lawton on the Laurie Records in 1963. The song contrasts the circumstance and attitude of a person who struggles to make money, with what happens to them once they are "on easy street."
I knew you when you had to live in a hut,
you made your livin' by the cane you cut
Now you're livin' on easy street,
you passed me by, you don't wanna speak.
From the lyrics of "People Sure Act Funny", we can deduce that people who come into money can forget their friends and seek out ways to keep on getting further ahead. The Biblical saying, "love of money is the root of all evil", suggests that people who have an off-balance relationship with the dollar will reap sorrow and discord. In the song "funny" is an understatement.
In his book Civilized to Death: The Price of Progress, Christopher Ryan reaches several conclusions about the price of wealth and its impact on individual behavior. In a BBC news article about Ryan's book, they detail that "Richer people, for example, are less able to read emotion on others' faces and are less likely to stop their expensive cars for a pedestrian than those driving cheaper models. This sense of entitlement and alienation is compounded by having access to more wealth, Ryan says. "What we generally do with extra money is buy things that separate us from other people." Interestingly enough, this kind of spending can be damaging to your physical and mental health, as a close sense of community is one of the most potent predictors of longevity."
"People Sure Act Funny" peaked at #4 in Madison (WI), #7 in Charlotte (NC) #8 in Toronto, Columbia (SC), and Belleville (ON).
Conley followed up with "Aunt Dora's Love Soul Shack", which failed to get much attention. He covered the Beatles "Ob-La-Di, Ob-La-Da" and in the winter of 1968-69 he peaked at #3 in Schenectady (NY), and #51 on the Billboard Hot 100. But seven more single released from 1969 to 1972 were commercial flops. Conley was gay, and several music writers, including Ed Ward, have said that his homosexuality was a bar to greater success in the United States and one of the reasons behind his move to Europe and his eventual name change
He relocated to England in 1975, and spent several years in Belgium, settling in Amsterdam in the spring of 1977. At the beginning of 1980 he had some major performances in several cities in the Netherlands, under the billing of Lee Roberts and the Sweaters. He moved to the Dutch medieval village of Ruurlo in 1987.
In the late 80s Conley changed his name to Lee Roberts. Lee was his middle name and Roberts was his mother's maiden name. He died from intestinal cancer in 2003 in the Netherlands.
References:
"Boss Tracks, Arthur Conley, Sweet Soul Music," Boss Tracks, February 27, 2009.
Ed Ward, "The Mysterious Case of Arthur Conley, Otis Redding's Protege," NPR, October 28, 2014.
Neil Foxlee, "Arthur Conley: Singer whose anthem Sweet Soul Music caught the mood of an era," Guardian, December 2, 2003.
Dik, "Titus Turner," Black Cat, March 2017.
Sophia Ahmadi and Anne Calandre, "Are Rich People Heartless?," BBC, February 21, 2020.
Titus Turner, "People Sure Act Funny", Enjoy Records, 1962.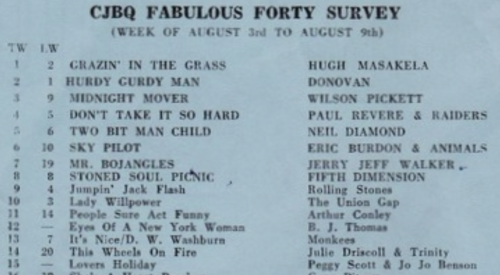 CJBQ 800 AM, Belleville, Ontario, August 3, 1968 (Top 15)
"People Sure Act Funny" climbed to #8 the following week.