#31: Pinball Wizard by Elton John
Peak Month: May 1975
12 weeks on Vancouver's CKLG chart
Peak Position #1
Peak Position on Billboard Hot 100 ~ did not chart
YouTube.com: "Pinball Wizard"
Lyrics: "Pinball Wizard"
Reginald Kenneth Dwight was born in 1947. When he was three years old he astounded his family when he was able to play The Skater's Waltz by Émile Waldteufel by ear at the piano. When he was eleven years old he won a scholarship as a Junior Exhibitor at the Royal Academy of Music. Between the ages of 11 and 15 he attended the Academy on Saturday mornings. In 1962, by the age of 15, he was performing with his group, The Corvettes, at the Northwood Hills Hotel (now the Northwood Hills Public House) in a northern borough of London. While he was playing with a band called Bluesology in the mid-60s he adopted the stage name Elton John. His stage name, which became his legal name in 1967, was taken from Bluesology saxophonist Elton Dean, and their lead singer, Long John Baldry.
In 1967 John met Bernie Taupin, a songwriter. Since they teamed up they've worked together on 32 studio albums between 1969 and 2016. In the same five-decade span Elton John has released 128 singles. Of these 42 reached the Top Ten in Canada on the RPM singles chart, 29 made Top Ten on the UK charts and 26 singles made Top Ten on the Billboard Hot 100. Elton John holds the distinction of having the most successful single release in the rock 'n roll era ~ 1955 to the present ~ with his 1997 version of "Candle in the Wind" which has sold over 33 million copies. The biggest selling single remains "White Christmas" by Bing Crosby which has sold 50 million copies.
In 1969, Elton John released his debut album, Empty Sky. He received critical acclaim for his musicianship and heralded as a great new singer-songwriter. John didn't disappoint his critics, as his next album, the self-titled, Elton John, included "Your Song" and "Border Song," two of his most enduring contributions to pop music. "Your Song" climbed to #1 on CKVN in Vancouver and peaked at #8 on the Billboard Hot 100, failing to make the Year-End Top 100 singles of the year in America. Elton John's next release was from the 1971 teen-romance film, Friends. This was the title track "Friends" and "Honey Roll".
On April 23, 1971, Elton John made his first concert debut in Vancouver (BC), performing at the Agrodome.
His third album was Tumbleweed Connection, released in the fall of 1970. The album peaked in the Top 5 of the Billboard 200 Album chart. One of the tracks from the album is "Love Song." The tune did not appear on the Billboard Hot 100 in the USA. However, in 1976, Vancouver record buyers liked the song and took it to #10 on CKLG five years after its release on Tumbleweed Connection. In the early years, Elton John typically enjoyed higher chart runs in Vancouver compared to the Billboard Hot 100 in the USA. "Your Song" stalled at #8 in the USA, but climbed to #1 on CKVN in Vancouver. "Levon", from Madman Across The Water, climbed to #3 in Vancouver, but stalled at #24 on the Billboard Hot 100. "Border Song" only made it to #92 on the Hot 100, but peaked at #21 in Vancouver. "Tiny Dancer" also made it into the Top 20 in Vancouver, while stalling at #41 on the Billboard Hot 100.
Though Elton John is from the UK, his first #1 single was "Crocodile Rock", a song that went to #1 in America, Switzerland, New Zealand and Canada in early 1973. It stalled at #5 on the UK singles chart. Later in 1973, "Goodbye Yellow Brick Road" topped the charts in New Zealand and Canada. 1974 was one of the singers best years with "Bennie And The Jets" topping the charts on the Billboard Hot 100 and "The Bitch Is Back" climbing to #1 in Vancouver. In 1975, John had #1 hits in the USA with "Lucy In The Sky With Diamonds", "Philadelphia Freedom" and "Island Girl".
In the midst of this string of hits came Elton John's cover of The Who single "Pinball Wizard".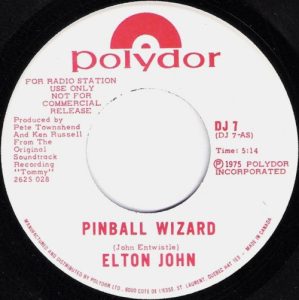 "Pinball Wizard" was written by Pete Townshend. However, as with the pressing on the promotional single above, the song was incorrectly credited at times to John Entwistle. In 1945, Peter Townsend was born in West London. Born into a musical family, Townshend learned to play guitar at the age of eleven. He and a schoolmate, John Entwistle, formed a traditional jazz group called the Confederates where Townshend played banjo and Entwistle played horn. John Entwistle joined Roger Daltry's band, The Detours, in 1961. And soon after suggested Pete Townsend join the band. In 1964 there was another regional band named The Detours and so Daltry's band came up with a new name, the High Numbers, for four months. Finally, they settled on calling themselves The Who.
"Pinball Wizard" is a song from the rock opera Tommy. Tommy became deaf, dumb and blind when his father killed a Captain in their home. About the age of twenty, Tommy stands at a mirror one night, and wanders off while his parents are in a lethargic state. Tommy follows a vision of himself to a junkyard pinball machine. Tommy is recognized by Frank and the media as a pinball prodigy ("Extra, Extra, Extra"), which is made even more impressive with his sensory-impaired state. During a championship game, Tommy faces the Pinball Wizard. The game is being televised, and Tommy's mom celebrates his victory over the Pinball Wizard.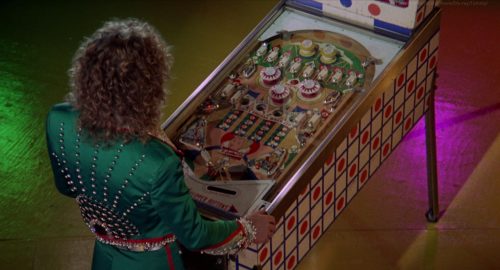 In 1969, when Tommy was released by The Who, "Pinball Wizard" peaked at #4 in the UK, #6 in South Africa and Canada, #8 in New Zealand, #12 in the Netherlands, #14 in Ireland, #15 in Switzerland, #19 on the Billboard Hot 100, and #25 in West Germany.
Elton John's version of "Pinball Wizard" was recorded for the 1975 film, Tommy. In the film Elton John was cast in the role of the Pinball Wizard.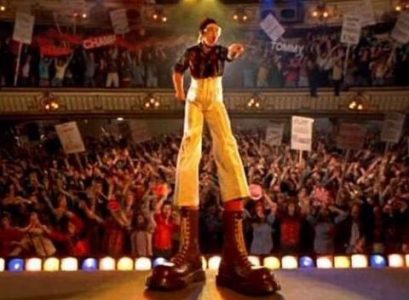 "Pinball Wizard" peaked at #1 in Vancouver (BC), Toronto, Minneapolis/St. Paul, Milwaukee (WI), Tampa (FL), Harrisburg (PA), Salt Lake City (UT), Phoenix, Erie (PA), Pittsburgh, Denver, Montreal, Reading (PA), Louisville (KY), Chicago, Wichita (KS), Cleveland, Akron (OH), Columbus (OH), Worcester (MA), #2 in San Diego, and Detroit, #3 in Miami, and San Antonio, #4 in New Haven (CT), and Amarillo (TX), #5 in Peterborough (ON), #6 in Campbell (OH), Tucson (AZ), and Boston, #7 in Los Angeles, and Allentown (PA), #9 in Windsor (ON), and #10 in Birmingham (AL).
Internationally, Elton John's "Pinball Wizard" peaked at #7 in the UK, #13 in Ireland and #88 in Australia.
In 1976, Elton John finally had a #1 hit in the UK in a duet with Kiki Dee titled "Don't Go Breaking My Heart". The single also made it to #1 on the Billboard Hot 100 in the USA, CKLG in Vancouver (and many other radio markets in Canada), Ireland, Australia and New Zealand.
Reflecting on his outlandish stage presence, Elton John told W magazine "I wasn't a sex symbol like Bowie, Marc Bolan or Freddie Mercury, so I dressed more on the humorous side, because if I was going to be stuck at the piano for two hours, I was going to make people look at me." Between the Top Ten entry of "Your Song" on CKVN in Vancouver during January 1971, and the chart run of "Sorry Seems To Be The Hardest Word" in November 1976, Elton John charted 23 songs onto the Top Ten of Vancouver radio stations, including seven #1 hits here on the West Coast. Only "Tiny dancer" which stalled at #11 prevented him from having 24 consecutive Top Ten hits in a row in Vancouver in the 1970's. While in the USA on the Billboard Hot 100, Elton John managed to chart fifteen songs into the Top Ten in the same time frame.
On September 10, 1973, Elton John gave his first concert at the Pacific Coliseum in Vancouver. The following year, on October 14, 1974, in support of the release of Caribou, Elton John returned to Vancouver for a Pacific Coliseum concert. And a year later, on October 12 and 13, 1975, Elton John performed in concert at the Pacific Coliseum in Vancouver.
But after 1976 the hits came infrequently. Between 1977 and 1991 Elton John released 57 singles. Of these only "Mama Can't Buy You Love", "Little Jeannie" "I Guess That's Why They Call It The Blues", "Sad Songs (Say So Much)", "Nikita", "Candle In The Wind" from 1987 and "I Don't Want To Go On With You Like That" made the Top Ten on the Billboard Hot 100. And only a couple more made the Top 40. The singer had a #1 hit in 1985, a duet with Dionne Warwick titled "That's What Friends Are For". In the midst of his string of hits into the mid-80s, Elton John appeared in concert at the Pacific Coliseum on September 1, 1984.
In August 1990 Elton John released a single called "You Gotta Love Someone".
For many years Elton John was an addict to alcohol and drugs. His frequent use of cocaine is said to have been a catalyst for debilitating epileptic seizures. Facing up the the grim state of his health, Elton John went into rehab in 1990. He emerged with a focus on helping others and founded the Elton John AIDS Foundation in 1992. The foundation has raised has brought in more than $225 million to support HIV/AIDS programs around the world.
Elton John also experienced a resurgence in his chart-topping ways that resembled the 1973-76 period. He had a #1 duet of "Don't Let The Sun Go Down On Me" with George Michael in 1992. "The One", "Can You Feel The Love Tonight", "Believe" and "Something About The Way You Look Tonight/Candle In The Wind" all climbed to #1 in Canada on the RPM singles chart. "Blessed", "Simplest Life" and "Circle Of Life" all charted into the Top 5 positions.
In 1994 Elton John was inducted into the Rock and Roll Hall of Fame. On September 8, 1995, Elton John came back to Vancouver to give a concert at the Pacific Coliseum. In 1998 he became Sir Elton John when he was knighted by Queen Elizabeth II in recognition of his "services to music and charitable services." Among the many performances he has given include the funeral for Princess Diana at Westminster Abbey in 1997, and Queen Elizabeth II's Diamond Jubilee Concert outside Buckingham Palace in 2012.
On November 20, 1999, and seven years later on September 27, 2006, Elton John returned to Vancouver to perform each time at General Motors Place. On September 13 and 14, 2014, Elton John appeared in concert at Rogers Arena in Vancouver.
On September 8, 2018, Elton John began his Farewell Yellow Brick Road tour. An ambitious tour, it includes over 300 concert performances across North America, Europe, the Middle East, Asia, South America and Australasia. Earlier in the tour three concerts were performed in Vancouver at Rogers Arena on September 21, 22 and 24, 2019. Parts of the tour have been postponed or cancelled due to the pandemic. Two shows in Toronto, and two shows in Montreal were all cancelled in February 2021 due to Canadian pandemic restrictions. Elton John gave two performances at BC Place Stadium in Vancouver on October 21 and 22, 2022. The tour will end with two shows in early July 2023 in Stockholm, Sweden.
April 28, 2023
Ray McGinnis
References:
Elton John bio, Rolling Stone.
Elton John bio, Elton John.com.
Jordan Bassett, "Elton John: "I'm not interested in the past – not even Elton John's past," NME, October 22, 2021.
Tumbleweed Connection, Rolling Stone, New York.
Pete Townsend, "Meaty, Beaty, Big and Bouncy: Pete Townshend on the Who's 'Tommy'," Rolling Stone, December 9, 1971.
"Farewell Yellow Brick Road Tour," Wikipedia.org.
"Elton John Concert Dates – Canada," setlist.fm.
"CKLG Thirty," CKLG 730 AM, Vancouver, BC, May 9, 1975.
For more song reviews visit the Countdown.