#996: Playgirl by Thee Prophets
Peak Month: May 1969
6 weeks on Vancouver's CKLG chart
Peak Position #5
Peak Position on Billboard Hot 100 ~ #49
YouTube.com: "Playgirl"
Lyrics: "Playgirl"
Based out of Milwaukee, Wisconsin, Thee Prophets included Brian Lake on lead vocals and organ, Jim Anderson on lead guitar, David Leslie on bass and vocals, and Chris Michaels on drums. On a Wisconsin Garage Bands 1960s Facebook page, Brian Lake writes that he formed the band in 1962 and it dissolved in 1972. What more is known about these bandmates seems to be off the radar, at least where the Internet is concerned. Big things were in store for Thee Prophets with a record deal with Kapp in New York City. But in the end their most notable claim to fame was their debut single, "Playgirl".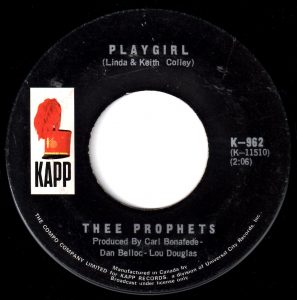 Although "Playgirl" frolicked to jubilant pace, the lyrics were stitched of a sobbing nature, as they scolded a liberated lady for her free-loving ways. So much for the sexual revolution of the times. "Playgirl" was swamped with creamy harmonies, slanted towards the doo-wop side of the field, aided by brassy instrumentation and a burst of bubblegum buoyancy. The song drew upon the slick and smooth style of groups such as the Buckinghams, the Spiral Starecase and the Grass Roots. All good vintage pop fans need not be informed the Knickerbockers previously released their own spiffy version of the tirelessly tuneful track.
"Playgirl" peaked at the #49 spot on the Billboard Hot 100 in the spring of 1969. "Playgirl" climbed to #3 in Redding (PA), Syracuse (NY) and Vancouver (WA), #6 in Stevens Point (WI) and #6 in Jackson (MI), #9 in Boston, #6 in Los Angeles, #4 in Charlotte (NC) and #5 in Vancouver (BC) on CKLG.
In concert Thee Prophets ditched the bubble-gum sound for Jimi Hendrix and Cream covers in concert, only to do an encore of "Playgirl," and a few other singles they subsequently released from their only album This made for an uneven concert experience. Several more tracks from Thee Prophets debut album were released. "Rag Doll Boy" was a hit only in Stevens Point, Wisconsin, in the fall of 1969. Thee Prophets tried again to have a hit record with a cover of The Drifter's 1963 hit written by Gerry Goffin and Carole King, "Some Kind Of Wonderful" Their cover had its best chart performance in several Wisconsin radio markets. By the spring of 1970 after "A Little Bit Of Love" failed to gain much traction. The group split up in 1972.
"Playgirl" was written by Keith Colley and his spouse Linda Colley. Born in Spokane, Washington, Jarrell Keith Colley grew up in the wheat farming countryside. He attended the University of Washington. While he was there he made a demo of the hit by Dion & The Belmont's, "A Teenager In Love". Colley's version got some airplay locally and was heard by Jerry Dennon or Jerden Records. Dennon got young Keith a record contract that was transferred over to Era Records. In 1961 Colley released "Zing Went The Strings Of My Heart" which got some airplay in Boston. His next single at the end of the year, "Put 'Em Down", got some airplay in Spokane and Seattle, while the flip side, "(And) Her Name Is Scarlet" got him on the Top 40 in San Bernardino, California.
Colley next moved on to Unical Records. His firist single release with the Unical label was called "Enamorado". There is a story, online, that the song was first composed in English. But the lyrics were judged to a little thin. So Unical suggested Colley record the song in Spanish. Colley barely knew any Spanish. However, Colley's rendition of the song evoked an exotic feeling for his largely English speaking audience on pop radio in 1963 in North Ameica. And if his enunciation of Spanish at times was not quite on the mark, his radio audience was none the wiser. The song was a regional hit in San Bernardino (#2), Seattle (#5), Tucson (#7) and Los Angeles (#4). In Vancouver the song climbed to #11 on the CFUN charts and went to #66 on the Billboard Hot 100.
In 1968 Keith and Linda Colley co-wrote "Shame Shame" and his Columbia Records single climbed to #11 in Pueblo, Colorado, but had little notice elsewhere. It was covered by the Magic Lanterns and became a #1 hit in Vancouver in 1969. "Playgirl" was one of a number of songs Colley wrote that made the pop charts. Linda Colley wrote just a few songs, the most notable was "One Track Mind" a hit for the Knickerbockers in 1966.
September 27, 2017
Ray McGinnis
References:
Wisconsin Garage Bands 1960s, Facebook.com page, October 1, 2012.
Beverly Patterson, Almost Hits: Thee Prophets, "Playgirl" (1969), Something Else Reviews.com, August 6, 2013.
Keith's Story, Keith Colley.com.
"Boss 30," CKLG 730 AM, Vancouver, BC, May 1969.
For more song reviews visit the Countdown.