#752: Poco Loco by Gene & Eunice
Peak Month: October 1959
9 weeks on Vancouver's CFUN chart
Peak Position #4
Peak Position on Billboard Hot 100 ~ #48
YouTube.com: "Poco Loco"
Lyrics: "Poco Loco"
Eugene Forrest III was born in San Antonio, Texas, in September 1931. Later he took the name Gene Forrest when he began a singing career. In May 1931, Eunice Levy Frost was born in Texarkana, Texas. Before 1954, Eunice heard Ann Walls playing with Ernie Fields' Orchestra in Phoenix. Eunice reflects, "when I saw her complete control of the band, for a few minutes she was the queen. They had to do everything she said, it seemed good." Eunice Levy headed to Los Angeles to fulfill her dream. When she got to Los Angeles she met Gene Forrest at a singing contest. She discovered that Gene Forrest was "a struggling young man trying to make it entertainment-wise…and make big money the fastest way he knew." The pair hit it off and soon became a singing duo and got involved romantically. Gene & Eunice wrote most of their own songs. Their first single, "Ko Ko Mo", put "The Sweethearts of Rhythm & Blues" on the map. However, Perry Como covered the song and it became a #2 hit for Como and a #6 hit for The Crew Cuts on the hit parade.
Gene & Eunice were a rare commodity in the mid-50's, not only recording and performing songs, but composing them too. Eunice recalls, "Gene would sit down and start tinkling with the keys on the piano. He could start things but didn't know how to bring it to a tidy ending." That is where Eunice often came in, helping with the lyrics and the ending of the notes and chords. Gene & Eunice's original version of "Ko Ko Mo" got passed over on AM Top 40 pop radio. Meanwhile, on the Rhythm and Blues charts, the song was covered by The Flamingos and another duo also calling themselves Gene and Eunice. The upshot was that Gene and Eunice got very few of the royalties they deserved from the sale of their own and others recordings of the song they wrote. Nonetheless, in the February 12, 1955, edition of Billboard magazine, the duo had "Ko Ko Mo" listed at #3 in and at #4 in the Baltimore-Washington, Chicago, Los Angeles and New York record markets. While in Philadelphia, the song was at #3.
Gene & Eunice had company among black R&B recording artists who saw their potential for a break-out, hit record, fade once a white recording artist made a cover version. Other examples include LaVern Baker ("Tweedle Dee" by Georgia Gibbs), The Chords ("Sh-Boom" by the Crew Cuts), Joe Turner ("Shake, Rattle And Roll" by Bill Haley and His Comets), The Moonglows ("Sincerely" by the McGuire Sisters), Fats Domino ("Ain't That A Shame" by Pat Boone), The Gladiolas ("Little Darlin'" by The Diamonds), The Clovers ("Devil Or Angel" by Bobby Vee), Ivory Joe Hunter ("I Almost Lost My Mind" by Pat Boone), Little Richard ("Tutti Frutti" by Pat Boone), The Penguins ("Earth Angel" by The Crew Cuts), The Nutmegs ("Story Untold" by The Crew Cuts), Smiley Lewis ("I Hear You Knockin'" by Gale Storm), Johnny Ace ("Pledging My Love" by Teresa Brewer), The Orioles ("Crying In The Chapel" by June Valli) and The Charms ("Hearts Of Stone" by the Fontaine Sisters)
After a few unsuccessful followups, Gene & Eunice had an R&B hit with "This is My Story" in 1955. With Aladdin Records, Gene & Eunice recorded eight more singles. All failed to garner much attention. Of note, one of these recordings, "Bom Bom Lulu", was drawn from a traditional West Indies song. "Bom Bom Lulu" became a hit record in Jamaica. Consequently, "Bom Bom Lulu", which was a typical R&B recording at the time, became an influence on early reggae stars in Jamaica. A number of the singles Gene & Eunice released were reissued on Jamaica's Blank label. Both sides of their 1957 single, "Strange Love"/ "The Vow", were both covered by the Jamaican duo Jackie & Doreen, around 1959. "The Vow" was also covered by Bunny & Rita (Bunny Wailer and Rita Marley of The Wailers).
During this period, Gene & Eunice appeared on American Bandstand and at venues like the Apollo in New York City. Failing to get a hit record with Aladdin, the duo switched to the Case Record label in 1958. Their first single with Case Records was in 1958. The producer during the recording session was a guy named Gary Paxton. The single was titled "Poco Loco".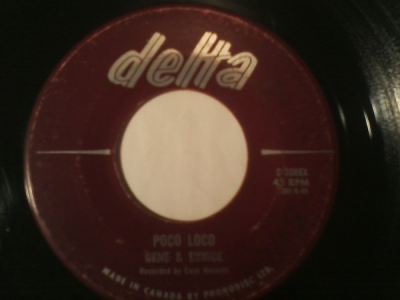 Gene & Eunice were actually sweethearts, and the two married and had several children together. In that way the lyrics to Poco Loco are autobiographical: a couple meets and falls in love and things just fit like a hand in a glove. Poco Loco means "a little crazy" in Spanish (and "pouco louco" in Portuguese). Eunice remembers that "Poco Loco" was recorded with the intention to market it to the Mexican record buying audience. The record sold well in Mexico City and elsewhere.
In her article, The Early Stages of Falling in Love, Deborah Khoshaba writes that we don't speak of being balanced in love. What happens is we "fall in love." This falling in love can be disorienting and throw us out of our regular rhythms and perceptions: "if you are in the early stages of falling in love right now, and you feel a little crazy, don't worry, you kind of are. You are under the influence of your hormones that are making you feel, all at once, euphoric, endangered, and exhausted." An article in New Scientist found that couples falling in love change their amounts of hormones. Women increase their levels of testosterone and men actually decrease their levels of testosterone. It is as if in opposite-sex mating, the couple wants to mirror their hormonal makeup. However, after the first year, the male testosterone levels go back up and the women's levels go down. The 1999 studies at the University of Pisa, led by Donatella Marazziti, also found that this was not effected by the level of sexual activity in the initial stages of falling in love or for long-term partners who were sexually active.
"Poco Loco" climbed to #4 in Vancouver (BC) and San Bernardino (CA), and to #5 in Phoenix and St. Louis. Outside of these radio markets the song struggled to make the Top 40. In 33 states "Poco Loco" was given a pass by radio station programmers.
Their last single of the nineteen they released was recorded in 1962. Gene died in 2003 and Eunice died in 2002. Often compared to another R&B duet of the time, Shirley and Lee, Gene & Eunice had tight harmonies and toured extensively in the mid to late 50's.
August 8, 2018
Ray McGinnis
References:
Jim Dawson, Gene & Eunice bio, The Doo-Wop Society of Southern California, 2003.
Stuart Coleman/Semus McGarvey, Gene & Eunice – Go On Ko Ko Mo (MP3), Ace Records, 1999.
Deborah Khoshaba, "The Early Stages of Falling in Love," Psychology Today, March 20, 2012
Anil Ananthaswamy, "Hormones Converge for Couples in Love," New Scientist, May 5, 2004
Gene & Eunice credits, Discogs.com.
Fifties Cover Recordings, 50s Pop Music.com
R&B Territorial Best Sellers, Billboard, February 12, 1955, p. 57.
"CFUN HI-FI 40," CFUN 1410 AM, Vancouver, BC, October 31, 1959.
For more song reviews visit the Countdown.