#399: Ponchinello by Frankie Avalon
Peak Month: March 1962
10 weeks on CFUN's Vancouver Chart
Peak Position ~ #4
Peak Position on Billboard Hot 100 ~ did not chart
YouTube: "Ponchinello"
Lyrics: "Ponchinello"
Francis Thomas Avallone was born in Philadelphia in 1940. When he was 12-years-old, he appeared in a Christmas episode on The Jackie Gleason Show, playing trumpet in a Honeymooners sketch. RCA signed Frankie Avalon to the label and in 1954 released the trumpet solo he performed in the December 1952 Honeymooners sketch. "Trumpet Sorrento" climbed to #42 on the Cashbox Best Selling Singles chart in March 1954. Avalon also appeared on The Perry Como Show where he played trumpet. With Bobby Rydell, Avalon was in a doo-wop group called Rocco and the Saints. They were backing vocalists for his debut single in 1957, "Cupid", written by Peter DeAngelis. He appeared in the 1957 rock and roll film Jamboree and performed "Teacher's Pet" (also written by DeAngelis, and different from "Teacher's Pet" recorded by Doris Day in 1958). In the film Jamboree, Frankie Avalon got to meet other pop stars in the cast including Fats Domino, Connie Francis, Carl Perkins, Jerry Lee Lewis, Jimmy Bowen, Buddy Knox, Charlie Gracie, and jazz singer Joe Williams.
Late in 1957, Peter DeAngelis penned a song that gave Frankie Avalon international exposure: "De De Dinah". In the lyrics Avalon sang "my Dinah is-a-mine-ah." The single climbed to #7 on the Billboard pop chart in February 1958. Later that year DeAngelis arranged Frankie Avalon's second Top Ten hit "Gingerbread". In these lyrics he repeated the word "gingerbread" eight times, followed by the refrain: "You're full of sugar, you're full of spice. You're kinda naughty, but you're naughty and nice." A third release in '58, "I'll Wait For You" became his third of three single released that appeared on the Billboard 1958 Year-End Top 100 Songs list.
In 1959 Avalon entered the zenith of his ascendancy as a pop teen idol. "Venus" topped the Billboard Hot 100 for five weeks in March and April, landing at the #3 spot for top hits for the year 1959. He also had other singles on the Billboard Year-End Top 100 for 1959: "Just Ask Your Heart", "Bobby Socks to Stockings" and "A Boy Without A Girl". 1959 ended with Frankie Avalon topping the Hot 100 with "Why" on December 28th.
In February 1960, teen fans headed to the movies to see Frankie Avalon in a starring role in the logging versus environmentalist film Guns of the Timberland. Though he sang two songs in the film that were subsequently released as singles – "The Faithful Kind" and "Gee Whiz Whillikins Golly Gee" – both were commercial flops. In the summer Avalon provided vocals for an animated film titled Alakazam the Great. In the fall of 1960, Avalon starred along with John Wayne in The Alamo. In 1961 Frankie Avalon returned to the big screen in the science fiction film Voyage to the Bottom of the Sea. He co-starred with Peter Lore, Walter Pidgeon, Joan Fontaine and Barbara Eden. Building on the nautical theme, Frankie Avalon also appeared in late 1961 in Sail a Crooked Ship alongside Robert Wagner and Frank Gorshin (who later played the Riddler in the 1966 Batman film and TV show).
Meanwhile, after "Why" topped the charts, Frankie Avalon struggled to get another hit single. He released over a dozen singles between 1960 and late 1961 with minimal success. Of these only three made the Top 40 on the Billboard Hot 100. In Vancouver (BC) Avalon broke out of the bottom of the chart with his recording of "Ponchinello".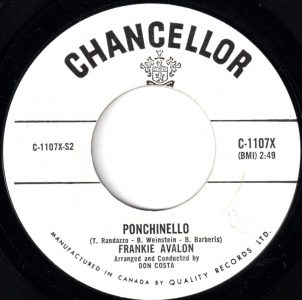 "Ponchinello" was co-written by Teddy Randazzo, Billy Barberis and Bobby Weinstein. Alessandro Carmelo Randazzo was born in 1935 in Brooklyn (NY). Robert Lee "Bobby" Weinstein was born in 1939 in New York. Weinstein was in a pop group called the Legends who won a talent contest at the Apollo Theater in 1955 before splitting up. While in 1954 Teddy Randazzo joined a doo-wop group called The Three Chuckles, named after a candy bar. They had a Top 20 hit in 1954 titled "Runaround", which peaked at #2 in Windsor (ON) that November. The Three Chuckles appeared seven times on The Ed Sullivan Show. In 1956 The Three Chuckles appeared in the teen rock films Rock! Rock! Rock! and The Girl Can't Help It. Randazzo also wrote songs recorded by Count Basie, Joe Wiliams, Mel Torme, Jerry Butler, Brook Benton's B-side to "It's Just A Matter Of Time", In 1957 Teddy Randazzo appeared in the film Mister Rock and Roll singing his debut single release "Next Stop Paradise." Between 1958 and 1968 Randazzo released over twenty singles, having minor hits with "Little Serenade", "The Way Of A Clown" and "Big Wide World".
In 1958 Bobby Weinstein and Teddy Randazzo met and co-wrote "Pretty Blue Eyes". It became a #9 hit for Steve Lawrence in the winter of 1959-60. They co-wrote two hits for Little Anthony and the Imperials: "Goin' Out Of My Head" and "Hurt So Bad". Billy Barberis and Bobby Weinstein were part of the pop-rock band The New Order who released two singles in 1966.
A ponchinello comes from the Neapolitan punchinello, a character of Neapolitan puppetry from the 17th Century. This puppet is a dualistic character: he either plays dumb, though he is very much aware of the situation, or he acts as though he is the most intelligent and competent, despite being woefully ignorant. He is constantly trying to rise above his station, though he does not intend to work for it. He is a social chameleon.
In the song "Ponchinello", Frankie Avalon sings about a guy who is broken-hearted because the girl of his dreams has chosen someone else to love. Is response, he decides to hide what is in his heart – and his sadness – and case himself in the role of clown. Going forward, he decides his one purpose in life is to make this woman laugh. If he can't have her as his romantic partner, he'll find some way to keep socially engaging with her through his clownish antics. A Ponchinello (Punchinello) carries an open secret. In this case the heartbreak "Ponchinello" feels in not being able to be paired with the woman he loves is something that is widely known to be true. They see through his choice to make her laugh as a mask he wears to hide his sadness. But none of the people most intimately concerned with his charade are willing to acknowledge it in public.
As a result, Ponchinello is always trying to face his problems with a smile. Consequently, he is always in contradiction with himself.
"Ponchinello" peaked at #4 in Vancouver (BC) and San Bernardino (CA), and #9 in San Diego. California and Mississippi were the only two states where the single got any chart action in the USA. While the flip-side of the single, "You Are Mine" peaked at #7 in Montreal.
After "Ponchinello", Frankie Avalon returned to his slide away from the pop music spotlight. In the years that followed his twenty single releases, with the exception of a 1976 disco version of "Venus", failed to crack the Billboard Hot 100.
In the summer of 1962, Avalon was back in the movie theaters with another science fiction thriller about the end of the world: Panic in Year Zero! A mushroom cloud appears over Los Angeles, and people are dying of radiation sickness. At the height of the cold war, the movie played to people's real fears.
In 1963 Frankie Avalon appeared in a number of films including The Castilian, and Drums of Africa. In addition he appeared in a World War II film about military maneuvers off a coral reef in the Marshall Islands called the Bikini Atoll. The film was titled Operation Bikini. Though it had nothing to do with women wearing bikini's at the beach, some of the cast subsequently appeared with Frankie Avalon in a series of beach-themed movies: Beach Party, Muscle Beach Party, Bikini Beach, Pajama Party, Beach Blanket Bingo and How to Stuff A Wild Bikini. All of these featured romantic plots with co-star Annette Funicello. A spy-themed film later in 1965 built on the beach-related theme in its title: Dr. Goldfoot and the Bikini Machine. Avalon appeared in over a half dozen more films between 1965 and 1969. With nearly 25 films under his belt at the end of the Sixties, Frankie Avalon was identified as much as an actor as a pop singer.
In 1978 Avalon appeared as a teen angel singing "Beauty School Dropout" in the film Grease. In the summer of 1985, Frankie Avalon began a 50-city tour with Bobby Rydell and Fabian as "The Golden Boys of Bandstand." During Vancouver's Expo '86, Frankie Avalon appeared on stage at the Expo Theatre on June 15th. In 1987 he appeared with Annette Funicello in a parody of the 1960s Beach-themed movies titled Back to The Beach. Over the years Avalon has appeared in nearly forty films. His most recent being Papa in 2018 alongside Darryl Hannah, Ann-Margaret, Paul Sorvino and male model on The Price Is Right Robert Scott Wilson.
When not in the recording studio or in movie production, for many decades Frankie Avalon has spent about six months a year performing in night clubs in the USA. Along with other performers, his scheduled concerts have been postponed due to the COVID-19 pandemic. Avalon is tentatively scheduled to perform in June 2021 in Indiana.
October 16, 2020
Ray McGinnis
References:
"Frankie Avalon Biography," Frankie Avalon.com.
Michael Jack Kirby, "Frankie Avalon," Wayback Attack.com.
Richard Ouzounian, "Frankie Avalon on Beach Parties, the Simplicity of the Past, and Annette Funicello: The Big Interview," Toronto Star, August 21, 2013.
"Bobby Weinstein," Bobby Weinstein.com.
Wayne Harada, "Teddy Randazzo, '50s Rock Legend, Dead at 68," Honolulu Advertizer, November 24, 2003.
"The Neapolitan Mask of Pulcinella: When and How it is Born," Visit Naples.eu.
"Secreto de Polichinela," Collins Dictionary.
"C-FUNTASTIC FIFTY," CFUN 1410 AM, Vancouver, BC, March 31, 1962.
For more song reviews visit the Countdown.