#500: Poor Little Fool by Frank Mills
Peak Month: June 1972
11 weeks on CKVN's Vancouver Charts
Peak Position ~ #3
1 week Preview
Peak Position on Billboard Hot 100 ~ #106
YouTube.com: "Poor Little Fool"
Lyrics: "Poor Little Fool"
YouTube: "Poor Little Fool" (Ricky Nelson version)
In 1942, Frank Mills was born into a musical household in Montreal, and grew up in Verdun, Quebec. His older sister and mother both played the piano. Young Frank learned to play piano by ear. He also learned to play trombone in high school and played in a school band. His parents both died of cancer by the time Frank was seventeen. Initially, he entered McGill University in pre-med. However, his marks weren't good enough to continue. When he scored 98% on a Music Department entrance exam, his direction was certain.
In 1970, Mills joined The Bells and the group released their second single "Fly Little White Dove Fly". The song was part of a genre of anti-war/peace movement songs finding their way onto AM radio at the time. Other songs at the time included "War" by Edwin Starr, "Lay Down (Candles In The Rain)" by Melanie and "Aquarius/Let The Sun Shine" by the Fifth Dimension. The Bells offered a gentle nudge for radio listeners to move toward one another in love instead of pulling back from each other due to fear or division. The Bells went on to have a number of hits but none was bigger than "Stay Awhile", which peaked at #2 in Vancouver, #9 in Australia and #7 on the Billboard Hot 100. At the time they appeared on the Merv Griffin Show.
After less than two years, Frank Mills left The Bells to pursue a solo career. In October 1971, Frank Mills had a #1 single in Canada called "Love Me, Love Me, Love". His follow up single was a cover of the Ricky Nelson #1 hit in 1958, "Poor Little Fool". Nelson's recording was ranked #18 for 1958 by Cashbox Magazine and #23 on the year end Billboard singles chart.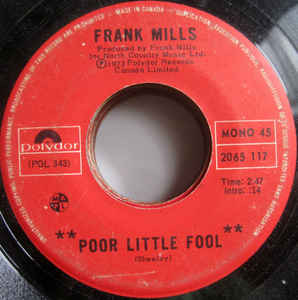 "Poor Little Fool" is a song written by Sharon Sheeley, who was once a fiancé of Eddie Cochran. She wrote the song when she was fifteen years old about her disappointment after a break-up with a boyfriend in high school who happened to be Don Everly of the pop duo, The Everly Brothers. Sheeley was acquainted with Elvis Presley and he encouraged her to be a songwriter. Living in Newport Beach, Sheeley drove to the home of Ricky Nelson hoping to meet him. Luckily, he was at home when she pretended her car had broken down outside his house. She played her song and he agreed to record it, making her the first female to have a number one hit on the Billboard charts without a male co-writer. Before Sheeley met Ricky Nelson she had begun a modeling career in Hollywood.
Sheeley is the woman referenced in Eddie Cochran's song, "C'mon Everybody", who walks around barefoot. She was in the car with Eddie Cochran and Gene Vincent in England in April 16, 1960, when it crashed into a lamppost in Wiltshire. Cochran died the next day from brain injuries and Gene Vincent broke his collarbone and ribs. Shelley broke her pelvis. At the time Sharon Sheeley and Eddie Cochran were unofficially engaged. In 1961 Sheeley met Jackie DeShannon and they became a successful female songwriting team, a first in the early rock n' roll period. They wrote the hit, "Dum Dum", for Brenda Lee. Sheeley also had songs she wrote recorded by Glen Campbell, PJ Proby, The Crickets, The Fleetwoods and Mac Davis. In 1961, Sharon Sheely married Los Angeles DJ Jimmy O'Neill. Together, they created the hit TV series in the mid-60's on ABC-TV called Shindig!
"Poor Little Fool" is a song about one person being serious and the other person dating to just play around while their heart is full of lies. The song struck a chord with listeners reminded of the risks involved in dating. It takes time to get to know someone new. Many people will give the new love interest the benefit of the doubt that they are being truthful when they make flattering compliments. And when someone you're starting to date begins to tell you that they care for you it can feel exhilarating. And, if you are looking for something permanent, having your girlfriend or boyfriend tell you that you'll never part can feel as though you've come home to love at last. However, under closer inspection, paying attention to the non-verbal cues, the tone of voice, and the context for such attestations may call the love talk into question. If the other persons' heart is full of lies, there are likely telltale signs. In Dr. Fredric Neuman's Psychology Today article, How Far Should You Trust 'I Love You,' he points out that in the heat of romance, "I Love You," can mean many different things. Sometimes it means 'I want to have sex with you.' Sometimes one romantic partner is unclear about their own real feelings and says it to try it out. Others may be falling into a fantasy role and think they mean it, but not from a mature place of insight about what their words mean. A person may say "I love you," and not feel that way a few hours later. Neuman advises his clients to view the phrase, "I love you," with skepticism. Instead, he counsels people who see him to pay attention to the behavior of their romantic partner. If what they are doing and the way they are treating them feel loving, that is a better indicator than the words coming out of their mouth.
Frank Mills cover of Sharon Sheeley's "Poor Little Fool" was slower then the uptempo rock n' roll song by Ricky Nelson. It was a blend of easy listening and pop-country. The song peaked at #6 on the Vancouver charts and bubbled under the Billboard Hot 100 at #106. Elsewhere in Canada the Mills cover of "Poor Little Fool" climbed to #7 in St. Thomas, Ontario, and #9 in Toronto.
Mills is best known for his instrumental single, "Music Box Dancer", a hit that peaked at #3 on the Billboard Hot 100 on May 5, 1979. He named the instrumental after a music box dancer when his daughter brought him a broken music box to mend. On his website, as Mills tells it, "There was a little dancer who popped up and spun around on a pedestal. Her arm was broken off. As I looked at it I said, "That's what the song is, it's the "Music Box Dancer!"
"Music Box Dancer" might not have been a hit since Frank Mills had recorded an in 1973 album with a record label that went bankrupt. The album lay dormant, including the track "Music Box Dancer." Then Mills first record label, Polydor, picked up the album and released a single from the tracks with "Music Box Dancer" on the B-side. As Frank Mills website describes what happened next. Dave Watts, a DJ in Ottawa who was a friendly acquaintance of Frank Mills. Watts listened the A-side, but wasn't impressed. So he played the B-side for his listeners. "Music Box Dancer" climbed to #1 on CFRA in Ottawa on June 30, 1978. It stayed in the top spot for two weeks and ten weeks in the top ten. The single also climbed into the top ten in Hamilton that summer and to #3 in Vancouver, BC, in August 1978. In early 1979, Nashville's newscaster on WNGE-TV, Bob Parker, started to play "Music Box Dancer" during the closing credits of the newscast. Nashville DJs started to get requests for the tune and promptly gave the song airplay. It climbed up the charts in both Nashville and Knoxville, Tennessee. It made the top ten in Windsor, Ontario, in early March 1979, and spent eight weeks in the top ten on CKLW, peaking at #3. What Polydor had initially referred to as "a little funny piano tune" climbed to #1 in Bangor (ME), Athens (GA), Madison (WI), Burbank (CA), Kansas City (MO), Springfield (IL), Allentown (PA), Altoona (PA), Hartford (CT) and Minneapolis/St. Paul (MN).
Over Frank Mills career he has recorded or arranged 28 albums. According to the Canadian Pop Encyclopedia twenty of these have been certified Gold or Platinum in Canada for record sales. He now lives in Vermont, taps maple syrup and has his own brand for sale named Sriop 'e Radle au Francoise! Mills last studio album was released in 2015 and titled After The Dancer. In a 2017 interview with Surrey Now-Leader, Mills said "I'm not recording anymore." Instead, he's enjoying his grandchildren and listening to them play the piano. Mills performed in Surrey, BC, on May 5, 2017, at the Bell Performing Arts Centre.
September 17, 2018
Ray McGinnis
References:
Frank Mills bio, Frank Mills.com.
Vernon, Jaimie. Canadian Pop Music Encyclopedia – Volume 2 (L thru Z). Bullseye Canada, 2012, p. 101.
Tom Zillich, "'Music Box Dancer' Piano Man Frank Mills Returns to Surrey's Bell: Interview: Vermont Resident, who Turns 75 in June, Still Enjoys Applause of Performing in Concert," Surrey Now-Leader, Surrey, BC, April 26, 2017.
"Ricky Nelson Poor Little Fool," Daily Doo Wop, Jane Minogue, February 23, 2018.
Ian Clayson and Penny Valentine, Sharon Sheeley: Songwriter of Poor Little Fool, Guardian, August 29, 2002.
Geoff Barker, "The Death of Eddie Cochran," BBC, February 27, 2009.
Sue Deschene, "Frank Mills Coming to Yarmouth," Chronicle-Herald, Halifax, Nova Scotia, October 24, 2017.
Fredric Neuman M.D., "How Far Should You Trust "I Love You"?," Psychology Today, April 8, 2013.
For more song reviews visit the Countdown.