#3: Pretty World by Sergio Mendes
City: Belleville, ON
Radio Station: CJBQ
Peak Month: June 1969
Peak Position in Belleville ~ #5
Peak Position in Vancouver ~ did not chart
Peak Position on Billboard Hot 100 ~ #62
YouTube: "Pretty World"
Lyrics: "Pretty World"
Sérgio Santos Mendes was born in 1941 in Niterói, a suburb of Rio de Janeiro. He attended the local conservatory intending to become a classical pianist. However, his interest in jazz grew, and he started playing in nightclubs in the late 1950s. This was while bossa nova, a jazz-inflected derivative of samba, was emerging. Mendes played with his mentor, Antônio Carlos Jobim, and with many U.S. jazz musicians who toured Brazil. In 1961, Mendes formed the Sexteto Bossa Rio and recorded the album Dance Modern. In the early Sixties, Mendes toured Europe and the United States. He recorded albums with Cannonball Adderley and Herbie Hancock. Mendes also played at the Carnegie Hall. Mendes moved to the U.S. in 1964 and cut two albums under the group name Sergio Mendes & Brasil '65. The first, Brasil '65, is a Portuguese-language album. The second release, The Great Arrival, is an instrumental album. A cover of the Mamas' and The Papas' "Monday Monday" later became a minor hit single in 1967. In 1966, it was suggested to Mendes that he add two women who could sing both in English and in Portuguese. The revised lineup was dubbed Brasil '66.

An album was released in 1966 titled Herb Alpert Presents Sergio Mendes & Brasil '66. The album climbed to #2 on the Billboard Top Jazz Album chart, but also to #7 on the Billboard (Pop) 200 Album chart. Among the tracks from the album was "Mas Que Nada" ("Just Nothing" in English). In 1966, the song climbed to #47 on the Billboard Hot 100. In 2009, Rolling Stone voted "Mas Que Nada" as the fifth greatest Brazilian song. In 2013, it was inducted into the Latin Grammy Hall of Fame. On the album, they also covered the Beatles' "Day Tripper" and the Little Anthony and the Imperials' song "Going Out Of My Head".
In 1967, Sergio Mendes and Brasil '66 released the album Equinox. It climbed to #3 on the Top Jazz Album chart, and #24 on the 200 Album chart. From the album came single releases "Constant Rain (Chove Chuba)" and the Cole Porter song "Night And Day". Both were minor hits in 1967. A third studio album for Sergio Mendes and Brasil '66 was released in July '67. Look Around peaked at #2 on the Top Jazz Album chart and #5 on the 200 (Pop) Album chart in the U.S.A. From that album came the single release "The Look Of Love". The Burt Bacharach and Hal David composition climbed to #4 on the Billboard Hot 100 with Sergio Mendes crafting of the song. A second track, "With A Little Help From My Friends", was a successful Beatles' cover on the Adult Contemporary charts.
In 1968, Sergio Mendes and Brasil '66 released their fourth studio album, The Fool On The Hill. The album climbed to the top of the Top Jazz Album chart, and #3 on the Billboard 200 Album chart. The title track cover of the Beatles' "The Fool On The Hill", climbed to #6 on the Billboard Hot 100 in 1968, and topped the Billboard Adult Contemporary chart. A followup release, "Scarborough Fair", successfully covered Simon & Garfunkel's tune to #16 on the Billboard Hot 100. In addition, Sergio Mendes separately released an instrumental album titled Sérgio Mendes' Favorite Things.
A fifth studio album by Sergio Mendes and Brasil '66 was released in 1969 titled Crystal Illusions. The album included a cover of the Otis Redding song "(Sittin' On) the Dock Of The Bay" and "You Stepped Out Of A Dream" from the 1941 film The Ziegfeld Girl. Along with 'Dock of The Bay,' a second single released from the album was "Pretty World".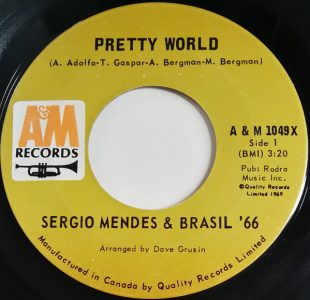 "Pretty World" was cowritten by Tibério Gaspar, Antonio Adolfo, Gaspar was born in 1943 in Rio de Janeiro. He is a songwriter, guitarist and producer. In 2002 he released a studio album titled Tibério canta Gaspar.
Antonio Adolfo was born in 1947 and founded Trio 3-D in 1964. He later played with Elis Regina and moved to USA to improve his musical skills. Over the years he has releases 25 studio albums. In 1985 Mr. Adolfo created his own school in Rio, Brazil, now with more than 1,300 students. Adolfo has been nominated for his piano solo album O Piano de Antonio Adolfo in 2014 at the Latin Grammy Awards. In 2015 he was nominated in the Latin Grammy for his album, Tema. In 2016, Tropical Infinito was nominated as Best Latin Jazz album for the 2016 Latin Grammy Awards. And in 2017 and 2018, Hybrido – From Rio to Wayne Shorter was nominated both at the Latin Grammy Awards and the Grammy Awards. And in 2019 his album, Encontros – Orquestra Atlantica, was nominated for Best Engineered Album at the Latin Grammy Awards. In 2021 Adolfo's album Bruma was nominated for both Best Latin Jazz Album and Best Engineered Album at the Latin Grammy Awards.
Alan Bergman was born in Brooklyn in 1925. Marilyn Bergman was born in Brooklyn in 1929, and is the daughter of Edith and Alan Katz. Both were raised in Jewish families. In his early twenties, Alan Bergman worked as a television director and songwriter at WCAU-TV in Philadelphia. He was persuaded by Johnny Mercer to move to Los Angeles to advance his career as a songwriter. Marilyn Katz moved to Los Angeles, and after an injury that hampered her piano playing, she switched to songwriting. Alan and Marilyn met while collaborating with a fellow songwriter in LA. They married in 1958.
Alan and Marilyn Bergman wrote the title track for Dean Martin's 1958 album Sleep Warm. And in 1960, Frank Sinatra recorded their song "Nice 'n' Easy". The following year they wrote music for the film The Right Approach. And in 1964 composed music for the Broadway musical Something More! In 1967 the songwriting couple wrote the title track for the movie In the Heat of the Night, starring Sidney Portier and Rod Steiger. And in 1968 wrote English lyrics for "Les Moulins de mon cœur", for The Thomas Crown Affair. Though Noel Harrison sand the song in the film, it was Dusty Springfield who had a hit with the English version, titled "The Windmills Of Your Mind". Over the decades the Bergmans have written songs for 23 films. Most notably "The Way We Were" in 1973, for The Way We Were starring Barbra Streisand and Robert Redford. "The Way We Were" won Best Song at the 46th Academy Awards in April 1974. And in 1977 the Bergman's co-wrote with Neil Diamond "You Don't Send Me Flowers".
"Pretty World" is a song about creating a world for two that brings joy, beauty and an overall alluring horizon. The song opens with these lines:
Why don't we take a little piece of summer sky?
Hang it on a tree.
For that's the way to start to make a pretty world,
for you and for me.
For awhile, they couple are able to "hang a little sign that says 'Paradise. Population Two'." What would it take for any of us living in post-modern 21st Century "Western" societies to switch gears and create a pretty world for ourselves like Brasil '66 sings about? In a world full of cares, stressors, bills to pay and demands at work (or to find work), it's hard to find time to luxuriate in one-on-one time with a romantic partner.
"Pretty World" peaked at #4 on the Billboard Adult Contemporary chart in 1969. It peaked at #5 in Belleville (ON), #6 in Tucson (AZ), #7 in Fresno (CA), #9 in Birmingham (AL), and #11 in Springfield (MA). Internationally, "Pretty World" climbed to #11 in Melbourne, Australia.
In 1970, the band released Ye-Me-Le. It featured covers of the Beatles' "Norwegian Wood", the Glen Campbell hit "Wichita Lineman", and the Three Dog Night hit from the musical Hair, "Easy To Be Hard". In 1983, Sergio Mendes had a #4 hit on the Billboard Hot 100 with "Never Gonna Let You Go". Vocals were by Joe Pizzulo and Leeza Miller.
In 1993, Sergio Mendes won a Grammy Award for Best World Music Album for Brasileiro. In 2005 Sergio Mendes received a Lifetime Achievement award at the Latin Grammy Awards. In 2012, Mendes received a Grammy nomination for Best Contemporary World Album for Bom tempo. In 2012, Sergio Mendes was nominated for an Oscar at the Academy Awards for Best Original Song in 2012 as co-writer of the song "Real in Rio" from the animated film Rio. And in 2015, Mendes received another Grammy Award nomination for Best World Music Album for Magic. In 2020, Sergio Mendes released his 44th studio album titled In the Key of Joy. Over the decades, Sergio Mendes has charted 13 singles into the Top 20 of Adult Contemporary charts in the USA.
August 19, 2023
Ray McGinnis
References:
Leila Fadel and Peter Breslow, "After 60 Years, Sergio Mendes Is Still Writing Songs 'In The Key Of Joy'," NPR, March 1, 2020.
Elisa Wouk Almino, "If you take all the world's emotions and put them into one sound, it's Sérgio Mendes," Los Angeles Times, August 13, 2021.
Paul Guggenheimer, "Trib talks with Brazilian music pioneer Sergio Mendes about new PBS documentary," Trib Live, June 15, 2021.
"About Antonio Adolfo," antonioadolfomusic.com.
Vernell Hackett, "Marilyn Bergman Drifted Into Songwriting," American Songwriter, 2003.
Jason Ankeny, "Alan Bergman Biography," Verve, December 22, 2013.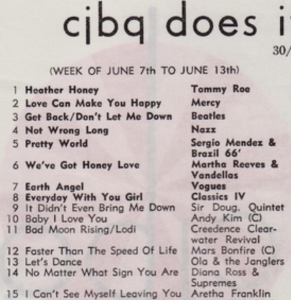 CJBQ 800 AM, Belleville, Ontario, June 7, 1969