#145: Pump Up The Volume by M/A/R/R/S
Peak Month: February 1988
13 weeks on Vancouver's CKLG chart
Peak Position ~ #1
Peak Position on Billboard Hot 100 ~ #13
YouTube: "Pump Up The Volume"
Lyrics: "Pump Up The Volume"
M/A/R/R/S was a one-hit wonder. It was a collaboration by two British bands: Colourbox – an electronic dance band, and alternative rock band A. R Kane. Colourbox was formed in 1982 and in 1987 comprised of co-founders Martyn and Steve Young, along with vocalist Lorita Grahame. In 1984 their single, "Say You", climbed to #7 on the UK Singles chart. Their release of "The Moon Is Blue" peaked at #3 in 1985. And in 1986 Colourbox had a #6 UK hit single with "The Official Colourbox World Cup Theme". Also that year, the band charted "Baby I Love You So" to #4. As well, the Young brothers were session musicians on two albums by This Mortal Coil: It'll End in Tears (1985) and Filigree & Shadow (1986).
A.R. Kane were formed in 1986 by Alex Ayuli and Rudy Tambala. Ayuli and Tambala first met as school children in an East London primary school. Ayuli is of Nigerian descent, while Tambala was born to a Malawian father and English mother. Both were involved in formative and culturally diverse music communities as adolescents, with Ayuli part of a dub soundsystem and Tambala part of a jazz-funk scene. In 1983, Ayuli became an advertising copywriter, one of few black creatives working in the London ad business. The two were both inspired by a mid-1980s Channel 4 performance by Cocteau Twins. Attending a party in 1986, Tambala was asked how he and Ayuli knew each other; he lied that the two played together in a band, going on to describe their sound as "a bit Velvet Underground, a bit Cocteau Twins, a bit Miles Davis, a bit Joni Mitchell". A week later, the two were contacted by a label on the strength of Tambala's fabrication. The duo recorded their demo without a drummer, using a guitar and two cassette players.
Knowing both A.R. Kane and Colourbox were bands interested in having a hit single, Ivo Watts-Russell invited them to collaborate and record for 4AD Records.
.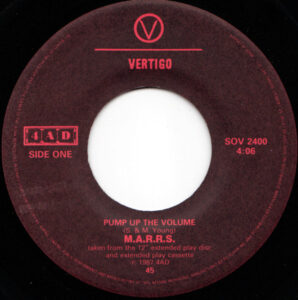 The collaboration between the two groups did not go entirely to plan. Once in the studio, the groups' different working methods and personalities failed to gel. Producer John Fryer found himself in the middle and unable to resolve the conflict. The result was that instead of working together, the groups ended up recording a track each, then exchanging them to the other for additional input. Colourbox came up with "Pump Up the Volume", a percussion-led near-instrumental, featuring an Eric B. & Rakim sample that gave it its title, while A.R. Kane created the more deliberately arty "Anitina (The First Time I See She Dance)" in another studio. Colourbox then added a heavy drum-machine rhythm and effects to "Anitina" and A.R. Kane overdubbed some additional guitar to "Pump Up the Volume."
The coup de grace, however, was the addition of scratch mix effects and samples by DJs Chris "C.J." Mackintosh and Dave Dorrell. Colourbox told Ivo Watts-Russell that they didn't want "Anitina" on the B-side and wanted "Pump Up the Volume" released solely as a Colourbox track. Ivo Watts-Russell overruled them, in part because of Young's notoriously slow work rate with the prospect of the track being held up for another 12 to 18 months, and released the track as M|A|R|R|S as originally planned. This led to the relationship with the band collapsing, and they never recorded for 4AD again.
"Pump Up The Volume" samples over a dozen songs. These include "Unity" by James Brown (1984), "Holy Ghost" by the Bark-Kays (1978), "Funkin' For Jamaica (NY)" by Tom Browne (1980), "Put The Needle To The Record" by Criminal Element Orchestra (1987), "I Know You Got Soul" by Erik B. and Rakim (1987), "Its Just Begun" by Jimmy Castor Bunch (1972), "Jungle Jazz" by Kool & The Gang (1975), "Pump That Base" by Original Concept (1986), "You're Gonna Get Yours (My 98 Oldsmobile)" by Public Enemy, "Here We Go" by Run-DMC and others.
"Pump Up The Volume" is an invitation to dance to the beat, to turn up the volume and feel the bass as you keep on dancing.
"Pump Up The Volume" peaked at #1 in Vancouver, San Francisco, New York City, Chicago, Hamilton (ON), Windsor (ON), #2 in San Jose (CA), #4 in Los Angeles, New Haven (CT), Sacramento (CA), and #5 in Lynn (MA).
Internationally, "Pump Up The Volume" peaked at #1 in Zimbabwe, Canada, the Netherlands, New Zealand and the UK, #2 in West Germany, #3 in Switzerland, #4 in Austria and Belgium, #5 in Ireland, #6 in Australia, Denmark and Spain, and #9 in France.
As one of the first big British-made house hits, "Pump Up the Volume" marked a turning point in the popularity of the genre. M|A|R|R|S never came close to recording again. A.R. Kane gave interviews to the music press in which they explained that while they were proud to have been part of M|A|R|R|S, it was not an experience that they were keen to repeat. They were particularly unhappy at having their contribution to "Pump Up the Volume" all but removed from the track. Colourbox attempted to carry on using the name M|A|R|R|S, but were not willing to pay the £100,000 that A.R. Kane wanted for full rights to the name, and the project remained a one-off. Colourbox disbanded soon afterward, leaving "Pump Up the Volume" as their last original work.
Since their collaboration with A.R. Kane, the members of Colourbox have been off the radar. The exception has been Martyn Young who did a bit of producing and record promotion. He most recently produced the Modern Talking album Take Me to the Trees in 2016. In 2014, Colourbox were the subject of an exhibition, Music of the Band (1982 – 1987), curated by Wolfgang Tillmans at his Between Bridges gallery in Berlin. Steven Young died in 2016.
A.R. Kane followed with their highly anticipated debut album, 69 (1988), which topped the independent charts and received rave critical reviews from the UK music press. Writing for Melody Maker, critic Simon Reynolds described 69 as "the outstanding record of '88." A.R Kane's next release was 1989's Love-Sick EP, followed later that year by their second studio album, "i", in which they engaged more overtly with pop, dance and electronic styles. The duo, dismissive of the wildly disparate attempts by journalists to categorize their unique sound, eventually began referring to their music as "dreampop"; the term was widely adopted by music critics thereafter. Like its predecessor, "i" was released to moderate sales figures and topped the independent charts.
Following the dissolution of A.R. Kane in 1994, after a final album, New Clear Child, Tambala made ambient and dub-based music with his sister Maggie under the alias Sufi. They released the 1995 album Life's Rising. Tambala serves as head of new media for Ministry of Sound. Ayuli appeared in Beautiful Noise, a documentary on the shoe-gazing music scene of the 1990s. In 2015, Tambala re-formed the band without Ayuli, brining on several new musicians, including his sister Maggie.
July 6, 2022
Ray McGinnis
References:
Matthew Strauss, "Steven Young of Colourbox and M/A/R/R/S Is Dead," Pitchfork, July 13, 2016.
"Colourbox Biography," Fedge.net.
Tim Pardon, "A love from outer space: dream-pop icons A.R. Kane interviewed," Factmag.com, November 13, 2012.
"Vancouver's Top 40 Hot Hits," CKLG 730 AM, Vancouver, BC, February 17, 1988.
For more song reviews visit the Countdown.