#457: Puppy Love by Barbara Lewis
Peak Month: April 1964
11 weeks on Vancouver's CFUN
Peak Position #6
Peak Position on Billboard Hot 100 ~ #38
YouTube.com: "Puppy Love"
Lyrics: "Puppy Love"
Barbara Ann Lewis was born in 1943 in Salem, Michigan, 31 miles west of Detroit. She began to write songs at the age of nine. As well she had learned to play harmonica, piano and guitar. Her bandleader father played the trumpet and her mother played the saxophone. And her cousin, Shelton Brooks, had written "Some Of These Days", a hit for Sophie Tucker in 1911. Brooks also composed the "Darktown Strutters' Ball" for The Original Dixieland Jazz Band in 1917. Despite the musical focus of her extended family, young Barbara Lewis only thought about nursing as a future career. However, in her teens she began to collaborate with Ann Arbor DJ Ollie McLaughlin. The DJ had "discovered" her after McLaughlin asked her father to have Barbara audition for him. Ollie McLaughlin had a radio show on WHRV in Ann Arbor called Ollie's Caravan. It had a fan base of over 10,000. He also had a small record label called Karen, named after one of his daughters. Her first single on Karen was one she wrote titled "My Heart Went Do Dat Da". It was recorded at the Chess Record studio in Chicago. It became a break-out hit in the Detroit area, and was picked up for national distribution on Atlantic. The song made the Top 20 subsequently in Colorado Springs (CO).

Her next single, "My Mama Told Me", was inspired by the 1961 Shirelles tune "Mama Said". Lewis wrote the song. However, it was a commercial flop.
Next, Barbara Lewis began to work on her debut album. Hello Stranger, consisted of twelve tracks all composed by Lewis. The title track became a big hit across the USA in June-July '63, peaking at #3 on the Billboard Hot 100, #7 in Vancouver (BC) and #8 in Montreal. "Hello Stranger" was inspired by working gigs with her dad in Detroit. Lewis later recalled that when she accompanied her dad to clubs, people would yell out "hey stranger," and "hello stranger, it's been a long time." Lewis wrote not only the melody, but also the parts for the backup group, the Dells (of "Oh What A Nite" fame), on the January 1963 recording back at the Chess studio in Chicago. The single was covered by the Capitols and Martha & the Vandellas among others in the next few years. Although the song was a big hit, Barbara Lewis only got a check for $500 from Atlantic Records.
Despite her national exposure from "Hello Stranger", her followup non-album single, "Straighten Up Your Heart" only got airplay in Canada in Hamilton (ON) at the end of summer in 1963. It got little attention in the USA.
For her subsequent release, Barbara Lewis returned to her debut album to offer another song she penned titled "Puppy Love".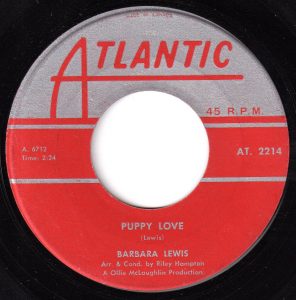 "Puppy Love" is a song about someone who mistakes being flattered – by someone who holds her in her, and calls her his "good luck charm" – for real lasting love. Puppy love is a term that relates to the object of a younger person's infatuation for someone years older, like a teacher, friend of the family, actor, or musician, about whom the younger person will spend their time daydreaming or fantasizing. In Barbara Lewis' "Puppy Love", we don't know that there is actually a huge age disparity. Only that the "love" between the two people seems to be more of a fantasy in the mind of the songs' narrator. Puppy love appeared in 1823 and connoted "an inexperienced or naive young person." In 1711, Jonathan Swift wrote in his Journal to Stella "Patrick the puppy put too much ink in my standish, and, carrying too many things together, I spilled it on my paper and floor." A standish is a synonym for inkstand. Over time puppy love became synonymous for a temporary romance between adolescents, born from a lack of emotional maturity and wisdom.
"Puppy Love" peaked at #1 in Tucson (AZ), #2 in Worcester (MA), Corpus Christi (TX), Tulsa (OK) and Hartford (CT), #3 in San Antonio, Columbus (OH) and Lansing (MI), #4 in Phoenix, Fort Worth (TX), Toledo (OH), Edmonton and Grande Prairie (AB), #5 in Dayton (OH) and Birmingham (AL), #6 in Vancouver (BC) and Louisville (KY), #7 in Boston and Providence (RI) and #9 in Fresno (CA).
In 1964, Barbara Lewis was taking a risk to write a song with the title "Puppy Love". It was only four years earlier, in 1960, that Paul Anka had a #2 hit with "Puppy Love". Anka had written the song for Annette Funicello when they were briefly dating. Some DJ's may have assumed Lewis' "Puppy Love" was a cover of the earlier Paul Anka tune, and not even spun her disc. In any event, less than half the states in the USA gave the single any serious attention. Consequently, "Puppy Love" stalled at #38 on the Billboard Hot 100.
The B-side to "Puppy Love" was a cover of the 1962 Joe Henderson R&B hit "Snap Your Fingers". In several radio markets the B-side was the chart hit.
Next she turned to other songwriters for her next several single releases. This included "Pushin' A Good Thing Too Far" written by Bob Crewe, Sandy Linzer and Denny Randell. Crewe produced the songs for the Four Seasons, and co-written "Silhouettes" for the Rays, "Big Girls Don't Cry", "Sherry", "Walk Like A Man", "Dawn (Go Away)", "Rag Doll" and others. He co-wrote "A Lover's Concerto" with Randell and Linzer for the Toys and "Let's Hang On" for the Four Seasons. Randell and Linzer co-wrote "Working My Way Back To You" and "Opus 17" for the Four Seasons and "Native New Yorker" for Odyssey, the latter a disco hit in 1977. But, these seasoned songwriters magic touched passed Barbara Lewis by, and the single failed to crack the Billboard Hot 100.
Next, Barbara Lewis released an album of cover tunes titled Barbara Lewis Sings The Great Soul Tunes. Included on the album were "It's Just A Matter Of Time", "What'd I Say", "Please, Please, Please" and "Twist And Shout".
It was left to a new 25-year-old songwriter named Van McCoy, who had penned a Top 50 hit for Ruby and the Romantics in 1964 titled "When You're Young And In Love" to get Barbara Lewis back on the radar for most radio listeners. In 1965 McCoy wrote "Baby, I'm Yours". The single climbed to #11 on the Billboard Hot 100, #5 on the Billboard R&B chart and #6 in Vancouver (BC). The accompanying album, Baby, I'm Yours, featured a white couple on the cover to increase record sales outside the black R&B record market. Van McCoy went on to have a number one hit in 1975 titled "The Hustle".
Her followup single, "Make Me Your Baby" was co-written by Helen Miller who had penned "It Hurts To Be In Love" for Gene Pitney. "Make Me Your Baby" matched Lewis' previous peak at #11 on the Billboard Hot 100 and again at #6 in Vancouver (BC). At the time, Barbara Lewis appeared on American Bandstand, Shindig! and other variety TV shows. She moved to New York City and performed at the Apollo Theatre in Harlem.
After her voice was heard across the radio airwaves in 1965, Barbara Lewis mostly fell off the radar. She managed a Top 20 hit in Vancouver (BC) in 1966 titled "Make Me Belong To You". Her recording of "Don't Forget About Me" written by Carole King and Gerry Goffin stalled at #91 on the Billboard Hot 100. Her final nine single releases failed to catch on and didn't crack the Hot 100. Her record contract with Atlantic expired in 1969 and was not renewed. She released her sixth and final album in 1970 with Enterprise Records titled The Many Grooves Of Barbara Lewis. The label was a subsidiary of Stax Records. Through her recording journey, Ollie McLaughlin remained her producer.
In 1971 country-pop singer Jody Miller did a cover of "Baby, I'm Yours" which climbed into the Top 5 of the Billboard Country chart. And in 1972 Cass Elliott made a cover of the song and it charted into the Top 20 of the Adult Contemporary survey in Canada. Other versions of "Baby, I'm Yours" were recorded by Debby Boone, Tanya Tucker, Petula Clark, Cilla Black, Phoebe Snow, Maureen McGovern, Bobby Vee and Bobby Vinton. In 1990 by Cher recorded the song for the film Mermaids. In 1995 Barbara Lewis' original version of the song appeared in the film The Bridges of Madison County. And in 2017 "Baby, I'm Yours" was performed by Moira and a choir in the sitcom Schitt's Creek.
A final Barbara Lewis single was released in 1973 titled "Rock And Roll Lullaby" written by Cynthia Weil and Barry Mann. Her cover of the BJ Thomas hit from 1972 failed to chart. But before the single was released she quit the record industry, got a divorce and moved from New York City back to Michigan. Lewis later commented, "leaving New York, I suddenly felt a freedom I had never experienced before. I'd been raised in a sheltered environment. I didn't have the normal life of a teenager because of the success of the records. Then I got married and basically, I did my whole life without getting to know me. Plus, I was tired of singing." Barbara Lewis wanted to live a normal life. She got a job at a jewelry store and didn't tell her fellow employees that she had been a recording star.
Lewis had dropped out of public view for years after her career slowed in the 1960s. It was only after Yvonne Elliman had a Top 20 hit in 1977 with "Hello Stranger" that she was tracked down by Casey Kasem for his American Top 40 show on June 4th, 1977. According to Casey nobody knew where she ended up. Even Lewis' agent didn't know how to send her royalty checks for the Elliman cover of "Hello Stranger". According to Kasem she was hoping to be rediscovered in Michigan when he got in touch with her.
In 1993 Lewis tried her hand at performing again, as a side gig to her 9-to-5 job. She appeared in a number of doo-wop revival and oldies shows in Michigan, Virginia and down the Eastern Seaboard.
In 2016 Barbara Lewis' "Hello Stranger" was part of the soundtrack for the Academy Award winning Best Picture Moonlight. Also in 2016, Barbara Lewis was inducted into the Michigan Rock and Roll Legends Hall of Fame. In March 2017, Barbara Lewis had a farewell performance at the Savannah Center in The Villages, Florida. She was 74 years old. On hand at the farewell were Brian Hyland, the Tokens and La La Brooks of the Crystals.
April 24, 2020
Ray McGinnis
References:
"Barbara Lewis – Inductee," Michigan Rock and Roll Legends.com.
"Rocky and the Rollers put on spirited sendoff for singer Barbara Lewis," Villages-News, Sumter County, FL, April 1, 2017.
Chance B., "Barbara Lewis Story," Chancellor of Soul, YouTube.com, April 28, 2018.
"C-FUNTASTIC FIFTY," CFUN 1410 AM, Vancouver, BC, April 4, 1964.
For more song reviews visit the Countdown.