#1023: The Pushbike Song by The Mixtures
Peak Month: April 1971
8 weeks on Vancouver's CKVN chart
Peak Position #8
Peak Position on Billboard Hot 100 ~ #44
YouTube.com: "The Pushbike Song"
Lyrics: "The Pushbike Song"
Australian musicians Terry Dean and Rod De Clerk met in Tasmania in 1965. They then met Laurie Arthur, a member of The Strangers, and the three decided to form a band together after a jam session. They quickly signed to EMI that same year and released three singles, including "Music, Music, Music", a cover of the old Teresa Brewer hit from 1950. They went through several line-up changes over the following few years, then signed to CBS Records in 1969. Among those to join the band were the brothers Idris and Evan Jones who had been with the Gingerbread Men, an Australian pop group who had a Top 20 cover of "Let The Little Girl Dance" in 1965.

Rod DeClerk played bass guitar, and was replaced in 1967 by Mick Flynn. Laurie Arthur played guitar, John Creech played drums, Dennis Garcia played the organ and Fred Wieland played lead guitar. By 1970 all the original band members had departed. The Mixtures changed their record contract to Fable Records in 1970. The Mixtures recorded a cover of "In the Summertime", which had been a big hit in 1970 for Mungo Jerry. That original single had been banned during a time in 1970 when many Australian radio stations refused to play Australian and British music released by major labels. Consequently, The Mixtures version recorded on their small record label received much more airplay than had initially been expected. The Mixtures version went to #1 in Australia for six weeks.
By the start of 1971 the Mixtures comprised of Idris Jones on vocals, Gary Howard on drums, Greg Cook on guitar and vocals and Mick Flinn on bass. Their next record was "The Pushbike Song".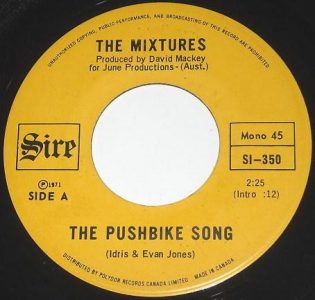 The Pushbike Song" is a song originally recorded by Australian band the Mixtures and released in 1970. Written by bandmates and brothers Idris and Evan Jones, "The Pushbike Song" was released in 1970. A music video was created for the song in 1970, which depicted the band and friends riding bicycles through the streets of Melbourne. Filmed in black and white, it was notable for scenes involving a procession of bicycles (including a penny farthing) and rollerskaters on a busy six-lane Melbourne arterial road, and a scene of four members of the band 'riding' a tandem bicycle atop a car transporter travelling at speed across a bridge.
"The Pushbike Song" concerns a guy riding on his pushbike who notices someone pretty riding ahead of him. He tries to catch up to her, but she is peddling very fast and gets out of view. He determines to peddle even harder: Round round wheels going,
round round round. Down up Pedals going, down up down. The song ends happily as listeners to the tune learn that the guy and his gal are now riding on a bicycle built for two. "The Pushbike Song" reached the top-spot for two weeks in the Australian charts in March 1971. It also proved popular in the UK, peaking at #2 in mid-January 1971, kept off the top spot by "My Sweet Lord" by George Harrison. In Vancouver "The Pushbike Song" peaked at #8.
The next single, "Henry Ford", climbed into the Top 30 in Sydney. A subsequent single, "Captain Zero", climbed to #5 in Melbourne in 1971 and was their last hit. The band underwent a series of changes in line-up and appeared from time to tom win concert over the following years. In 1978 the Mixtures went to make a new record in Perth and also prepare for a new tour. Tragically, the band's bass player, Chris Spooner, died in a fishing accident at Trigg Beach. The Mixtures broke up in early 1979.
August 25, 2017
Ray McGinnis
References:
Let The Little Girl Dance, Pop Archives.com.au
The Pushbike Song, Pop Archives.com.au
New Seekers Mick Flynn, The Lyn Paul website.org
The Mixtures, Wikipedia.org.
"Your Average Rock and Roll Radio Survey," CKVN 1410 AM, Vancouver, BC, April 16, 1971.
For more song reviews visit the Countdown.