#865: I Put A Spell On You by Creedence Clearwater Revival
Peak Month: December 1968
7 weeks on Vancouver's CKLG chart
Peak Position #8
Peak Position on Billboard Hot 100 ~ #58
1 week Hitbound
YouTube.com: "I Put A Spell On You"
"I Put A Spell On You" lyrics
In 1959 John Fogerty, Stu Cook and Doug Clifford formed a trio named the Blue Velvets. Based in El Cerrito, California, just north of Berkeley, they were joined in 1960 by John's brother, Tom, who had been in a band called The Playboys. The Blue Velvets were influenced by Little Richard and other rock 'n roll greats. They played a number of hits on the radio and their cover of Bobby Freeman's "Do You Want To Dance," was an audience favorite. In 1964 the Blue Velvets changed their name to the Golliwogs. They had a Top Ten hit called "Brown Eyed Girl" in San Jose (#7), Fresno (#3) and Miami (#8) in the winter of 1965-66. It was a blues infused tune, but not the same-titled song that Van Morrison would take up the charts the following year.
In 1966 John Fogerty was drafted into the U.S. Army reserves and was stationed in Fort Bragg, NC, and then in Fort Knox, KY, and finally Fort Lee, VA. Meanwhile, Doug Clifford went into the United States Coast Guard Reserve. Fogerty and Clifford finished their respective service in 'Reserves in 1967. And in 1967 the Golliwogs changed their name to Creedence Clearwater Revival. This was because Saul Zaentz bought Fantasy Records and offered the Golliwogs a chance to record a studio album provided that they change their name.
The band chose the name to Creedence Clearwater Revival based on several different influences. Creedence was named after a friend of Tom Fogerty's named Credence Nuball. The first name, with its connotations of faith and trust, appealed to the group. They all knew what it meant to give credence to something that you accept or trust is true. Clearwater also had several meanings. It came initially from a beer commercial. However, clearwater also connected with the emerging environmental movement and its back-to-the-land sentiment, a sentiment that was expressed in the Woodstock Festival and Joni Mitchell's urgent message: "we've got to get ourselves back to the garden." The word, revival, reflected the band's intention to switch up their performance and recordings to a new level.
Doug Clifford was born in Palo Alto, California, and learned to play drums in his teens. Tom and John Fogerty were born in Berkeley, but raised in El Cerrito. Guitarist, Stu Cook, was also raised in the Bay Area. Their self-titled debut album was released in the summer of 1968. It included a cover of the Dale Hawkins classic from 1957, "Susie Q". Creedence Clearwater Revival recorded an eight minute version of the song and pitched it to the progressive FM station, KMPX, in San Francisco. The station began to play it prior to the release of the album which created a buzz for CCR all over the Bay Area. They also put a "z"in Suzie, perhaps to designate the artistic uniqueness of their cover of Dale Hawkins rock 'n roll classic. CCR's cover made it to #11 on the Billboard Hot 100 and #1 in Vancouver. It may be that CCR were thumbing through the "H" section of rock n' roll singers when they decided to cover another song by a singer with the surname of Hawkins. Another track of their debut album was "I Put A Spell On You."
"I Put A Spell On You" is a song written by R&B recording artist Screamin' Jay Hawkins. Hawkins was adopted at an orphanage by a Blackfoot family near Cleveland, Ohio. He had an ear for music and also was a boxer by the age of 14. He enlisted in the U.S. Army by lying about his age. After the war he returned to boxing. But he got hired as a vocalist with Tiny Grimes R&B band. Grimes had played with Charlie Parker and accompanied Billie Holliday on a number of recordings. Grimes band, the Rockin' Highlanders, played a number that was a jazzed up version of "Loch Lommond." They had a gimmick which was to dress in kilts. Hawkins liked the theatrics of this and it inspired him when he became a solo act. He first moved on to be a member of Fats Domino's band.
Hawkins had recorded the song for a Grand Records in 1955 as a blues ballad. The single was a commercial failure. But Okeh Records liked the song and arranged a studio session to make a new recording of "I Put A Spell On You". Hawkins recalls the producer "brought in ribs and chicken and got everybody drunk, and we came out with this weird version … I don't even remember making the record. Before, I was just a normal blues singer. I was just Jay Hawkins. It all sort of just fell in place. I found out I could do more destroying a song and screaming it to death." Indeed, the producer had brought in bottles of Italian Swiss Colony muscatel. As the band got more and more drunk, the engineer kept running the tape as Hawkins band sang more and more outlandish versions of the song. It was no longer a blues ballad about a lover who couldn't remain faithful, but a spooky tune with voodoo overtones. Screamin' Jay Hawkins had become the witch doctor of rock 'n roll. Though the song climbed to #22 on WJJD in Chicago in most record markets the song was banned. It was judged to be too carnal with Hawkins grunts and wails.
Fortunately for Hawkins, influential DJ and rock 'n roll promoter, Alan Freed put Hawkins in the lineup of his popular "Rock 'N' Roll Review" stage shows. Hawkins already had a wild act that included chattering teeth and battery-powered crawling hand. Joe McGasko, in a review on Biography.com, describes Hawkins on-stage act: "With a machine spewing smoke and flash powder caps creating onstage lightning, Hawkins would be rolled onto the stage and emerge from the coffin, tossing firecrackers from his pockets and looking menacingly at the audience." Hawkins put a bone through his nose and even had a cigarette-smoking skull named Henry at the top of a walking stick. Screamin' Jay Hawkins was the forerunner of shock rock, and in 1956 his "horror" overtones onstage sent some teenagers screaming for the theatre exits. This was not the kind of act you saw on the Steve Allen Show or the Ed Sullivan Show. Eventually, Hawkins single sold over a million records despite being banned from the airwaves on most radio stations in America. Hawkins demented onstage act was an example of what was contributing to juvenile delinquency in the mid-50s. The son of country singer, Hank Snow, the Rev Jimmy Snow, railed against rock 'n roll as an evil menace.
In 1966 Alan Price, the former organist with The Animals who played the classic organ riffs for "House Of The Risin' Sun" formed the Alan Price Set. He recorded "I Put A Spell On You" which climbed into the Top Ten in the UK and #9 in Vancouver.
In 1968, Creedence Clearwater Revival chose to revive "I Put A Spell On You" and released it as their third single off their debut album. During this time both John Fogerty and Doug Clifford still had to go to U.S. Army Reserve camp one weekend a month. This kept the band from planning more ambitious concert tours in 1968.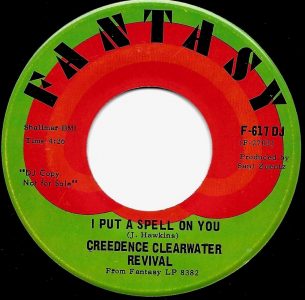 "I Put A Spell On You" best chart peaks were at #3 in San Francisco, #8 in Vancouver, #9 in Sarasota, Florida, and #11 in St. Louis. In the song there is a lover who has been fooling around with other love interests. The singer is going to put a spell on their partner, hypnotizing them so that they'll focus their attention on them, and them alone.
It was their next album that put Creedence Clearwater Revival on a path of almost constant success. They hit #2 in February 1969 in Vancouver (BC) and in March on the Billboard Hot 100 with "Proud Mary". Just after "Bad Moon Rising"/"Lodi" had spent 5 weeks in the Top Ten of the CKLG Boss 30 in May-June, the band appeared in concert in Vancouver (BC) on July 13, 1969, at the Agrodome.
"Fortunate Son" was a song protesting the hypocrisy involved in the draft. In his autobiography, Fortunate Son: My Life, My Music, John Fogerty recalls, "You'd hear about the son of this senator or that congressman who was given a deferment from the military or a choice position in the military. They seemed privileged and whether they liked it or not, these people were symbolic in the sense that they weren't being touched by what their parents were doing. They weren't being affected like the rest of us." The flip side of "Fortunate Song" was "Down On The Corner", which also went to #1 in Vancouver.
They charted one single after another into the Top Ten. Many of their singles were double-sided hits. Of the 19 songs that charted on the Vancouver pop charts between September 1968 and May 1972, CCR charted 18 into the Top Ten and 17 of these into the top three positions. Nine of the songs made it to #1. Some of these #1 hits in Vancouver include "Run Through The Jungle" with its commentary about the proliferation of guns in America, "200 million guns are loading, Satan cries 'take aim.'" It's flip-side, "Up Around The Bend", also made it to #1.
Dissension between bandmates led to the demise of Creedence Clearwater Revival. Tom was not getting along with his brother, John. Tom left the band in 1971. Stu and Doug quit in 1972 after the band released the album, Mardi Gras, that critics panned.
Tom moved to Arizona and from a blood transfusion contracted HIV in 1986 and died in 1990. Doug Clifford played drums on 14 albums between 1972 and 2008, including for Tom Fogerty, Sir Douglas Quintet and Steve Miller Band. Stu Cook, along with Doug Clifford, joined a roots band named the Don Harrison Band. In 1995 Cook and Clifford formed Creedence Clearwater Revisited, along with three other musicians.
John Fogerty wrote many of CCR's songs, including "Proud Mary", Bad Moon Rising" and "Green River". After Creedence Clearwater Revival split up in 1972 John Fogerty pursued a solo career. His cover of "Jambalaya (On The Bayou)" climbed into the Top 20 across the USA and in Vancouver in 1972. Fogerty had a Top Ten single in 1984 titled "The Old Man Down The Road." At this time of writing John Fogerty had over a dozen concert dates in Las Vegas this coming May and October, 2018..
March 7, 2018
Ray McGinnis
References:
Creedence Clearwater Revival Bio, Creedence Online.net
Michael LeBlanc, Contemporary Musicians: Profiles of the People in Music, Volume 8. (Gale Books, Farmington Hills, Michigan, 1992), 117.
Joe McGasko, "The Freaky Theatrics of Screamin' Jay Hawkins: Does He Put a Spell on You?" Biography.com, October 26, 2014.
Rev. Jimmy Snow, Rock 'n' Roll a Contributing Factor to Juvenile Delinquency, Evangel Temple, Nashville, TN, 1957.
John Fogerty, Fortunate Son: My Life, My Music, (Little Brown and Company, 2015).
John Fogerty tour dates.
Hank Bordowitz, Bad Moon Rising: The Unauthorized History of Creedence Clearwater Revival, (Chicago Review Press, 2007).
Thomas M Kitts, Finding Fogerty: Interdisciplinary Readings of John Fogerty and Creedence Clearwater Revival, (Lexington Books, 2012).
Dorian Lynsky, " John Fogerty: 'I had rules. I wasn't embarrassed that I was ambitious'," Guardian, May 29, 2013.
Bob Baker, "Their Son was Fogerty's Baby," Los Angeles Times, October 23, 2002.
Cydney Henderson, "John Fogerty 'troubled' by President Trump's use of 'Fortunate Son,' issues cease and desist," MSN.com, October 17, 2020.
"Boss 30," CKLG 730 AM, Vancouver, BC, December 13, 1968.
For more song reviews visit the Countdown.