#1247: Put Your Arms Around Me Honey by Ray Smith
Peak Month: May 1960
10 weeks on Vancouver's CFUN chart
Peak Position #15
Peak Position on Billboard Hot 100 ~ #91
YouTube.com: "Put Your Arms Around Me Honey"
Lyrics: "Put Your Arms Around Me Honey"
Ray Smith was born in 1934 in the hamlet of Melber, Kentucky, thirteen miles from the town of Paducah where the Ohio River and the Tennessee River meet. Smith was the seventh son of a sharecropper who, in turn, was also the seventh son in Smith's grandfather's family. His dad later worked at the atomic bomb plant in Paducah. Smith left his home at the age of twelve. He worked as a gopher on a Coca-Cola Truck and then operated an oven at Kirchoff's Bread plant in Paducah. As he grew up Ray Smith worked as a curb hop at Price's Barbecue at 34th and Broadway where he would serve U.S. (KY) Senator Alben W. Barkley, who later became President Harry Truman's Vice-President. Next he worked as a sole back tacker and tack machine operator at the International Shoe Company. Smith was in basic training in 1952 after joining the US Air Force at Sampson Air Force Base in Syracuse, New York. He sang the Hank Williams song "Lovesick Blues", at his sergeant's command, while in his shorts and shower clogs. His rendition got him entered in the army base's talent show where he won first prize. From that day on he took an interest in music. He taught himself to play harmonica, guitar and piano.
Smith was transferred to George Air Force Base in Victorville, California. In the nearby town of Barstow he I got his my first paying gig on Friday and Saturday nights at a performer at Nora's Desert Inn. He was paid $12.50 a night. In 1956 Smith formed Ray Smith and the Rock and Roll Boys with Smith playing bass and rhythm guitar. They did one night concerts and travelled across the lower 48 states. Ray Smith also got a TV show for two and one half years on WPSD, channel six, in Paducah, KY. It was called The Ray Smith Show. The sponsor of the show was Beardsley Chevrolet based in Bardwell, Kentucky, thirty miles southwest of Paducah.
As a result of this exposure, before Smith turned 20 years old, he recorded his first single in 1958 on Sun Record. The single was called "So Young". With its release Ray Smith appeared on the Dick Clark Show at the Little Theatre in New York City. His appearance resulted in offers to guest star on other TV shows including American Bandstand. Smith also got signed to a month-long contract with Channel seven in Evansville, Indiana, to host his own show on Saturday afternoons for one month. Smith also got radio appearances with DJs in Toronto, Hamilton, Ottawa and Peterborough, Ontario. His debut single charted in Vancouver peaking at #5. His second single on Sun Records, "Rockin Bandit" didn't chart.
Smith's third single ended up being a double-sided hit in Vancouver on the Judd label. The A-side was "That's All Right" that peaked at #4 on CFUN. As the single started to descend down the record survey the B-side, "Rockin' Little Angel" took off on the C-FUN Hi-Fi 40 peaking at #15. "Put Your Arms Around Me Honey" was Smiths' fourth single release and third single on the Vancouver pop charts. The song is about exactly what the song title suggests, and factors that make a guy ask a girl to put her arms around him.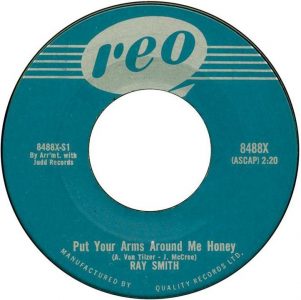 "Put Your Arms Around Me Honey" peaked at #15 on CFUN spending ten weeks on the local charts. It peaked at #91 on the Billboard Hot 100. The only other radio markets where the song cracked the Top 40 were Morristown, Tennessee (#8), Topeka, Kansas, (#19), and Pensacola, Florida (#24).
"Put Your Arms Around Me Honey" is #1 song from 1911 by Arthur Collins and Byron Harlan. Back in the 1911 music sales in America were determined by sheet music sales and phonograph record sales as reported by record labels, columns by Jim Walsh in Hobbies Magazine, Variety Music Cavalcade, Variety Magazine (which began weekly publications in 1905), Billboard Magazine (starting in 1901) and more recently summarized in books like The Complete Encyclopedia of Popular Music by Roger Kinkle, All The Years of American Popular Music by David Ewen and the Directory of Popular Music by Leslie Howe which provided month-by-month lists of significant songs from January 1900 onward. "Put Your Arms Around Me Honey" was co-written by Junie McCree and Albert von Tilzer for the 1910 Broadway show Madame Sherry.
At the turn of the last century, the theatre going public took a liking to French farces, so Broadway producers scrutinized Paris for plays they could adapt into their next musical sensation. American audiences had always enjoyed the risqué favor of anything French. A musical librettist job was to adapt these plays with an eye to American tastes and keep as much of the risqueness allowed under the standards of the time. For 1910 audiences Madame Sherry hit all the right notes. The original musical was by Otto Harbach and Karl Hoschna. The original first mounted on Broadway in 1904 didn't include "Put Your Arms Around Me Honey". But an adaptation of the musical by Woods, Frazee and Lederer included the McCree/Von Tilzer tune. Albert Von Tilzer wrote many songs on Broadway, including "Take Me Out To The Ballgame" from 1908 and "I'll Be With You In Apple Blossom Time" from 1920. "Put Your Arms Around Me Honey" was later featured in the 1949 Hollywood film In The Good Old Summertime and sung by Judy Garland.
In addition to the lyrics Ray Smith recorded in 1960, the original lyrics also included these verses:
Music am a-playin' such a "Loving Glide"
that my feet keep a moving to and fro.
And with you a-swayin', I'll be satisfied
to dance until we hear the roosters crow.
I love seven 'leven, I love chicken too,
nearest thing to heaven is to be with you,
for I'm spoony, moony, loony, but my love is true.
Nightime am a-fallin', everything is still,
and the moon am a-shinin' from above.
Cupid am a-callin' every Jack and Jill,
it's just about the tme for makin' love.
Someone is a-waitin' all alone for me,
no more hesitatin', I must go and see.
How d'ye do, Dear? It's with you, Dear,
that I long to be…
After recording with the Sun and Judd labels, Ray Smith went on to record for a string of record companies between 1962 and 1966: Infinity, Vee Jay, Warner Brothers, Smash, Tollie, Celebrity Circle, Diamond. He continued to tour and recorded songs like the boogie-woogie tune "Room Full of Roses" in 1978 that became a hit in Europe. By the 70s Ray Smith had moved from the USA to Ontario, Canada. When he practiced at home he was playing a piano he won from Ronnie Hawkins on a coin toss for free. Smith was as good on the piano as Jerry Lee Lewis and seemed to be in line for solid touring with a revival of interest in late 50s and early 60s rock 'n roll. Sadly Ray Smith died by suicide in November 1979.
December 21, 2016
Ray McGinnis
References:
"Narvel Felts Reflects on Ray Smith," Rockabilly Hall of Fame.com
"Ray Smith bio," Rockabilly.nl
"Ray Smith," Discogs.com.
"Hi-Fi Forty," CFUN 1410 AM, Vancouver, BC, May 14, 1960
For more song reviews visit the Countdown.