#768: Queen Of The Angels by Deane Hawley
Peak Month: July 1962
12 weeks on Vancouver's CFUN chart
Peak Position #9
CFUN Twin Pick May 26, 1962
Peak Position on Billboard Hot 100 ~ did not chart
YouTube.com: "Queen Of The Angels"
William Deane Hawley was born in Staten Island, New York, on December 18, 1937. He moved to California at the age of three. He attended USC and got a Masters in Human Behavior while also recording pop singles and appearing on several TV music shows. He recorded his first song in 1958, credited to Deane Hawley and The Crystals on the Valor label. He worked with a number of songwriters including Dorsey Burnette ("Bossman") and Sharon Sheeley ("Don't Dress the World in Black") and Ben Wiseman and Fred Wise ("Pocket Full of Rainbows").
Lou Adler was born in Chicago in 1933 and raised in Los Angeles. He became a record producer and managed various pop groups including Jan & Dean, Sam Cooke, The Mamas & The Papas, The Grass Roots, Carole King, and Cheech and Chong. Adler and Herb Alpert took on Deane Hawley as a prospective teen idol. Hawley had good looks and was in the middle of his studies at university. In the summer of 1959, when he was still 21, Hawley had a regional hit in San Bernardino titled "New Fad". The song was his first single on the Dore label. The song listed emerging hitmakers in the early rock 'n roll era: Elvis Presley, Jerry Lee Lewis, Ricky Nelson, The Everly Brothers, Frankie Avalon, Ed "Kookie" Byrnes, Fabian and Bobby Darin. Each of these teen idols are, successively, the new fads of the girlfriend in the song. The song was co-written by Alpert and Adler.
Hawley's third single release on the Dore label, "Where Is My Angel", was a Top Ten hit in Boston in early 1960. Hawley released a number of singles starting in 1960 including "I'll Never Be A Fool Again" which was a teen rock tune. He also did a rock n' roll cover of Rosemary Clooney's #1 hit from 1954, "Hey There", which for Hawley was a flop that missed the pop charts.
Hawley's biggest success was his recording of "Look For A Star" while he was a student at University of Southern California. The songwriting credits were to Mark Anthony, a pseudonym for Tony Hatch. Hatch went on to produce and write scripts for over a dozen TV shows in the UK. He also wrote numerous pop hits. These include "Forget Him" for Bobby Rydell. Hatch was especially prolific teaming up with Petula Clark. Among the hits he penned for her are "Downtown", Call Me", Colour My World", "Don't Sleep In The Subway", "I Know A Place", "My Love", "The Other Man's Grass Is Always Greener", "Round Every Corner" and "I Couldn't Live Without Your Love".
"Look For A Star" was from the 1960 horror movie Circus of Horrors. The British film was about a plastic surgeon wanted by the cops after an operation goes terribly wrong. The doctor ends up escaping the UK to join a circus in Europe that he ends up running after a freak accident takes the life of the circus owner. Though he befriends deformed women who he performs surgery on to make them beautiful for the circus' Temple of Beauty, the plot turns and viewers learn again that crime does not pay. In the movie the song is sung as background to the first glimpse of the circus on display. A spinning acrobat performs on a rope suspended from above and a sad faced clown watches from an opening in a stage curtain while the song is sung.
Gary Mills, Gary Miles, Nicky Como and Billy Vaughn also recorded "Look For a Star". This caused all five recordings to compete for radio stations that variously chose to feature only one or two of the recordings on their playlist. Dean Hawley's version of "Look For A Star" made it to #29 on the Billboard charts, while the version by Gary Miles peaked at #16. While on Cashbox all versions peaked together at #13, and at #11 in Vancouver. While "Look For A Star" climbed the charts Hawley appeared on the July 9, 1960, edition of Dick Clark's Saturday Night Beechnut Show. Other performers on that telecast were the Everly Brothers singing "Cathy's Clown" and Jeanne Black singing "He'll Have to Stay". The show, which lasted weekly from February 15, 1958 to September 10, 1960, was sponsored by Beechnut Gum.
After six single releases in 1959-60, with little success, Deane Hawley left Dore. He got a contract with Liberty Records. His first release, "A Pocket Full of Rainbows", made #93 on the Billboard Hot 100 and #26 in Vancouver's CFUN in September 1961. His second single with Liberty was "Queen Of The Angels".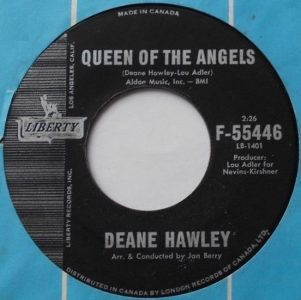 I will pray to the queen of the angels,
so that she may give me the right to love an angel like you.
If I could talk to the queen of the angels,
then I'd prove that I'm worthy tonight to love an angel like you.
I'd say, queen of angels, although I'm just a common man,
I love my little angel and I come to you for her hand.
So bless our love if you will, queen of angels,
and our love will last until time is through,
and will be grateful to you.
"Queen of the Angels" was recorded at a studio on Sunset Boulevard in Hollywood. Jan Barry, of Jan & Dean, was the songs arranger. The song is a teen pop ballad where the singer prays to the queen of the angels so that he might be granted the right "to have an angel like you." Though he is just a "common man" he comes to the queen of the angels to ask for the hand of the angel he loves. When Hawley sings "bless our love," at about 1:29 of the song, he hits such a high falsetto note listeners either loved or loathed his effort. Apparently, with his high note, Hawley sought to evoke heavenly realms with his high pitched vocals which reappear at the conclusion of the song. The recording was Jan Berry's first attempt at introducing orchestration in a record.
Hawley's last charting song on the Vancouver pop charts, "Queen of the Angels," was one of a number of angel related songs featured on the pop charts in the early rock n' roll era. Among angel referencing songs were "Teen Angel" by Mark Dinning, "Devil or Angel" by Bobby Vee, "Pretty Little Angel Eyes" by Curtis Lee, "Angel Baby" by Rosie & The Originals, "Flying Blue Angels" by The Pilots and "Johnny Angel" by Shelley Fabares. "Queen Of The Angels" peaked at #9 in Vancouver and #5 in Boston.
Despite Hawley's connections with people in the music business, he failed to chart "Queen of the Angels" in the Los Angeles and New York pop radio markets. He later recorded "Love of the Common People", which became a hit for Wayne Newton in 1968.
Hawley switched labels again and in 1964 endured another commercial failure with a single release on Warner Brothers. He tried once again on Sundown Records in 1969, releasing two singles with no success. According to his obituary, Deane Hawley "enjoyed a long career with Syntex Pharmaceuticals who financed his continuing education." Hawley died over Christmas, 2002, from pancreatic cancer. He had just recently celebrated his 55th birthday.
July 12, 2018
Ray McGinnis
References:
The Brief Music Career of Dean Hawley, Mental Itch.com
Deane Hawley Obituary, San Diego Tribune, San Diego, January 8, 2003.
Deane Hawley, "New Fad," 1959 ~written by Herb Alpert and Lou Adler
Sidney Hayers, Circus of Horrors, American International Pictures, 1960
Tony Hatch profile, Songwriters Hall of Fame.
"C-FUNTASTC FIFTY," CFUN 1410 AM, Vancouver, BC, July 14, 1962.
For more song reviews visit the Countdown.