#1212: Rainbows, Pots of Gold & Moonbeams by Studebaker Hawk
Peak Month: September 1975
8 weeks on Vancouver's CKLG chart
Peak Position #15
Peak Position on Billboard Hot 100 ~ did not chart
YouTube.com: "Rainbows, Pots of Gold, And Moonbeams"
In 1969 a Canadian band named Motherlode had a Top Ten hit called "When I Die." Although Canada's RPM Magazine named them Canada's first Supergroup, Motherlode disbanded in 1970. However, it was revived and was briefly fronted by Francophone bass player Breen Lebouf, born in North Bay, Ontario. Later in 1970 he went on to form a group called Southcote together with Lance Wright on drums and Joe Ress on keyboards with guitarist Charlie White. After three years of little success, Southcote split. Out of the ashes LeBouf, Wright and Ress got a new guitarist named Steve Cooley and formed Studebaker Hawk. In 1975 they released a single called "Rainbows, Pots of Gold and Moonbeams" written by Cooley.

The band's name came from an epic song by Frank Zappa and the Mothers' of Invention called "Billy the Mountain". The song was as long as 47 minutes long when performed live on tour. The song is an intricate and absurd story in a parody of the rock opera style about a talking mountain named Billy and his "lovely wife, Ethel," "a tree growing off of his shoulder." The lyrics are a satirical myriad of pop culture imagery, the city of Los Angeles, the demise of urban America, and overall absurd juxtapositions of situations. While many of the details were improvised as the song was performed from town to town, the general structure of the song remained the same. A hero in the song is named Studebacher Hoch, and the Canadian bandmates liked the story Zappa told so well they adapted a phonetic version of the hero of the tale and named themselves Studebaker Hawk.
In Zappa's story Studebacher Hoch is was a superhero who can save America. Some said Studebacher Hoch was "born next to the frozen beef pies at boney's market," "underneath Joni Mitchell's autographed picture" while others said the mysterious Studebacher Hock was "just a crazy italian who drove a red car." Some people thought he could fly, others said he could swim and some thought Studebacher Hoch could sing like Neil Sedaka. In Zappas riff on Studebacher Hoch, the main influence on this superhero is "the influence of a frozen beef pie."Although the trippy lyrics in Frank Zappa's song were psychedelic and absurd, the song the band, Studebaker Hawk, released in 1975 was the adult contemporary middle-of-the-road single "Rainbows, Pots of Gold and Moonbeams".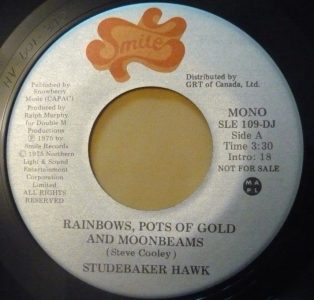 Hey have you ever heard the story,
about the man who chases dreams.
It's an old fashioned favorite we all know,
all about the high class way to go.
Have you ever been to Hollywood?
They say the streets are paved with gold.
See the star-spangled lady in her show,
showing us the high class way to go.
Rainbows, pots of gold and moonbeams,
champagne, fancy clothes and limousines,
Whatcha gonna do when you find love has passed you by
and the pots of gold and rainbows lie empty in your dreams?
We have seen the sad sad story
Only love can set us free….
The song was a wistful tune about making it big in Hollywood, dreaming about living the high life, but finding your dreams never came true. It was a minor hit across Canada and only climbed to #80 on the Canadian RPM singles chart. In Vancouver the song spent two months on the CKLG chart peaking at #15. Concurrently, the Smile label released another one of the band's songs called "Lazy Love". But since the song was a sunshine pop tune, Smile decided to name the recording artists as the New City Jam Band.
LeBouf, Cooley, Ress and Wright toured for awhile under both names and then broke up in 1976. Wright and Ress joined the group Shooter who had a hit called "I Can Dance (Long Tall Glasses)". Breen Lebouf joined several Canadian bands, Brutus and Offenbach, before moving on in 1990 as a member of April Wine. In 2017, it was reported that Breen was a member of a new group named JerryCo Band, with Jerry Mercer of April Wine.
January 20, 2017
Ray McGinnis
References:
Larry Douglas, Breen LeBoeuf, Jaimie Vernon, Studebaker Hawk, Canadian Bands.com
Motherlode past band members, Wikipedia.org
Frank Zappa, "Billy The Mountain," lyrics
Shooter, "I Can Dance (Long Tall Glasses)," 1976
Ron Roxtar, April Wine Veteran, Jerry Mercer Fronts New Supergroup, JerryCo Band!, Curtains Up.TV, October 1, 2017.
"CKLG 'Thirty'," CKLG 730 AM, Vancouver, BC, September 30, 1975.
For more song reviews visit the Countdown.