#284: Rasputin by Boney M.
Peak Month: April 1979
9 weeks on Vancouver's CKLG chart
Peak Position #3
Peak Position on Billboard Hot 100 ~ did not chart
YouTube.com: "Rasputin"
Lyrics: "Rasputin"
Franz Reuther was born in 1941 in Kirn, Germany, in the Rheinland-Pfalz region bordering France. After graduating from school, he began to work as a cook. But in 1967 he released a single credited to Frank Farian. In 1974 he wrote a song titled "Baby Do You Wanna Bump". In 1975 the single was released under the pseudonym Boney M. He got Marcia Barrett and Liz Mitchell to sing vocals for the debut Boney M. album. Barrett was born in Saint Catherine Parish in Jamaica in 1948. She moved to England in 1963 with her parents. In the late 60s, Barrett moved to West Germany and sang with Czechoslovakian singer Karel Gott who was known as "the Golden Voice of Prague." Gott had three Top Ten albums in Germany between 1968 and 1971. Barrett also toured with the band of German singer Rex Gildo. After signing with a West German record label in 1971, Marcia Barrett toured with her German-language covers of "Son Of A Preacher Man" and "Oh Happy Day".

In 1975 Marcia Barrett was one of a group of models and dancers, to make discothèque and television performances of "Baby Do You Wanna Bump". Another one of the dancers in video and live performances of the song was Claudja Barry. When Barry left to go solo in 1976, at Marcia Barrett's suggestion, she was replaced by Liz Mitchell. In 1952 Elizabeth Rebecca Mitchell was born in Clarendon, Jamaica. Her family moved to England in 1963. She auditioned for the Shaftesbury Theatre production of Hair that opened in 1968, but was not chosen. Mitchell moved to West Germany and replaced Donna Summer in the Munich production of Hair. In 1976 she was part of the Les Humphries Singers who represented West Germany in the Eurovision Song Contest, performing "Sing Sang Song".
In addition to Farian, Barrett and Mitchell providing vocals in the recording studio there were other members of Boney M. These were Maizie Ursula Williams and Bobby Farrell. Williams was born in Birmingham, England, in 1951. She started to work as a model, and in 1973 won England's Miss Black Beautiful contest. From there, she fronted a band named Black Beautiful People. After moving to West Germany, she was approached in a restaurant in 1975 by a talent agent. Williams was asked if she was interested in becoming a member of a new disco group called Boney M. Williams recalls the agent asked her if she could sing. Williams later recalled in an interview she had been told off by her brother Billy: "You have a terrible voice. Better keep working as a walking clothes-hanger." But, since Williams was being asked only to dance and mime the words for TV performances and music videos, singing was actually not a necessary skill. So she said "yes."
Roberto Alfonso Farrell was born in the Dutch Caribbean island of Arbua in 1949. At the age of 15 he became a sailor and moved to Norway at the age of 17. After working as a DJ in the Netherlands and West Germany, in 1976 he was hired to be the lone male dancer, lip-synching lyrics for Boney M.
In 1976 Boney M. released "Daddy Cool". The single shot to #1 in West Germany, Austria, Belgium, France, Norway, Spain, Sweden, and Switzerland. The single also peaked in the Top Ten nationally in Australia, Canada, the Netherlands, South Africa and the UK. However, it stalled in the USA at #65 on the Billboard Hot 100. Later in 1976 Boney M. recorded a cover of the 1966 Bobby Hebb tune "Sunny". Their cover also climbed to #1 in 1976 in Austria, Belgium, France, the Netherlands, South Korea, and West Germany. It also made the Top Ten in Ireland, Norway, Switzerland and the UK.
In 1977 Boney M. released their second studio album Love For Sale. Its debut single was "Ma Baker". The song was based on the notorious 1930s American criminal Ma Barker (and Boney M. changed the surname in the song to Baker because it scanned better vocally). J. Edgar Hoover said of Ma Barker that she was "the most vicious, dangerous, and resourceful criminal brain of the last decade." Ma Barker's sons were involved, with other gang members, in the killing of up to 23 people between 1921 and 1939. The FBI said she died in an hours-long gunfight in a house in Lake Weir, Florida, on January 16, 1935.
The song "Ma Baker" told about some of the highlights of her criminal activities. The song shot to number-one in 1977 in Austria, Belgium, France, West Germany, Mexico, the Netherlands, Norway, Spain, Sweden and Switzerland. It also peaked in the Top Ten in Australia, Finland, Ireland, New Zealand, Portugal, South Africa and the UK.
A second single from Love For Sale was "Belfast". The single shot to number-one in Belgium, France, Ireland, Switzerland and West Germany. It made the Top Ten in Austria, the Netherlands, Spain and the UK. The single was about "the Troubles" in Ireland.
In 1978 Boney M. was at the zenith of their popularity with the release of their third studio album Nightflight to Venus. The debut song from the album was "Rivers Of Babylon". The song drew on the Biblical texts from Psalms 19 and 137. Originally recorded by the Jamaican group the Melodians in 1972, "Rivers Of Babylon" was Boney M's biggest hit. It topped the charts in Australia, Austria, Belgium, France, Ireland, the Netherlands, New Zealand, Norway, South Africa, Spain, Sweden, Switzerland, the UK and West Germany. It was the number-one song for the year of 1978 in six of these countries. The B-side, "Brown Girl In The Ring", was also a hit in selected radio markets.
At the end of the year Boney M. had a Christmas hit with "Mary's Boy Child" which peaked at #1 in Sweden, Switzerland, the UK and West Germany, #2 in the Netherlands, #3 in Austria, #4 in Belgium, and #8 in New Zealand.
Though it was released a few months prior to "Mary's Boy Child", Boney M. waited until the spring of 1979 to have its hit single "Rasputin" enter the pop chart in Vancouver (BC).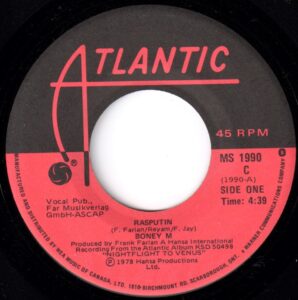 "Rasputin" is a semi-autobiographical song about the Russian mystic and self-proclaimed holy man, Grigori Yefimovich Rasputin. Born in 1869 in a Siberian village, he had a religious experience after taking a pilgrimage to a monastery in 1897. He met and befriended Czar Nicholas II, the last emperor of Russia, and Empress Alexandria, in November 1905. Boney M's lyrics tell us that Rasputin was impressive doing the lively Slavic dance called the kazachok, which iconically the dancer squats on the haunches and kicks out each foot alternately.
Boney M sings that Rasputin was "Russia's greatest love machine." In the biography Rasputin: A Short Life by Frances Welch, some background to the holy man's libido is detailed. "After a spell in a monastery in his late 20s, he claimed that by sleeping with women he could take on their sins and thus help them find the 'grace of God'. 'I don't degrade you, I purify you,' he told his female followers as he led them in energetic dances around incense-fragranced fires in nearby forests, after which he would purportedly 'rejoice' with each of them."
In late 1906, Rasputin began acting as a healer for the imperial couple's only son, Alexei, who suffered from hemophilia. He was a divisive figure at court, seen by some Russians as a mystic, visionary, and prophet, and by others as a religious charlatan. The high point of Rasputin's power was in 1915 when Nicholas II left St. Petersburg to oversee Russian armies fighting World War I, increasing both Alexandra and Rasputin's influence. In 1915, Russian defeat in the Second Battle of the Masurian Lakes resulted in Russia being driven by Germany and Austria-Hungary out of East Prussia. to mounted during the war, however, and both Rasputin and Alexandra became increasingly unpopular.
In "Rasputin", Boney M sings that "He ruled the Russian land, and never mind the Tsar," at the time that Nicholas II was fighting with his army on the German border.
In the early morning of December 30, 1916, after having consumed 12 bottles of Madeira wine the previous day, Rasputin was assassinated by a group of conservative noblemen who opposed his influence over Alexandra and Nicholas. Rasputin had been invited after midnight on December 30th to the Moika Palace, home of Prince Felix Yusupov. The prince served Rasputin tea and cakes which had been laced with cyanide. After Rasputin ate them, to Yusupov's surprise, the monk appeared unaffected by the poison. Rasputin then asked for some Madeira wine, which the Prince also poisoned. Rasputin drank three glasses of poisoned wine, but still showed no sign of distress. Boney M summarized this part of the assassination plot with these lyrics: Ra Ra Rasputin, lover of the Russian queen. They put some poison into his wine. Ra Ra Rasputin, Russia's greatest love machine. He drank it all and he said "I feel fine."
Next, Yusupov shot Rasputin in the chest. Sometime later, Rasputin leapt up and attacked Yusupov, who fled. Rasputin chased him, but was shot twice more in the chest by Yusupov's accomplices. As he still wasn't dead, the assassins cut off his penis. Rasputin was wrapped in cloth, taken to the Petrovsky Bridge in St. Petersburg, and dropped into the river. Or as Boney M summarized: "Ra Ra Rasputin, lover of the Russian queen. They didn't quit, they wanted his head. Ra Ra Rasputin, Russia's greatest love machine. And so they shot him till he was dead."
"Rasputin" climbed to #1 in Ottawa, spending 17 weeks on the CFGO chart; it also climbed to #1 in Hamilton (ON) and Saskatoon (SK), and #3 in Vancouver. The song did not chart in the USA. However, outside North America "Rasputin" climbed to #1 in Australia, Austria, Belgium, and West Germany, #2 in Spain, Switzerland and the UK, #3 in Ireland, #4 in New Zealand, #5 in the Netherlands, and #10 in Norway. When Boney M. performed in the Soviet Union in 1978, "Rasputin" was banned from any of their live performances. However, Boney M. was hugely popular in the nation in the late 70s.
In 1979 Boney M. had more international hits with "Hooray! Hooray! It's a Holi-Holiday" and "El Lute"/"Gotta Go Home". Into the early 80s the band continued to have some international success outside of North America. Their hits included "I'm Born Again" which was based on an Irish folksong "Buachaill Ón Éirne"; "I See a Boat on the River"; A cover of an Italian hit from 1979 which they retitled "Felicidad (Margherita)"; And an adaptation of a Swahili song titled "Malaika".
And in 1984 Boney M. had a modest hit with "Kalimba de Luna", which made the Top 20 in Montreal. This was their last hit, aside from several successful remixes of their hits between 1988 and 1999, variously in France, Ireland, New Zealand, Norway, Sweden and the UK.
In the 1990s Liz Mitchell, Bobby Farrell and Maizie Williams each headed their own Boney M. tours. In 2007 the Latvian cello-rock trio Melo-M, featuring Maizie Williams on vocals, had a number-one hit in Latvia with a new rendition of "Daddy Cool". A musical on the music of Boney M., titled Daddy Cool, played to theatre audiences in London in 2006, Berlin in 2007, Aberdeen, Scotland, in 2008, Denmark in 2009, and the Netherlands in 2011-2012. More recently, the musical toured across Germany in 2017.
In July 2010, Maizie Williams headlined a Boney M. performance at Ramallah's Cultural Palace, in the West Bank, as part of the Palestine International Festival. The band played "Daddy Cool", "Ma Baker" and "Brown Girl in the Ring", but refrained from playing "Rivers of Babylon", rumored to be at the event organizers' request because of its description of the Jewish yearning for Zion.
On the anniversary of Rasputin's death – December 30, 1916 – Boney M. bandmate Bobby Farrell died on December 30, 2010. Ironically, Farrell died of heart failure in St. Petersburg, Russia, where he had been performing.
July 12, 2021
Ray McGinnis
References:
Nathalie Raffrey, "Liz Mitchell: Harlesden's pop icon celebrates the 40th anniversary of Boney M's chart topping Mary's Boy Child," Kilburn Times, London, UK, December 13, 2018.
"'The Group Collapsed': Boney M Singer Reveals Real Reason '70s Band Split Up," Starsat60.com, September 28, 2018.
Frances Welch, "The Sexual Obsession that Drove Rasputin to his Death: Countless Myths have been Woven about him. But a Dazzling Book, Using Private Diaries, Reveals New Details of the Self-styled 'Christ in Miniature'," Daily Mail, February 6, 2014.
Anya Wassenberg, "15 Disturbing Facts About Rasputin — The Mystic Who Destroyed Imperial Russia, TheRichest.com, February 24, 2017.
"Marcia Barrett," Wikipedia.org.
"Liz Mitchell," Wikipedia.org.
"Maizie Ursula Williams," Wikipedia.org.
"Frank Farian," Wikipedia.org.
Martin Wainwright, "Boney M singer Bobby Farrell Dies at 61," Guardian, December 30, 2010.
"CKLG Top 20," CKLG 730 AM, Vancouver, BC, April 18, 1979.
For more song reviews visit the Countdown.