#966: Real Wild Child by Iggy Pop
Peak Month: March-April 1987
9 weeks on Vancouver's CKLG chart
Peak Position #10
Peak Position on Billboard Hot 100 ~ did not chart
YouTube.com: "Real Wild Child"
Lyrics: "Real Wild Child"
James Newell Osterberg, Jr. was born in 1947 in Muskegon, Michigan. His family lived in a trailer park in Ypsilanti, 18 miles west of Detroit. During high school he played the drum in numerous high school bands. One of the bands he played for from Ann Arbor, Michigan, were called the Iguanas. Young James Newell Osterberg Jr. derived his stage name from the Iguanas and became Iggy Pop. He moved to Chicago and was influenced by the Los Angeles based Doors, the Tacoma, Washington, based Sonics and the Lincoln Park, Michigan, based MC5. As he shaped his sound he formed The Psychedelic Stooges. Looking back on his formative years, Iggy Pop remarked in an interview with David Fricke of Rolling Stone Magazine in 2007, "Once I hit junior high in Ann Arbor, I began going to school with the son of the president of Ford Motor Company, with kids of wealth and distinction. But I had a wealth that beat them all. I had the tremendous investment my parents made in me. I got a lot of care. They helped me explore anything I was interested in. This culminated in their evacuation from the master bedroom in the trailer, because that was the only room big enough for my drum kit. They gave me their bedroom."
Iggy Pop's stage persona was inspired by what he beheld at a 1967 concert by The Doors at the University of Michigan. Pop was blown away by the stage antics and discord exhibited by lead singer Jim Morrison. Morrison's severe behavior, seeded Iggy Pop's imagination to broaden the boundaries of his presentation in concert. One of the first things Iggy Pop began doing in concert was to do a stage-dive. Pop also started rolling over broken glass, flashing his naked body in front of the audience and throwing up on stage. A debut album by the Stooges got positive reviews, but Pop's heroin addiction lost the band a record contract with Elektra Records.
In 1971, Iggy Pop met David Bowie in New York City at a nightclub and restaurant named Max's Kansas City. They decided to collaborate and Bowie produced the Stooges album, Raw Power, released in 1973. The album was the first for the band to chart on the UK album charts. But Iggy Pop's heroin addiction continued and the band split up in 1974. Pop was admitted to a mental institution in 1975 and tried to kick his drug habit. In 1976, David Bowie invited Iggy Pop to accompany him on his Station to Station tour. Iggy Pop was inspired by Bowie's work ethic and the tour's artistry. In 1977 Bowie featured prominently on Iggy Pop's album, The Idiot, with Bowie contributing keyboards, synthesizer, guitar, piano, saxophone, xylophone, backing vocals as well as producing the album. One of the tracks, "China Girl", would later appear on Bowie's 1983 smash album, Let's Dance. Then on Lust For Life, Bowie contributed keyboards, piano, organ, backing vocals and once again produced the album.
In 1984, Pop wrote the title song for the science fiction comedy movie, Repo Man. Income from the royalties for the theme song provided Iggy Pop with a way to get himself back on his feet. In 1985 Iggy Pop covered the minor 1958 hit, "The Wild One", by Australian singer, Johnny O'Keefe. The song was covered in 1958 by Ivan who had a Top Ten hit titled "Real Wild Child" in Buffalo, New York. Pop covered the song and in 1987 it peaked at #10 in the UK and in Vancouver, though it failed to chart on the Billboard Hot 100 in the USA.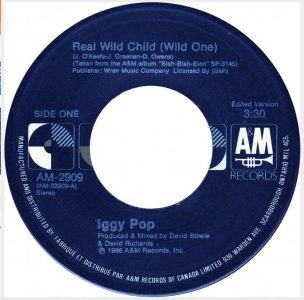 "Real Wild Child" is about someone who has just finished high school and is about 17 or 18 years old. Freed of the routines and seriousness of studying and exams for school, the singer wants to break loose and test the full capacity of their energy and vitality. And why not, when you have the energy, go out late dancing with your friends and have a ball. The singer has got the message that they've got to be a wild one. Others see the wildness, raw energy, in them. And the singer confirms they also think they are wild, in contrast to others who are tame and straight-laced.
In Western societies there is a saying that goes, "This is the best time of your life. It's all downhill from here." It has often been told to youth who are around 18 years of age. On the one hand, the saying may be made to motivate young men and women who have their whole lives ahead of them to take advantage of their youth and seize the day. Don't be lazy, get a job, exercise, don't do drugs, make something of yourself ~ these are some of the other bits of advice that a high school graduate can get from parents, counsellors and mentors. Not everyone who is just out of school is wild. After all, there are youth who have issues with obesity, chronic fatigue, as well as youth who are shy and inhibited. And it isn't true that life is all downhill once you turn 18. When I was 18 I was told that studies showed that men were at their sexual peak at 18 and it was all downhill from there. However, many people in their 20's, 30's and 40's report in magazine articles they have more energy and feel more sexually alive then when they were 18.
Iggy Pop's "Real Wild Child" was a cover of an original tune titled "The Wild One", written and sung by Johnny O'Keefe from Australia. "The Wild One" was likely a reference to the edginess of Johnny Stabler in the 1953 Marlon Brando film, The Wild One. Brando played the lead character, Johnny Strabler. The Black Rebels Motorcycle Club (BRMC), a gang led by Johnny Strabler, rides into Carbonville, California during a motorcycle race and causes trouble. A member of the gang, Mouse, steals the second-place trophy (the first place one being too large to hide) and presents it to Johnny. Stewards and policemen order them to leave.
The bikers head to Wrightsville, which only has one elderly, conciliatory lawman, Chief Harry Bleeker, to maintain order. The residents are uneasy, but mostly willing to put up with their visitors. When their antics cause Art Kleiner to swerve and crash his car, he demands that something be done, but Harry is reluctant to act, a weakness that is not lost on the interlopers. This accident results in the gang having to stay longer in town, as one member injured himself falling off his motorcycle. Although the young men become more and more boisterous, their custom is enthusiastically welcomed by Harry's brother Frank who runs the local cafe-bar, employing Harry's daughter, Kathie, and the elderly Jimmy.
At Frank's cafe, Johnny meets Kathie and asks her out to a dance being held that night. Kathie politely turns him down, but Johnny's dark, brooding personality visibly intrigues her. When Mildred, another local girl, asks him, "What are you rebelling against, Johnny?", he answers "Whaddaya got?" Johnny is attracted to Kathie and decides to stay a while. However, when he learns that she is the policeman's daughter, he changes his mind. A rival biker gang, the Beetles, arrive and their leader, Chino, bears a grudge against Johnny. Chino reveals the two groups used to be one large gang before Johnny split it up. When Chino takes Johnny's trophy, the two start fighting and Johnny wins.
Meanwhile, local Charlie Thomas stubbornly tries to drive through, he hits a parked motorcycle and injures Meatball, one of Chino's bikers. Chino pulls Charlie out and leads both gangs to overturn his car. Harry intervenes and starts arresting Chino and Charlie, but when other townspeople remind Harry that Charlie would cause problems for him in the future, he only takes Chino to the station. Later that night some Beetles members harass the telephone switchboard operator into leaving, thereby disrupting the townspeople's communication, while the BRMC abducts Charlie and puts him in the same jail cell as Chino, who is too drunk to leave with the gang.
Later, as both gangs wreck the town and intimidate the inhabitants, some bikers led by Gringo chase and surround Kathie, but Johnny rescues her and takes her on a long ride in the countryside. Frightened at first, Kathie comes to see that Johnny is genuinely attracted to her and means her no harm. When she opens up to him and asks to go with him, he rejects her. Crying, she runs away. Johnny drives off to search for her. Art sees and misinterprets this as an attack. The townspeople have had enough. Johnny's supposed assault on Kathie is the last straw. Vigilantes led by Charlie chase and catch Johnny and beat him mercilessly, but he escapes on his motorcycle when Harry confronts the mob. The mob give chase, but Johnny is hit by a thrown tire iron and falls. His riderless motorcycle strikes and kills Jimmy.
Sheriff Stew Singer arrives with his deputies and restores order. Johnny is initially arrested for Jimmy's death, with Kathie pleading on his behalf. Seeing this, Art and Frank step forward and testify that Johnny was not responsible for the tragedy, with Johnny being unable to thank them. The motorcyclists are ordered to leave the county, albeit paying for all damage. However, Johnny returns alone to Wrightsville, and re-visits the cafe to say goodbye to Kathie one final time. He first tries to hide his humiliation and acts as though he's leaving after getting a cup of coffee, but then he returns, genuinely smiles, and gives her the stolen trophy as a memory gift, and as a sign that he will end up with that violent lifestyle.
North American society has had a perennial anxiety about young people who don't conform and tame their raw energy. Dozens of Hollywood movies have conveyed messages about the dangers of untamed wild youth, often with outcomes leading to juvenile delinquency and crime. Here are a few of the best of the genre: the 1954 film Blackboard Jungle about "teenage terror in the schools and big city modern savagery." 1955 James Dean classic, Rebel Without A Cause, the 1958 film High School Confidential about "young savages from nice families," the 1983 film The Outsiders and others.
"Real Wild Child" has also been covered by Joan Jett, Buddy Holly, Jerry Lee Lewis, The Chipmunks, The Bell Notes, blues singer Albert Lee, The Original Brothers and Helmood Blues and English heavy metal band The Jaguars and others.
Real Wild Child has since been featured in the films Crocodile Dundee II, Adventures in Babysitting, Problem Child and its sequel Problem Child 2.
Iggy Pop has had his songs performed and/or recorded by the Sisters of Mercy, the Sex Pistols, the Red Hot Chili Peppers, Blue Oyster Cult, the Damned, Sonic Youth, Kurt Cobain, Guns N' Roses, Rage Against The Machine, R.E.M. Patti Smith and others.
November 1, 2017
Ray McGinnis
References:
David Fricke, Iggy Pop: The Rolling Stone Interview, Rolling Stone Magazine, New York, NY, April 19, 2007.
The Wild One, Columbia Pictures, 1953.
Blackboard Jungle, Metro-Goldwyn-Mayer, 1955.
Rebel Without A Cause, Warner Brothers, 1955.
High School Confidential, Metro-Goldwyn-Mayer, 1958.
The Outsiders, Warner Brothers, 1983.
Repo Man, Universal Pictures, 1984.
Barnaby Smith, The Wild One by Johnny O'Keefe – Australia's First Rock'n'Roll Hit, Guardian, UK, September 30, 2014.
"CKLG Top Thirty," CKLG 730 AM, Vancouver, BC, April 1, 1987.
For more song reviews visit the Countdown.