#464: Rebel Yell by Billy Idol
Peak Month: March 1984
10 weeks on Vancouver's CKLG chart
Peak Position #7
Peak Position on Billboard Hot 100 ~ #46
YouTube.com: "Rebel Yell"
Lyrics: "Rebel Yell"
William Michael Albert Broad was born in 1955 in Middlesex, England. His father was a typewriter salesman and his mother was a nurse. When he was a four-year-old, his family moved to New York City, taking a transatlantic voyage on the S.S America. He arrived with a banjo given to him by his maternal grandparents. When he was seven his family moved back to England. As William had acquired an American accent, his classmates teased him and called him "a yank." William Broad, after all, had learned to say elevator and not lift, cops instead of bobbies, and man instead of mate. This began his identification as an outsider. From his early years in America, William Broad got turned on to the music of Little Richard, Frankie Lymon and the Teenagers, Jerry Lee Lewis, Roy Orbison and Johnny Cash. He also liked a 1955 single by the Cadillacs titled "Speedoo". He was inspired by the music of the Beatles, Rolling Stones, David Bowie and others. He taught himself how to play guitar and joined a band in his teens.
In high school he was taken with the surreal poetry of Samuel Taylor Coleridge, and William Wordsworth. The words of Roman General Marcus Aurelius, "live each day like it's your last" became a motto for William Broad, one he later referenced as the credo of Doors' lead singer, Jim Morrison.
Broad recalls his attitude in his 2014 biography, as he ended public school: "My fear was mediocrity, being just another cog in the glorious system that would eventually grind our spirit down to dust. I refused to be a prisoner in a gilded cage from which there was no escape… I was determined to overcome my limitations, to stare my mediocrity in the face, to step up and dare to fail big, to go for the gold, live on the edge of uncertainty. At least I'd be alive to feel my own pain, as John Lennon had commanded…"
In 1970 he took LSD for the first time. He credits William Blake who wrote "the road to excess leads to the palace of wisdom." William Broad figured that the socio-political world he was growing up in was broken. He figured that it was worth risking feeling alive then living half a life in a world of mediocrity.
In March 1976 William Broad heard Johnny Rotten and the Sex Pistols at the 100 Club on Oxford Street in London. He became an instant fan and was soon part of what the press dubbed "the Bromley contingent", in reference to the suburb he lived in at the time. In late '76 William Broad joined a band named Chelsea. Shortly after, he left with the bands' bass guitarist, Tony James, to form Generation X in the winter of 1976-77. It was as the frontman for Generation X that William Broad took on the pseudonym Billy Idol. Broad was twenty-one. James went on to form the new wave band Sigue Sigue Sputnik, and later the Sisters of Mercy. Among the songs that were part of the standard set of Generation X was a song Idol wrote titled "Dancing With Myself".
Billy Idol told a Rolling Stone reporter in 2014 about the inspiration for "Dancing With Myself". He explained, "If you went into a discotheque in 1978 in Japan, they were all dressed like Saturday Night Fever. But the one thing they were doing that was differently than in England and America was they were dancing to their own reflections in the mirror and not really with each other. They were just looking at themselves. I happened to say to [Generation X bassist] Tony James, who always usually came up with the song titles, "Hey Ton, they're dancing with themselves." He went, "'Dancing With Myself,' that could be a song title."
The punk rock band was the first to appear on the BBC television variety show Top of the Pops. Idol left the band in 1981 to pursue a solo career, and moved to New York City. On his website it states that he "began the 1980's in an apartment on Manhattan's then-grubby Upper West Side furnished with only a mattress on the floor and a black and white TV." Undaunted, in 1982 he released his first singles "Dancing With Myself" and a cover of the 1968 Tommy James and The Shondells tune "Mony Mony". These were from his debt EP Don't Stop. "Dancing With Myself" received three nominations at the MTV Video Music Awards in 1984.
In 1982 Idol also released a self-titled debut album that featured the singles "Hot In The City" and "White Wedding". The latter made it to #3 in Ottawa and Toronto, and #36 on the Billboard Hot 100.
In 1984 Billy Idol released his second studio album, Rebel Yell. The title track was the lead single from the album, released in the fall of 1983.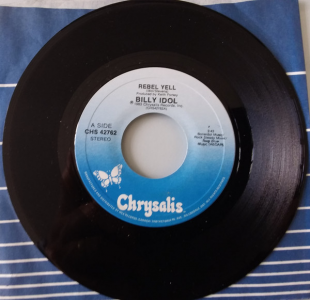 "Rebel Yell" is a song about sexual attraction and making love late at night. The guy is "out all night to collect a fare." Perhaps he works the nightshift as a taxi driver. He tells us "when I'm tired and lonely, she sees me to bed." When they make love she cries "more, more, more." Idol wanted to create rock and roll music that, as he says in his memoir, "not only could you dance to it, you could fuck to it."
"Rebel Yell" was co-written by Billy Idol and his guitarist Steve Stevens (born Steven Bruce Schneider in Brooklyn, NY). Stevens later wrote and recorded "Top Gun Anthem" for the 1987 film Top Gun starring Tom Cruise and Kelly McGillis. "Rebel Yell" was nominated for a Grammy Award in 1985 in the Best Male Rock Vocal Performance category. He lost to Bruce Springsteen's "Dancing In The Dark".
"Rebel Yell" climbed to #5 in Toronto, San Diego and Calgary (AB), #7 in Winnipeg (MB) and Vancouver (BC), #8 in Montreal and Los Angeles, #9 in Saskatoon (SK) and #10 in St. Louis. However, in America "Rebel Yell" stalled on the Billboard Hot 100 at #46.
Billy Idol's next release from Rebel Yell was "Eyes Without A Face". It became his first Top Ten hit nationally in the USA, peaking at #4 on the Billboard Hot 100 in 1984. The song received two MTV Video Music Award nominations. A third single from the album, "Flesh For Fantasy" peaked at #9 in Vancouver and #29 on the Hot 100.
In 1986 Billy Idol released his third studio album, Whiplash Smile. From that album his lead single, "To Be A Lover", climbed to #6 on the Billboard Hot 100. The single won him another Grammy Award nomination in 1987. But he lost out to Robert Palmer's "Addicted To Love". In 1987 Billy Idol's live version of "Mony Mony" that became his only #1 hit in America. He reappeared in the Top 40 in 1990 with "Cradle Of Love", a song that peaked at #2 on the Hot 100. "Cradle Of Love" became his third song nominated for a Grammy Award in the Best Male Rock Vocal Performance category. At the 1991 Grammy Awards, Idol lost out to Eric Clapton for "Bad Love". However, "Cradle Of Love" won one of its three MTV Video Music Award nominations in the category of Best Video From a Film.
1990 started out with some promise for Billy Idol, as film director, Oliver Stone, had selected the pop star for a major role in his film The Doors. However, Idol was involved in a serious motorcycle accident in Hollywood on February 6, 1990, which nearly cost him a leg. He was hit by a car when he ran a stop sign while riding home from the studio one night, requiring a steel rod to be placed in his leg. The accident prevented Billy Idol from participating in a major way and Idol's role was reduced to a small part, that of a drinking buddy of Jim Morrison.
His 1993 album Cyberpunk got mixed reviews and three single releases failed to crack the Billboard Hot 100. However, his single "Shock To The System" received two nominations at the 1993 MTV Music Video Awards. The song was inspired by the riots that followed the beating of Rodney King by LAPD officers in 1992, which was caught on camera. In 1994 Billy Idol collapsed after overdosing on the bodybuilding steroid GHB. After this he chose to focus more on his family. While he recorded the title tune for the 1994 film Speed, starring Keanu Reeves, he reduced his life on the road. In 2005 he recorded his first studio album in a dozen years, Devil's Playground. In 2014, Idol released his most recent studio album, Kings & Queens of the Underground.
In 2014 Billy Idol published his memoir, Dancing With Myself. In it he reflected "I am hopelessly divided between the dark and the good, the rebel and the saint, the sexual maniac and the monk, the poet and the priest, the demagogue and the populist. I feel the pull of emotions when these characters appear in my actions…. With my dad an atheist and my mom a Catholic, I grew up with conflicting ideas that are wholly incompatible. One is a mystical philosophy, the other a cold, hard truth there's nothing spiritual anywhere. The two opposing creeds have battled inside me. One means life goes on after death and everything we do here counts; the other, that all is vanity and we are doomed to an eternal sleep from which none awake."
In 2018 Billy Idol became a dual British and American citizen. Billy Idol has recently performed five concerts in Las Vegas in March 2020 and had three dates in Australia in January. Also in January, Billy Idol launched a campaign to help those impacted by the wildfires in Australia.
April 1, 2020
Ray McGinnis
References:
Billy Idol, Dancing With Myself, (Touchstone, 2014).
Tom Kershaw, "Billy Idol's Religious and Political Views," Hollowverse.com February 13, 2013.
"Idol Campaign to Benefit Australia Wildfire Relief," Billy Idol.net, January 14, 2020.
Kory Grow, "Billy Idol on Drinking With the Stones and Seeing Jesus in the Sex Pistols: "Rebel Yell" Singer Opens Up About his Memoir, the Unlikely Origins of "Dancing With Myself" and New Album 'Kings and Queens of the Underground', Rolling Stone, October 16, 2014.
Brian Hiatt, "Billy Idol and the Birth of Punk: From Attending Early Sex Pistols Gigs to Forming his Band Generation X, Billy Idol Traces his Entire Unlikely Career on 'Rolling Stone Music Now' Podcast," Rolling Stone, October 28, 2019.
For more song reviews visit the Countdown.