#26: Recipe For Love by Dew Line
City: Calgary, Alberta
Radio Station: CKXL
Peak Month: January 1969
Peak Position in Calgary ~ #3
Peak position in Vancouver ~ did not chart
Peak Position on Billboard Hot 100 ~ did not chart
YouTube.com: "Recipe For Love"
Lyrics: N/A
The Dew Line were a band from Calgary, Alberta. They were active in the late 1960s. Francis Munoz was the drummer and lead vocalist. Al Gibson played bass guitar and sang backing vocals. Pat Murphy played organ and piano. Allan Watts and Dwayne Wells both played lead guitar.

The Dew Line got their name from the Distant Early Warning Line or DEW Line. The DEW Line was constructed by the United States and Canada, roughly along the 69th Parallel, or 200 miles north of the Arctic Circle. In 1958, the DEW Line became the cornerstone of NORAD air defense against a possible Soviet attack. The DEW Line was also the setting for the 1957 sci-fi film The Deadly Mantis.
Musically speaking, The Dew Line released their debut single titled "Recipe For Love".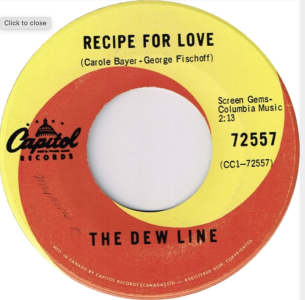 "Recipe For Love" was written by Carole Bayer and George Fischoff. Carole Bayer was born in New York City in 1944. She wrote "A Groovy Kind Of Love" as the British Invasion began and it was a #2 hit on the Billboard Hot 100 for the Mindbenders in 1966. It also climbed into the Top Five in Canada, New Zealand, Singapore and the UK, #9 in Ireland and #10 in South Africa. In 1970, she married Andrew Sager, and her credits from then on were given to Carole Bayer Sager. In 1975, Bayer cowrote "Midnight Blue" with recording artist Melissa Manchester, whose single peaked at #6 on the Hot 100. And in 1976, Carole Bayer Sager had a number-one hit with her recording of her own composition, "You're Moving Out Today", which also climbed to #6 in the UK. As well, in 1976, her collaboration with Albert Hammond, "When I Need You", became an international hit for Leo Sayer. In 1977, Carly Simon recorded a song Bayer Sager cowrote titled "Nobody Does It Better". The song received an Academy Award for Best Original Song, and a Grammy Award nomination for Song of the Year.
In 1979, Melissa Manchester had a Top Ten hit with Bayer Sager's "Don't Cry Out Loud". In 1982, she won an Academy Award for Best Original Song with "Arthur's Theme (Best That You Can Do)". In 1986, she received a Grammy Award nomination for "On My Own", recorded by Patti La Belle and Michael McDonald. Carole Bayer Sager saw more success with "That's What Friends Are For" in 1987, winning a Grammy Award for Song Of The Year. In the 1990s, Bayer Sager won a Best Song award at the Golden Globes for "The Prayer". In 2016, her memoir They're Playing Our Song was published.
George Fischoff was born in South Bend, Indiana in 1938. He attended the Juilliard School of Music at the age of 17 with a full scholarship and graduated with honors. Fischoff wrote the Top Ten hit, "98.6", for Keith which peaked at #3 in Vancouver in January 1967. Another notable song penned by Fischoff was "Lazy Day", a Top 20 hit for Spanky and Our Gang in 1968. He wrote the Broadway musical, Georgy, adapted from the novel Georgy Girl. Another career highlight was composing a one man show based on the life of painter Paul Gauguin. It was titled Gauguin/Savage Light and had a 5 year run Off-Broadway. George Fischoff died in 2018 at the age of 79.
In "Recipe For Love", the chorus contends "a girl like you, a boy like me… is a recipe for love." The pair are a perfect match.
"Recipe For Love" peaked at #3 in Calgary.
After one followup single that failed to chart, members of the Dew Line went on to form Done on Bradstreet (which later became simply Bradstreet). A website called calgarycassettes.com notes that with the shift from Dew Line to Done on Bradstreet, "we have no idea which ones (went on to form Done on Bradstreet) or who else was in the band."
August 30, 2023
Ray McGinnis
References:
"Sunny Sunshine Tomorrow/Recipe For Love," Calgary Cassette Preservation Society, September 9, 2021.
Steven Gaydos, "Songwriter Carole Bayer Sager Reflects on Her First Hit, 'A Groovy Kind of Love'," Variety, June 14, 2019.
"George Fischoff Obituary," New York Daily News, February 23, 2018.
"About Carole Bayer Sager," carolebayersager.com.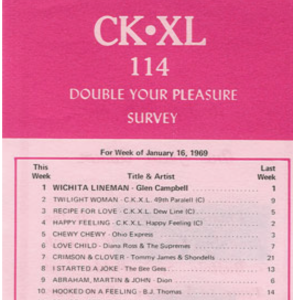 CKXL 1140 AM, Calgary, Alberta, January 16, 1969 (Top Ten)
"Recipe For Love" bounced around in the Top Ten that month
at #4 on January 2/69, down to #5 on January 9/69, and up to
#3 on January 16/69.