#1083: Reflections of Charles Brown by Rupert's People
Peak Month: November 1967
7 weeks on CKLG chart
Peak Position #7
Peak Position on Billboard Hot 100 ~ did not chart
YouTube.com: "Reflections Of Charles Brown"
Lyrics: "Reflections Of Charles Brown"
Rupert's People sprang into confusing existence in 1967 although the seed was actually sown in 1964 when Rod Lynton (bass, acoustic and electric guitar) teamed up with Steve Brendall (drummer) to form The Extraverts. The reputation of Brit Sixties never-were's, Rupert's People, rests on two things: the stunning 1967 single "Reflections Of Charles Brown", a "Whiter Shade of Pale" sound-alike, and it's B-side, "Hold On," a scorching slice of guitar-driven frenzy. Rupert's People only released three singles in 1967-68. Prior to becoming Rupert's People they were billed as The Sweet Feeling and issued one single under that name in 1966. So that's eight tracks in total. Rupert's People are now considered in Britain to be real Sixties stuff, "mods-gone-freaky, with touches of the Small Faces and Hendrix."
Meanwhile, The Fleur de Lys were a band formed in 1964 from Southampton, England. They released some singles, some produced by then Yardbirds band member Jimmy Page. Though their releases didn't sell, they got a following. Their roster changed over the years between 1964 and 1969. But in 1967 some of the band members of Fleur de Lys were recruited by their manager to record the song "Reflections Of Charles Brown", under the name 'Rupert's People, along with the Rod Lynton and Steve Brendell's band The Sweet Feeling.
Released in the fall of 1967, "Reflections Of Charles Brown" was credited to a band that didn't exist, and was itself a re-arrangement of a flipside issued only weeks before by a group who would eventually adapt the moniker of that non existent group. At the time of the recording, the musicians playing "Reflections Of Charles Brown" were The Sweet Feeling's Rod Lynton on bass, guitar and vocals, Steve Brendell on drums, Ray Beverley on bass and guitar, The Fleur de Lys' Pete Sears on keyboards and organ, Keith Guster on drums, Gordon Haskell on bass, Bryn Haworth on guitar and Chris Andrews on vocals.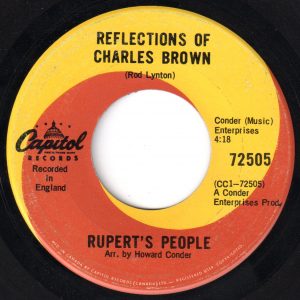 "Reflections Of Charles Brown" was written by Rod Lynton, and in some cases the manager of The Fleur de Lys, Howard Condor, is also given credit. On stage in concert, Rupert's People were comprised of members of The Sweet Feeling and described at the time as electrifying by people writing about concerts they gave in Hastings, London and elsewhere. "Reflections Of Charles Brown" was heavily reminiscent of Procul Harem's "A Whiter Shade Of Pale," a song that went on to sell over ten million records in 1967. "Reflections Of Charles Brown" had little chart success except in Australia where it reached # 13. In the USA it climbed to #15 in Orlando, Florida, but that was all in the USA. In Canada the song had success in Vancouver where it climbed to #7 on CKLG. The B-side ended up being "Hold On".
"Reflections Of Charles Brown" outlined the bleak life of a working class guy named Charlie Brown, who is not the cartoon character in Peanuts. This Charlie Brown works six days a week, from sun-up to sundown, living a quiet and sad life. On his one day off each week he sleeps in 'til 10 a.m. The overall weariness is reflected in lines like this: "Takes his kids down to the park, 'til the skies start getting dark." It's possible Charlie Brown in the song is scripted as a single Dad, though it would have been unusual for a father to get custody in Britain back in the 60s. The song, more plausibly, may just be zeroing in on his being at work all day and home only to tuck the children into bed; And then having the responsibility to take care of the children on his one day off, in order to give his (unmentioned) spouse a break from child rearing.
In the song's final verse Rupert's People sing "Another week of graft and grime/Another week's HP to find." In Britain, "HP" could be a shorthand reference for HP sauce, a condiment registered in 1895. Its name arose from its creator having heard that a restaurant in the Houses of Parliament had begun serving it. But it is not likely that Charlie Brown's family is consuming copious quantities of HP sauce by the caseload each week. "HP" could be shorthand for the Houses of Parliament. However, "HP" most likely is shorthand for Hire Purchase. Hire Purchase was buying furniture on the "never never," by installments. This type of arrangement loomed large for working class families. British middle class families thought it an imprudent, ill-advised financial decision and chose instead to save up to pay the whole price. In 1975, Elton John sang about having avoided the prospect of a marital entanglement that involved "paying your HP demands forever" in Someone Saved My Life Tonight".
Aside from Beatlemania, Beatle hair cuts and mods, a true reflection of Britain in the 1960"s included "a rediscovery of poverty." There had been an assumption by the post-war government, from Prime Minister Clement Attlee (1945-51) to Prime Minister Harold Wilson starting in (1966-70) that the welfare state had eradicated poverty. The continued existence of poverty in the Sixties was characterized, tragically, by differences in health between different social classes. Slum housing still existed. Wages for many people were still low. "Reflections Of Charles Brown" appealed to listeners who were aware that grinding poverty and a stagnant working class grind was a cause for many social ills.
In the mid to late 60s, as a theme in popular songs, the reality of working class struggles appeared on the Vancouver pop charts. In late 1969 Bobbie Gentry charted a song called "Fancy." It was about a pregnant mother who's husband had left her. She decides to sell her daughter, Fancy, into prostitution. Wayne Newton's 1967 hit "Love Of The Common People" described a family that doesn't have enough money to buy bus fare, owns dresses with patches and shoes with holes in them. In 1967 The Kinks sand about living on the edge of poverty with their song "Dead End Street", While the Standells addressed the hypocrisy of women preferring middle-class men over working-class men in "Sometimes Good Guys Don't Wear White": "white collar worker or the digger in the ditch/Hey, and who's to say who's the better man/When I've always done the best I can/How bad was his dirty mind/All those messed up chicks of the changin' times/White pills and easy livin'/Can't replace the love I've given…"
After providing memorable organ and keyboards for "Reflections Of Charles Brown," Pete Sears went on to dedicate himself to being at first a session musician, recording with Steamhammer. Then he was a member of the folk-rock band Trader Horn in 1969 prior to their studio recordings in the summer of that year. By then Pete Sears had flown to California to be part of a band called Silver Metre, along with former San Francisco psychedelic rock group Blue Cheer's guitarist, Leigh Stephens. Next Pete Sears was back in London as a session musician on Rod Stewart's albums Gasoline Alley, Every Picture Tells A Story and Never A Dull Moment. Sears went on to be a member of Jefferson Starship, after they changed their name from Jefferson Airplane. He was with the band from 1974 to 1984, and with it's successor, Starship, from 1984-87. He contributes bass, guitar, keyboards and backing vocals on Jefferson Starships "Count On Me", "Runaway" and other hit singles in the mid-70s. He played bass on Starship's #1 hit singles between 1985 and 1987, "We Built This City", "Sara" and "Nothing's Gonna Stop Us Now".
Rupert's Peoples second single for Columbia Records was "A Prologue To A Magic World". Their third single was "I Can Show You". Both of these singles were written by Rod Lynton. After Pete Sears left Rupert's People, John Tout (piano, keyboards) and Dai Jenkins (guitar) would join the Rupert's People for their second and third single releases. Neither of these singles got much notice.
Rupert's People split up in 1969, though they did a live concert in London that included a cover of the Rolling Stones "You Can't Always Get What You Want". After Rupert's People split up, Rod Lynton went solo and recorded over a half dozen tracks between 1970-72 variously credited to Matchbox, Swampfox and Rod Lynton, with various ex-Rupert's People bandmates at the recording sessions. John Tout went on to join the UK band, Renaissance, from 1970-80 and again in 1998-99.
Bryn Haworth, from The Fleur de Lys on the recording of "Reflections Of Charles Brown," has since released some twenty-two albums and several singles since the 1970s. He's also been a guest guitarist session musician on many other rock and folk albums. Haworth continues to tour in the UK, appearing mostly at smaller venues, Christian centres and at prisons. He has also appeared three times at the UK Greenbelt Festival. Another Fleur de Lys bandmate who was briefly part of Rupert's People for the "Reflections Of Charles Brown" recording, Gordon Haskell, went on to briefly be part of King Crimson. He's released over a dozen singles and waited 'til 2001 to have a hit, "How Wonderful You Are", which peaked at #2 in the UK. Of his dozen studio albums, two reached the Top Ten on the Polish album charts in 2002.
Rupert's People had a reunion and live concert in 1992 and their cover of the Beatles, "Rain", is among the songs still found on compilation CD's. Rupert's People got together again and played a gig in Hastings, England, in 1999, at the Marina Pavillion. At that concert Ray Beverley, Rod Lynton and Steve Brendell were the originals from the band playing on stage. Ray Beverley lives in Essex, England. A compilation album by Angel Air Records called Rupert's People And Beyond was issued in 2013.
May 12, 2017
Ray McGinnis
References:
Rupert's People, Making Time.co.uk
Rupert's People, Music-News.com, July 23, 2012
The Fleurs des Lys, Making Time.co.uk
Greenbelt Festival, Greenbelt.org
Bryn Haworth bio, Bryn Haworth.com
About Pete Sears, Pete Sears.com
About Gordon Haskell, Gordon Haskell.com.
"Boss 30," CKLG 730 AM, Vancouver, BC, November 1967.
For more song reviews visit the Countdown.