#287: Regret by New Order
Peak Month: June-July 1993
11 weeks on Vancouver's CKLG chart
Peak Position #5
Peak Position on Billboard Hot 100 ~ #28
YouTube: "Regret"
Lyrics: "Regret"
Bernard Sumner was born in 1956 in Salford, Lancashire, England. In his youth he learned to play guitar, keyboards, synthesizer and melodica. After graduation from public school, he got work with Stop Frame as a television animator cartoonist. After Sumner and his childhood friend Peter Hook saw the Sex Pistols at a concert in Manchester, they decided to form the post-punk band Joy Division. Born Peter Woodhead in 1956 in Salford, he took his stepfather's surname, Hook, after his mother remarried. Peter Hook learned to play bass guitar, guitar, melodica, electronic drums and synthesizer. Stephen Paul David Morris was born in 1957 in the market town of Macclesfield, 16 miles south of Manchester. He learned to play the drum from a young age. Over the years he added percussion, keyboards and synthesizer to his resume.

Along with Ian Curtis, and several other musicians, Hook and Sumner formed a band called Warsaw. After a year with a few lineup changes, Stephen Morris joined the band. Soon after Curtis, Morris, Hook and Sumner changed the band's name to Joy Division. The band opened on a tour supporting the Buzzcocks in 1979. In the fall of 1979, a non-album single titled "Transmission" and made it to #4 on the UK Indie singles chart. In 1981 the single climbed to #2 on the New Zealand pop chart. That year Joy Division released their debut album Unknown Pleasures.
In May 1980, Joy Division was about to launch its tour to North America. But, lead singer Ian Curtis, who was having an affair, served his wife with divorce papers. Soon after, Curtis, who was also having challenges with his epilepsy and fears of having a seizure on stage, died by suicide. Joy Division's "Love Will Tear Us Apart" was written in response to bandmate Ian Curtis' mental health struggles and suicide at age 23. The single climbed to #1 on the New Zealand pop chart, and #13 on the UK singles chart.
Joy Division subsequently went on tour to North America. Steve Morris recalls on that tour in 1980, "The show in Hoboken wasn't terrible, but the next morning [we woke] up to find that all [our] instruments and gear had been stolen from the back of a U-Haul truck." In addition, the bandmates discovered they didn't have insurance. That was the last straw and the band disbanded as Joy Division.
Though Joy Division only lasted from 1976 to 1980, they are regarded as a musical influence on U2, the Cure, Soundgarden, the Proclaimers and others. Sumner, Hook and Morris disbanded Joy Division and formed New Order. As well, Joy Division released their final album, Closer.
New Order added Gillian Lesley Gilbert to its lineup on keyboards and guitar. Born in 1961 in Manchester, Gilbert was in an all-female punk band called the Inadequates who rehearsed just down the street from Joy Division. She began dating Morris, and also was a guest musician on stage with New Order until she was formally invited to join the band.
In 1981, New Order had a number-one hit on the UK Indie charts with "Ceremony", which climbed to #7 on the New Zealand pop chart. New Order repeated the feat with "Procession" at #1 on the UK Indie chart, and the B-side to "Procession" titled "Everything's Gone Green" climbed to #3 on the UK Indie chart in 1982. A fourth single, "Temptation" topped the UK Indie charts in 1982 and cracked the UK Pop Singles chart at #29.
In 1983 the band released its second album titled Power, Corruption & Lies. The album topped the UK Indie album chart and climbed to #4 on the UK Pop Album chart. But it was New Order's 1983 release of the non-album single "Blue Monday" that gave them international exposure. The synth-pop, alternative dance track climbed to #1 on the UK Indie chart, and #9 on the UK Pop Singles chart – including 38 weeks on the chart. Then the song broke out and peaked at #2 in New Zealand's pop chart, #3 in the Netherlands, #4 in Austria and Ireland, #7 in Belgium, #10 in Switzerland, and #12 in West Germany. A re-issue of "Blue Monday" in 1988 returned the single to #1 in New Zealand, #2 in Ireland, #3 in the UK and West Germany, #4 in Australia and the Netherlands, #6 in Belgium, #9 in Switzerland and #11 in Finland. "Blue Monday" was described by the BBC Radio 2 "Sold on Song" feature as "a crucial link between Seventies disco and the dance/house boom that took off at the end of the Eighties. "Blue Monday" won the NME Award for Best Single in 1983.
Bernard Sumner delivers the lyrics in a deadpan manner. "Blue Monday" is an atypical hit song in that it does not feature a standard verse-chorus structure. After a lengthy introduction, the first and second verses are contiguous and are separated from the third verse only by a brief series of sound effects. A short breakdown section follows the third verse, which leads to an extended outro. The band stated that the song was written in response to crowd disappointment at the fact that they never played encores. The baseline came from Sylvester's "You Make Me Feel (Mighty Real)". As "Blue Monday" caught fire at dance clubs across North America, on June 27, 1983, New Order appeared in concert in Vancouver at the Commodore Ballroom.
Gillian Gilbert recalls that when New Order recorded "Blue Monday", "We had a really simple sequencer, Bernard and Stephen were really into sequencing drum machines and Bernard said, 'Wouldn't it be good if we could play a song that played itself, with sampled voices, and we could just leave the stage at the end for an encore and just leave the instruments playing?' So it was just a big experiment, really; we never envisaged it as a single at all."
More non-album chart topping singles followed: "Confusion" – which topped the UK Indie singles chart and the CFMB Alternative Rock chart in Montreal, "Thieves Like Us" and "Murder". In 1986 New Order's single "Shellshock" was featured in the film Pretty In Pink. It climbed to #8 on the New Zealand pop chart.
In 1986 New Order released a single titled "Bizarre Love Triangle" from their album Brotherhood. The single climbed to #5 in Australia, and in 1987 to #7 in Hamilton, ON. But it stalled at #98 on the Billboard Hot 100.
In 1987, New Order released the single "True Faith", which became their highest charting song on the UK Pop Singles chart at #4. It was a track from the band's album Substance. Another single that year, titled "Touched By The Hand Of God" was featured in the black comedy film Salvation! The film was a parody of evangelism after the real-life scandals concerning televangelists Jimmy Bakker and Jimmy Swaggart. Bakker had raped and drugged Jessica Hahn and Swaggart had multiple sexual involvements with prostitutes. New Order had five tracks appear on the soundtrack for Salvation!
In 1988, in addition to the revival of "Blue Monday", New Order had a #11 hit on the UK Pop Singles chart titled "Fine Time". The single peaked at #3 in New Zealand, and #9 in Ireland. It was the debut single from the album Technique. "Round & Round" also charted well in the UK, Ireland and New Zealand. On May 4, 1989, New Order appeared in concert in Vancouver at the Queen Elizabeth Theatre.
In 1990 New Order's non-album single, "World In Motion" became their 18th number-one single on the UK Indie chart. It also climbed to #1 on the UK Pop Singles chart, and made the Top Ten in New Zealand and Ireland.
In 1993 New Order released its sixth studio album titled Republic. The album topped the UK album chart that year. The lead single from the album was "Regret".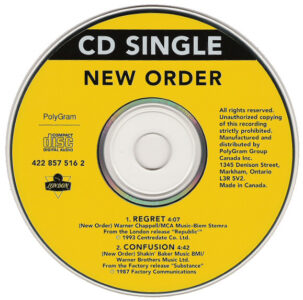 "Regret" was written by the five bandmates of New Order. In the first verse, the narrator seems to have lost touch with "everyone" he's "ever known," But, he takes it all in stride. It may be that some people may are upset now that he is a famous rock start that he is no longer in touch with them. However, he admits that this is "nothing he regrets." It is all part of what his life is now about. He's moved on. In the chorus the narrator gives insights into his world when he sings "I would like a place I could call my own, have a conversation on the telephone." New Order was over a decade of stardom, and the price of stardom is to be removed from the ordinary privacy that ordinary citizens can enjoy, perhaps without the press listening into a phone conversation.
The second verse seems to be directed at one of the fans of New Order. The narrator sings "I wouldn't even trust you. I've not got much to give." The narrator muses that the fans trying to get closer to him "may think I'm out of hand." For this, some fans might judge the members of the band. However, the narrator argues, they aren't in a position to judge because "look at me, I'm not you." The life of the bandmates in New Order is one that has left the routines and privacy of ordinary citizens. So, the fans can only expect so much – and it's not that much the bandmates have to give them anyway.
"Regret" peaked at #5 in Vancouver (BC) and Waipahu (HI). Internationally, the song peaked at #4 on the UK Pop Singles chart, #5 in Ireland and #6 on the RPM Singles chart in Canada. Later in 1993, New Order released "World" which climbed to #1 on the Billboard Hot Dance Club Play chart, and #13 on the UK singles chart. At the end of 1993 "Regret" won the Billboard Award for Top Modern Rock Track.
In 1994 a remix titled "True Faith-94" climbed to #9 on the UK Pop Singles chart and #11 in Ireland. Meanwhile, New Order took a five year break, and reconvened later in 1998.
On August 2, 2001, New Order gave a concert at the Thunderbird Stadium in Vancouver. This was overlapping the release of their album Get Ready, and their single "Crystal". Internationally, the single climbed to #3 in Canada, #7 in Finland, #8 in Scotland, and #15 in Belgium. At the end of the year, Gillian Gilbert left New Order and was replaced by Phil Cunningham.
In 2002 New Order was featured prominently in the soundtrack for the British music film 24 Hour Party People. This included the single "Here To Stay" which peaked at #15 on the UK Singles chart in 2002.
In 2005 the eighth studio album by the band was released titled Waiting for the Sirens' Call. It featured the single "Krafty". The single was a reference to one of their music influences, the West German electronic rock band from the 1970s, Kraftwerk. "Krafty" returned New Order to the Top Ten in numerous international pop charts, including #4 in Spain, #8 in the UK, and #9 in Scotland. As well, a followup single, "Jetstream", was a Top Ten hit on several Billboard dance charts in the USA. In 2006, New Order received a Grammy nomination in the Best Dance Recording category for "Guilt is a Useless Emotion". In 2007 New Order took a four-year hiatus, and reunited later in 2011. However, in 2013, New Order's release of the album, Lost Sirens, was a disappointment.
On July 8, 2014, New Order performed at the Queen Elizabeth Theatre in Vancouver. The following year, they released a Top Ten charting album in Ireland, the Netherlands and the UK titled Music Complete.
During the COVID-19 pandemic, Bernard Sumner caught the virus, and later recovered. Hopeful that the pandemic will ease later in 2021, New Order anticipates going on tour. They have scheduled concert dates starting in September 2021. These include Toronto on September 18th and Vancouver at the Rogers Arena on October 7th.
Gillian Gilbert reminiscing about New Order said in 2019, "It was just something completely new. We took everything in little stages, really. We didn't think that we would ever become, like, over 35 years old [as a band] with this entire back catalogue [laughs]. And people still want to see you so, yeah! It's quite an achievement and I feel quite lucky to still be doing it."
July 5, 2021
Ray McGinnis
References:
Matthew Horton, "How New Order's 'Blue Monday' Changed Music Forever," NME, July 30, 2018.
Teddy Jamieson, "Steve Morris: Joy Division, Depression, Summoning Devil," Herald Scotland, May 17, 2019
"Steve Morris Interview: It All Comes Back To You," Electricity Club, London, UK, August 26, 2016.
Bryget Chrisfield, "New Order Never Saw 'Blue Monday' Being A Hit: 'You Can't Even Dance To It!'," themusic.com, Melbourne, Australia, October 7, 2019.
Daniel Krepps, "Peter Hook Talks Quarantine, Gorillaz and Learning to Love Joy Division's 'Closer'," Rolling Stone, July 17, 2020.
Jill Riley, "Bernard Sumner of New Order talks about new music and recovering from COVID-19," The Current, Minnesota Public Radio, November 12, 2020.
"New Order Tour Dates – 2021," new order.com/tour-dates/
"New Order – Canadian concerts," setlist.fm.
For more song reviews visit the Countdown.