#724: Remember (Walking In The Sand) by Aerosmith
Peak Month: February 1980
11 weeks on CFUN's Vancouver Chart
Peak Position ~ #10
Peak Position on Billboard Hot 100 ~ #67
YouTube: "Remember (Walking In The Sand)" ~ Aerosmith
YouTube: "Remember (Walking In The Sand)" ~ Shangri-Las
Lyrics: "Remember (Walking In The Sand)"
Steven Victor Tallarico was born in 1948 in Manhattan, and known professionally as Steve Tyler. He grew up in the Bronx and then Yonkers. Growing up he learned to play drums, guitar, harmonica and keyboard. In 1964 he formed a band called the Strangers. By 1970 the band was remanded Chain Reaction. They played at a concert in New Hampshire and heard Jam Band on stage, which included Joe Perry and Tom Hamilton. Within a year the three decided to form a band. Anthony Joseph Pereira was born in 1950 in Lawrence, Massachusetts, and was known professionally as Joe Perry. Though he was left-handed, he learned to play guitar at the age of 10 right-handed. While at a college prep school, the Vermont Academy, Pereira was Jimi Hendrix, The Who, The Kinks and The Yardbirds. Thomas William Hamilton was born in Colorado Springs (CO) in 1951. He learned to play guitar at the age of 12. Hamilton and Joe Perry formed the Jam Band late spring in 1970. The band morphed into Aerosmith.
Bradley Ernest Whitford was born in 1952 in Winchester, Massachusetts. He was a guitarist and vocalist in a number of bands: Cymbals of Resistance, Teapot Dome, Earth, Inc., and finally a band called Justin Thyme. He joined Aerosmith in 1971, after some initial changes in the band's lineup. Joseph Michael Kramer was born in The Bronx in 1950 to a Jewish family. He learned to play the drums and was a member of Chubby and the Turnpikes in 1968-70, before they became Tavares. He left The Turnpikes, as they were known in 1970, for Aerosmith. It was Kramer who suggested the band be called Aerosmith. This was a nonsense word he created after he listened to Harry Nilsson's 1968 album Aerial Ballet.
In 1973 Aerosmith released a single titled "Dream On". It became a regional number-one hit in Boston and went Top Ten in Columbus (OH), Rochester and Buffalo (NY) and Minneapolis in the winter of 1973-74. The single later became a Top Ten hit nationally in the USA in and in Vancouver in 1976, peaking at #6. Later that year the band had a #9 hit in Vancouver with "Last Child".
In 1977 the band had a #4 hit in Vancouver (BC) with "Walk This Way", which stalled at #10 on the Billboard Hot 100. The accompanying album, Toys In The Attic, sold over eight million records.
In 1978 the film Sgt. Pepper's Lonely Hearts Club Band was released in theaters. The film was a dramatization of the songs from the Beatles 1967 top selling album. The film featured the Bee Gees (as members of Sgt. Peppers Lonely Hearts Club Band), Peter Frampton (as Billy Shears), Steve Martin (as Dr. Maxwell Edison), George Burns (as Mr. Kite), and many stars with cameo appearances. Earth, Wind & Fire perform "Got To Get You Into My Life" at a benefit for the Hendersons. The Earth, Wind & Fire cover became a Top Ten hit on the Billboard Hot 100 in 1978. In the film Aerosmith performs as an Orwellian group called Future Villain Band who conspire with Mean Mr. Mustard. The Future Villain Band are described in the movie as "the evil force that would poison young minds, pollute the environment, and subvert the democratic process." They play "Come Together" while Steve Tyler fondles Strawberry Field's hair, who in the film is the hometown girlfriend of Billy Shears. Aerosmith's cover of "Come Together" was a Top 30 hit in 1978.
In late 1979 Aerosmith released their sixth studio album, Nights in the Ruts. The one single release was "Remember (Walking In The Sand)".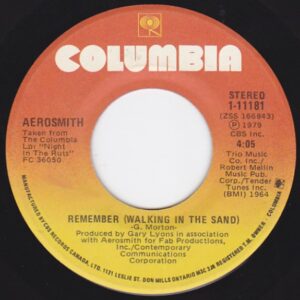 "Remember (Walking In The Sand)" was written by Shadow Morton. George Francis "Shadow" Morton was a record producer and songwriter born in Brooklyn (NY) in 1941. He was part of a rock band called the Markeys who released two singles in 1958. The first song he wrote was "Remember (Walking In The Sand)". He had a demo recorded by a then unknown girl group called the Shangri-Las, with an unknown 15-year-old musician named Billy Joel on piano. The demo was seven minutes long, and was shortened to just over two minutes for Top 40 radio. It included recurring seagull and surf sound effects. 15-year-old Mary Weiss was the lead singer on the Shangri-las recording. The song climbed to #5 on the Billboard Hot 100 and number-one on Vancouver's CKLG in the fall of 1964. Morton went on to write the other Shangri-las hits "Leader Of The Pack", "Give Him A Great Big Kiss", "I Can Never Go Home Anymore". His notable productions after the Shangri-las folded in 1966 include "Society's Child" for Janis Ian, "You Keep Me Hanging On" for Vanilla Fudge, "Solisbury Hill" for Peter Gabriel and albums for the New York Dolls. After 1978 Morton vanished from the record industry. He was treated for alcoholism in 1987. Once he recovered, he went on to design golf clubs. Morton died in early 2013 at age 71.
"Remember (Walking In The Sand)" is a song about a relationship that ended when a letter arrives from romantic partner who went overseas "two years or so" ago. The letter is a "Dear John" letter that informs the person back home that the relationship is "through." While overseas the ex has found "somebody new." In the Shangri-las version of the song the singer asks, now that the relationship is over "What happened to the light I gave to you? What will I do with it now?" While in the Aerosmith version they wonder "What ever happened to the night I gave it to you? What will I do with it now?" For the Shangri-Las, the ex-girlfriend recalls giving her boyfriend a "light" – presumably of love, passion and devotion. But with Aerosmith, the male singer recalls a sexual encounter on "the night I gave it to you." What will he do now with his sexual desires? The Shangri-Las recall softly meeting "with our lips," while Aerosmith recalls "we met with a kiss."
As the recipient of the letter from overseas adjusts to the news the relationship is over, they remember some of the things they cherished while they were together, two or more years ago. These include walking in the sand by the beach (with lots of seagulls), walking hand in hand, the touch of fingertips, exciting nights together and lots of facial gazing. The loss of the relationship haunts them, and though it is over two years since they went away across the sea, for the person left behind it "seems like the other day my baby went away."
What the song "Remember (Walking In The Sand)" doesn't tell us is what happened in the lead-up to the person who went away across the sea. When two people are in a dating relationship, it can be very challenging to maintain that relationship if someone moves away to another country or continent. We don't know if there was any communication in the intervening two years, or what promises the romantic pair made to each other. Either way, it appears the letter coming several years after the departure comes as quite a shock.
In an article titled "6 Samples of a Breakup Letter for Someone You Once Loved," the following advice is given. 1) Always stick to the truth, even if it is hard to hear, 2) Don't be too harsh with your words, 3) Try to be clear and end the relationship fully, 4) Try to avoid blame, even if there is some.
Aerosmith recorded a hard-rock oriented cover of the song. The lead singer of the original Shangri-las version, Mary Weiss, sang on backing vocals. In early 1980, "Remember (Walking In The Sand)" peaked at #8 in Toronto and Hamilton (ON), and #10 in Vancouver (BC). But in the USA it stalled at #67 on the Billboard Hot 100.
During the recording of Night in the Ruts, Joe Perry quit the band to pursue solo work. He would return in 1984. Brad Whitford also left Aerosmith, and rejoined the band as well in 1984. But all five original bandmates went into drug rehabilitation programs. The reputation of rock 'n roll bands as being into drugs was given new life with newspaper headlines about the bandmates antics.
While Aerosmith continued to sell albums and sell out concerts, they waited until 1987 to have another sizable hit with "Angel". But it was their tenth studio album, Pump, that earned them renewed success. Three single releases made the Top Ten on the Billboard Hot 100: "Love In An Elevator", "Janie's Got A Gun" and "What It Takes".
In 1993 Aerosmith's eleventh studio album, Get A Grip, sold twenty million copies. It featured two singles that made it to number-one on the Billboard Mainstream Rock chart: "Cryin'" and "Livin' On The Edge". The latter won the band a Grammy Award for Best Rock Performance by a Duo or Group with Vocal in 1994. They won a Grammy Award in the same category in 1995 for "Crazy".
In 1999 Aerosmith won a Grammy Award for Best Rock Performance by a Duo or Group with Vocal with their single "Pink". It peaked at number-one on the Mainstream Rock chart, along with "Falling In Love (Is Hard On The Knees)". Both were from the band's Nine Lives album. In 1998 Aerosmith had an international hit with "I Don't Want To Miss A Thing". The song was on the Armageddon Soundtrack. The single climbed to number-one in America, Australia, Austria, Germany, Greece, Iceland, Ireland, Italy, Norway and Switzerland. It climbed to #2 in Canada and Sweden, #3 in Belgium, Finland, the Netherlands and Scotland, #4 in Spain and the UK, and #8 in Denmark and France. It was nominated for an Academy Award for Best Original Song.
The band had one more Billboard Hot 100 hit with "Jaded" in 2003. That song earned them another Grammy nomination for Best Rock Performance by a Duo or Group with Vocal. Over the years the band has won four Grammy Awards and been nominated in various categories on 13 other occasions.
Aerosmith appeared in concert over 2,700 times. They've given concerts in Vancouver (BC) on July 25, 1978, January 21, 1983, January 20, 1988, March 17, 1990, August 14, 1993, October 24, 1994, and October 25, 1997 at the Pacific Coliseum; On August 15, 2009, at BC Place Stadium; And on December 13 and 14, 2006, and September 16, 2010, in Rogers Arena.
September 26, 2020
Ray McGinnis
References:
Dave Laing, "George 'Shadow' Morton Obituary: Record Producer and Songwriter Behind the Shangri-Las' 1960s Girl-group hit Leader of the Pack," Guardian, February 17, 2013.
Joe Perry, Rocks: My Life In and Out of Aerosmith, (Simon & Schuster, 2014).
Joey Kramer, Hit Hard: A Story of Hitting Rock Bottom at the Top, (HarperOne, 2009),
Seth Rogovoy, "The Secret Jewish History of Aerosmith," Forward.com, November 13, 2013.
"Steven Tyler on Overcoming Anger After Aerosmith Bandmates Sent him to Rehab," FOX News, December 18, 2019.
Sean Maloney, "Aerosmith's Tom Hamilton: The Cream Interview," Nashville Cream, December 12, 2012.
Larry Getlen, "Ahead of the 'Pack': How the Shangri-Las Created Punk," New York Post, May 17, 2014.
Hiuyan Lam, "6 Samples of a Breakup Letter for Someone You Once Loved," Tosaylib.com, April 5, 2019.
"Aerosmith Has 2702 Concerts," concert archives.org, September 2020.
"CFUN Top 30," CFUN 1410 AM, Vancouver, BC, February 23, 1980.
"CKLG Silver Dollar Survey," CKLG 730 AM, Vancouver, BC, September 26, 1964.
For more song reviews visit the Countdown.