#1115: Remorse by Mike Campbell
Peak Month: December 1966
9 weeks on Vancouver's CFUN chart
Peak Position #13
Peak Position on Billboard Hot 100 ~ did not chart
Plus 3 weeks on the All-Canadian Top-Ten
YouTube.com: "Remorse"
Mike Campbell was born in Vancouver and attended Burnaby South Secondary School and graduated in 1960. He became a local teen idol on the west coast. During the 1960's he made around a hundred television appearances on popular CBC shows Let's Go, Music Hop and Hits A Poppin. He can be seen appearing in a summer 1968 installment of Hits A Poppin, hosted by Terry David Mullugan, singing "Two Bit Manchild" starting at 1:24 with Terry David's introduction in the above link. Campbell released "Remorse" in 1966 on Tom Northcott's recently established New Syndrome label. Like many long-forgotten seven-inchers of the time, though, this one bears the distinctive markings of the fab four, especially those silky harmonies and that taut, emotive songwriting.
Campbell recorded with Polydor and Atlantic, and toured across North America, Europe and Australia. He was tagged for having soulful vocals. Local promoters dubbed him "the voice."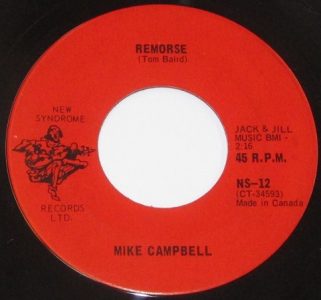 I'm not the one that ever wanted to roam,
like a bird who leaves his cage and wants to go home.
I still love her. I still love her.
(Let me tell you)
I've met so many, many girls in my life.
But there's only one that I would want for my wife.
I still love her. I still love her.
If you see her, tell her that I miss her more than I can say.
Tell her that I'm sorry that I ever went away.
I still love her, so, oh.
I love that girl, so.
There's only one girl for me
and that's to be hers
(love that girl)
Never will be free my friend, so if you see her.
Tell her that I miss her more than I can bare.
Tell her if I knew she'd take me back I'd be right there.
I still love her.
I still love her.
I still love her, so, ohh.
I love that girl.
There's only for me my friend,
and that's to be hers.
(love that girl)
Never will be free my friend,
so if you see her.
(love that girl)

Former columnist/record reviewer for the Kerrisdale Courier and the Richmond Review back in the 70's, Richard Skelly, sent me this note about Tom Baird, the songwriter of "Remorse". "Don't know if you're aware of Tom's achievements. A onetime Classic member he went on to join what became Bobby Taylor and the Vancouvers. He stuck around Motown, picking up tips on arranging and producing. The label created a subsidiary Rare Earth and Tom was very involved with the success of that band. He probably was on track to become a David Foster-like behind the scenes star maker. Sadly, he was swept out to sea while sailing alone off the California coast in the 1970s."
Sometime after Mike Campbell had his hit in 1966, and appeared in a few more local variety shows into 1967. Later on he changed his name to Michael Vincent. I happened to meet Michael Vincent at a mutual friend's birthday party in the summer of 2017, and he let me know he was adopted by the Campbell's. He kept the surname, Campbell, until both of his adoptive parents were deceased. From then on he went by Michael Vincent.
Michael Vincent worked as a musician for some time. Than, later on, he relaunched his career as a musician. Michael continues to perform in concert. His recording work with R&B Blues band Big Black Dog saw the band nominated for Canada's Smooth Jazz Award in 2007. Michael has more recently released a solo album entitled, Thank You.
April 14, 2017
Ray McGinnis
References:
Michael Vincent, Reverb Nation.com
CBC, Lets' Go (1964 TV Series), Wikipedia.org
CBC, Music Hop, Wikipedia.org
New Vaudeville Band, Terry Frewer, Mike Campbell…, Hits A Poppin, CBC, 1968.
"C-FUNTASTIC FIFTY," CFUN 1410 AM, Vancouver, BC, December 17, 1966.
Richard Skelly email correspondence
For more song reviews visit the Countdown.