#37: Reuben James by the First Edition
City: Edmonton, AB
Radio Station: CHED
Peak Month: October 1969
Peak Position in Edmonton ~ #4
Peak position in Vancouver ~ #11
Peak Position on Billboard Hot 100 ~ #26
YouTube: "Rueben James"
Lyrics: "Rueben James"
Kenneth Ray Rogers was born in Houston, Texas, in 1938. Rogers has both Irish and American Indian ancestry. In 1956 he formed a doo-wop group called The Scholars. He began his recording career with a teen ballad "That Crazy Feeling" in 1957. The single climbed to #2 in Houston in February 1958 and appeared on the bottom of the CHUM Hit Parade in Toronto. By 1960 Rogers gained a reputation as a bass player and joined The Bobby Doyle Three, a jazz trio. The third member was Don Russell. At the time Rogers was a student at the University of Texas. In 1962 the trio released an album titled In A Most Unusual Way. They disbanded in 1965. Rogers released a single as a solo artist in early 1966 which was a flop. He joined The New Christy Minstrels in July 1966 as on vocals and double bass. Feeling stuck in the folk groove, he left the group and formed The First Edition. The other members of The First Edition also exited The New Christy Minstrels with Rogers. They were Mike Settle, Terry Williams and Thelma Camacho.
Mike Settle was born in Tulsa, Oklahoma, in 1941. He began his music career as a folk singer in 1961 with an album titled Folk Sing Hallelujah credited to Mike Settle and the Settlers. The group released Pastures Of Plenty in 1963. In 1965 Settle released an album titled The Mike Settle Shindig. He joined The New Christy Minstrels in January 1966. He wrote songs recorded by Peter, Paul And Mary, as well as Judy Collins. Terry Williams grew up in Hollywood, California. His father played trombone for the Tommy Dorsey Orchestra and his mother, Bonnie Lou Williams, was a vocalist in Dorsey's band. Thelma Camacho was born in 1949 in the San Diego area and was a Miss Teen San Diego. In high school she appeared in a production of The King and I.
Mickey Jones was born in Houston, Texas, in 1941. During high school he learned how to play drums and formed a band at age sixteen called the Catalinas. In 1957 he was introduced to Trini Lopez and became the drummer for Lopez' band. Jones left Trini Lopez' band in 1959 and got a degree in Business Administration. He rejoined Trini Lopez' band for a few years in the early '60's when Lopez had some Top 40 hits, including "If I Had A Hammer" in 1963. In 1964 Mickey Jones joined Johnny Rivers' band and was the drummer on "Secret Agent Man", "Mountain Of Love" and "Seventh Son". With Rivers' band and Ann-Margret, Mickey Jones was able to do concerts for the U.S. troops in Vietnam in 1965. Next Mickey Jones accepted an offer to join Bob Dylan's band in 1966. Dylan took his band on a tour to Australia and Europe. When the tour was over Bob Dylan had a near-fatal motorcycle accident on July 29, 1966. With Bob Dylan recuperating (and not appearing in concert again until 1974), Mickey Jones took on roles as an extra in Hollywood. Then, in 1967, he was invited to be the drummer for The First Edition.
The first hit record for The First Edition was "Just Dropped In (To See What Condition My Condition Was In)". The song was about being on an acid trip with LSD and meant to warning would be users of the illegal narcotic. The song was first recorded in May 1967 by Jerry Lee Lewis. But the First Edition's recording in October 1967, featuring Glen Campbell on guitar, peaked at #5 on the Billboard Hot 100. The band also had an appearance on The Smothers' Brothers Comedy Hour. First Edition lead guitarist Terry Williams said years later about "Just Dropped In", "We knew it was special but never thought about the iconic hit it would become. Our debut album had several potential singles, including 'I Found a Reason', which enjoyed some regional success." Thelma Camacho had an unusually passionate voice, and a very charismatic seductive presence. The early press about The First Edition was largely about her.
The First Edition released a second album titled The First Edition's 2nd. Three single releases from the album were commercial failures. They went back to the recording studio in the fall of 1968 and released The First Edition'69 which featured the single "But You Know I Love You".
According to Mickey Jones' autobiography That Would Be Me, Thelma Camacho was fired from the group in late 1968 (soon after the release of "But You Know I Love You", but before the record would chart on the Hot 100), after missing too many gigs and rehearsals. Thelma has said in her defense that while she always loved being with The First Edition in the studio, the road was too hard on her from a health and personal standpoint. Slowly growing apart from the others, Camacho began to feel restricted by the band in a number of ways. All agreed that the situation could not continue, and Camacho was replaced by her roommate, Mary Arnold, who beat out Karen Carpenter for the position.
By the end of the decade Rogers had long brown hair, an earring, and pink sunglasses. He was nicknamed "Hippie Kenny." The First Edition also had an international Top Ten hit with "Ruby, Don't Take Your Love To Town". The song was about a crippled veteran whose wife is unable to accept his physical limitations after he returned home a paralytic from "that crazy Asian war." At the time, America was at war in Vietnam, and had fought in Korea from 1950-53. "Ruby, Don't Take Your Love To Town" sold well in the UK, Canada, the Netherlands, Norway, New Zealand and Australia, as well as back home in America.
The next single the First Edition released was "Rueben James".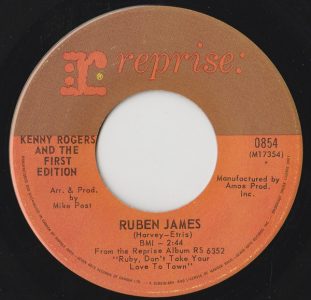 "Ruben James" was cowritten by Alex Harvey and Barry Etris. Thomas Alexander Harvey was born in 1947 in Tennessee. He studied education and acting in university. Besides "Rueben James", and "Rings" by Cymarron, Harvey's best known composition is "Delta Dawn", a hit for Tanya Tucker on the Country charts and a number-one hit on the Billboard Hot 100 for Helen Reddy in 1973. Alex Harvey went on to record 15 studio albums between 1971 and 2018. In 1982, Harvey appeared in the made-for-TV movie The Long Summer of George Adams. He also appeared in TV shows The Dukes of Hazzard, Dallas and Walker, Texas Ranger. Between 1969 and 1971, Kenny Rogers and the First Edition included songs written by Alex Harvey among the tracks on their albums Ruby Don't Take Your Love to Town, Something's Burning, Tell It All Brother, and Transition.
"Rueben James" is a song about someone who loved a man whose name was Rueben James. He is remembered in the song as someone with a "faded shirt, weathered brow, calloused hands upon the plow." The lyrics tell that everyone in Madison County viewed Rueben James as "a no-count, sharecropping colored man, who'd steal anything you can." There was a woman who died at childbirth, and Rueben James was the only one who stepped in to take care of "the hungry white child with no name." Rueben James was also known to carry a Bible in his right hand. He often instructed others to "turn the other cheek, for there's a better world awaiting the meek."
In the song, Rueben James lives in Madison County. This was a good choice for name recognition by Alex Harvey and Barry Etris. There is a Madison County – named after the fourth President of the United States, James Madison – in twenty states: Alabama, Arkansas, Florida, Georgia, Idaho, Illinois, Indiana, Iowa, Kentucky, Louisiana, Mississippi, Missouri, Montana, Nebraska, New York, North Carolina, Ohio, Tennessee, Texas and Virginia.
"Reuben James" was first recorded by the Bluegrass Alliance in 1969. It was later covered by Chase Webster, Scott Walker, Jerry Lee Lewis, Conway Twitty, Jimmy Dean, Henson Cargill, and many others.
"Rueben James" peaked at #1 in Minneapolis/St. Paul and Wausau (WI), #3 in St. Louis, and Akron (OH), #4 in Edmonton (AB), Columbus (OH), Geneva (NY), Birmingham (AL), and Calgary (AB), #5 in Grand Rapids (MI), and Oshkosh (WI), #6 in Fredericton (NB), Atlanta, York (PA), Ottawa, Kansas City (MO), and Hamilton (ON), #7 in Des Moines (IA), Tucson (AZ), Saint Charles (MO), Hartford (CT), Reading (PA), Milwaukee, and San Diego, #8 in Winnipeg (MB) and Washington D.C., #9 in San Bernardino (CA), and Rochester (NY), #10 in Chicago, Louisville, and Beaumont (TX), and #11 in Vancouver (BC).
Vocalist Kin Vassey from The Back Porch Majority joined what was now billed as Kenny Rogers And The First Edition. He first appeared on the Top 20 hit "Something's Burning" in 1970. The song stalled at #11 on the Hot 100. It was deemed controversial given its overt sexual subject matter. Kenny Rogers And The First Edition had another Top 20 hit in 1970 titled "Tell It All Brother", also written by Alex Harvey. The First Edition would see much success over the next seven years appearing in concert and on TV. They hosted their own television variety show from 1971 to 1973 on CTV titled Rollin' on the River (later shortened to Rollin').
The band split in 1976 after Terry Williams went solo in 1975.
Kenny Rogers had a successful solo career that included 17 number one hits on the Billboard Country chart between 1977 and 1999. Many of his hits were crossover hits on the Billboard Hot 100. These include "Islands In The Stream" in a duet with Dolly Parton, "We've Got Tonight" in a duet with Sheena Easton, "Don't Fall In Love With A Dreamer" in a duet with Kim Carnes, and solo efforts with "Lucille", "The Gambler", "Coward Of The County", "She Believes In Me" and "Lady". Over his career Kenny Rogers had 29 hits in the Top Ten of the Billboard Country chart. In 1977 he won a Grammy Award for Best Male Country Vocal Performance for "Lucille". In 1979 he won the same Grammy Award category for "The Gambler". In 1988 Rogers won a Grammy Award in the category of Best Duo Country Vocal Performance — "Make No Mistake She's Mine" in a duet with Ronnie Milsap. Over his career Kenny Rogers had won 47 awards. These including multiple music trophies from the County Music Association Awards, American Music Awards, Academy of Country Music Awards and CMT (Country Music Television) Awards.
In 1991 he founded a chain of restaurants named Kenny Rogers Roasters. In the mid-1990s, Rogers reunited with Doyle and Russell as part of a special concert called "Going Home" where Rogers sang a selection of his greatest hits and favorite songs. In 2015 Rogers had a farewell tour titled The Gamblers Last Deal and subsequently went into retirement. He died at the age of 81 in March 2020 after a 3-year battle with bladder cancer.
In 1970 Mike Settle left The First Edition. He wrote several songs for the 1971 action road film Vanishing Point. Over the years Mike Settle has been a session musician, producer and arranger with studio albums including for the Kingston Trio, Glen Yarborough and Kim Carnes. He has been a music critic and broadcaster for the past few decades.
Mickey Jones appeared in multiple films as he pursued an acting career. His filmography includes Wild in the Streets (1968), The Best Little Whorehouse In Texas (1982), National Lampoon's Vacation (1983), Total Recall (1990), and No Direction Home, a documentary about Bob Dylan in 2005. On television, Jones had an extensive resume that included recurring appearances in The Incredible Hulk, The Dukes of Hazzard, Baywatch, Home Improvement and Justified. In 2009 his autobiography That Would Be Me, was published. He died in 2018.
Thelma Camacho did a few solo records in the 1960s and 1970s and one LP in 1980. She moved to Europe in the 1980s. While in Europe she recorded under the name Tess Ivie (the latter being her husband's last name). Around 2003 she moved to California and has more recently run a jewelry store in San Diego.
Rock historian Mike Eder thinks The First Edition should be in the Rock And Roll Hall of Fame. He considers the band "is the most neglected of what I consider the great groups in rock and roll, and it's largely not their fault. They just never got picked up on by the so-called critics of the day in any proper fashion. The First Edition aimed at all age groups and attempted a lot of different things. They were very early in combining a blend of rock, folk, country, and even a little jazz." Since they split up Eder has been surprised there have been no interviews of the band members about those days as The First Edition or as Kenny Rogers And The First Edition. Most country music fans remain unaware Kenny Rogers was once a rock 'n roll musician.
November 8, 2023
Ray McGinnis
References:
John Dalhye, "Kenny Rogers Takes His Love to (Killarney) Town," Irish Examiner, Cork, Ireland, July 2, 2013.
"Kenny Rogers to join Texas Country Music Hall of Fame," Longview News-Journal, Longview, TX, April 1, 2017.
Jeremy Roberts, "Tell It All Brother: Why You Should Dig the Groovy Music of Kenny Rogers and the First Edition," Medium.com, January 14, 2018.
Edward Morris, "Alex Harvey, Writer of "Delta Dawn" and "Rueben James", Dies," Country Music Today, April 5, 2020.
Bob Ruggiero, "Houston Native and Music Megastar, Kenny Rogers, Dies at 81," Houston Press, March 21, 2020.
"Madison County," Wikipedia.org.